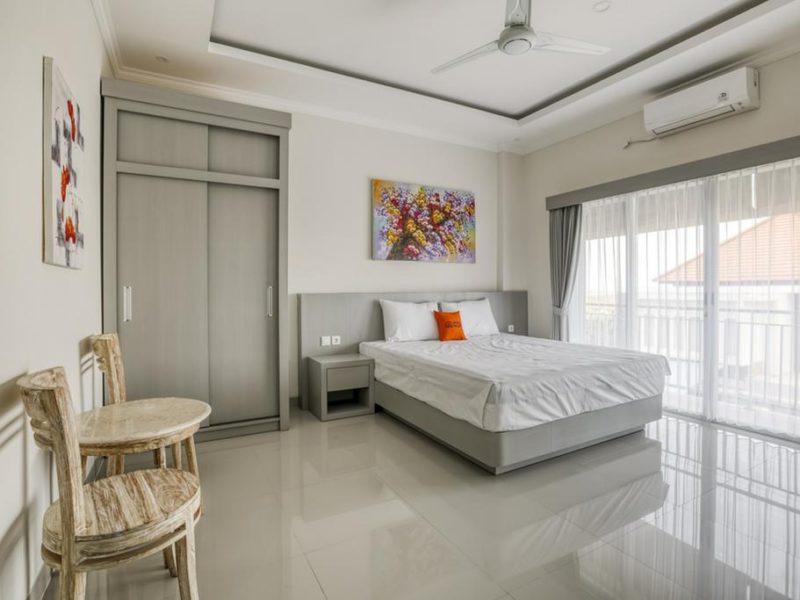 We all hate traffic jams and getting late to work or classes. Although Karawaci isn't as crowded as Jakarta, it is an area that is becoming more and more advanced like it. You don't have to be worry, all of that will be solved by staying near your office or campus. We have a list of the best Karawaci kost at low prices, complete facilities, very comfortable, and of course in strategic locations. Check out the following recommendations!
Affordable Exclusive Kost in Karawaci with Budget Below 3 Million Rupiah
1. Avalon Karawaci
Avalon Karawaci provides mixed kost rooms to rent for anyone, male or female, who needs a place to live in Karawaci. Very affordable prices for students and workers, and a monthly kost payment system.
The main campus of UPH is only 7 minutes drive from the kost. In addition, Siloam Karawaci Hospital or Medical Faculty is 3 minutes away. Moreover, there are various public transportation options that are easily accessible in this area.
Kost Avalon Karawaci is also in a neighborhood filled with many restaurants serving a variety of food. Most of them also accept delivery services.
Avalon Karawaci is one of Karawaci's exclusive kost that provides extra services, which are cleaning and laundry services. This kost can also be accessed for 24 hours.
Address: Jl. Permatasari Blok A3 No 32, Perumahan Taman Villa Permata, Curug, Binong, Tangerang 15811, Indonesia
Phone Number: +6281932325221
Price: Starting from Rp. 2,800,000
Facilities:
Air conditioning
Fully furnished
Refrigerator
24 hour security & CCTV
Intercom
Access control
Cleaning service
Internet & cable TV
Laundry
Kitchen
Parking area
Water heater
2. Dormitory Brooklyn High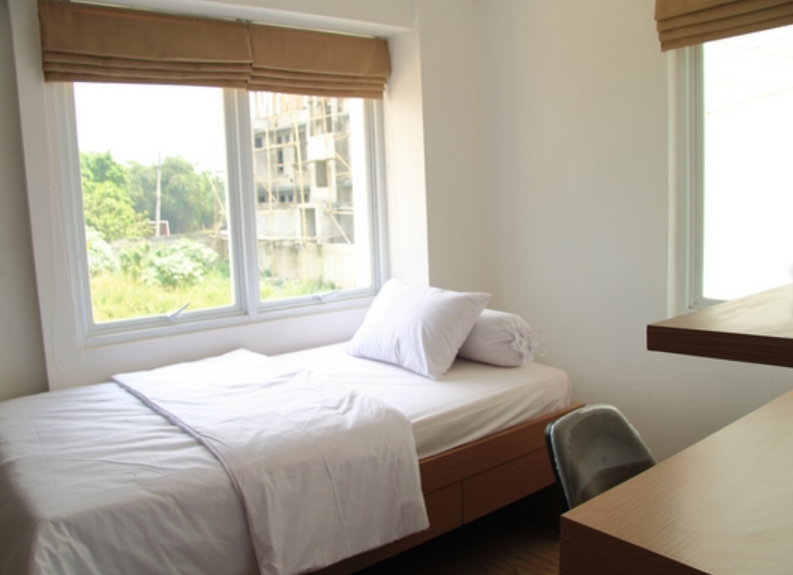 Dormitory Brooklyn High is a kost in Karawaci specially built for students and they accept male or female to be the residents. They made room designs according to student needs. Each room is equipped with a spring bed, a wardrobe, a table and chairs, a bookshelf, a TV, AC, and Wifi. This kost is classified as exclusive kost, they provide room cleaning and laundry services.
They provide a conducive study space for 16 students complete with blackboards. Want to have a private party? Or just want to watch a movie with your friends? You can do it all in the entertainment room which is facilitated with a wide screen TV,entertainment home-theater and a refrigerator. You can make a reservation in advance for free.
Address: Jl. Newton 32-36, Lippo Karawaci, Tangerang
Phone Number: +622133999790, +622133999791
Price: Rp1,700,000.00 – Rp2,800,000.00 / monthLarge
Facilities:
Fully furnished
Private bathroom
AC
Fridge
Water dispenser
Kitchen
Laundry
Cleaning service
24 hour security
Parking area
3. C&C Dormitory
This kost is located in a strategic place in the Karawaci area. You can also have access to a public transportations that operates until the night. The location is also close to culinary delights and mini markets for your needs. C&C Dormitory has a comfortable atmosphere that makes you feel at home.
This kost is also one of the exclusive kost in the Karawaci area. Their facilities are superb, with a kitchen and dining table on the second and fourth floors along with a fridge and dispenser on each floor. The kost is cleaned every day and they provide laundry services. Take it easy, this C & C kost is a mixed kost that accepts both male and female as residents. kost access is also free for 24 hours.
Address: Jl. Newton No.17, Binong, Kec. Curug, Tangerang, Banten 15810
Phone Number: +6285781938991
Price: Starting from Rp. 2,400,000
Facilities:
Fully furnished
Private bathroom
AC
Living room with Cable TV
Internet
Kitchen
Dining room
4. Mirzakos Karawaci
Mirzakos Karawaci is also located in a strategic location. Close to ATM centers, cafes, restaurants, fitness centers, UPH universities, schools, mini markets, clinics, pharmacies, salons, and even malls! Transportation access is also easy. Besides online Transportation, you can take public transportation or buses. This kost also has several staffs to clean the kost, toilets, and even rooms. They also have a laundry service.
Address: Perumahan Taman Ubud Estate 5 No. 61 Lippo Lippo Karawaci, Sentral
Phone number: +6285781938991
Price: Rp 1,500,000.00 / month
Facilities:
WiFi
AC
Fully furnished
Living room
Shared kitchen
Refrigerator
Dispenser
Parking area
Terrace
Premium Kost Karawaci Budget 3 – 5 million Rupiah
1. M Suite
Want to live in kost with the comfortness of an apartment, a location that is close to UPH, as well as laundry and cleaning services included at a low price? Take a look at this kost. M Suite deserves to be called as one of the best kost places in Karawaci which accepts both men and women as residents.
This kost has a swimming pool, kitchen and study room that can be used together. The private rooms at M Suite are also spacious and fully furnished and are equipped with a private bathroom, so that your privacy is not disturbed. To ensure security, M Suite uses a fingerprint access system so that doors can only be accessed by residents and enthusiasts.
Address: Taman Permata Millenium, Blok B2 No.37, Lippo Karawaci, Tangerang
Phone Number: +622155658606
Price: Rp 4,000,000.00
Facilities:
Parking area
Swimming pool
Gym
Wifi
Waiting room
Kitchen
Cable TV
AC
Refrigerator
Water heater
Laundry 3 sets / days
CCTV
Acc fingerprint
RFID Card (room)
2. Three J Living
There are 3 types of kost from the same manager, which are c Three J Home, Three J Residence, and Three J Living. Each venue provides a large living room, a post box and a large amount of space. Here you will get private TV facilities, cleaning service, and laundry. No need to worry anymore, laundry piles up if you are busy packing. If you choose to stay at Three J Living, you can also choose premium facilities such as a refrigerator in the room and queen bed.
This exclusive kost located in Karawaci gives you a place to live where you feel right at home at an affordable price. Their mission is to satisfy you, their guests, and make you enjoy your stay. They are committed to getting better every day to achieve their goal of being the best in their business.
Address: Permata Kasih II C7 / 1 & 36, Lippo Village, Karawaci
Phone Number: +628179989984, +622130067978
Price: IDR 3,500,000.00 / month
Facilities:
Cleaning service
Fully furnished
Laundry Service
AC in room
TV in room
Private Bathroom
Free Wi-Fi
CCTV
Indoor refrigerator
Kitchen
Free electricity
3. Habitat 7.0
Kost HABITAT 7.0 Karawaci was created as a means of supporting accommodation for students and workers around us. They provide a strategic kost in Karawaci and safe for all of our residents. Located in a very strategic place and complete with supporting facilities such as Siloam hospital, Karawaci supermarket, Aryaduta hotel, supermarket and minimarket.
As one of the exclusive kost in Karawaci, they have support staff to help with daily room cleaning and laundry services. In addition, they provide supporting facilities that are very useful for residents such as parking areas, HD CCTV cameras, fingerprint access, study rooms, and fast Wifi connections.
Address: Jl. Permata Kasih Blok C7 No. 16, Karawaci, Tangerang – 15810
Phone Number: +628158719803
Price: IDR 4,500,000.00 / month
Facilities:
Parking area (First Come First Serve)
Waiting room (Lt. 1)
Study room (2nd & 3rd floor)
Kitchen
Laundry service
Refrigerator
Microwave
24 hour security (CCTV camera)
Fingerprint access
Kost guard
Kost Karawaci for Men Only
1. 4SD Dormitory 
4Sd Dormitory is a kost in Karawaci for men. They provide comfortable facilities but at an affordable price. Fully furnished, clean, quiet and safe. The kost is located near the UPH Medical Faculty and also about 5 km from the UPH main campus. If you are looking for a good learning environment, 4SD is one of your best choices. The appearance of this kost 4Sd Dormitory Karawaci is luxurious like a house. The rooms are equipped with a set of bed (bed covers and pillows), table & chairs, mirrors, curtains and cabinets.
Address: Jl. Newton 32-36, Lippo Karawaci, Tangerang
Phone Number: +622133999790, +622133999791
Price: Starting from Rp. 2.200.000
Facilities:
Fully furnished
Private bathroom
AC
Free wifi
24 hours CCTV
Water dispenser and freezer per floor
Free laundry maximum 2 sets per day
Hot water
Large parking area
TV channels
Small carpet
Kost Karawaci for Women Only
1. Rava House
If you prefer to live in a kost where all the residents are women, you can choose Rava House. The kost is strategically located close to the UPH campus, Lippo Karawaci, and Siloam Hospital. With a very cheap price, this kost provides quite complete facilities such as air conditioning, WiFi access and even enough parking space for motorbikes.
The kost rooms provided have 3 types of different sizes. You can choose according to your needs and comfort. What's more, you can also rent a room for two, so your rent will be much cheaper.
Address: Jalan Arafah IV Blok G3 No. 12A Villah Ilhami, Islamic Karawaci – Tangerang
Phone numbers: 08164848954 and 085286769127
Price: Rp. 900.000,00
Facilities:
Mattress
Wardrobe
Desk
Bed cover
Fan
AC
Wi-Fi
TV Cable
shared kitchen
Living room
Place drying clothes
2.Harapan Kita Residence
Kost Harapan Kita Residence provides special kost facilities for girls at a premium but still at an affordable price. This exclusive kost located around the Karawaci area is suitable for both students and employees. It is strategically located close to Supermall Karawaci, Lippo Village, Benton Junction, and the UPH campus. In addition, this kost is also a very comfortable and resident-friendly housing.
This kost provides fully furnished rooms, including AC, WiFi, and each bathroom is equipped with a water heater. To save expenses, you can cook your own food because there is a kitchen along with complete cooking utensils for you to use.
Address: Jalan Arafah IV Blok G3 No. 12A Villa Ilhami, Islamic Karawaci – Tangerang
Phone Number: 087878595973
Price: Rp. 1,200,000.00
Facilities:
Laundry
AC
Special snack
TV
Shared kitchen
Parking area
---
Read also: Best Kost Mega Kuningan
---
That's a list of the best kost in Karawaci, there are still many kost that have not been found, but we hope this is enough to help you. Don't forget to see other recommended posts on our blog.