Local Guide
Jog at These 10 Most Popular Jogging Tracks in Jakarta
Regular exercise is essential if we want to keep our body and mind healthy. After working from home or at the office, your body will feelsore due to the amount of work and stress that accumulates during the weekdays. However, living in the concrete jungle of Jakarta, it is hard to find fresh air, let alone open spaces where you jog at ease, it's a challenge every health enthusiast must face in the hustle and bustle of the metropolis. For this reason, many prefer to go to the gym rather than going the extra mile to jogging places in Jakarta. Lucky for you, we have taken the work out of your hand and scouted the most popular jogging and running tracks in Jakarta.
1. Gelora Bung Karno (GBK) Sports Complex, Senayan
Gelora Bung Karno is a  prominent sports center that is a popular venue for jogging with several running tracks located in the heart of Jakarta. The large sports complex has broad and flat paths designed for running that opens since the crack of dawn with joggers coming in as early as 5 AM.  The main track goes around the large main soccer stadium. It provides a great space for leisurely or serious runners to focus on their exercise. Furthermore, the sports complex does not only offer jogging tracks, but also other facilities from a football stadium, baseball and archery fields, to aquatic centers. Thus, it is the favorite place for Indonesian athletes to practice.
Want to know more about sport communities in Jakarta? Click here!
Address : Jl. Pintu Satu Senayan, Gelora, Tanah Abang, Central Jakarta, Special Capital Region of Jakarta 10270
Opening Hours : –
(each facility has different opening hours)
2. Ancol Loop, Pademangan
Located in North Jakarta, Ancol Loop offers a relaxing ambiance for your morning or evening jog along the seaside. The 7 kilometers running path offers a panoramic view of the coast coupled with the smell of the sea and sounds of waves breaking, it is truly another level of a leisurely run. If you want to avoid the crowd, it is recommended to run early in the morning, but if you want to catch the sight of the sunset you could go after 5 PM. For those with a significant other, bring them to Ancol Loop for a romantic evening jog, or a walk, on the beaches' smooth sands while waiting for the sun to set.
Address : Jl. Lodan Timur No. 7, North Jakarta, Special Capital Region of Jakarta 14430 Indonesia
Opening Hours : 10.00 – 18.00 (Monday – Friday)
10.00 – 20.00 (Saturday – Sunday)
3. Menteng Park, Menteng
Located in the heart of the Menteng residential area, Menteng Park is a verdant, clean, and well-maintained park with many facilities you can enjoy. One of them is the paved jogging track that goes around the 30-hectare park providing more than enough space for a relaxing walk or training for the next city-wide marathon. The park might be ideal for running, but the place offers much more: an instagramable greenhouse, a well-equipped futsal and basketball court, children's playground, and even an exhibition corner. On top of that, free Wi-fi is provided at every corner of the park, so you can stream your running playlist and get more energized on your workout.
Address : Jl. HOS. Cokroaminoto, RT.3/RW.5, Menteng, Kec. Menteng, Central Jakarta, Special Capital Region of Jakarta 10310.
Opening Hours : 05.00 – 23.00 (Sunday – Monday)
4. Suropati Park, Menteng
Suropati Park is another park in Menteng that provides an ideal jogging track in Jakarta. Built-in 1920, the park is a breath of fresh air in the middle of the concrete buildings of Jakarta. The park is a well-planned green space with leafy trees lining the level and broad jogging path. Not only filled with runners, but Suropati Park is also a popular spot for dog owners. Due to the wide-open spaces of the park, it is indeed an ideal location to take their pets on a walk. If you planned to go to Suropati park, it is advised to go in the morning because in the evening the streets around the area can be crowded, and you might even get stuck in a traffic jam on your way home
Address : Jl. Taman Suropati No.5, RT.5/RW.5, Menteng, Central Jakarta, , Special Capital Region of Jakarta 10310
Opening Hours : 24 Hours
5. National Monument Complex, Gambir
Although it's not really a jogging track, The National Monument, or, as locals call it, Monas is one of the favorite spots for jogging in Jakarta. In the morning, whether on the weekdays of weekends crowd flocks to the area for a healthy morning jog or a leisurely walk with the family. The park is more than accommodating as a running route, the wide and well-paved paths made it possible for a group of people to jog side-by-side comfortably.
This spacious complex of 80 hectares makes it one of the largest urban parks in Asia. There is also a designated workout area with simple gym equipment. So, you will not be bored working out here. Not to mention, as you circle the complex you would be entertained by the view of a beautiful garden and might even spot some deers grazing on the field of grass.
Address : Gambir, Kecamatan Gambir, Kota Jakarta Pusat, Daerah Khusus Ibukota Jakarta
Opening Hour : 04.00 – 20.00 (Tuesday – Sunday)
(Closed on Monday for maintenance)
6. Cattleya Park, Palmerah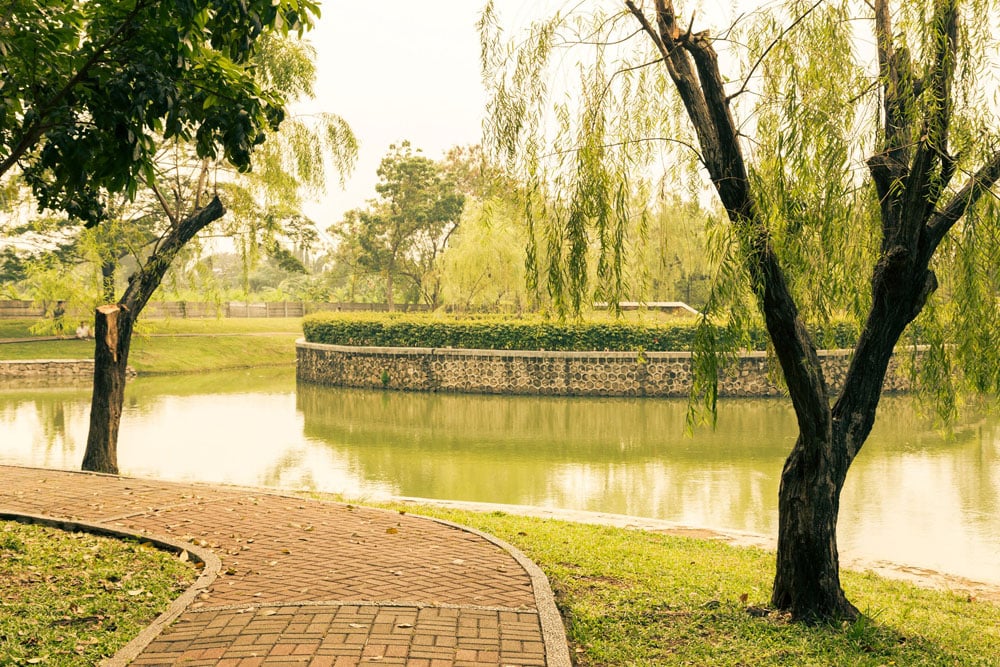 The Cattleya Park is a verdant city park equipped with a beautiful man-made pond and jogging track in Jakarta. The well-maintained jogging track spans through the 3 hectares area providing a satisfying workout for everyone. Tucked away from the main road, it is a suitable place for those who prefer a peaceful run in nature. The park is surrounded by green and leafy trees providing shades for those who pass through them. Hence, the cool and airy environment of the park is ideal for running. Either it is in the morning or evening. 
Address : Jl. Anggrek Neli Murni, RT.15/RW.1, Kemanggisan, Kec. Palmerah, West Jakarta, Special Capital Region of Jakarta 11480
Opening Hours : 7.00 – 21.00 (Sunday – Monday)
7. Pluit Lake Park, Penjaringan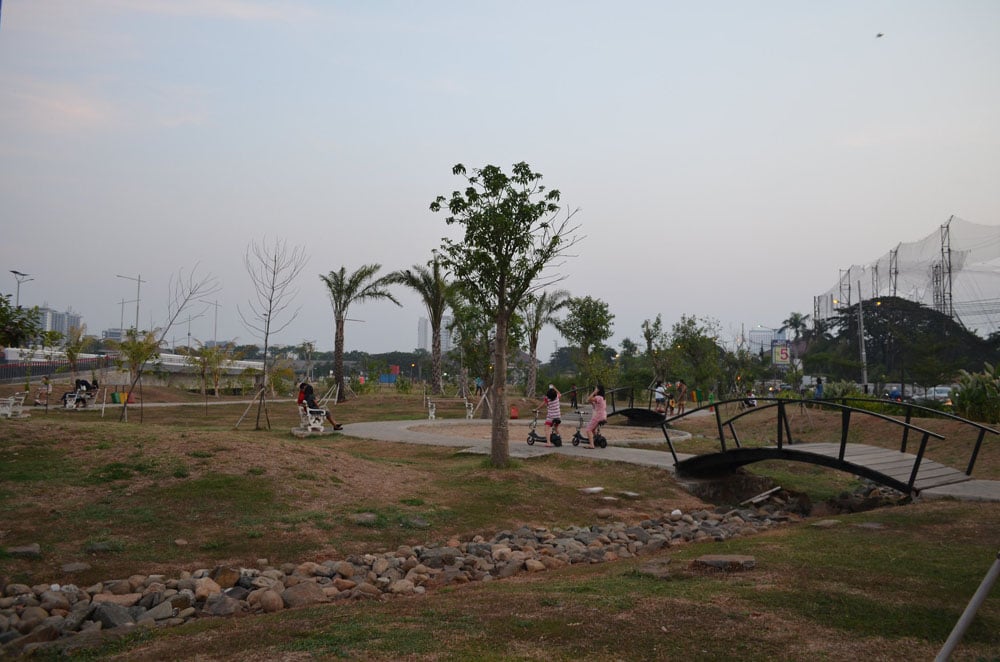 This lush green space in the middle of the city is surrounding the man-made lake of Pluit in North Jakarta. The flat pavement running tracks made it possible for people to comfortably run while enjoying the view of one of Jakarta's lakes. Meanwhile, the wide-open spaces make a great place for people when they need to take a breather, enjoy the fresh air, and release their stress. Pluit Lake Park is a great running spot for anyone searching for a serene ambiance.
Address : Jl. Pluit Timur Raya No.12, RT.6/RW.5, Pluit, Kec. Penjaringan, North Jakarta, Special Capital Region of Jakarta 14450
Opening Hours : 24 Hours
8. Lapangan Banteng Park, Sawah Besar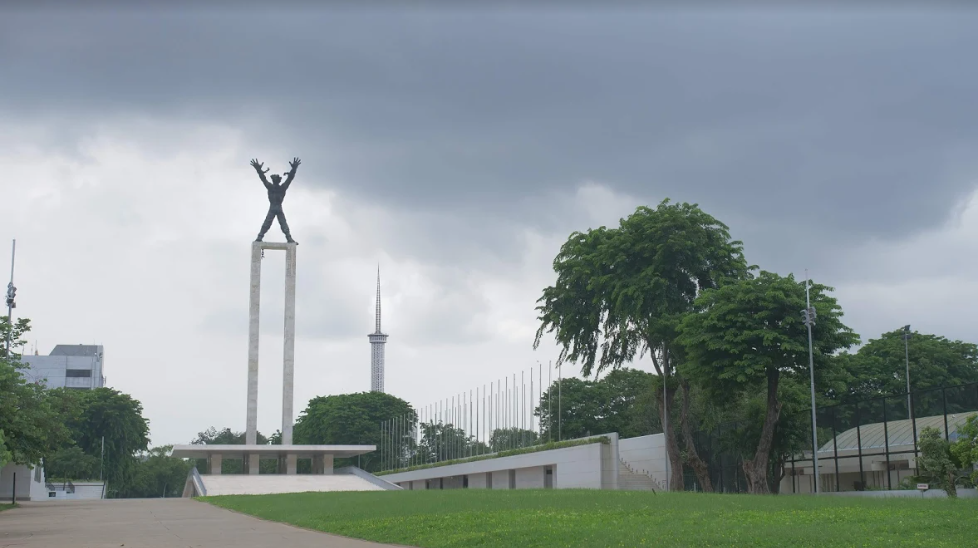 Lapangan Banteng Park is one of Jakarta's favorite places for jogging, running, and other sports.  This park provides a soccer field, volleyball court, basketball court, and also land that is usually used to play badminton. Apart from that, Lapangan Banteng Park can also be a place for you to spend the weekend with family or friends for a nice picnic under the sun.
Address: Pasar Baru, Sawah Besar, Central Jakarta City, Jakarta 10710.
Opening Hours: 5 AM – 10 PM (Monday – Sunday)
9. GOR Soemantri Brodjonegoro, Kuningan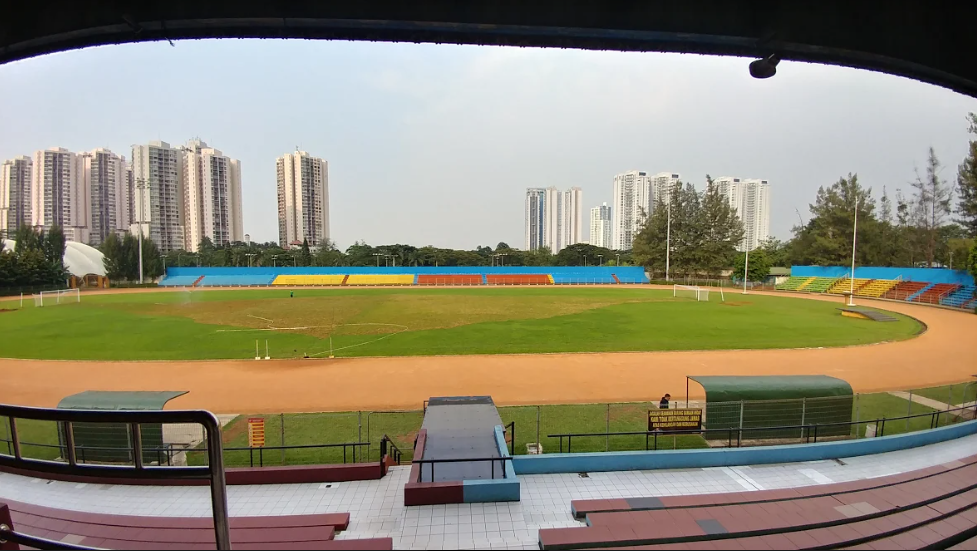 GOR Soemantri Brodjonegoro very suitable for sports activities, especially running. This is because GOR Soemantri has a  really nice and spacious running track and it is located in Kuningan, Jakarta. Besides the running track, GOR Soemantri also has a large soccer field, indoor basketball court, and swimming pool. This place is perfect for those of you who want to jog after working in the Kuningan area, or for those of you who live in the Kuningan area in general.
Address: Jl. H. R. Rasuna Said No.2, RT.2/RW.5, Karet Kuningan, Kecamatan Setiabudi, Kota Jakarta Selatan, Daerah Khusus Ibukota Jakarta 12950.
Opening Hours: 24 hours.
10. Ayodya Park, Kebayoran Baru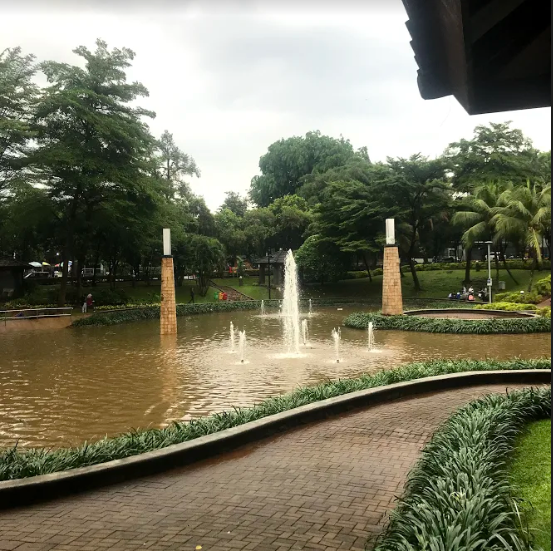 Taman Ayodya park is also could be your reference to be used as a place for jogging or family sports that is located nearby Blok M shopping center, South Jakarta. Although it is not too big, the concept of an open theater successfully made it look quite spacious. This park has a jogging track that is 1,700 meters long, so that Ayodya Park is suitable for those who want to jog in the morning or evening. In addition to jogging tracks, there are also 1,500 meters long lake in the park, which makes the atmosphere more nature-like and beautiful.
Address: Jl. Lamandau III No.7, RT.4, RT.4/RW.7, Kramat Pela, Kec. Kby. Baru, Kota Jakarta Selatan, Daerah Khusus Ibukota Jakarta 12130.
Opening Hours: 24 hours.
So, what are you waiting for? Grab your running shoes, wear your sports gear, and try one of these popular jogging and running tracks in Jakarta!
Looking for a friend? Click here for Running Communities in Jakarta.