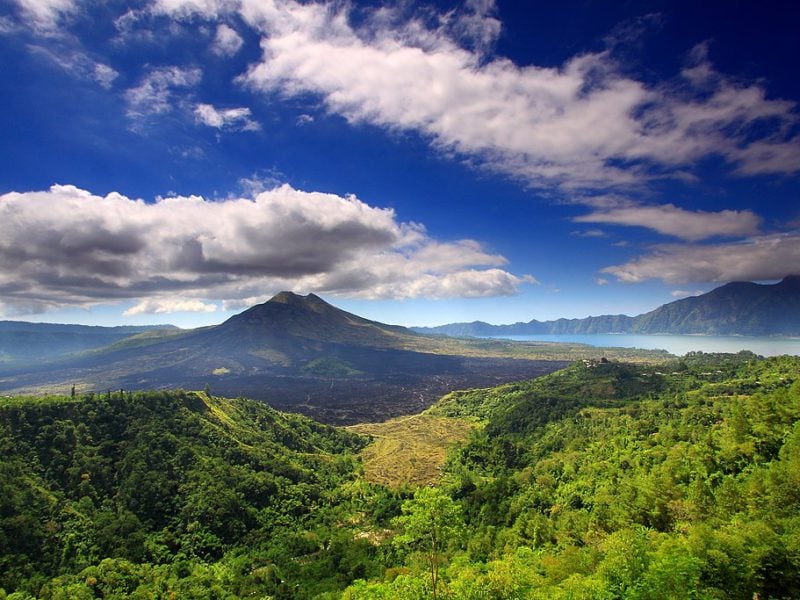 Bali has a lot of mountains that you can visit. Ages ago natives have built temples to honor the mountains to thank them for giving sustenance and not screwing them over with a volcano. That tradition is earnestly kept to this day, where locals would give offerings and pray to local gods. In this article, we would like to introduce you to the amazing mountains of Bali. It might be confusing where to start at first, but don't worry! Our recommendations on which mountains to trek or hike, where should you stay, and where should you go for local guides will get you covered and get you started. Here are 10 mountains in Bali that you must visit.
People also read: 7 Eyepleasing Rice Terraces in Bali: Looks Amazing All Year!
1. Mount Penulisan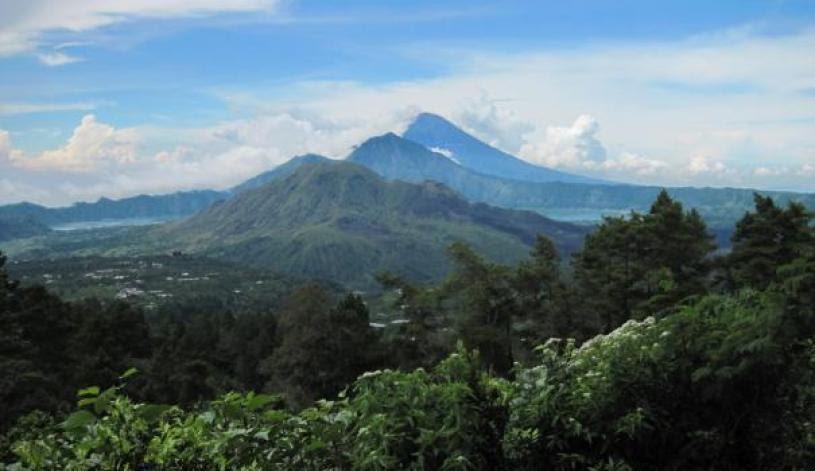 To start off our list, we have the beautiful and green Mount Penulisan. This mountain is relatively friendly to climb compared to many others in Bali. In addition, you have a spot for viewing sunrise in Desa Pinggan and a slew of temples. One particular temple, Pura Puncak Penulisan, is actually the oldest temple in Bali and was built by Bali Aga (meaning people who are truly native to Bali, even before Hinduism) long ago. This mountain is a must-visit because it's a combination of spirituality, history, and outdoor activity in one go.
Location: Sukawana, Kec. Kintamani, Kabupaten Bangli, Bali
2. Mount Lempuyang
Mount Lempuyang is much more known to be a scenic mountain rather than one you should hike or trek. It is an active volcano, with fog and smoke coming out of it. Rather than the mountain, people frequently visit the temple which bears its name. Pura Luhur Lempuyang offers you an in-depth feel of Bali's religiosity and culture. Furthermore, it has a very famous photo spot of two traditional gates that precedes the smoky mountain of Gunung Lempuyang. This photo spot comes after steep flights of stairs, though. So get your legs ready for a picture of a lifetime.
Location: Bunutan, Abang, Kabupaten Karangasem, Bali 80852
3. Mount Lesung
Mount Lesung is probably one of the most beginner-friendly mountains you can find in Bali. Its roads and pathways are very well-made and accurately pinpointed so people don't get lost. Still, make sure to cover your skin as much as possible because laportea plants and leeches are common. While you won't get any kind of top-of-the-mountain sunrise or sunset viewing as much as most other mountains, you will still get to see a mysterious and enchanting hole called 'nagaloka'. In addition, there is also a small temple near the top named Pura Puncak Angalayang.
Location: Munduk, Kec. Banjar, Kabupaten Buleleng, Bali
4. Mount Batukaru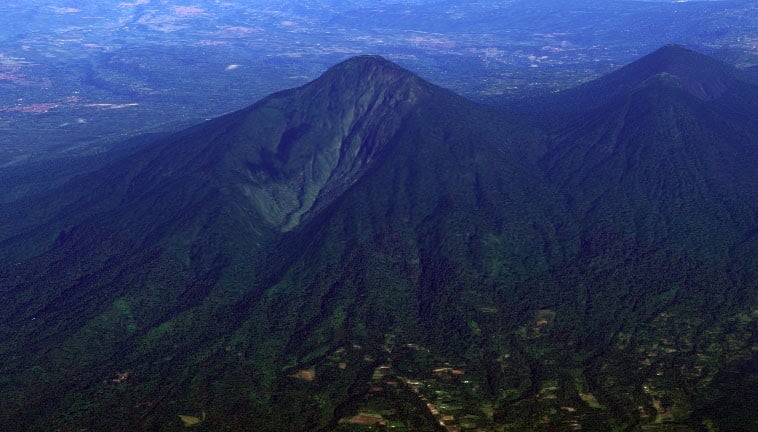 Mount Batukaru is the second tallest mountain in Bali behind Mount Agung, standing at 2276 km from sea level. It is also a frequently trekked and hiked mountain, owing to its many start routes like many other mountains. These start routes are Jatiluwih, Wongaya Gede, and Pujungan. It also has two temples built by locals in its honor. These temples are Pura Pucak Kedaton located on top of the mountain, and Pura Luhur Batukaru. The latter has existed since ages ago. Climbing this mountain is quite the experience for not only seeing and being in awe of mother nature, but also to enrich your spirituality.
5. Mount Adeng
Here we have a mountain that is still relatively untouched and is very much brimming with nature. Many locals in particular like to climb this mountain. It's still filled with thick forests and is very humid. One thing that you need to watch out for are bloodsucking leeches. So it's best to cover your skin as much as possible. This place is really not recommended for beginners, especially people who are not familiar with the area, as there have been cases of missing persons in the mountain as recent as 2020. Due to this, access to climb the mountain is temporarily closed. But if you like wilderness and you think you're certain of your skills, then this mountain is for you. Maybe it'll one day be opened again
Location: Bangli, Kec. Baturiti, Kabupaten Tabanan, Bali
People also read: 16 Breathtaking Waterfalls in Bali You Must Visit!
6. Mount Agung
This is undoubtedly the most famous mountain in Bali. It stands at 3031 km from the sea and it is an active stratovolcano. In its honor, one of the most important temples in Bali, Pura Besakih, was built. Like Mount Lempuyang's temple, you will also need to climb flights of stairs to get to the temple. This mountain is also very much trekkable, with the top being a caldera surrounded by white rocks that form a wavy formation. From the top of the mountain, you will also be able to see various natural beauties, such as Nusa Penida Island and Rinjani Mountain located in nearby Lombok. Although, you also need to be aware that it's still an active volcano with eruptions recorded as recent as 2018.
Location: Jungutan, Bebandem, Kabupaten Karangasem, Bali
7. Mount Merbuk
Mount Merbuk might not stand as tall as other mountains in Bali, but it is still on par with even the likes of Mount Agung when it comes to natural beauty. The height of the mountain is 1386 km from sea. It is very green and pristine and is way more beginner-friendly. Don't push your luck, though. Climbing alone is never a good idea, especially without a guide.
Location: Dauhwaru, Kec. Jembrana, Kabupaten Jembrana, Bali
8. Mount Catur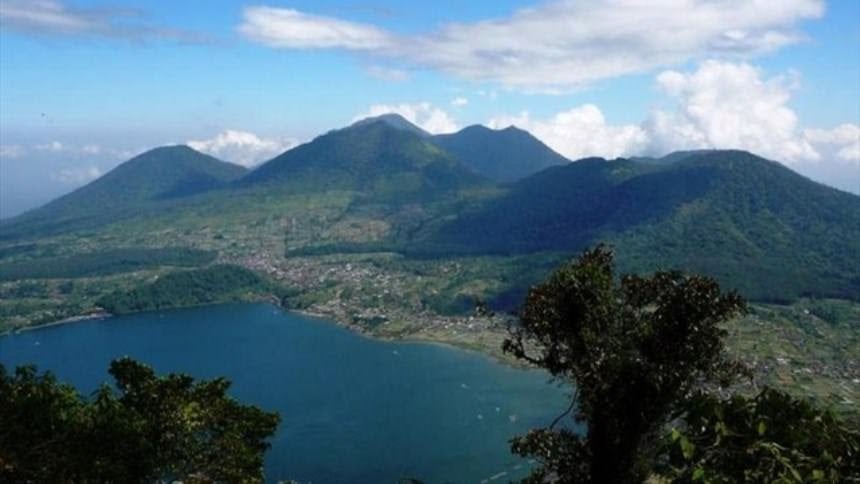 Mount Catur is also a good start for you who wants to try out trekking in Bali. The forests and greeneries still look untampered and they are much easier to navigate for beginners. The wet and humid conditions add to the feeling of rejuvenation. Once you get to the top, you will enjoy the view of Beratan Lake alongside nearby mountains. You can also see the districts behind the mountains, with many small houses and roads snaking within it.
Location: Pelaga, Petang, Kabupaten Badung, Bali
9. Mount Batur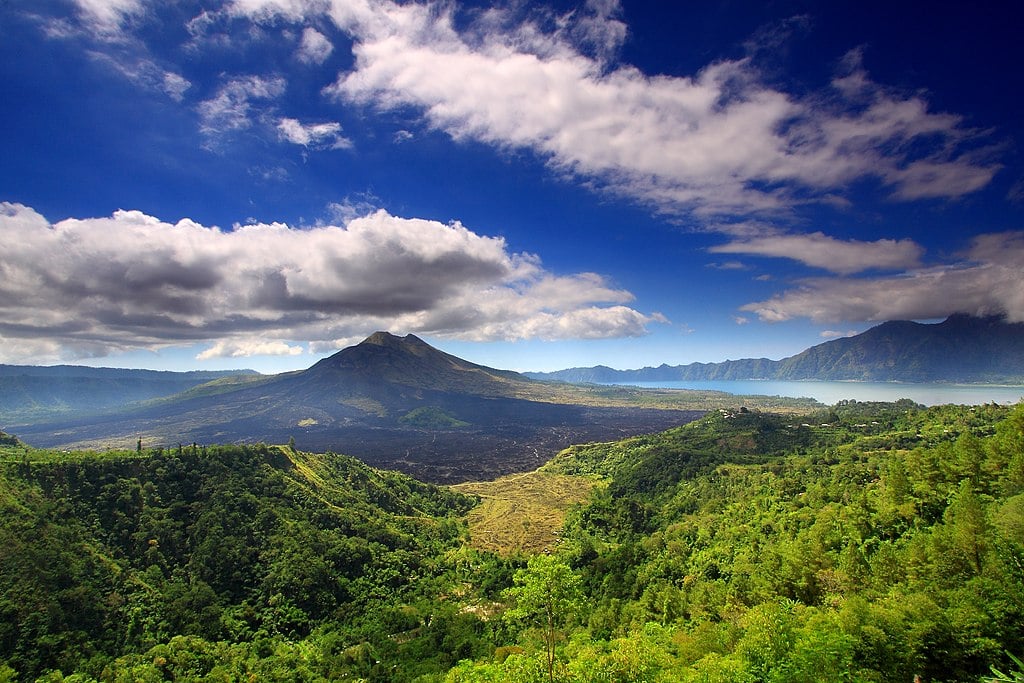 Here is a mountain that has provided not only stunning natural beauty but also sustenance for the villages living on its slope. Mount Batur has a lot of things to offer, giving trekkers a breathtaking view of a lake and caldera. This is not only any caldera, though as it is one of the largest calderas in the world. A river also flows from it to irrigate villages below. Despite all this, the mountain is still active and can erupt at any given time. If moana were ever to be given a real life comparison, mount Batur would be one of them. Overall, we really recommend climbing this mountain.
Location: Batur Sel., Kec. Kintamani, Kabupaten Bangli, Bali
10. Mount Abang
Even though it is not as tall as the highest of mountains in Bali, Mount Abang can be difficult to climb due to its slippery nature. Standing at 2152 km from sea It's best to save the opportunity to climb this mountain once you feel like you're ready to take on Abang!
Location: Abangsongan, Kec. Kintamani, Kabupaten Bangli, Bali 80853
Recommended Accommodations and Guide
For starters, we really recommend you start your trekking adventure while living in Bali with Gunung Batur. It is very popular for beginners and casual trekkers or hikers, with many local guides willing to assist you. Here is a sample accommodation for your ideal trip straight from the city or airport to the top of the mountain!
Jangkrik Homestay
Location: Jl. Hanoman No.60, Ubud, Kecamatan Ubud, Kabupaten Gianyar, Bali 80571
From location:
1 hour and 6 minutes to Gunung Batur by car
1 hour and 6 minutes to Pura Besakih by car
1 hour and 8 minutes to Gunung Penulisan by car
1 hour and 10 minutes to Gunung Adeng by car
2 hours and 4 minutes to Gunung Lempuyang by car
Very near to trekking services for Gunung Batur and Gunung Agung such as Bali trekking tour (4 minutes by car and 20 minutes by foot)
Per night stay: 176k IDR
Advantages:
Competitive tour prices for mount batur in addition to other great activities, such as touring around Ubud area and rafting in Ayung river.
Airport Pickup
Readily available staff that will help you with any queries or requests surrounding trekking and other accommodations.
The location is right in between the cityside and mountain areas, so you won't have to worry about accommodations being too desolate or too far from the mountain.
Guide or trekking assistance service:
Bali trekking tour
Location: Jalan Sekuih, Banjar Gentong, Tegallalang, Gianyar, Bali 80561
Services and price:
Mount Batur Sunrise Trekking Package for 797k IDR (57 USD)
Mount Agung Sunrise Trekking Package for 1539k IDR (110 USD)
And with that, we hope we can get you started on your trekking adventure! Once you're done with Gunung Batur and Gunung Agung and are still not satisfied, you can start trekking the other mountains. Hope you enjoy this article about 10 mountains in Bali that you must visit.
People also read: 13 Hiking Trails in Bali with Its Magnificent Scenery
---
Want to find a rental option near one of these mountains? Lucky for you Flokq has several rental options for you to choose from. Head on over to Flokq to find out more!
CLICK HERE TO FIND RENTAL OPTIONS IN BALI