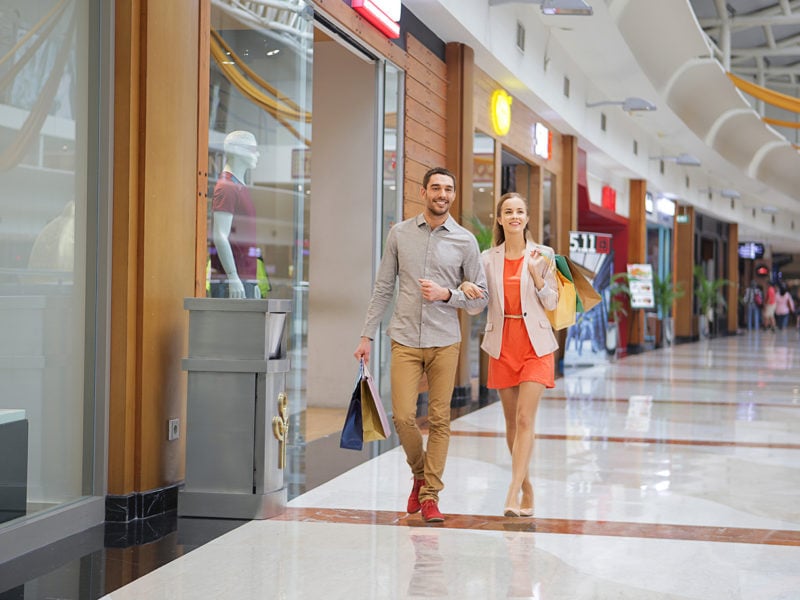 Local Guide
5 Places You Can Explore at Pondok Indah Area
Jakarta is a very crowded city. As the capital city, many areas in Jakarta have luxurious residences, one of which is in Pondok Indah.
Pondok Indah is one of the famous luxury residential areas in the South Jakarta area. There are many houses of conglomerates, expatriates, and Indonesian celebrities. 
Initially, Pondok Indah carried the concept of housing. However, over time, various business centers were established in this area. Besides that, many shopping centers that were established and other destinations that can be visited in the Pondok Indah area. Here are the lists!
1. Pondok Indah Mall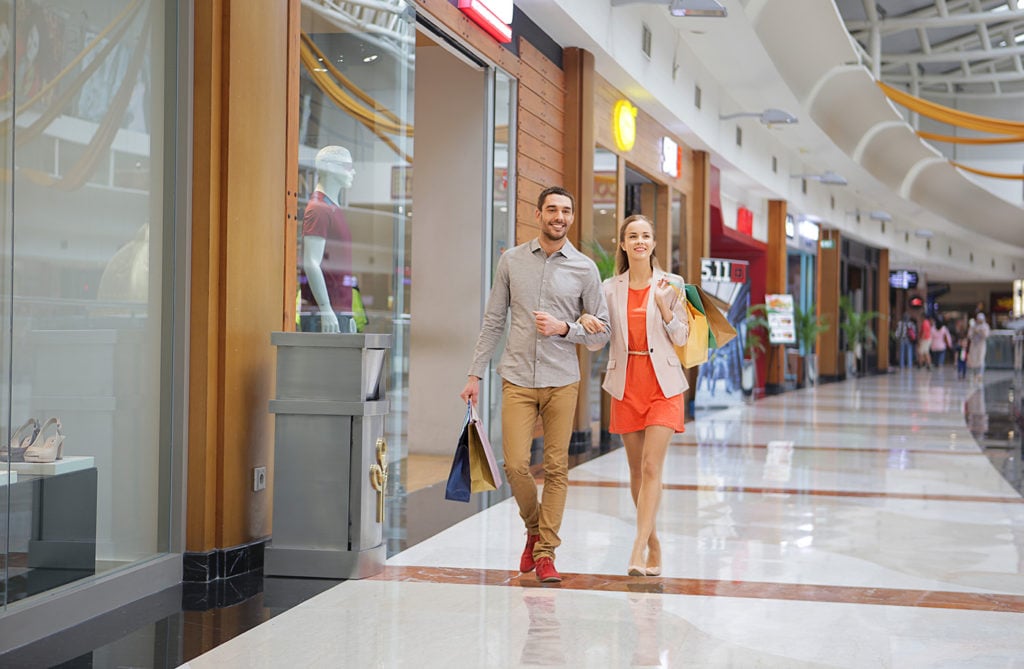 Located on Jl. Metro Pondok Indah Kav. 4, RT.1 / RW.16, Pondok Pinang, Kebayoran Lama, South Jakarta, Special Capital Region of Jakarta 12310, Pondok Indah Mall, or more commonly called PIM, is one of the shopping and entertainment centers in the Pondok Indah area, South Jakarta. 
PIM is located at the crossroad of Jalan Pondok Indah Metro and Jalan Haji Nawi. An underpass has been built connecting Jalan Sultan Iskandar Muda with Jalan Pondok Indah Metro to overcome congestion at the PIM intersection.
There are three areas in Pondok Indah Mall, which are PIM 1, PIM 2, and Street Gallery. You can easily walk from PIM 1 to PIM 2 through a connecting bridge. On the other hand, Street Gallery is a location specifically for restaurants and cafes. 
Furthermore, Pondok Indah Mall provides many facilities (prayer room, nursery room, disabled room, valet parking, shuttle bus), tenants (apparels, food, and beverages), and entertainment (events, promotion, cinema), and others. 
2. Pondok Indah Water Park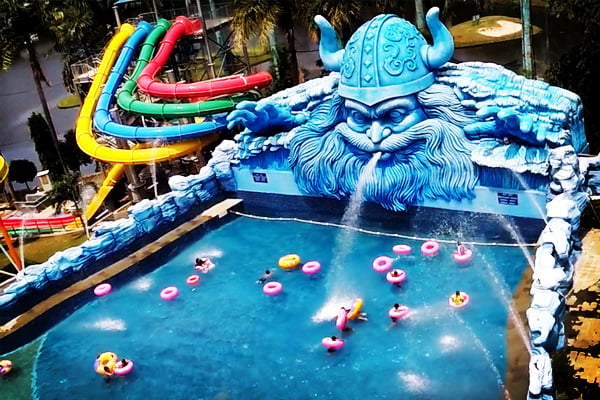 Source: pondokindahwaterpark.co.id
This waterpark is precisely located in Pondok Indah Mall Jl. Metro Pondok Indah. There are fun and interesting water games for playing with friends and family.
Some exciting games include Tube Slide, Flow Rider, Wave Pool, and Olympic Pool. In fact, each ride has its own excitement and characteristics of the game that will make you addicted to playing in the waterpark.
Some rules that need to be considered include: Children under 6 years must be accompanied by adults at least 18 years old while in the water park area. The entrance ticket is starting from Rp75.000 – Rp1.400.000 with opening hours at 06:00 – 21:00 WIB. The price can be different at any time, especially for the holiday season. Get your tickets and enjoy your family recreation at Pondok Indah Waterpark!
3. Houbii Urban Adventure Park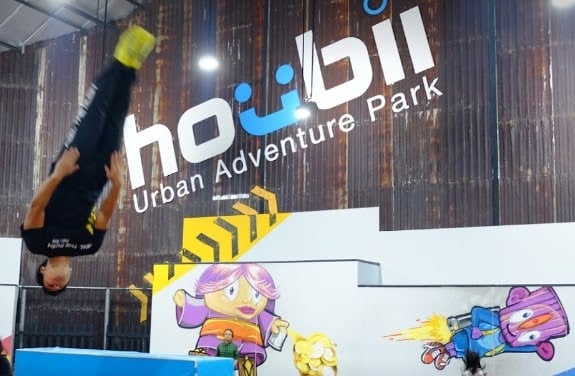 Houbii is a 3000 square meters Indoor Urban Adventure Park that can be enjoyed by children and adults. This adventure park will be the right place to spend your weekend with friends and family!
Houbii is located on Jl. Metro Pondok Indah Blok BB no, 3 – Jakarta, Indonesia (precisely at the Ex-Pro Arena Futsal Pondok Indah Building).
In Houbii Urban Adventure Park, you can enjoy various games and facilities such as Main court Arena, Dodge Ball Arena, Slam Dunk Arena, Rope Course, Ninja Course, Houbii Airbags, and the Extreme Slide, a six meters tall slide!
Houbii Urban Adventure Park is open on Monday at 14:00-22:00, Tuesday-Thursday at 10:00-22:00, and Friday-Sunday & Public Holiday at 09.00-23.00.
The entrance fee is Rp 225.000. For children 3-5 y.o. or height below 110 cm, the fee is Rp 180.000. Plus, the companion needs to pay fees Rp 30,000. The sessions will be in every 2 hours and new sessions start every 30 minutes and a different color bracelet will be given for each session.
4. Sandbox VR Pondok Indah Mall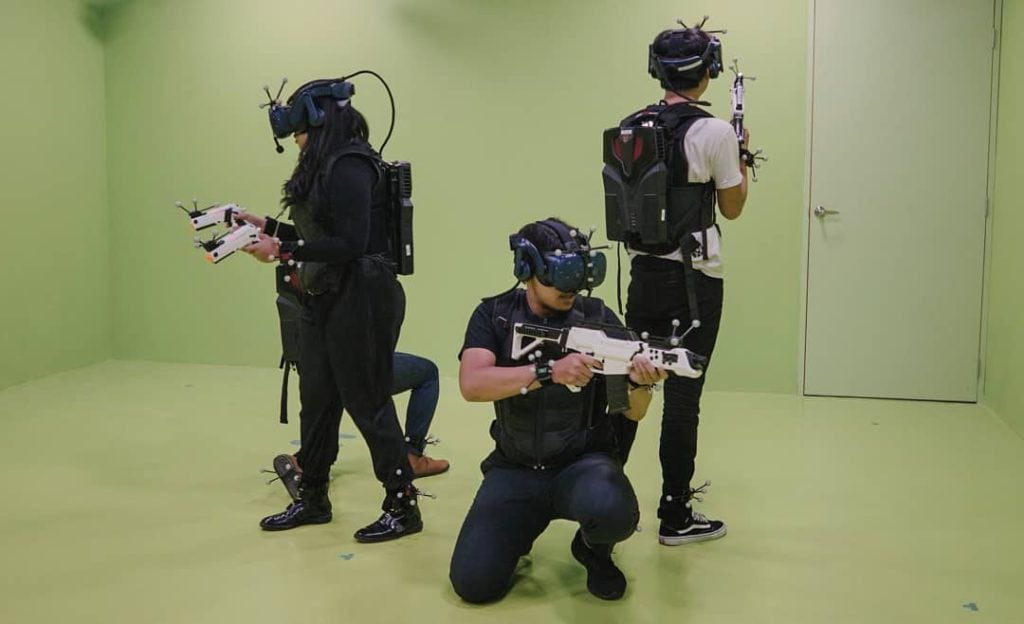 Featuring two full-sized game rooms each equipped with the latest in virtual reality technology, Sandbox VR is located in Pondok Indah Mall, Street Gallery No. 210A 2nd Floor, Jakarta 12310 Indonesia. Besides that, Sandbox VR also located in Lotte Shopping Avenue Jl. Prof. Dr. Satrio or Jl. Mega Kuningan.
Sandbox VR is the closest thing to the "holodeck" that exists. It combines motion capture with the latest in VR hardware to create the best VR experience on the planet. In fact, you will get very different experiences from VR that you might have tried at home or at other places. So, if you want to feel that great experience, you can try it for yourself!
In addition, you also can take photos and videos during the session. There are props in the lobby for photo-taking purposes before and after the session. Sandbox VR is open from Monday to Sunday at 10 AM – 12 AM. The entrance fee is starting from Rp 190.000 – Rp 240.000. So, don't miss out on the experience!
5. Metropole XXI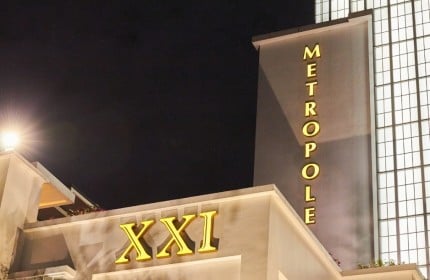 Source: 21cineplex.com
For those of you who want to enjoy watching movies with friends and family, you can simply visit Metropole XXI. It is 1,6 km away from Pondok Indah Mall. Metropole XXI is located in Megaria, Komplek, Jl. Pegangsaan Barat No.21, RT.1/RW.1, Pegangsaan, Kec. Menteng, Kota Jakarta Pusat, Daerah Khusus Ibukota Jakarta 10320.
The Metropole cinema is a historic cinema built-in 1932. So, If you visit Metropole, you will see a mix of vintage and modern nuance. Metropole XXI provides various facilities and tenants. People like going to Metropole because it has easy transportation access and cafes and restaurants at affordable prices.
So, we have reached the end of the article! How was it? Are you interested to explore Pondok Indah Area? Make sure to prepare your itinerary and budgets! Have a good trip!