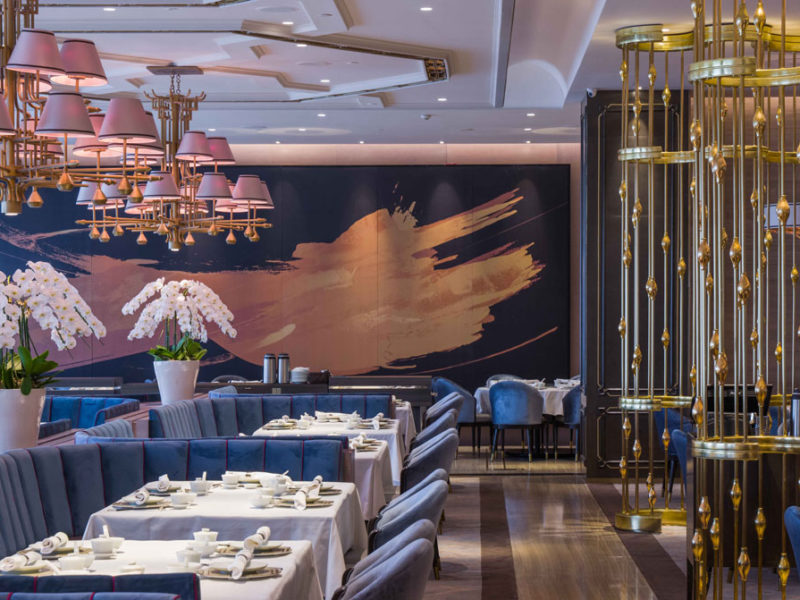 Local Guide
4 Best Restaurants to Celebrate Christmas in Jakarta
Indonesia may be the largest country with Muslim citizens, but it doesn't mean that Christmas doesn't get celebrated often, here in Indonesia. Christmas in Indonesia is just as festive as it is anywhere else. You can see almost every mall in Indonesia is decorating their venue with gleaming Christmas ornaments and every restaurant is setting up their Christmas special menu and of course their venue as well with the décor.
Christmas is the season to be jolly, the most awaited holiday of the year. Christmas is the time for you to gather around with your loved ones to recall the precious times you've spent together and prepare yourself for the upcoming year. The holiday is very special as it is near the end of the year, you may as well write your new year resolution for the upcoming year. As it is special, why not make it even more special by having delicious enjoyable feasts with your loved ones? Who cares about gaining a few pounds? The holiday is only once a year! We've rounded up some of the best places in Jakarta to spend your Christmas dinner, one that you will cherish for a long time!

1. AB Steak by Chef Akira Back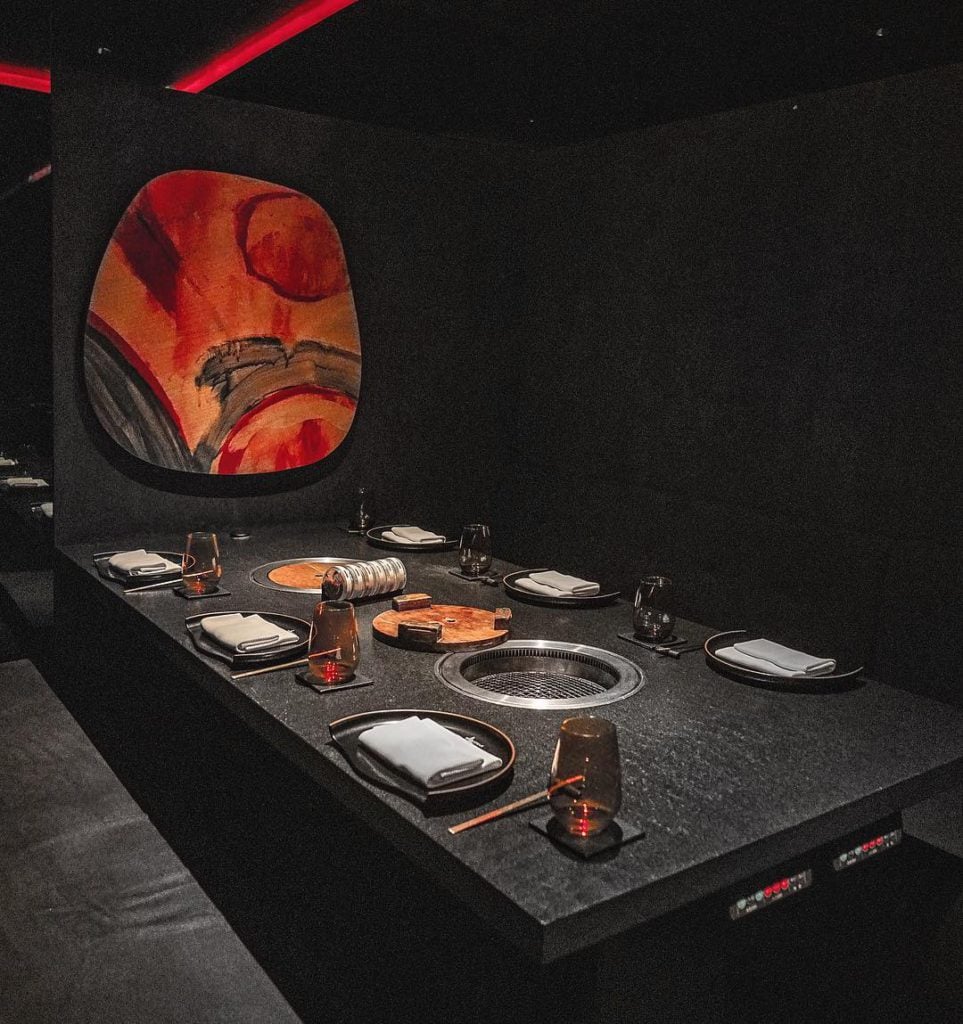 AB Steak by Chef Akira Back is located at the Mezzanine level of MD Place Building in Setiabudi. AB Steak is an American steakhouse incorporating lush Korean flairs into the concept. The interior of the restaurants is exquisite, as it exudes warmth and flair with modern Asian aesthetics. The restaurant is dominated by the color of black and red, giving the room a nuance of elegance and luxury alongside with the dim lights.
The restaurant is well-known for its outstanding durability of dry-aged meat. Their dry-aged meat can stands for 30 days up to 120 days. AB Steak doesn't only focus on making their food taste excellent, but it also put forward their customers' dining experience. The chef will grill the meat directly for you, to assure you get the best out of your food. They offer various cuts of meat, the choices are very diverse. We recommend you to try their Flat Iron Steak as the meat is not too fatty, but it will melt in your mouth. Dip the steak in the truffle salt that they provided, it is exquisite! If you planning on dining at AB Steak, you should reserve the seat beforehand.
Phone Number: +6221 29669272
Social Media: @absteakjakarta on Instagram
Address: MD Place Building, Mezzanine Floor, Jl. Setiabudi Selatan No. 7, Jakarta Selatan, DKI Jakarta 12910
Price Range:
In-house Dry Aged Cuts starting from Rp125.000 – Rp680.000,00/ 100 grams
Premium Cuts starting from Rp190.000 – Rp1.100.000,00/ 100 grams
Operating Hours: 17.30 – 22.30 WIB (Monday – Sunday) 
2. House of Yuen by Sun Tung Lok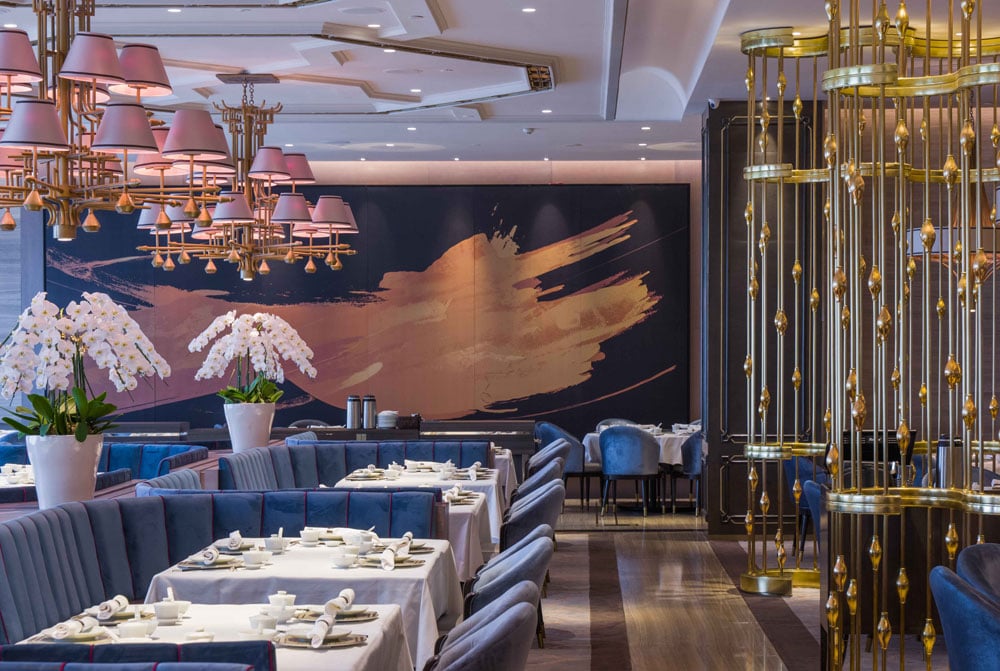 House of Yuen is a Cantonese restaurant that is located on the 3rd floor of the Fairmont Hotel. House of Yuen is operating under the one Michelin star, Sun Tung Lok from Hong Kong that is famous for its high-quality Cantonese cuisine. The restaurant has a magnificent and luxurious interior. The House of Yuen is dominated by gold, velvet blue, and white chrome, which makes the restaurant looks very elegant.
We do recommend their appetizer named Salted Egg Crispy Fish Skin, a beautifully crunchy, not too dry, perfect-textured meal. The salted egg seasoning is very rich in taste. For their mains, you should try their Braised Prime Rib with House Gravy. This menu will not disappoint you, as the meat is so tender and juicy that it melts effortlessly in your mouth, the seasoning is perfectly absorbed into the meat, and the gravy is excellent with the perfect combination of sweet and savory.
Phone Number: +6221 29039172 and +6287 882993999
Social Media: @houseofyuen on Instagram
Address: Fairmont Hotel, 3rd Floor, Jl. Asia Afrika, Senayan, Jakarta Selatan, DKI Jakarta 10270
Price Range:
Mains starting from Rp68.000 – Rp588.000
Operating Hours:
Monday – Saturday:
Lunch: 11.00 – 15.00 WIB
Dinner: 18.00 – 23.00 WIB
Sunday:
Lunch: 10.00 – 15.00 WIB
Dinner: 18.00 – 23.00 WIB
3. Oku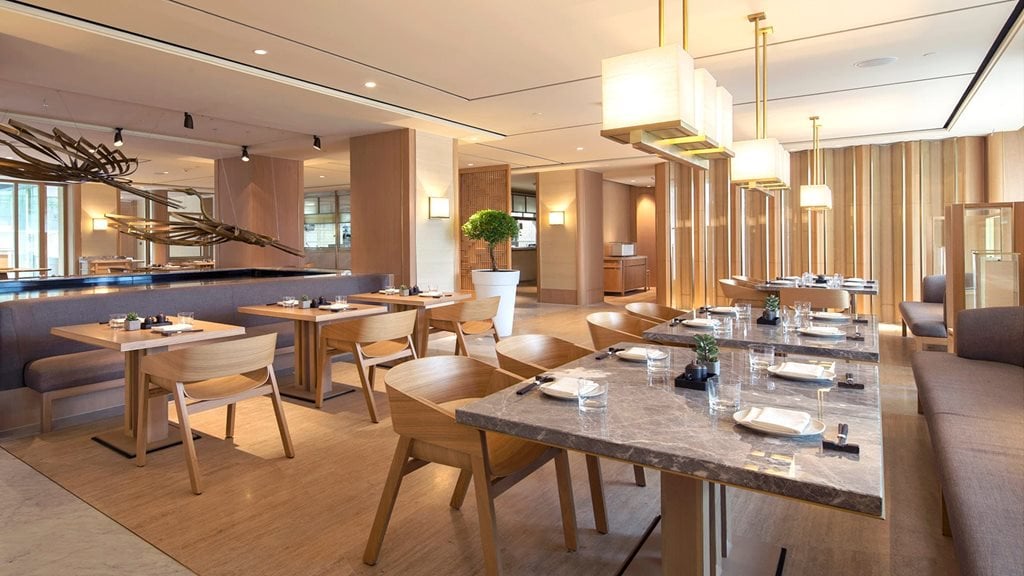 Oku is a Japanese fine dining located at Hotel Indonesia Kempinski. The restaurant is looking sleek, modern with a touch of Japanese characteristics. When you step your feet into the restaurant, the vibe you'll most likely be Zen. The simple minimalistic wooden furniture, outdoor landscape with small Japanese pine trees, and calming music will give you that Zen vibes and makes you feel like at home.
Oku offers traditional Japanese cuisine with a modern twist. Oku Karaage is one of the most best-selling appetizers in the restaurant, it may look ugly because of its color, but the taste is nothing like you've tasted before. When you bite onto the Karaage, a creamy spicy mayo will fill your mouth, and it tastes excellent. Another menu that you should try is their Karasumi Pasta with Sea Urchin, the combination of pasta, Ikura, sea urchin, and bottarga which pairs beautifully. It is very savory with a hint of umami taste in the background.
Phone Number: +6221 23583896
Social Media: @okujakarta on Instagram
Address: Hotel Indonesia Kempinski Jakarta, Jl. MH. Thamrin No. 1, Menteng, Jakarta Pusat, DKI Jakarta 10310
Price Range:
Signature cocktails starting from Rp160.000 – Rp250.000
Mains starting from Rp185.000 – Rp1.350.000
Operating Hours:
Lunch: 12.00 – 15.00 WIB
Dinner: 18.00 – 23.00 WIB 
4. GIOI Cookery & Plantery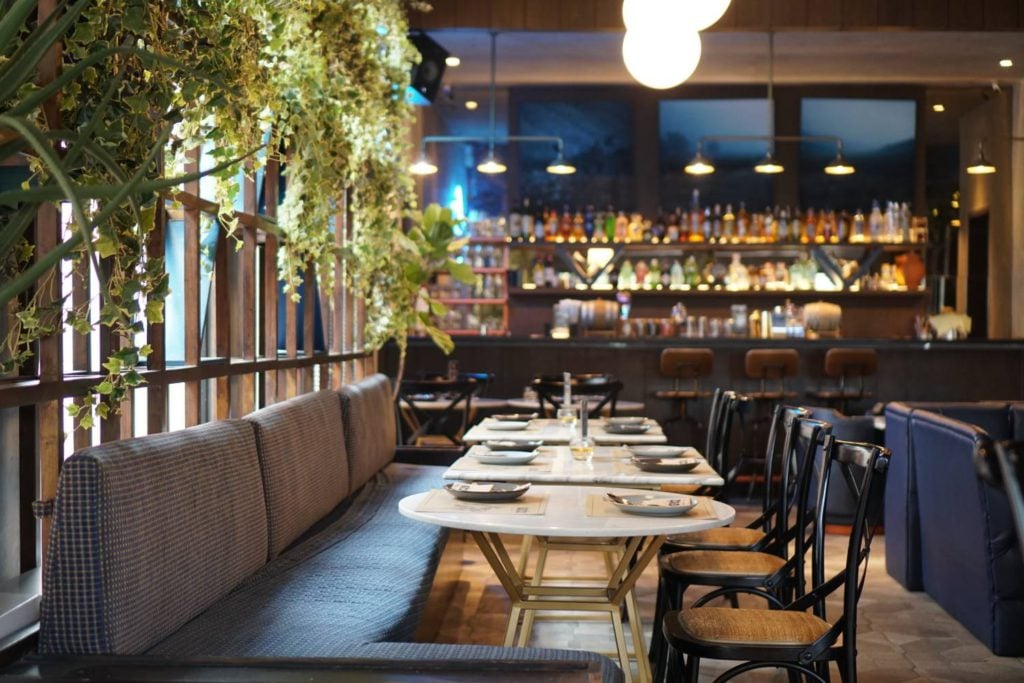 GIOI is an Asian fusion restaurant located in the heart of Senopati, Jakarta Selatan. The restaurant feels like home as it is decorated with local kinds of stuff, such as Tampah bamboo that filled up the walls. GIOI focuses on offering innovative Southeast Asian cuisine. The ingredients that they use are planted by them and they have their own plantery, which makes the restaurant has a plus point, because of their thoughtfulness.
You might want to try their Sate Lilit because the plating is just beautiful. Aside from their beautiful plating, the taste itself is delicious with a hint of spiciness. The flavor is strong in a good way, and the meat is perfect, not too dense, or too moist. Another menu that you should try is their Salmon Lodeh, Salmon in Sayur Lodeh is definitely something new, and again the taste is spot-on delicious.
Phone Number: +6221 7211468
Social Media: @gioijakarta on Instagram
Address: Jalan Senopati No. 88, Senopati, Jakarta Selatan, DKI Jakarta 12190
Price Range:
Signature drinks starting from Rp48.000 – Rp55.000
Mains starting from Rp98.000 – Rp270.000
Operating Hours:
Monday – Thursday: 11.00 – 23.00 WIB
Friday – Sunday: 11.00 – 00.00 WIB
So, there you have it! Some of the best restaurants in Jakarta to celebrate your Christmas. When you go there, don't forget to bring adequate money, a companion, or a family to celebrate Christmas together. You can also visit them in a normal daytime, though, as those restaurants offer some exquisite foods to brighten up your day. So what are you waiting for? Try to go there and give your honest reviews!