While we're glad that locally-grown coffee houses have begun to flourish everywhere in Indonesia, we tea-lovers can feel sad knowing that there's not much to explore in the artisan tea scene. But the past is in the past, for now, we're surrounded by a plethora of teahouses right here in Jakarta.
We've also covered the detail review of teahouses in West Jakarta here.

Residents of South Jakarta are especially getting all the luck because South Jakarta is where all the hip teahouses are. From Javan-styled tea parlors to lively eateries emulating historical Chinese teahouses to elegant, Continental-style tea rooms, and casual lounges with live music, South Jakarta has it all. And don't worry about the prices, some of them may be at a higher price point, but you'll also find ones that aren't brutally expensive. So, get ready to embark on a tearoom-hopping journey across one of Jakarta's most energetic neighborhoods.
1. House of Tea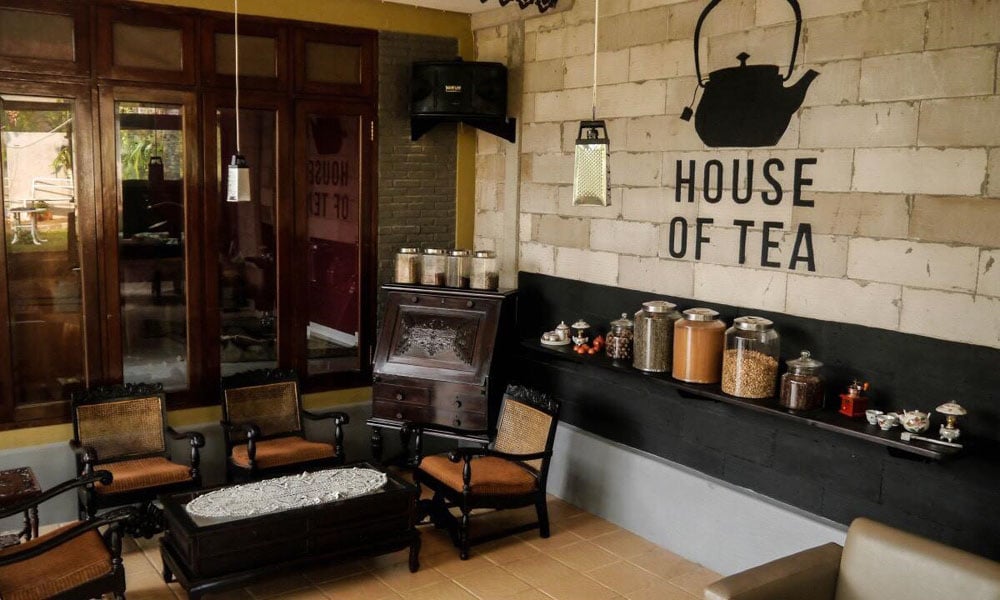 Pondok Indah's House of Tea is a homey, serene cafe with wooden furniture and vintage decorations that will make you feel like you're hanging out on the porch in a house in Central Java. The owner, known by his affectionate nickname Om Gun, is a friendly tea connoisseur who aims to introduce visitors to Indonesia's rich tea collection. Here you can enjoy and buy different types of tea from the luxurious white teas to fruity and flowery blends that will be sure to entice tea aficionados from everywhere.
One of their recommended menus is the up-and-coming Butterfly Pea with Lemon, a tea with vivid blue color and strong taste. You can also complement your drink with snacks and main dishes such as the classic Spaghetti Aglio Olio, cooked al dente. All in all, House of Tea is the perfect place for friends looking for a place to enjoy the night breeze of Jakarta while having deep, late-night conversations.
Website: https://houseoftea.id/
Phone Number: +62 856 8845911
Social Media: @houseofteaid on Instagram & Facebook, @HouseofTeaID on Twitter
Address: Jalan Poncol No.3B, RT.6/RW.5, Gandaria Selatan, Cilandak – Jakarta Selatan 12420
Price Range:
Tea starting from Rp 18.000-40.000
Snacks and mains starting from Rp 27.000-40.000
Opening Hours: 16.00-23.00 (open every day except Thursday)
2. Ling Ling Dimsum & Tea House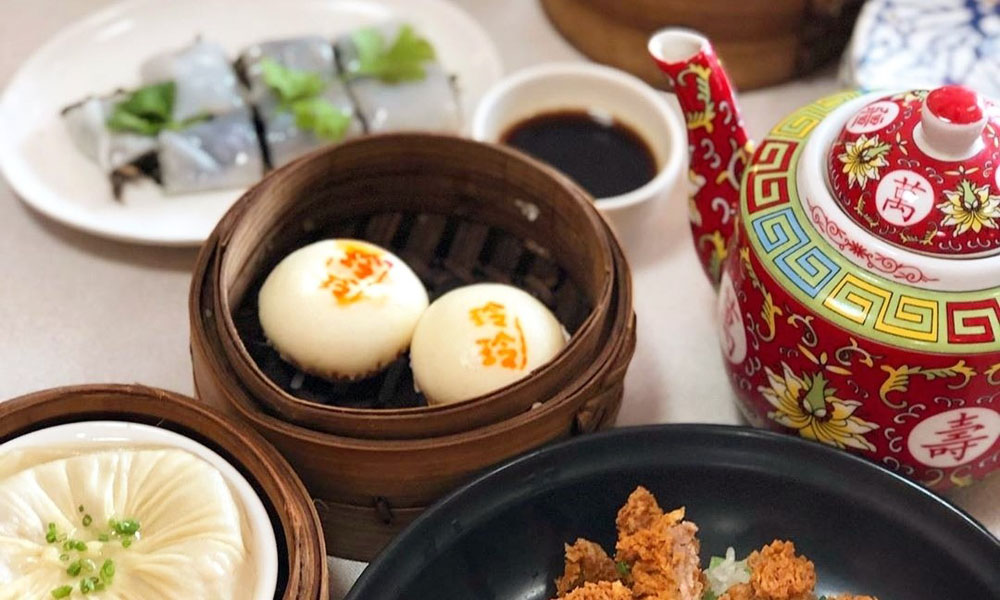 Not going to lie, we immediately fell in love with their mascot: a cute red fox that appears everywhere from the colorful murals on the wall and neon light decorations to their menu. The fox adds life to the teahouse's interior design, which is mostly dominated by grey concrete combined with wooden furniture. They also have big, round tables with a spinning disk in the middle, reminding you of opulent Chinese diners. True to its name, Ling Ling Dimsum & Tea House aims to introduce the age-old concept of Chinese teahouses in a lively and stylish environment suitable for diverse groups of youths.
Their menus include all-time favorites such as the fresh Prawn Cheun Fan with its sweat and savory sauce as well as unique dishes like the Lion's Head Meatball and Tea-Smoked Chicken Wings. Fans of spicy food can also order the flaming hot Chicken & Prawn Sichuan Wonton. Of course, it's not a teahouse without fragrant, hot Chinese Tea served in ornately decorated teapots.
Phone Number: +622127939069
Social Media: @linglingjakarta on Instagram, @LingLingFoxJakarta on Facebook
Address: Jl. Cikajang No. 72, Petogogan, Kebayoran Baru, Jakarta Selatan, Jakarta
Price Range: Snacks and mains starting from Rp 30.000-85.000
Opening Hours: 08:00-23:00 (Monday-Wednesday), 08:00-13:00 (Thursday-Saturday), Sunday (07.00-23.00)
3. TWG Tea House @ Pacific Place
You can't talk about teatime in Jakarta without mentioning TWG. That's right, everybody's favorite international tea parlor franchise has spread its wings and graced the Pacific Place at Sudirman. We personally fell head-over-heels with its signature luxurious interior design and displayed rows of colorful tea cans with curious names such as Napoleon Tea and Geisha Blossom Tea.
Here, you can enjoy premium Tea Time complete with viennoiseries (which is just a fancy term for cookies and pastries. Tea experts welcome for debate) as well as Brunch packages where you can enjoy savory or sweet baked goods combined with their Classic, Gourmand, and Signature Tea. While everybody has their own cup of tea, we have our own favorite tea variations such as the caramel-scented New York Tea and the strong Earl Grey Buddha.
Their menu is a bit up there in terms of price, but having proper tea time with friends or fellow devotees of posh British culture is always a rewarding, once-in-a-lifetime experience.
Phone Number: +622157973272
Social Media: @twgteaid on Instagram
Address: Pacific Place Mall, 1st floor, Jl. Jenderal Sudirman, SCBD, Jakarta
Price Range:
Tea starting from Rp 65.000-125.000
Main courses starting from Rp 65.000-400.000
Opening Hours: 10:00-22:00
4. Tea Addict Lounge and Resto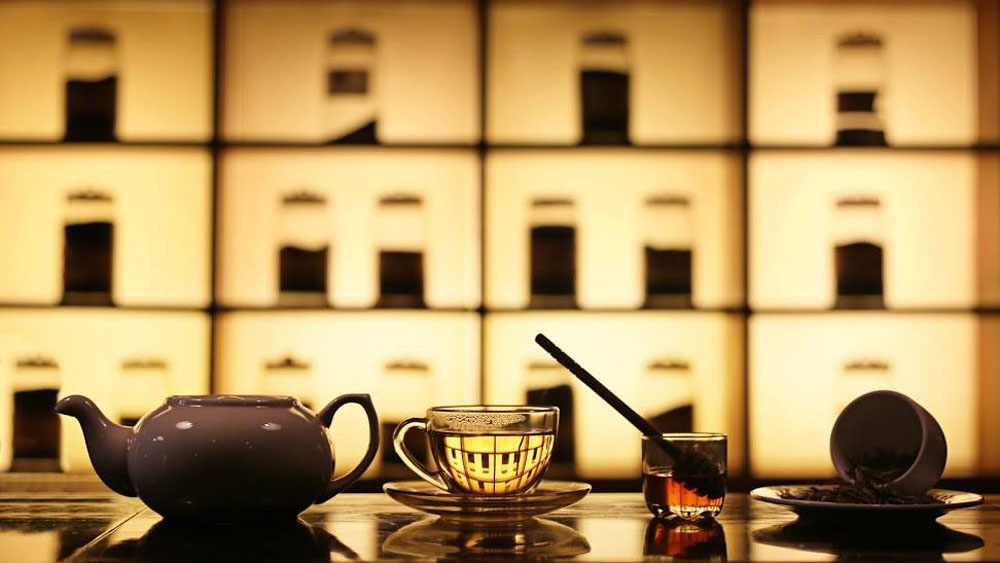 Don't let the 3.2-rating on Zomato fool you. Tea Addict Lounge & Resto is, in fact, a hidden gem for (you guessed it) tea addicts among the many Indonesian coffeeshops. Living up to its name, Tea Addict's muted lighting, as well as comfy sofas, make it an intimate place for a date night or get-togethers with close friends. You can also organize parties and meetings here as they provide bigger private rooms for such occasions.
On certain nights, you can also enjoy live music while drinking tea with creative names such as Pure Nirvana and Earl of the Orient. Tea Addict also claims their teas as having mood-altering properties, our favorite ones being Strawberry Blackcurrant (Arousing) and Strawberry Flirt (Romantic), good luck explaining those to your date!
If you're here for afternoon tea, we recommend their Tea Addict Platter, consisting of their best-selling light bites like calamari, mushroom fritters, and french fries.
Phone Number: +62217254539
Social Media: @teaaddictid on Instagram, @teaaddictlounge on Facebook
Address: Jl. Wijaya IX No.4, RT.2/RW.5, Melawai, Kec. Kby. Baru, Kota Jakarta Selatan, Daerah Khusus Ibukota Jakarta 12160
Price Range:
Tea starting from Rp 42.000-52.000
Snacks starting from Rp 39.000-75.000
Mains starting from Rp 58.000-150.000
Opening Hours: 9:00-22:00