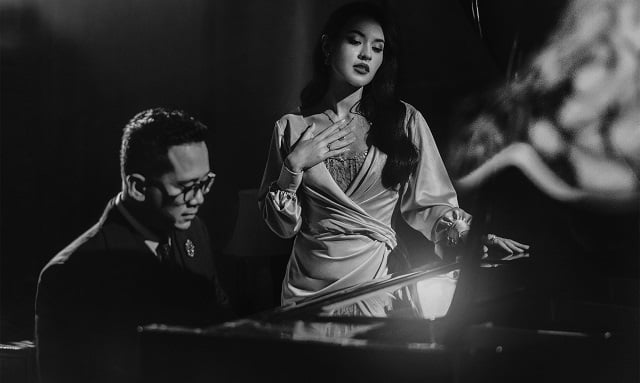 In a certain period of time, you may feel familiar with some songs that are played repeatedly in various media. One of them is Tiktok which makes certain songs viral because users create content with similar song backgrounds. In addition, the existence of Tiktok and Youtube makes it easy for people to upload video song covers and various versions that can be enjoyed by many people.
Some of the viral songs this year are songs that have actually been released for a long time, even for more than 10 years. The following is the viral song in 2020 by Flokq which you may be very familiar with.
Latest Viral Songs Frequently Played on Tiktok and Youtube
1. Pump It – The Black Eyed Peas
Viral with content Ladadida challenge on Tiktok, a song that has been released since 2009, has returned to popularity. This song has been used more than 1 million times in Tiktok video content. In addition, the total views on all videos with the hashtag #ladadidachallange were more than 400 million views.
2. Papi Chulo – Octavian & Skepta
Papi Chulo's fever, that's what happened on the Tiktok page. Almost every time the Tiktok homepage presents video content with the song Papi Chulo, both from original arrangements to remixes in the style of Indonesian koplo. The fever of Papi Chulo makes Tiktok users immediately imagine the dance movements that use this song, and even immediately want to move their bodies.
3. WAP – Cardi B feat. Megan Three Stallion
Cardi B, a rapper from New York, released a new single with Megan Three entitled WAP in August. After 3 months of release, the music video of this song has reached more than 280 million views. Meanwhile, on Tiktok, total views on videos using #wapchallenge were 3.4 billion.
4. Dynamite – BTS
The Dynamite song performed by Bangtan Boys or BTS was released last August. As aboy top South Koreanband, this song easily climbed the world charts. In addition, BTS's hardline fans also took part in popularizing this song. In addition, in TIktok media, Dynaite's songs are often used as background music for uploaded video content.
5. Dark Horse – Katy Perry
Jessica Bunga is a content creator on Tiktok who usually uploads video song covers. Then he went viral after making a cover of the song 'Dark Horse' by Katy Perry. The cover video has been viewed 180 million times on Tiktok. Then many creators also uploaded covers of this Dark House song and ended up going viral on the Tiktok page.
6. My Boo – Usher, Alicia Keys
The songs that are currently viral, especially on Tiktok, are some of the old songs that have been released many years ago. Like the song My Boo by Usher and Alicia Keys, which was released in 2004, it is now often used as a sound for Tiktok video content. In addition, many users have uploaded the video covers singing this song.
7. Love Story – Taylor Swift
Once popular around 2008 – 2009, Taylor Swift's Love Story song went viral again through Tiktok media. In fact, there are various versions and remixes with new arrangements of this song scattered on Tiktok. This song is the sound background for the video content with the hashtag #lovestorychallange. Currently, videos that use this hashtag in total have been watched 1.3 billion times on Tiktok.
8. I Like You So Much, You'll Know It
This cover video in English entitled 'I Like You So Much, You'll Know it' has been published and watched more than 130 million times on Youtube. Actually, this song is the soundtrack of the romantic-drama film from China, entitled A Love So Beautiful.
9. Mad at Disney – Salem Ilese
The song Mad at Disney is currently popular because it is mostly covered by Tiktok and Youtube users. The original singer of the song Mad at Disney is Salem Ilese. Currently, this viral song has been watched more than 10 million times on Youtube. In addition, this song has also been used by 3.1 million Tiktok video content.
10. Muffins in The Freezer – Tiagz
Familiar with a cut of the lyrics "… I did, what you gonna do about it?". The part of the song lyric is entitled Muffins in the Freezer. Still from the world of Tiktok, this rap song is viral because it is often used as a background sound for content created. Currently Muffins In The Freezer has been used 2.8 million times in videos on Tiktok.
Also Check: Best Indonesian Musician
Viral Songs
1. Kopi Dangdut – Fahmi Shahab
This old dangdut song has just returned viral through the Tiktok application. One Tiktok user uploaded a video cover of singing this Kopi Dangdut song. In addition to many who did duets videos by singing together, the cover song was used as the background song for the dance video. Here are songs with original arrangements from Kopi Dangdut:
2. Los Dol – Denny Caknan
This Indonesian song from the dangdut genre is quite viral on Youtube and Tiktok as well. The song Los Dol by Denny Caknan, has been watched 95 million times on Youtube. In addition, many have been covered by other YouTube creators who have also received millions of views.
Los Dol is also viral on the Tiktok application, because many users use this song as the sound for their content.
3. Cuek – Rizky Febian
The next Viral song is Cuek by Rizky Febian. On Youtube, many creators have uploaded video covers of Cuek's songs and some of them even get millions of views.
In addition, the song Cuek has been used by more than 61 thousand videos uploaded on Tiktok. In fact, there are more than 1.5 million videos using the hashtag #cuekcover, where in the video the account user uploads a video of singing the cool song.
4. Bahasa Kalbu – Raisa
This song, which was just released last August, is a remake of a song originally by Titi DJ. With the new arrangement, Raisa still perfectly sing this song and makes listeners feel touched.
Recently, the Bahasa Kalbu song went viral on Tiktok. A total of more than 49 thousand videos arevideos duet singing the Bahasa Kalbu song with Raisa.
5. Bunga – Anggun Pramudita
'Tarik, sist! Semongko '. These words may be very familiar among social media users, especially Tiktok. These words are used in Anggun Pramudia's live performance when she sings a song entitled 'Bunga'.
This Indonesian song has gone viral because pieces of the song are used many times in the dance video uploaded on Tiktok. It also leads to the words 'Tarik Sis! Semongko ' rings in the minds of the people.
Those are 15 lists of viral songs both overseas and Indonesian songs that are often used on Tiktok videos and also get lots of views on Youtube. You can play the songs above during karaoke with your roommates or kost friends.
Check the list of apartment rooms for monthly rental in Jakarta right here.