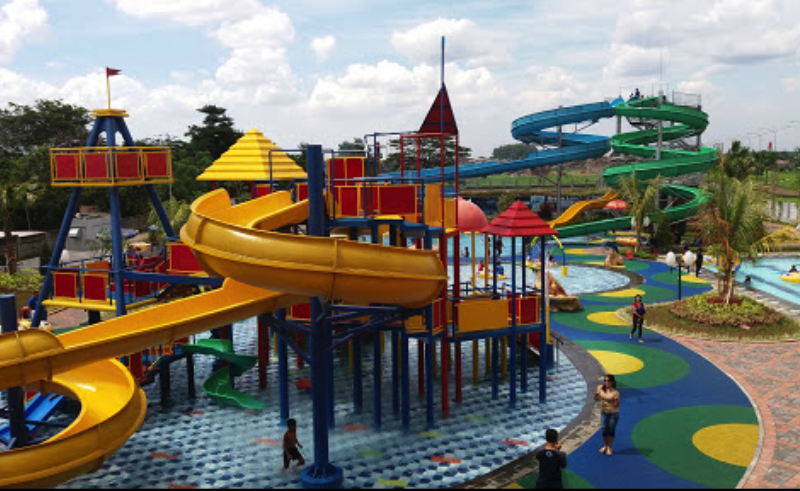 Depok is one of the developing regions around Jakarta. This city is home to two well-known universities in Indonesia namely the University of Indonesia and Gunadarma University. With the potential for the development of the city, we can see various developments that are happening with the construction of malls and the many places to stay and entertainment that is being processed. In this article, we provide several places to visit in Depok so that you will know more about your potential and desires in this city. Don't miss it!
Malls
There are several malls worth going to if you're feeling to go shopping.
Depok Town Square (Depok Town Square, Kemiri Muka, Kecamatan Beji, Kota Depok, Jawa Barat 16424)
Margo City (Jl. Margonda Raya No.358, Kemiri Muka, Kecamatan Beji, Kota Depok, Jawa Barat 16423)
Plaza Depok (Jl. Margonda Raya, Depok, Kec. Pancoran Mas, Kota Depok, Jawa Barat 16431)
Dmall Depok ( Jl. Margonda Raya Kav. 88, Kemiri Muka, Beji, Kemiri Muka, Kecamatan Beji, Kota Depok, Jawa Barat 16423 )
Coffee shops
It wouldn't seem great without visiting one of the best coffee shops in Bekasi, here are some must-visit coffee shops :
Yellow Truck Coffee (Jl. Margonda Raya No. 505, Beji, Depok)
MUG Authentic Coffee (Jl. Margonda Raya No. 488, Beji, Depok. Telp. (021) 29436541.)
Jacob Koffee Huis (Jl. Kemuning No. 1, Pancoran Mas, Depok)
Hidden Haus Coffee Tea (Jl. Bukit Cengkeh II, Blok F1 No. 9, Cimanggis, Depok 16451)
Attractions
there are more places you could visit in Bekasi and here's some of it :
D'Kandang Farm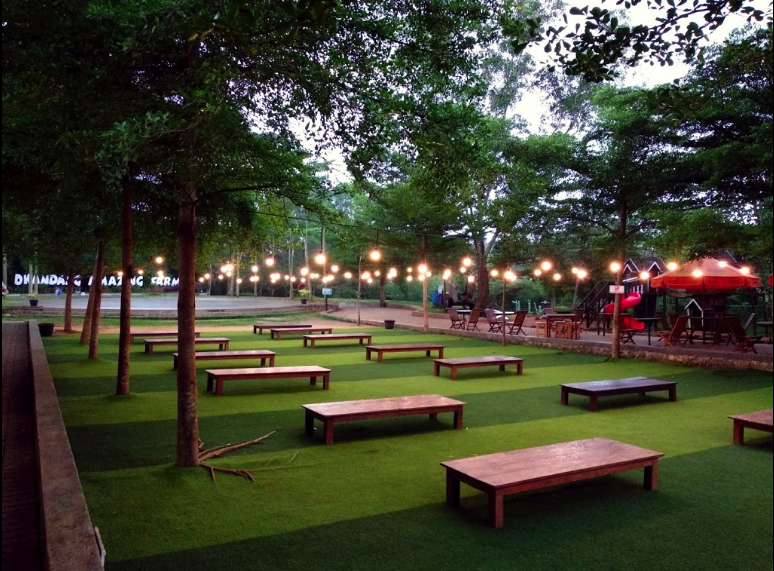 D'Kandang Amazing Farm is located in the village of Pasir Putih, Sawangan, Depok. The location is green and beautiful, making it feel natural and fresh. The natural nuance that is still thick with the flow of the river that surrounds the farm adds to the natural impression. D'Kandang with the concept of Fresh Food From Farm For Family is to integrate the concept of agriculture and animal husbandry from upstream to downstream. Presenting how agriculture and animal management are processed until their crops are ready for consumption by presenting a warm and family atmosphere. So it is not wrong if D'Kandang is a representative place for family tourism.
D 'Kandang Amazing Farm was established in 2011, starting from the CV Sawangan Farm Dairy company engaged in animal husbandry and agriculture. The products produced at the beginning of the establishment of CV Sawangan Farm Dairy are sheep breeding, sheep fattening, beef cattle fattening, dairy cow breeding, dairy goat breeding, milk, yogurt, and aqiqah. In 2014 CV Sawangan Farm Dairy was transformed into an educational tourism spot with the D 'Kandang Amazing Farm branding.
Over time, CV Sawangan Farm Dairy has a branding group that represents each product produced. D'Kandang Amazing Farm becomes a branding for educational tourism, SAFARI MILK for dairy products produced, Aqiqah Cage for aqiqah services. Chianti Garden for agricultural products. D'Kandang Amazing Farm stands on the awareness that tourism education is really needed for families and children that is doing practice and direct observation.Returning the learning methods of children and families to return directly to nature.
Address: Jl. Penarikan No.RT 01 / 02, Pasir Putih, Kec. Sawangan, Kota Depok, Jawa Barat 16519
Phone Number : +6221-7788-7138
Dian Al-Mahri Mosque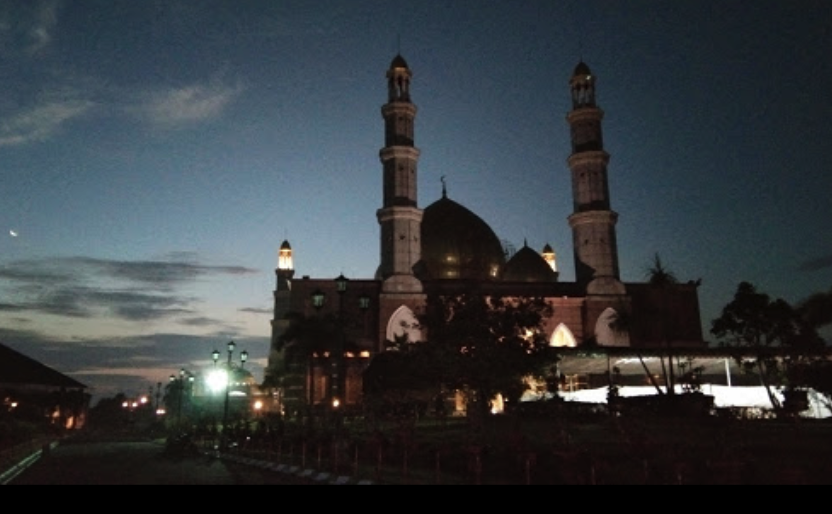 The mosque has three domes, one play dome, and two small domes. The entire dome is coated with gold as thick as two to three millimeters and decorated with crystal mosaics, making it the most unique feature of the mosque. The shape of the main dome resembles the dome of the Taj Mahal in India. The dome has a bottom diameter of 16 meters, a diameter of 20 meters, and a height of 25 meters. While other smaller domes have a diameter of under 6 meters, middle 7 meters, and a height of 8 meters.
As for the interior, there are chandeliers imported directly from Italy weighing 8 tons inside the mosque. Also, the ornate relief above the priest's residence is made of 18-carat gold. The fence on the second floor as well as the ceiling of the mosque has decorative calligraphy. As for the material of the crown pillars of the mosque, it amounts to 168 pieces of layered gold residue. The prayer hall is painted in a monochrome color scheme with the main elements of cream, to give its mood a quiet and warm feeling. The material is made of marble imported from Turkey and Italy.
Address: Meruyung, Limo, Depok City, West Java
Green Lake View Waterpark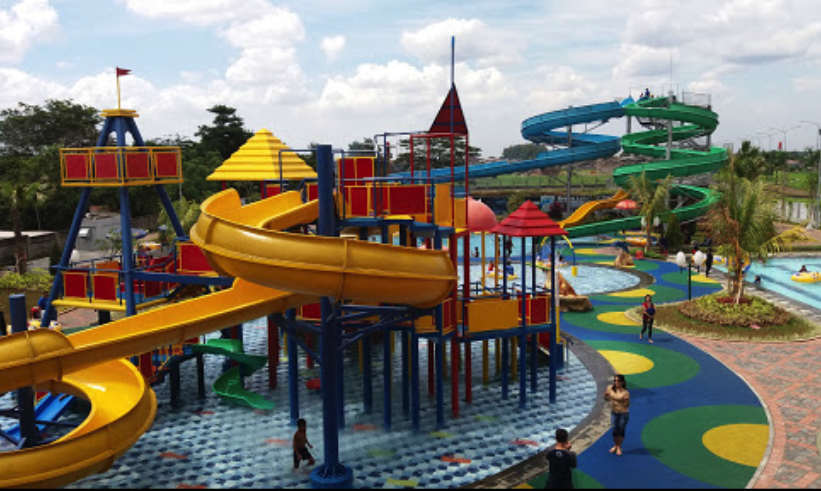 In this waterpark, the swimming pool is divided into two parts. First, the adult pool, which provides three slides of different lengths. There is a green slide with a wide channel that tests adrenaline. But there are also yellow slides with short and straight lines. Along the green line, there is a blue slide with fairly wide support. On this slide, visitors must use a floating tire. To get a tire, visitors just come to the rental place not far from the pool. Like Waterpark in general, there are exciting water games for children.
With a shallow pool, there is one vehicle in the middle of the pool. The vehicle combines fountains, several short skates, stairs, until the bucket spills. While waiting for the bucket to spill, visitors can try the series of games in the vehicle. Even children can explore the game from end to end. Because the pool is not deep, playing in the pool of children is safe to use for various ages. In addition to water rides, there are also other games.
After swimming, visitors can invite children to play trampolines, mini tricycles, and bicycles. There is a large park that can be used for this game path. While waiting for the baby to play, visitors can use the garden umbrella table. Even if many default visitors. Visitors do not need to bother because here Waterpark provides lockers. Separate locker rooms for men and women is lightening the burden on visitors so that they are more easier to play.
Address: Jl. Raya Bogor Jl. Nangka No.km.37, Curug, Kec. Cimanggis, Kota Depok, Jawa Barat 16453
Transportation
People here either have their vehicles or they use ojek online services. You can install an ojek online apps or uber if you want to travel. Now ojek online and Uber has been more efficiently accessed and spread a lot in Depok. You can also use a taxi or rent a car to get around in Depok. The most accessible way to get around Depok is by angkot, little green minibuses, they can be signaled down anywhere along their route, they will stop anywhere to pick-up and so will stop anywhere along the route to let you off. Another public transportation is Transjakarta that have their route around Depok.
So, there you have a list of recommended places you should go to in Depok. We hope it was a useful guide for you to get around in Depok! Have fun and don't forget to check out more recommendations on our blog!