Staying In
How to Clean Your Laptop Properly at Home (Easily)
How often do you use your laptop? In the office, at the client meeting place, at the cafe, and at home, maybe?
Practical laptops are easy to carry everywhere, yes. However, this also makes it easier for your laptop to be exposed to various places with different dust, dirt, and even bacteria and viruses.
In addition, a dusty screen or food crumbs tucked into the keyboard also makes your laptop look dirty and dull. Therefore, you must clean your laptop frequently. You don't want to carry dirt all over the place and get it stuck all over the place?
So, to avoid these things, here's how to easily clean the right laptop without worrying about damaging the device. Summarized from The New York Times:
Prepare the laptop and equipment
First, make sure your laptop is turned off and not being charged. Next, prepare the equipment needed to clean a dirty laptop:
Water
Dishwashing liquid
cotton bud
Isopropyl alcohol
sponge
LCD cleaner
2 microfiber cloths
Air duster
Lens cleaning brush
2 containers
How To Clean Your Laptop
Now, if you have all the items, let's start cleaning the laptop. We'll start from the outside first!
1. Clean the cooling fan and the inner device using an air duster (optional)
If you prefer to make sure that your laptop is clean and maintained. It's a good idea to clean your laptop cooling fan with an air duster and a cotton bud. The cooling fan is a fan that is usually found on the inside of your laptop. To do this you will most likely have to open your laptop. However, because there are some laptops that you cannot play with, this step is more optional.
2. Prepare the cleaning liquid
Now after you make sure your laptop is off and isn't receiving any power from your laptop charger, it's time for you to start preparing cleaning liquid. You should always remember that you are using the right cleaning liquid. Because if you use the wrong liquid, your laptop screen can be damaged.
For those of you who use a non-LCD screen, you can use a mixture of water and dish soap with a 5: 1 ratio. However, if you have a laptop with an LCD screen, it is advisable to buy an LCD cleaner to clean your laptop screen. For you LCD screen laptop users, you can find out more about how to clean your laptop screen in the microfiber section! Apart from cleaning the screen, you can also follow the methods below.
3. Soak your sponge in cleaning liquid
So if you have prepared cleaning fluid and checked whether your laptop is LCD or not, then it's time for you to start! Put the sponge in the cleaning liquid container and let the sponge absorb the cleaner.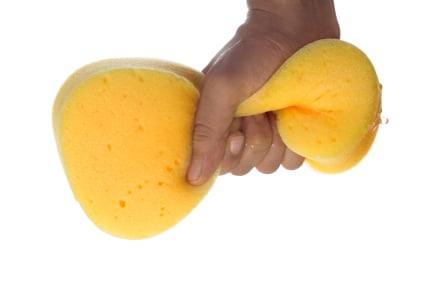 4. Squeeze excess water from your sponge before wiping it on to your laptop
Before you wipe the sponge that's wet with the cleaning liquid, it's a good idea to prepare one more container to collect water from the sponge. This is so you can make sure no water can get into the sidelines of your laptop. Since the sponge has absorbed enough of the liquid, the sponge will still be effective even after you dry the sponge.
5. Clean the outside of your laptop
How to clean the outside of the laptop is very easy. All you have to do is wipe the sponge on all the surfaces of the laptop: top, bottom, and sides of the laptop. After that, you can wipe it again with a microfiber cloth.
To clean the ports on the side of the laptop, take a cotton swab and dip the end slightly in cleaning alcohol. Make sure it's not too wet, then clean the laptop port with a cotton bud carefully.
6. Clean the keyboard of your laptop
The first way to clean a laptop is to clean the keyboard, the part of your laptop that is probably the dirtiest. The reason is often dust, food crumbs, oil, and other dirt stick to or gets into between the keyboard keys.
To clean it, open the laptop and face it down, then shake it gently so that the small dirt that can fall off. You can also blow it out if you see any dirt remaining.
For this part, you can start by cleaning the keys on the keyboard using a cotton swab soaked in isopropyl alcohol. Make sure to wipe the keys gently and thoroughly, while making sure that no water gets between the keyboards.
If you're wondering why use isopropyl alcohol, because this alcohol evaporates more quickly, thus reducing the risk of water getting into the sidelines. Plus, isopropyl alcohol works as a sanitizer!
Don't forget to clean the laptop trackpad, also you can wipe it with a dry or damp microfiber cloth sprayed with water, or with a cotton swab that has been dipped in a little isopropyl alcohol.
---
Read also: 4 Best Places to Repair Your Electronics in Jakarta
---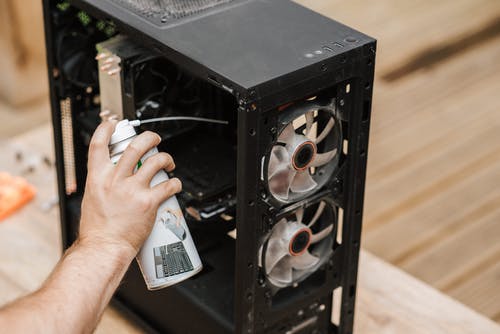 7. Use an air duster to clean dust and crumbs from between the laptop
After wiping the keyboard with a cotton bud, we can use the air duster to clean the dust and crumbs. Buying an air duster can be a hassle, but the effectiveness and versatility of an air duster cannot be doubted. When cleaning a laptop, an air duster can blow dust and crumbs out of your laptop (even in jacks or ports!). Not only that, air duster can also clean the dust that has accumulated on your screen. Plus, the air duster can also be used to clean other tools such as cameras and cellphones. Anyway, recommend it!
8. Clean the screen of your laptop
Now, after we clean the sidelines of the laptop using the air duster we move to the screen. Use a damp microfiber cloth sprayed with isopropyl alcohol to clean the dirt on your screen. Make sure to wipe slowly and in one direction.
If you have an LCD laptop, make sure you use a special LCD cleaning liquid so you don't damage the screen. Spray the LCD cleaner on a microfiber cloth and wipe the screen slowly and thoroughly!
If you're confused whether your laptop has an LCD screen or not do this, here's how you can check it. If your laptop is from 2010 and above, usually your laptop has an LED or slim LED screen attached. You can also check your laptop's LCD or not by checking for a white backlight from the bottom of the laptop screen when the screen is blackened.
9. Dry any wet area with a microfiber cloth
You're almost done cleaning the outside of the laptop! Now, you only need to clean any wet parts with a microfiber cloth. Make sure all parts are dry so that there is no possibility of water getting into the laptop.
10. Clean the external device
If you often use additional external devices, don't forget to clean them too. The laptop, mouse, or hard drive charger that you often use is also dirt-free.
How to clean laptop external devices is also not difficult, really. You only need to wipe it with a cloth that has been given a little alcohol.
Yay! Now your laptop is clean! After this, try reading the tips and tricks below to make it easier for you to clean your laptop.
Tips and tricks on how to clean your laptop
1. Buy a cleaning kit
If you think about it, gathering the tools and making cleaning fluids can be a hassle. However, if you buy a cleaning kit you can speed up and ensure the cleanliness of your laptop. Most cleaning kits already have the tools and materials you need, from brushes to cleaning fluids to microfiber cloths.
The price of cleaning kits varies, starting from the brand and accessories. Buy a cleaning kit according to your laptop needs. It is recommended to buy a traveler cleaning kit for less than 50,000 for you LCD laptop owners! In addition, this cleaning kit can also be used for cellphones and cameras. So make sure to buy it if you want to ensure the cleanliness of your laptop and other electronics. You can also follow the methods for cleaning a laptop listed above after purchasing a cleaning kit.
2. Make a schedule to clean your laptop
Cleaning a laptop may rarely occur to us because we are very busy. However, laptops are an important asset for us to work in today. So it's a good idea to routinely clean the laptop so it doesn't get damaged and dirty.
---
Well, that's the right way to clean a laptop so you don't get it wrong and damage the laptop. Clean your laptop routinely, especially if you use it every day and take it to various places. Don't want your laptop looking dirty and filled with bacteria right?
Happy cleaning your laptop!