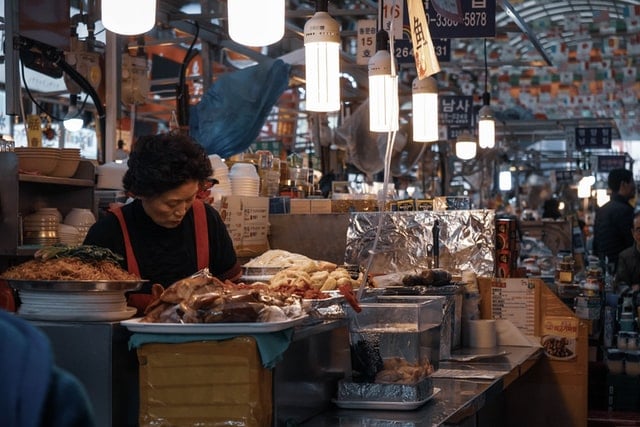 Tips di Rumah
Cook Korean Street Food at Home with these 8 recipes!
Who doesn't like Korean food? They tend to be a bit spicy, but overall very delicious and delightful to eat. Especially, Korean street food. Having to taste the food that everyday Korean youths and passerbys taste is a dream for many fans of the Hallyu wave. But don't fret! Here are 8 recipes for you to try and cook korean street food at home!
People also read: 8 Korean Street Food Places in Jakarta
1. Tteokbokki (Korean Rice Cakes)
Tteokbokki or Korean rice cakes is a world famous korean delicacy. They are soft, delicious to eat and are a pretty well-known delicacy. Try this recipe to make your very own Tteokbokki!
Ingredients:
Korean rice cakes (500 gram)
2 scallions (sliced)
Dried Anchovies
Dried Kelp/dashima
Onion
Garlic
2 tbsp of sugar
1 tbsp of chili paste
1 tbsp of Chili powder
1 sheet of eomuk (fish cake)
Soy sauce
1 tsp of sesame oil
4 cups of water
For the tools, you just need two cookers/pots and a tool to stir!
Let's get started!
Step 1: Making the anchovy broth
Before you start making tteokbokki, you should start from making the anchovy broth first! You can easily do that by boiling dried anchovies, dried kelp/dashima with a dash of salt for about 20 minutes. Remember to not boil it for too long and to leave the pot uncovered to ensure the smell doesn't stick.
Alternatively, you can also use instant anchovy broth (it looks like a tea pouch) or use other kinds of broth like chicken stock. It will change the density of the broth but in the end it's still a good comfort food.
Step 2: Soften the Tteokbokki
Once you're done with the broth, you can start softening the tteokbokki by soaking it on water for about 15 minutes. You don't need to do it if it's already soft.
Add in Chili paste, chili powder, soy sauce and sugar into the cooker with the stock in it and stir them for about 5 minutes or until they are well mixed.
Step 4: Adding the good stuff!
Once you're done with step 3, now it's time to put the rest of the ingredients in! First, you add in the rice cakes and stir them up for about 9 minutes. After that, you add in rice cakes and cook them for 4 minutes.
Step 5: Garnish and serve.
Add in sesame oil and cut scallions to garnish the dish.
Now you have your very own world-famous Tteokbokki!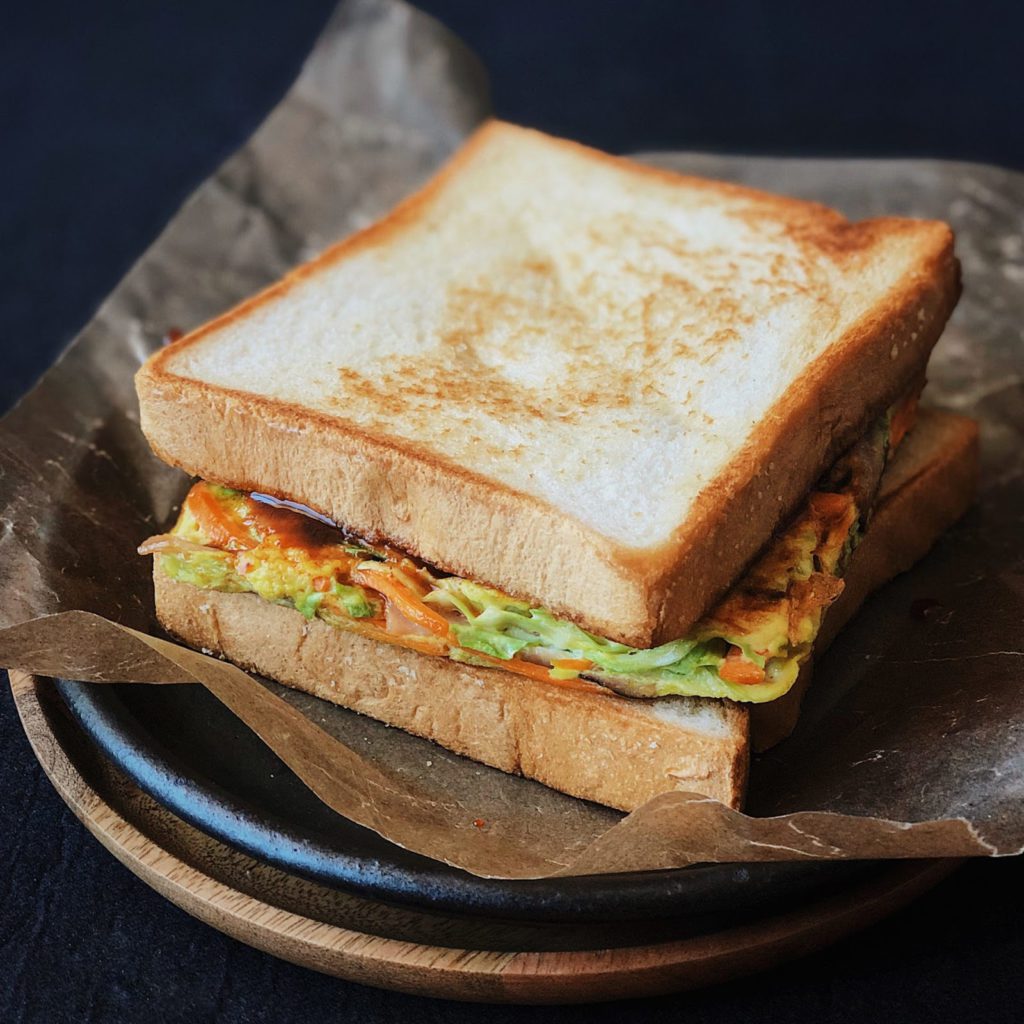 2. Korean street toast or Gilgeori toast
If you love South Korea, then you would probably know this dish. The simple, yet satisfying combination of egg and bread will certainly melt and blow your taste buds away. Not to mention the crunchiness of the cheese. Let's try making some!
Ingredients:
2 slices of bread
2 eggs
½ Cabbage (sliced)
Sliced Carrot (1 pcs)
Sliced Cheese (4 pcs)
Salt
8 tbsp of Margarine
For the tools, you just need a toaster and a skillet/frying pan. Let's get started!
Step 1: Cook eggs and slice vegetables
Heat up the frying pan and put in your eggs, sliced veggies and salt. Mix and stir until it's cooked. Make sure the width of the egg doesn't go over the bread. Set aside.
Step 2: Toast the bread slices
Now it's time for you to cook the bread! Spread margarine into both of the slices. For toasting the bread, You can either use the toaster or even the skillet if you want.
Step 3: Finishing touches!
Once you're done with toasting the bread, put it on a plate and place the egg batter that you set aside. Put in sugar, tomato sauce and mayonnaise sauce to add extra taste!
And there we go! It's pretty easy isn't it? Yet the flavor and texture is so good!
3. Egg bread
Up next we have another korean take of the dependable egg and bread. Here we have korean egg bread or Gyeran bbang!
Ingredients:
Margarine (1 tbsp)
fresh milk (200 ml)
sugar (2 tbsp)
eggs (2 pcs)
Wheat flour (150 grams)
Baking powder (1 tsp)
For the tools, you need a muffin tray, a canvas, and something to grab hold of the egg breads. Now let's get cooking!
Step 1: Prepare the egg batter and warm the fresh milk
To start, whisk egg, sugar, and salt inside a bowl. While doing so, heat up your milk for 10-12 minutes or so or until the milk gets clodded. You should focus on whisking the egg batter until everything in the bowl dissolved while simply waiting for the milk to clod.
Step 2: Finish the egg batter
If you're done with the first part egg batter and the milk, you can add wheat flour and baking powder to finish your egg batter. Lastly, add on margarine. Stir until it's well mixed.
Step 3: prepare the muffin tray
Use a canvas to spread margarine on your muffin tray.
Step 4: Pour in the egg batter
Once you're done spreading the margarine on the muffin tray, pour in the egg batter to the muffin tray. You can add some things like parsley, cheese or sausage to name a few.
Step 5: Put it in the oven!
Put your muffin tray inside an oven preheated to 200 degrees celsius and heat it up for about 20 minutes.
And, you're done! Enjoy your delicious egg bread!
4. Korean fish cake soup/Odeng
This one is also a very well-known delicacy in the streets of South Korea. It's really good to accompany a cold, breezy day or after soothing your taste buds after a long food tour of South Korean streets. The fish meat and broth will warm you up for sure!
Ingredients:
8 Cups of water
1 pack of fish cakes (you can buy one online or from your local supermarket)
Dried anchovies, innards removed (30 gram)
Dried kelp (300 gram)
¼ tbsp of sea salt
Chopped green onions (2 pcs)
2 tsp of rice wine
Mu or daikon (1 pcs, peeled and divided into small cuts)
For the tools, you will need a bunch of skewers, a pot and something to stir with. Now, you are ready to make your very own Odeng!
Prepare your pot that has already been filled with water. Add the pickled radish that you peeled and cut, dried anchovies, and dried kelp. Boil uncovered for about 15 minutes. Remove anchovies from the broth.
Step 2: Prepare your fish cakes
While waiting for your broth to boil, you can start preparing your fish cakes by skewering them.
Step 3: season your broth.
Add mirin and salt and chopped green onions to your broth. You can also add soy sauce according to your taste.
Step 4: Boil the fish cakes alongside the soup.
Add your skewered fish cakes to the pot and let them boil for about 8-10 minutes. Serve while hot.
Another Korean Street Food under your belt! You should feel proud! Pro Tip: this is best served while it's hot so you can either use a portable stove or time your cooking to maximize the taste!
People also read: Must-Try Korean Restaurants in Jakarta
5. Korean popcorn Chicken
This one will certainly fill your belly with some savory chicken goodness. Here is how to make Korean Popcorn chicken!
Ingredients:
Chicken thighs (500 grams)
1 tbsp of rice wine
½ tsp of minced ginger
½ tsp of sea salt
½ tsp of black pepper
1 cup of corn starch
oil
Tomato sauce
Gochujang
Soy sauce
For the tools, you just need a mixing bowl, a pan and something to stir with. Let's get cooking!
Step 1: dry and marinate the chicken!
First, let's make sure that the chicken is not moist and is ready to be cooked. After you are sure that it's dry, you can start marinating the chicken thighs inside a large bowl alongside rice wine, minced ginger, black pepper, and salt for 20 minutes. After you're done, add cornstarch to the chicken.
Step 2: Prepare the frying pan
While waiting for the chicken to marinate, you can prepare the pan. Heat up the pan for about 10-15 minutes.
After the pan is properly heated and your chicken is finished marinating, you can start frying the chicken. Make sure to give some space so that your chicken won't stick to each other while frying. It should be fried enough by 5-10 minutes.
While waiting for the chicken to fry, you can make the sauce. This consists of 6 tbsp of tomato ketchup, 2 tbsp of gochujang, and 1 tbsp of soy sauce.
Step 5: coat the fried chicken in sauce
The last step is to coat your chicken in the sauce that you just made. Serve it on a plate alongside some green onions if you'd like!
Alright, you have finished making your own Korean chicken popcorn! Enjoy!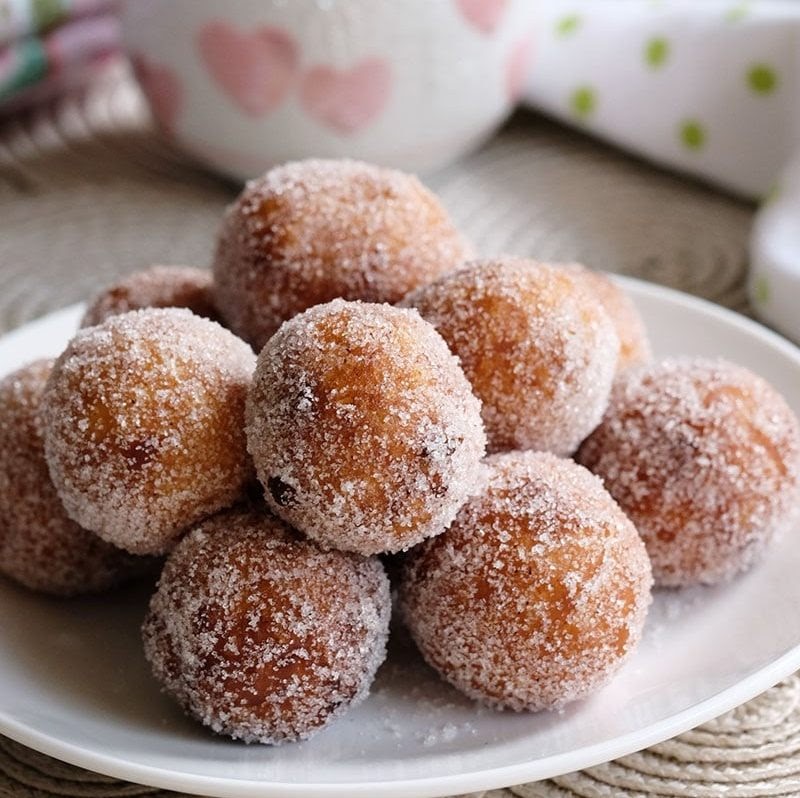 6. Chapssal donut
Here is a recipe that incorporates more sweets for a change. Enjoy your Chapssal donuts!
Ingredients:
Glutinous rice flour (7 tbsp)
Wheat flour (1 ½ tbsp) 
Butter (1 g) 
Salt (¼ tsp) 
2 cups of hot water
Red bean paste (10 gram)
Sugar (1 tsp) 
To start, let's make our dough. Mix the glutinous rice flour, wheat flour, salt, and sugar. Pour small amounts of hot water to help create the dough.
Step 2: Make your (smaller) dough
Once you finish your batter, you can start taking small parts from the dough to create smaller doughs. Meanwhile, you should prepare to fry your dough by heating your oil in a pan.
Step 3: Put your red bean paste in the dough
Before you start frying your dough, don't forget to put your red bean paste inside it. Red bean paste will give the dough a sweet and soft sensation when bitten!
Once you are done separating your dough into smaller dough and the pan is already heated up, you can start frying!
Step 5: lift up and serve
Once the dough turns hash brown. Lift it up and put it on a plate. You can add its taste by including cheese or white sugar. 
That's it! Enjoy the sweet and soft bites of Chapssal donuts!
7. Fried Korean Sweet Pancakes or Hotteok
Here is another recipe for your sweet-loving taste buds.
Ingredients:
 1 cup of lukewarm milk
 Cooking oil (1-2 tbsp)
 Sugar (2 tbsp)
All-purpose flour (2 cups)
 Salt (½ tsp) 
Instant dry yeast (1 tsp)
Brown Sugar (¼ cup)
Cinnamon Powder (1 tsp) 
2 tbsp of crushed nuts
For the tools, you will need two bowls, a professional press, and a skillet. Good luck!
Filter your flour into a bowl and mix salt, sugar, instant yeast, and milk. Wrap it with plastic and wait for it to ferment for 45 minutes to an hour.
After an hour, you can go back to check the dough. Press the surface of the dough with a bowl or your hands (if you are properly washed) to push out gas from the dough. Close the wrap again and leave it for 20 minutes. This is also in order to shape the pancake properly.
Step 3: Prepare the filling
While you're waiting for the dough, you can prepare the filling. Put in your brown sugar, Cinnamon powder, and crushed nuts into a bowl and mix them up.
Step 4: Put the filling inside the dough
Once you're done with both the filling and the dough you can take small pieces from the large dough, flatten it, and insert the filling about 1 tsp.
Step 5: heat up the pan and fry the dough
Heat up a frying pan and pour cooking oil. Once you're done, put in the pancake dough one by one and form the pancake shape by pressing on them using a tool such as a professional press. Do it to all of your small doughs and you're set!
Might not be as big as the pancake that you usually know, but this little snack packs a huge flavor!
8. Tteokkochi
Last but not least, here is our last recipe for you to cook Korean street food at home! You might know tteokbokki, but tteokochi's flavor and style is simplistic, yet alluring like it's cousin tteokbokki. Try making it! Here are the ingredients that you need:
Ingredients:
500 grams of tteokbokki tteok
Cooking oil 
2 tbsp of ketchup
2 tbsp of Gochujang 
1 tbsp of honey 
½ tbsp of soy sauce
1 tsp of sesame oil 
¼ tsp of minced garlic 
For the tools, you will need a skewer, skillet, and something to stir with!
Step 1: skewer your rice cakes
First, skewer your rice cakes! You can put up to 4-5 rice cakes per skewer.
Step 2: Fry the skewered rice cakes
Once you're done skewering your rice cakes. You can start preheating a pan and frying your skewered rice cakes.
Step 3: Prepare your sauce
While frying your rice cakes. You can prepare your sauce that consists of ketchup, gochujang, honey, soy sauce, sesame oil, and minced garlic (or onion, whichever suits your tastes) and stir-fry them in a saucepan.
Step 4: Mix your sauce with skewered rice cakes
Once you're done making the sauce, you can just simply pour them into the skewered rice cakes. If you have a canvas, you can take the cleaner route and brush the sauce onto the skewered rice cakes.
And that's that! Pretty easy right?
---
There you have it! What are you waiting for? Now is the time for you to cook korean street food at home! Most of these are delicious as snacks or appetizers, perfect for your sudden cravings. Enjoy!  
People also read: Best Korean BBQ Restaurants in Jakarta