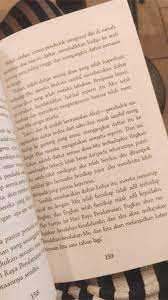 Staying In
8 Recommendations of Teen Novel that Suit for your Me-Time
Doing some comfy things during free time is a must to make yourself happier. Some people decide to travel, exercise, or rest, some people also choose to read their favorite novels that have not been read or even just purchased.
If you like to read novels, many types of novels can be read, especially in 2022. There are translated novels, adult novels, to teen novels. However, for now, we will only discuss recommendations for teen novels that are suitable for your me-time.
---
read also: 12 Best Richeese Menu Recommendations that You Must Try
---
1. The Midnight Library
One of the recommended teen novels that you can read is The Midnight Library. The Midnight Library is a teen novel written by Matt Haig and first published in 2020. The novel is still popular in 2022 and is still published today.
The novel tells the story of Nora, a 35-year-old woman who during her life was filled with regrets. Until one day she finds herself in an unfamiliar library after deciding to take her own life somewhere else. And finally, Nora realizes that the library is a place to help her fix everything that has happened in her life.
Price: Rp. 105.000
2. Dikta dan Hukum
Dikta dan Hukum is a novel by Dhia'an Farah. She is an AU writer on Twitter who originally wrote Dikta dan Hukum through social media. The novel was published under the same title in 2021 and was later made into a web series in 2022.
The novel tells the story of Dikta – a law student – who is a smart student at one of the top universities. Meanwhile, Nadhira – the female lead – is a 12th-grade high school student who has the same character as the rest of us, slacking.
Both of them just meet in an arranged marriage arranged by their family. The relationship between the two did not go easy because of their opposite behavior but still often helped each other in some ways. Until one day their relationship is more complicated because of the status of Nadhira who has a lover and Dikta who turns out to be living the rest of her life.
Price: Rp. 95.000
3. Saat-saat Jauh
Saat-saat Jauh is a novel written by Lia Seplia in the year 2022. You can find this novel on Gramedia or any e-commerce at an affordable price.
The novel is about the story of Alex and Aline who trust each other that they will last long together. The relationship between the two is tested when they have to live apart to pursue their dreams. Aline intends to take care of the orphanage and Alex wants to pursue his career as a doctor.
The long-distance relationship continued until finally the two of them felt that they were not on the same path and decided to break up. When the two of them already have a partner, they are then meet again in one moment.
Price: Rp. 87.000
4. Janji
One of the recommendations for teen novels that you can read is Janji. This novel is the work of Tere Liye in 2021. Tere Liye is a famous writer who has written many novels, one of which is the Parallel World Series.
Janji tells about three friends who often make trouble – Hasan, Baso, and Kahar. They are students at one of the religious schools who often misbehave. Until one day, Buya – the presidential candidate and owner of the school – came with his staff to the school.
They did nosy by putting a grain of salt to the tea that Buya would drink. Their mischief did not get there, Bahar did the unexpected thing and then made him have to be out of school. Story by story then unfolded after that incident.
Price: Rp. 89.000
5. Senja dan Pagi
Senja dan Pagi is written by Linka Angelia and Alffy Rev and published in 2019. This novel is a romance genre that will make you lulled after reading it.
This novel tells the story of the author himself, Alffy and Linka. Alffy is a producer, director, and cinematographer. While Linka is an academic who has a career in state-owned enterprises and private companies.
The two of them met when Alffy needed someone for his second MV. Their story then begins, and the novel tells the story of their every journey in a romantic relationship as well as the careers of the two.
Price: Rp. 75.000
6. Kita Pergi Hari Ini
This novel is the most recommended fantasy novel. Written by Ziggy Zezsyazeoviennazabrizkie. The novel was published by Gramedia Pustaka Utama with a total of 190 pages.
Mi, Mo, and Ma are taken care of by an amazing cat named Miss Gigi. Both of their parents were busy making money so asked Miss Gigi for help to take care of their children.
Mi, Ma, and Mo later become good friends with Fifi, and Fufu – the son of their new neighbor. Miss Gigi then took the five of them to the floating city of extraordinary cats. The city is unique, but without realizing it the city then brought disaster to the six of them.
Price: Rp. 79.500
7. Ikhlas Paling Serius
The next novel is Ikhlas Paling Serius. This novel was written by Fajar Sulaiman. This novel was written to invite readers to dive into the times they passed in life. Dark times, happy times, sorrows, suffering, and wounds mixed.
This book is written in a simple style so that every reader feels like they are reading their diary. There are romantic stories, the twists, and turns of romance, the poignant separation, and the harmony of a relationship mixed in one book.
Price: Rp. 58.500
8. Hilmy Milan
Hilmy Milan is a novel by Nadia Ristivani in 2021. The novel is designed to tell each reader about the art of loving without reciprocity. You will be brought to understand the meaning of love, love, and love by this book.
The novel revolves around Milan, a handsome, rich, and intelligent man. However, that's not what Hilmy needs. Willingness is the key. Hilmy just wants to love without having to ask to be loved by the same person.
Let all feelings flow, there is no need to move too fast, and the most important thing is a sense of comfort. That's what Hilmy wants in the process of loving Milan.
Price: Rp. 79.000
---
Those are some recommendations for teen novels that you can read to fill your free time. You can find these novels in several offline and online stores and it is guaranteed that you will not feel bored. Happy reading~