Others
Essential Guide to Walk-In Closet Designs: A Short Intro and Some Examples
Storage is a space in a house that has been changing in its meaning in recent times. It once was seen as a simple utility and something to be concealed from sight, but lately, new storage arrangements are causing a good stir in the architectural and design community. On this day, an elegant closet is more than a simple addition to a house, it is a statement.
We're aware that an efficient storage plan can reduce a lot of stress from your everyday life. Not searching our socks or tie every morning is a luxury that only a few of us experience if our closets are organized properly. That's what makes storage such a significant yet underrated part of any home.
In the past few years, we are seeing an arrival of inspired designs and styles in the storage world. Whether it is a monochromatic and minimalist design for the main room or a hero theme for the children's room – there are many alternatives available. You can mix the storage areas into an overarching theme or the other way around as well, totally up to you.
Walk-in closets, built-in closets, armoires, pantries, linen closets, and utility closets, are some of the examples of storage options. The preference for these modern storage depends both on your taste and purpose. For this article, we will be talking about walk-in closet designs.
What Is A Walk-In Closet?
Like the name itself, a walk-in closet is essentially a small or possibly large room that you can walk into, it consists of your wardrobe starting from clothing, shoes, to accessories. The typical size of a walk-in closet is 6.5 feet in terms of depth, there is no limit to the size of the walk-in closet. Actually, fashion lovers have been known to have an extra-large closet that is bigger than a standard master bedroom.
Based on the research we gathered, the majority of people that have extra space at their house wouldn't hesitate to have a walk-in closet.
History of Walk-in Closet
In the 1400s having a bedroom was a privilege and only for the upper class. Unless you are incredibly wealthy, you're most likely to sleep on the floor or you live in a room that also doubles up as a kitchen, bathroom, dining room, and bedroom. Since only members of the upper class can afford a bedroom, the bedroom served as a workplace and a place to have a guest come over, and the closet became a place where you could go to have some privacy. The word "closet" originated from the Latin "clausum" which means closed space, enclosure, or confinement. The closet was the most private place in the house and can be used for other purposes, like reading, writing, and praying.
It was only after 1930, when New Yorkers, even though a small group, knew the greatness of the big closet designs. 740 Park Avenue in Manhattan is one of the first documented buildings with luxury walk-in closets. This is the starting point of the modern walk-in closet. Afterward, homeowners quickly fell in love with the idea of extra home storage. Ever since then, the demand for big storage continued to increase over time.
In the early 2000s, the luxurious closet became a hit. It became a crucial part of pop culture. A few celebrities gave a tour of their closet and the most iconic scene in Sex and the City where Mr. Big proposes to Carrie Bradshaw in a walk-in closet.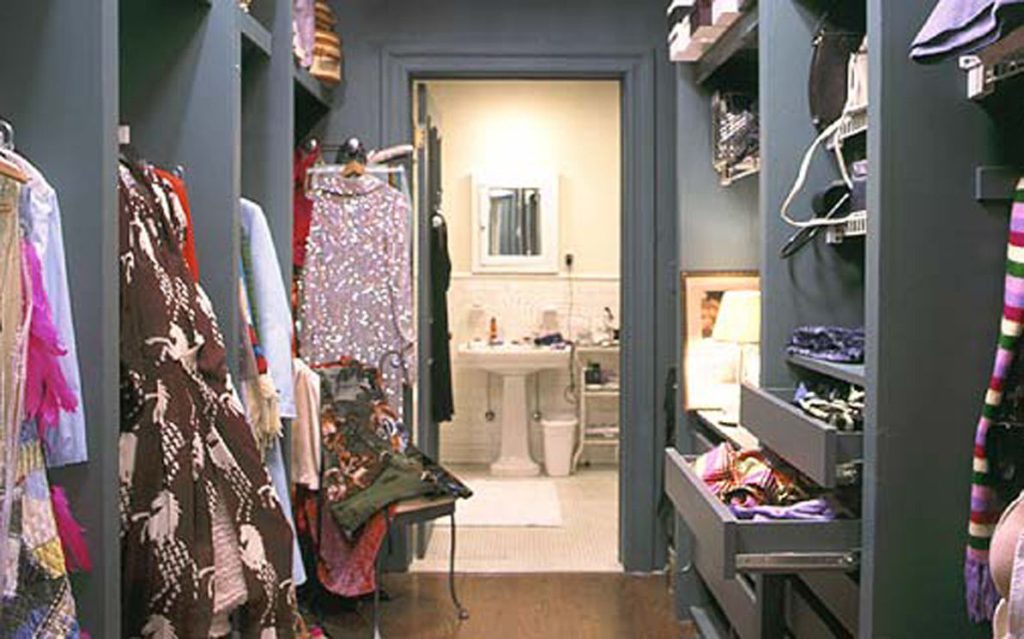 In modern days, a walk-in closet design may include dressing areas and seating. Contemporary custom closets are not just a space to store clothes and/or shoes, but many consider it as an extension of the home.
Also, read more about 9 Tips to Decorate Your Home
Benefits of Walk-In Closet
Can be multifunction as a dressing room as well
Walk-in closet makes it easier to find your stuff (shoes, clothing, jewelry, etc)
Helps to keep your room clean since you can get ready in the closet from start to finish.
By doing hair and make-up inside the closet, it decreases the task of tidying up a bathroom
A large enough walk-in closet can have an island in the middle that can be used as an organizer or ironing board.
Types of Walk-In Closet
Walk-in Closet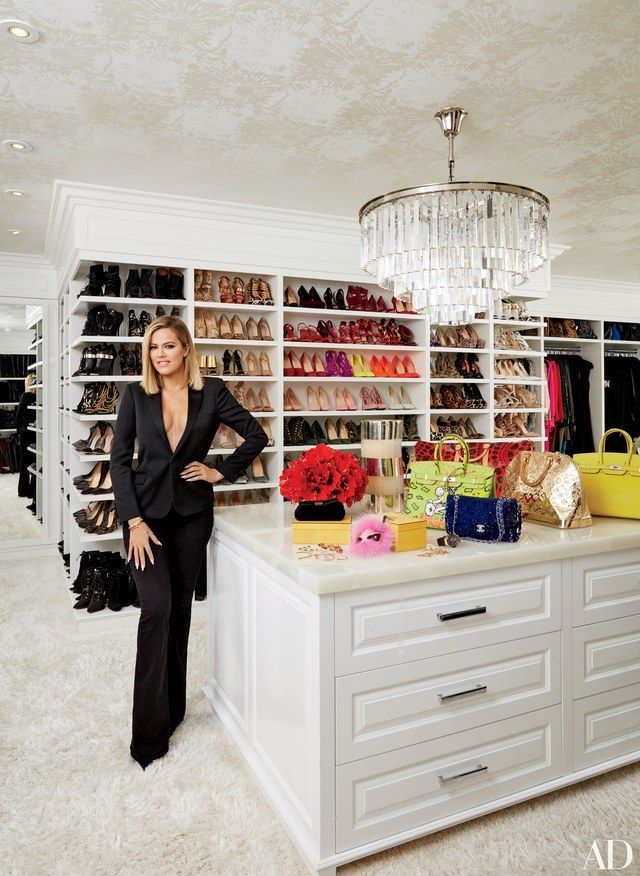 A general, not too over the top walk-in closet design. You can easily have your clothing options on display. A walk in closet is perfect for you if you're a fashionable person or someone who always tries to hone in on the latest fashion.
Reach-In Closet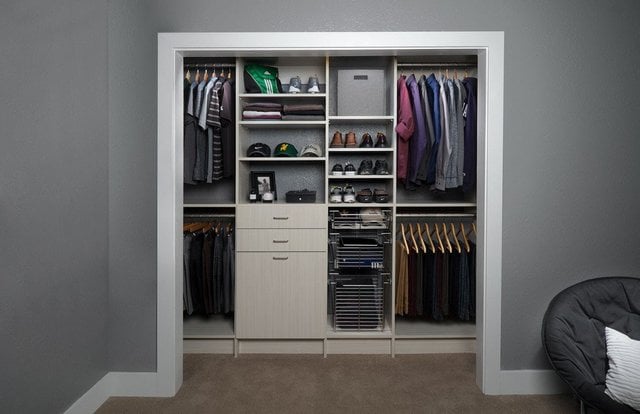 It is smaller than a walk-in closet. These have been around for quite a while, and their main function is to provide space for hanging clothes by a rod provided in the closet, with an open shelf above. However, it is a little bit different nowadays. The closet today is at least an arm's length deep with the width running anywhere between 3 to 8 feet. They are all equipped with partitions, hinged doors, the sliding mechanism to run the doors, or even pull-aside curtains.
Armoires or Cupboard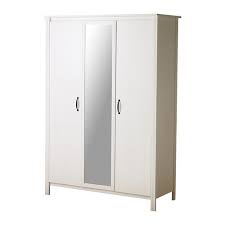 This is the typical free-standing large cupboard where people store their clothes. The main difference between a closet and a wardrobe is; a closet is a designated space for storage, meanwhile, you can buy a cupboard from a furniture store or even built as per your requirements.
People also read 4 Inexpensive Ideas to Make Your Apartment Look Expensive
Linen Closet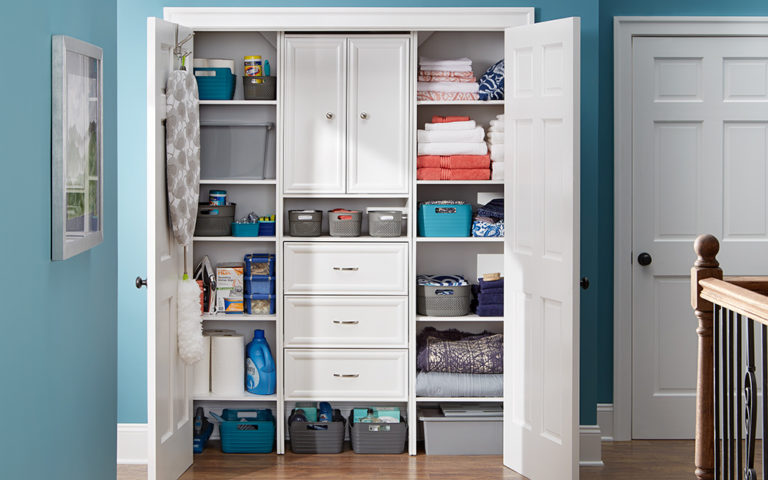 A linen closet is basically a smaller version of a reach-in closet. It is usually used to store towels, bedding, bed sheets, extra pillows and bathroom utilities. They are generally narrow and usually located in hallways between bathrooms and bedrooms.
25 Walk-In Closet Designs
1. Storage Organized by Type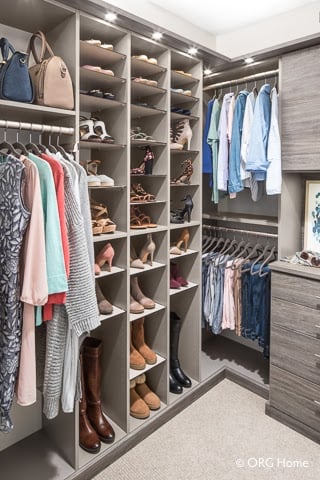 This walk-in closet idea design is suitable for you who have a limited space with many things to load. You can try to set up your walk-in closet by organizing the storage room based on your items type. By organizing your items based on their types, it will create a simple yet luxury walk in closet stuffed with practical storage solutions.
For example, you can fill one side of your closet with a separate room for bags and jewellery, and fill the drawers with additional accessories. On the other side, you can place your clothes and shoes to make them easier to find.
2. White Wire Frame Shelves
You can try to build a walk-in closet with a limited space, small budget and a sense of creativity! All you need to do is install affordable wire shelving, you can even custom the size of the shelving and make it suitable for your room.
To add some simple and stylish touch, you can use white cardboard boxes to keep seasonal items which you don't really need daily. A small dresser or a small table with drawers will make the room wider and still be able to keep many things.
3. Minimalist Walk-in Closet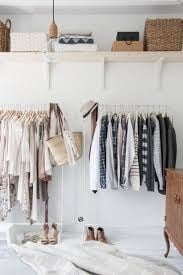 If you want a walk-in closet that doesn't make you feel overwhelmed, you can try to live with a minimalist walk-in closet. To set up a minimalist walk-in closet, you need to sort out your items and keep the essentials only. This will bring you a fresh and organized space.
For example, you can set your walk in closet with three shelves and a single closet rod. Add some stainless steel rails to hang your shoes and sweaters. A simple table with drawers is a right place to keep your seasonal items and folded clothes.
4. Utilize a Shelving Units
By utilizing shelving units, it will help your small walk in closet to have more function. You can use a large shelving to put your folded clothes. For additional items such as accessories, you can keep them in a box and put them in the lower cubbies.
This way is suitable for your small walk-in closet because with just one or two closet rods and a few pieces of shelving units, you will get to keep your belongings tidy and clean.
5. Custom Cubby Boxes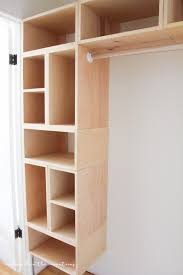 So there it is. A little bit of catalog and history of how the closet evolved from a private room to a wardrobe room. Also, out of the four types of contemporary closets, which one do you like most? Do you have any walk-in closet design in your mind? Bookmark this article if you want to decide later!
Custom Cubby Boxes is a simple and easy design for your walk-in closet. If you are up to DIY things, this is a perfect choice for you. The main ingredients for this project are birch plywood boards. You will also need several tools including a saw and a power drill.
By making a storage room by wooden boxes, it will give your walk-in closet a sense of nature. While you are still able to organize your items in an easy to find way. This kind of walk-in closets are functional and beautiful at the same time.
6. Custom Closets Suit Your Specific Needs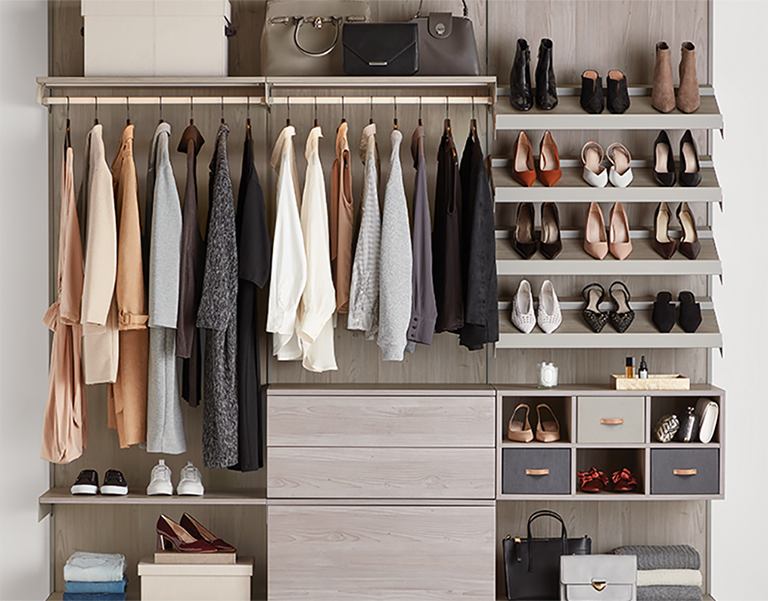 Another custom walk-in closet that you can try is to organize them based on your specific needs. This way will give you a happy feeling whenever you step into your walk-in closet. Because you can see all your favourite items and daily use items are well-placed in a neat storage.
7. Double the Storage with Two Walk-Ins
If you happen to have a space that can be used for two walk-ins, you can set up those walk-ins in a clever way. For example, you can optimize the vertical space with practical storage, stack your pair of shoes, and hang your clothes in the walk-in for the master bedroom.
As for the second walk-in, you can utilize it as a space for you to keep your sneaker collections, hang your dresses, and put seasonal items and accessories on cubbies or drawers on both sides of the walk-in. To add a sense of beautiful rooms, you can set a sliding closet door with a full-length mirror.
8. Double Your Hanging Space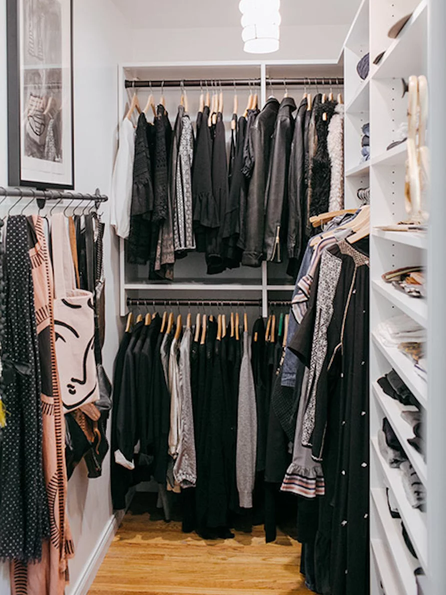 Setting your walk-in closet with double hang space is a smart and easy way to organize your clothes. Since hanging is more efficient than shelving especially when it comes to daily use clothes, it is better for you to add hanging space and make room for your clothes. Say no more to fold and stack clothes!
9. Blue Walk-in
This walk-in closet design idea is simply painting your room with a gorgeous shade of teal. Once it is done, you can set up your walk-in closet by measuring the walls and marking the wall studs, followed by installed steel pipe parts. The last step is adding the stained wood shelves.
10. Utilize Corners
As you might want to save some space in your walk-in closet, one thing that you can do is utilize the corner of the room. You can put a simple custom corner shelf that can be a suitable place for your bags or shoes. This corner shelf is also a good way to level up your room interior.
11. Make a Step-in Feel like a Walk-in
A way to maximize your small room and make it feel like a walk-in closet is to put a reach-in closet and store your items there. This closet allows you to place your clothes, shoes, accessories, and even seasonal items.
12. Opt for Display Cabinets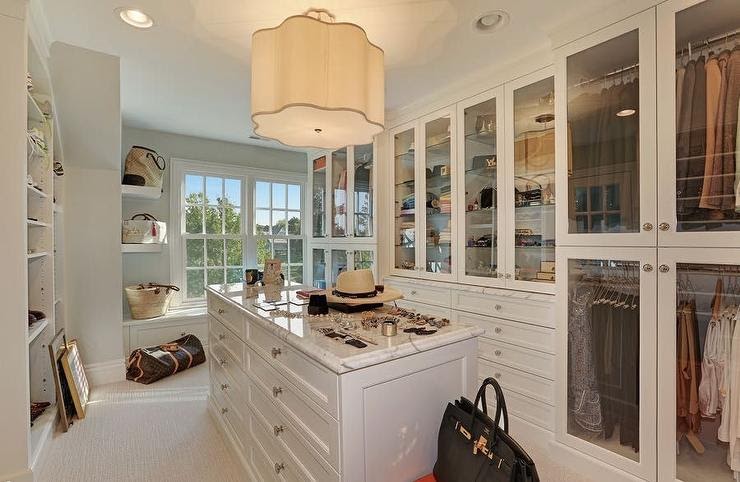 Using display cabinets in your walk-in closet will help your room feel less claustrophobic. Instead of showing a seems-stuffy room, it is better to use a display cabinet and make your walk-in closet brighter and wider. Plus, the transparency will naturally force you to keep your belongings tidy and clean.
13. Elegant Walk-In with a Helpful Storage Island
A large storage island will make your walk-in closet look bright, organized, and elegant. This storage island won't take too much part of your room. In fact, it will save up some spaces in your walk in closet as this island is able to do many things such as folded clothes, jewellery and accessories, and other small things.
14. Contemporary Walk-In Closet
Contemporary walk-in closet allows you to have an amazing walk-in closet that keeps proportion, clean lines, and proper lighting in mind. This design of walk-in closet won't make your space feel cramped or cluttered, and make it easier to find what to wear as they use deliberate lighting.
15. Walk-In Closet That Doubles as a Home Gym
Who says you can't set up a walk-in closet alongside with other functional items in a room? You definitely can! Set up the room with epic storage, built-in drawers and shelves, and a dressing table all around the room. The centre of this room can be a place for home gym equipment such as spinning bikes.
16. Stairs Create a Walk-In Setting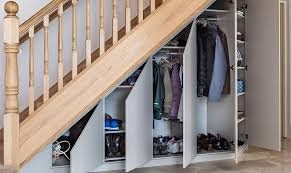 You can utilize the underside of stairs as a walk-in closet. Simply stacked cabinets and dresser inside, therefore you can place your items inside the cabinets and dresser. Implementing this kind of walk-in design, will definitely save some space in your house.
17. Lofted Space Walk-ins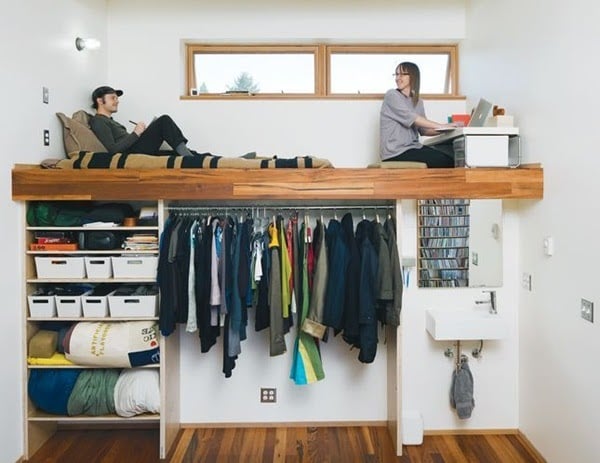 A creative way to set up your walk-in closet is by creating a loft-style lounge, you can turn the underside space for a walk-in closet. The simple layout is a cinch to recreate using boards, shelves, and a closet rod.
18. Fake Walk-in Closets
Got a limited space in the room but want to build a walk-in closet? You can create a fake walk-in closet. All you need to do is turn a blank wall into a walk-in closet. Curtains that extend the length of the room help to keep things out of sight.
19. Build a Three-Paneled Mirror
Creating three-panelled mirrors for your closet is a way to make your room feel larger. This kind of walk-in closet will help you find what to wear as you will be able to see your outfit from every angle.
20. Add a Runner
If your walk-in closet is narrow but long with no window around, you can add up a warm way to your room by using a built-in bench that provides seating without using extra floor space.
21. Bring in Baskets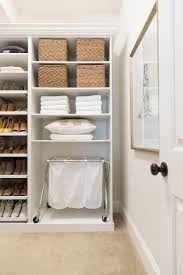 Place some woven baskets on the top side of your shelves in the walk-in closet will help your things stay tidy and organized and put the focus of the room on your gorgeous collection. Another plus thing to add is storage baskets will tuck away anything unsightly.
22. Install Fancy Lighting
Apart from creating a built-in cabinet, you can use an open wall shelf as an alternative way to set up your walk-in closet. Installing fancy lighting will help your placed collections shine brightly as a decoration to your room.
23. Add Shelf Dividers
As a way to maximize the limited shelf space, you can set up a shelf dividers. This way will make folding and stacking your clothing easier and steady as the dividers will keep your things in place. Shelf dividers come in different sizes, so measure your clothes first to get the right dividers for your needs.
24. Walk-In Closet Perfect for High Mobility
Apart from placing your essentials daily items in the walk in closet, you can create a special space for your grab-and-go items. Put some baskets or shelves that will keep your things neat, organized, stay clean and ready to take.
25. Store Shoes on the Closet Door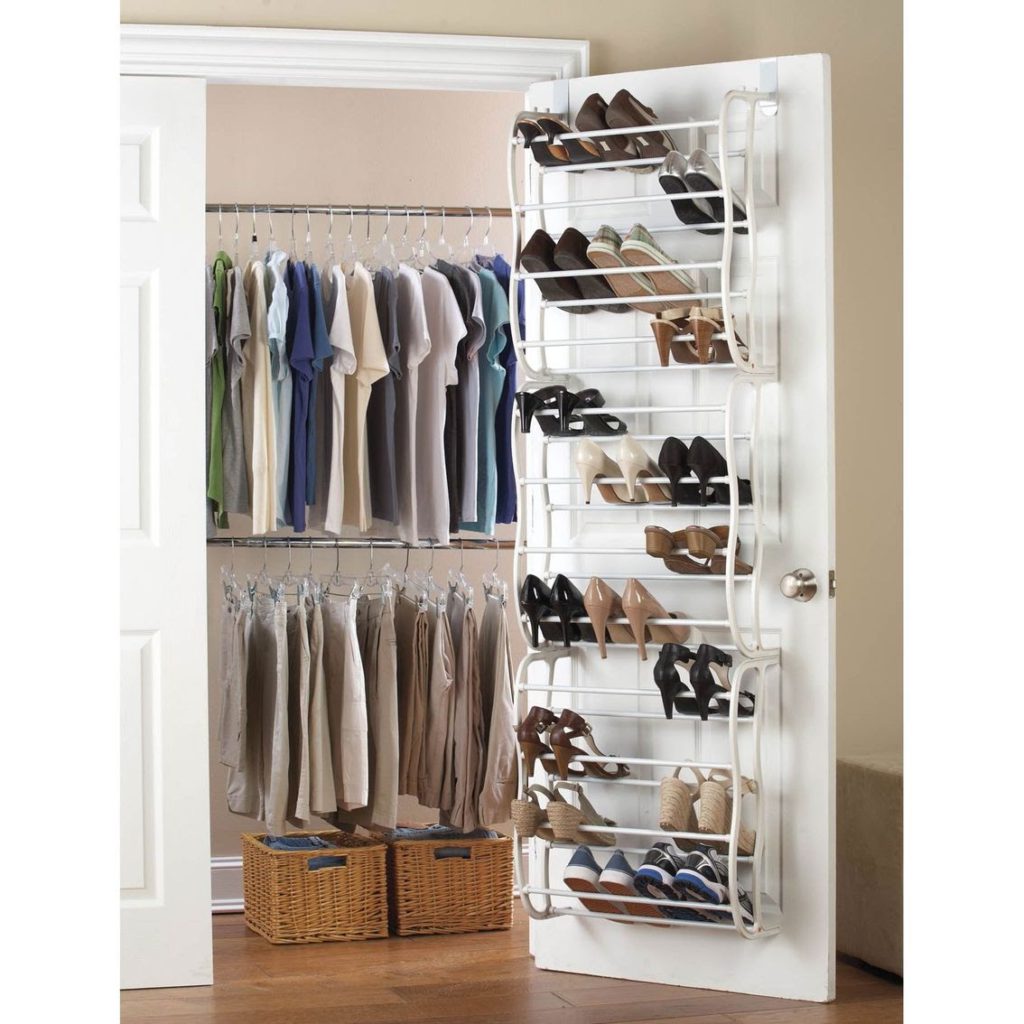 To help you find your favorite shoes easier, start placing your most-used shoes on the inside of your closet door. Not only to make it easier to find, this is also a smart way to save some space in your closet.
Don't miss out! Life-Changing Tips to Maximize Your Small Closet