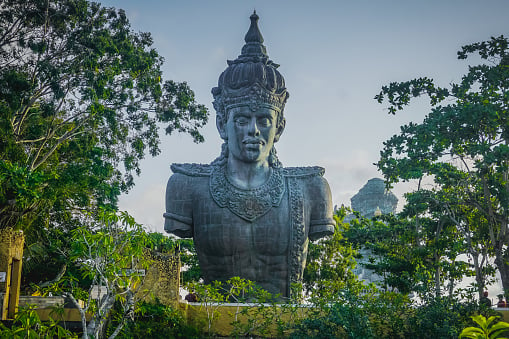 Bali
Everything You Need to Know About GWK Bali
When it comes to Bali, it is certain that people will mention the beauty of its beaches. However, there are still many other tourist attractions that can be an alternative. Call it the statue of Garuda Wisnu Kencana (GWK). Tourists can find large statues in GWK Park which are located in the southern part of the island of Bali. Precisely, it is located in Ungasan Village, South Kuta District, Badung Regency.
Click here to find villas near GWK Bali.
For that, Flokq has provided some of the information you need before traveling to GWK Bali. Come on, let's see!
1. History of GWK
Meaning of the name and philosophy of the statue
The word Garuda in "Garuda Wisnu Kencana" comes from Sanskrit which means a bird that has a body resembling a human. However, the head and legs resemble birds and on the back there are wings. The Garuda bird is a mythological bird.
Vishnu is one of the gods in Hinduism who has a role in maintaining and protecting all of God's creations. While Kencana means Gold.
Inside the Bali GWK area, there is a statue of Lord Vishnu wearing a gold crown and riding a Garuda bird. Therefore, this place is Garuda Wisnu Kencana (GWK).
according to Garuda Wisnu Kencana Cultural Park website, this statue depicts Lord Vishnu riding Garuda. In Hindu mythology, Lord Vishnu is seen as the protector of the universe.
Construction process
In 1992, Garuda Wisnu Kencana Foundation decided to build this statue. The construction of GWK Bali aims to become a well-known cultural tourist spot to foreign countries. He became the drafter and architect of the Garuda Wisnu Kencana statue.
The Garuda Wisnu Kencana Foundation appointed I Nyoman Nuarta as the main sculptor in the Bali GWK project. He became the drafter and architect of the GWK sculpture. In addition, he is also the best modern sculptor in Indonesia. Quoting from Kompas.com, the GWK statue has a height of 121 meters and a width of 64 meters. Its splendor can be seen even from a distance.
2. Operating Hours and Ticket Prices
GWK Bali operates from 08.00 to 22.00 WITA. To be able to enter the tourist area, each visitor will be charged an entrance fee. In addition, there is no difference between ticket prices for Indonesian citizens and foreigners.
For both adults and children aged 5 – 12 years, the entry fee is IDR 85,000 / person. If you want to enter the statue area, the entry price is IDR 200,000 / person.
There are a few things you need to know about admission tickets:
Children over 100 cm tall even if they are under four years old, will be charged a child admission fee.
The entrance fee is subject to change at any time. To confirm the price of admission to the Garuda Wisnu Kencana Cultural Park, please contact GWK Bali directly at the following number: +62 (361) 700 808.
By paying an entrance fee of IDR 125,000, – / person, tourists can tour the GWK Bali area.
To enter the area within the Garuda Wisnu Kencana statue, an additional entrance fee of IDR 200,000 per person will be charged. The ticket fare to enter the area inside the statue is excluding the Garuda Wisnu Kencana entrance ticket.
We do not provide booking services for the Garuda Wisnu Kencana cultural park entrance ticket. You can buy directly on location.
3. How to Get to GWK Bali
If you come from Ngurah Rai International Airport, it only takes about 15-20 minutes to arrive at GWK. It should be noted, this time estimate is in a state of smooth traffic. To reach this tourist spot, you can use a private vehicle or rent.
But, if you don't want to bother looking for a parking space, you can use online transportation. You can also walk if your accommodation is not too far away.
4. Attractions of GWK Bali
The purpose of people traveling to GWK Bali is to see the Garuda Wisnu statue. This large statue is the main attraction for local and foreign tourists. Of course, this artwork reflects the value of local Balinese culture.
In addition to the Garuda Wisnu statue, visitors can enjoy sunset views. You can enjoy not only beautiful scenery in the GWK Bali area. This tourist attraction also offers a variety of entertainment events from morning to night.
5. Things You Can Do
Taking pictures in front of the statues
At GWK Bali there are many beautiful photo spots. One of them is on the limestone cliffs in the Lotus Pond area. There is also a very interesting background of tall statues.
Going around with the GWK Loop
The area of ​​the GWK Cultural Park Bali is 60 hectares. If you have to walk around this will certainly be tiring. For that, they provide GWK Loop, a shuttle bus with the dominant color red. If you feel tired, you can take advantage of this one transportation. GWK Loop is always available near the ticket sales counter by paying IDR 20,000.
Buying souvenirs
At GWK there are also shops and restaurants that sell a variety of merchandise and also Balinese souvenirs. But unfortunately, the price of goods there is quite high. For that, you can look for other places that sell cheaper.
Watching shows
Not only can you see the majestic GWK statue, but you can also watch various Balinese art performances. There are about 7 dances performed every day. The following is the schedule for dance performances at the GWK Bali Amphitheater:
10.00 WITA Balinese Dance
11.00 WITA Barong Keris Dance
12.00 WITA Garuda Wisnu Ballet
13.00 WITA Nusantara Dance
14.00 WITA Barong Keris Dance
15.00 WITA Balinese Dance
18.30 WITA Kecak Garuda Wisnu
Check Out This Guide Before Renting a House in Bali
So, those are 5 things you need to know before visiting GWK Bali. Moreover, during this pandemic, the requirements to visit tourist attractions in Bali are also getting more complicated. Always follow the applicable health protocols, yes!
CLICK HERE TO RENT A VILLA IN BALI