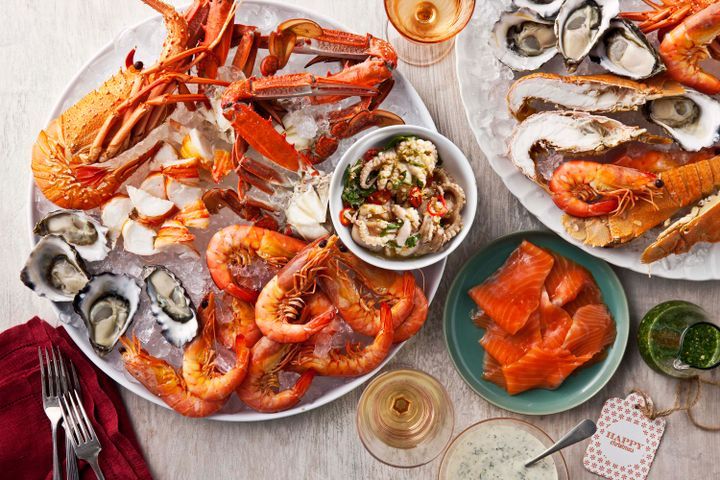 Bali
|
Local Guide
8 Best Seafood Restaurants in Jimbaran with Great Atmosphere
Jimbaran is indeed a destination that offers many tourist attractions, including lots of beautiful beaches. Apart from offering tourists favorite attractions, Jimbaran also offers many culinary spots with seafood as the main star.
For those of you who want to visit Jimbaran, we have you covered with recommendations for 8 restaurants in Jimbaran that you must try that serve delicious dishes.
1. Menega Cafe
This seafood place to eat in Jimbaran is increasingly popular among Balinese culinary lovers and is never empty of visitors. Once you enter the Jimbaran seafood Bali restaurant area, you can see a large aquarium containing a variety of fish, crab, shellfish, and squid. All dishes here are freshly grilled, except for the squid, which has the option of frying. So, you have to be patient while waiting for the order.
The menu that is often ordered at Jimbaran seafood Bali restaurants by most visitors is Menega's Special Set. Per person, the price is IDR 150,000. A set menu contains 2 jumbo prawns, grilled fish (500 grams), 4 clams, 4 squid sticks, and a drink that you can choose from. This set menu also includes white rice, Balinese water spinach, and fruit for dessert. Curious? Just go to Jl. Four Seasons Muaya Beach, Jimbaran Bali. Don't forget to reserve first, Flokqers!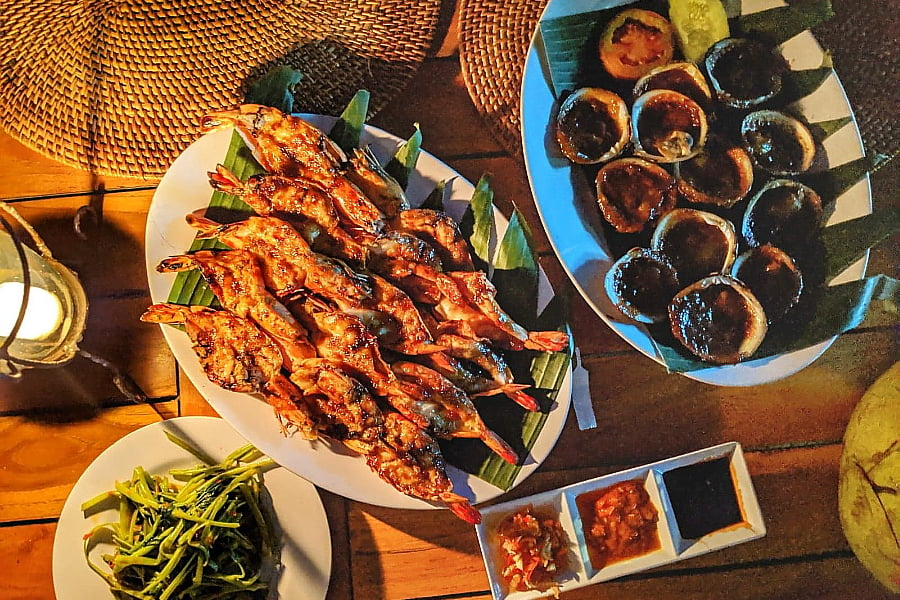 2. Rock Bar
Perched atop distinctive rock formations along Jimbaran's pristine sunset coast, Rock Bar Bali is widely respected as one of the globe's most popular sunset, cocktail and entertainment venues. Showcasing unparalleled views from 14 meters above the Indian Ocean, Rock Bar is accessible via AYANA's dramatic cliff side elevator. Featuring a glamorous sunset vibe, and a seductive after-dark ambiance, listen to premier international DJs as they heighten your experience from a custom DJ booth carved directly into the cliff face.
Rock Bar's highly anticipated expansion invites up to 880 guests to enjoy the scene, with the truly VIP Round Deck welcoming 18 AYANA villa guests to revel in architectural wonder surrounded by rolling ocean waves. An additional benefit for our villa guests is the privilege to make a reservation at Rock Bar during the beginning of peak sunset time until 5 p.m.
Rock Bar is the perfect destination for romantic rendezvous, unforgettable gatherings with friends, and spectacular events. For security reasons, no backpacks or oversized bags are allowed at Rock Bar. A stylish dress code is required at all times.
3. Bendesa Cafe
Special Fresh and Live Grilled Seafood, Bendesa Cafe is proud to offer one of the finest selections of fresh local seafood delight your senses with delicious tastes and aromas of traditional Balinese cuisine.
Bendesa Cafe provides a variety of seafood menus at affordable prices, starting from grilled fish, plecing kangkung, boiled shellfish, to fried shrimps, which are certainly delicious to eat.
Bendesa Cafe also offers free transport for one way services every day for Kuta area, Jimbaran area, Nusadua area. Please make a reservation by their website at https://bendesacafejimbaran.com/ or contact your hotel receptionist.
4. Nelayan Restaurant & Puri Bar
Spread across fine white sands, Nelayan Restaurant & Puri Bar tease the appetite with freshly caught fish and delicious Mediterranean-style cuisine.
Piquant Indonesian spices are woven into dishes that use classic French techniques. Seasonal tropical ingredients-coconut, lobster, lemongrass-combine for a culinary immersion that celebrates the best of both worlds.
5. Warung Mami
From the front, it looks simply like a food stall in general. Even though it is small, the place is clean and comfortable. This restaurant does not provide a menu book, because it only serves grilled shrimp, fish, shellfish, and white rice. All dishes at Warung Mami are fresh from the grill, no wonder the waiting time for your order is quite long.
The types of fish provided at Warung Mami are quite diverse, including Jengki, Snapper, and Kurisi Fish. However, when ordering, you will usually be asked "What fish do you want to order?" because not every day the fish exist. While the side menu is Plecing Kangkung, Pickled Cucumber Carrot, Fried Garlic, Sambal Matah, Sambal Terasi, and Sambal Kecap which are automatically served with your order. The average cost spent is IDR 80,000 for two people.
6. Mama Dony Cafe
Want to eat seafood in a more comfortable atmosphere? Come on, go to Mama Donny Café on Jl. Four Seasons, to be precise at the very end of Muaya Beach Jimbaran. Uniquely for those of you who are on a honeymoon, there is a special package with the addition of beautiful Balinese table decoration. For taste and price? This seafood place in Bali is delicious and guaranteed to be very affordable!
Mama Donny Cafe provides six different package options. For Package A, you can enjoy 400 gr fish, 3 shrimp, 3 shellfish, and 1 bottle of soft drink for only IDR 75,000. If you come together, you can order Package D for Rp. 220,000 which serves 600 gr fish, 6 prawns, 400 gr squid, 6 shellfish, and 2 bottles of soft drink. Really cheap, right? Of course, all Jimbaran seafood in this one restaurant is fresh from the grill!
7. Lia Cafe
Another restaurant on the edge of Jimbaran Beach that serves a variety of delicious seafood. It is located on Jl. Pemelisan Agung with an outdoor dining area, in direct contact with the sand of Jimbaran Beach. You can order a variety of seafood such as fish, lobster, shrimp, shellfish, and seasonally available seafood. It is highly recommended if you go to eat at Lia Cafe just before sunset.
Package options are also provided at Lia Cafe which you can choose from. The cheapest package, Package A for IDR 250,000, serves 10 prawns, 500 gr fish, 8 shellfish, and 500 gr squid which includes 2 coconut drinks, rice, fresh vegetables, salad, potatoes, 3 types of chilli sauce, and fruits. as a dessert. Meanwhile, the most expensive package is in Lia Paket for Rp. 800,000, including fish and lobster 1 kg each.
8. Made Bagus Cafe
There is another seafood place in Jimbaran that serves an exotic atmosphere, especially for dinner. Made Bagus Café provides marine dishes that are grilled directly from coconut shell charcoal. Of course, it tastes delicious with the aroma of smoke combined with typical Jimbaran spices. All kinds of seafood are guaranteed fresh, taken directly from the fishing boat every morning and evening.
There are choices of complete seafood packages that you can order. For the cheapest package, you can order Package D for IDR 350,000 for two people. You can enjoy 800 gr fish, 1 serving of squid satay, 6 shellfish, 400 gr King Prawn, and 2 bottles of Bintang beer. Another recommended package is Package E for IDR 200.00 for one person. This package serves fish 400 gr, King Prawn 200 gr, lobster 250 gr, and one bottle of soft drink.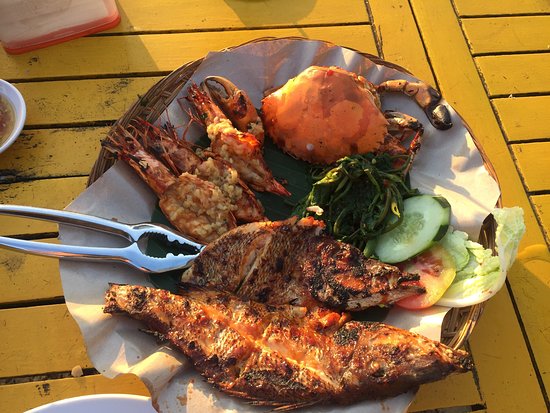 ---
Those are all the 8 seafood restaurants in Jimbaran that we recommend for you. Hope this helps you to choose where to eat when you visit Jimbaran! See you in Bali, Flokqers!
Click here to find the perfect Jimbaran villa for your stay!