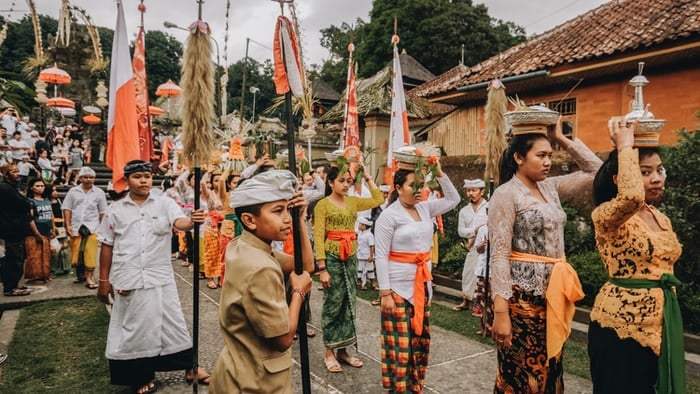 Bali is one of the favorite tourist destinations for domestic and international. Its natural beauty is in the spotlight for many people who want to go in search of serenity and a different atmosphere. The number of attractions makes tourists can choose a place to spend time with the beauty of nature. One of them is the tourist attraction of Taman Nusa Gianyar.
Taman Nusa Gianyar is a tourist attraction on the island of Bali that is suitable for various groups. Moreover, the culture that is still very thick is the hallmark of this place and makes many people always want to come back. This tourist attraction, which is located in the village of Sidan, Gianyar, presents knowledge about the culture of the archipelago. Here are 10 facts you should know about Taman Nusa Gianyar before going there.
1. The biggest cultural park in Bali
Located on an area of ​​15 hectares, this place provides the concept of 60 traditional houses from various ethnic groups in Indonesia. This makes Taman Nusa Gianyar the largest cultural park in Bali. Plus its location in the countryside and beautiful sky views make the surrounding atmosphere beautiful.
This cultural park aims to make it easier for visitors to get to know and understand Indonesian culture which is very diverse. You can also take pictures with a unique Indonesian cultural background.
2. Get to know the history of Indonesia
Taman Nusa Gianyar has been officially opened since 2013 and has received a lot of good reviews from tourists. In fact, many travel agents add these attractions to their travel packages to make their vacation even more memorable. From the available travel routes, visitors will be introduced to reviewing the journey of the Indonesian people to independence.
Starting from the pre-historic period symbolized by the era of the masterpiece kingdom of Borobudur Temple, then continuing the cultural village with 60 traditional houses of various ethnicities. Then enter the early days of Indonesia with a statue of the governor of Gajah Mada and the gate of the Youth Pledge. After that, visitors can feel the independence of Indonesia with the statue of the proclaimer and the present era with the aroma of a miniature train. More than 50 locomotives and carriages to be exact.
People also read: 10 Local Balinese Foods: From The Most Popular to The Rarest Must-Try Ones!
3. Beautiful scenery
Vacations don't feel complete without capturing them. You can get the best photos because Taman Nusa Gianyar has very beautiful natural attractions. Such as views of terraced rice fields, views of valleys and ravines, and the Melangit river. Usually, this river is a natural recreation for those who like to feel the sensation of a rafting adventure in Bali with Bakas Levi Rafting operator.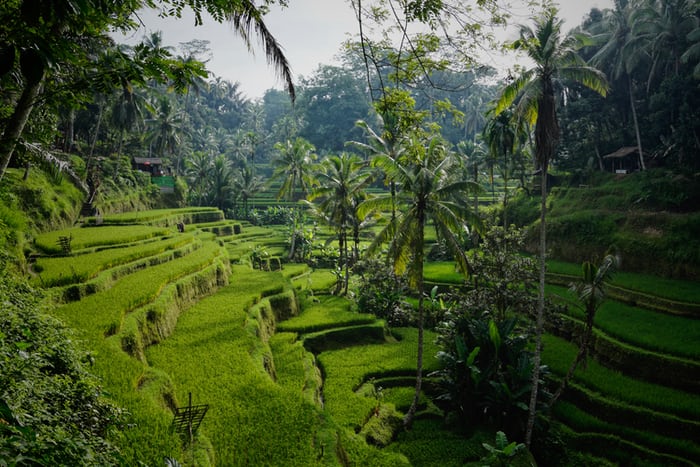 4. Supporting facilities for visitors
In addition to the beautiful scenery, Taman Nusa Gianyar also provides adequate supporting facilities. Such as a large parking lot, not only for cars, but also tour buses that accommodate many people. So you don't have to worry if you go with friends or family in large numbers. In addition, there is also a need for snacks and drinks on the roaming path with seven cafeterias. At the end of the trip, you can also enjoy a delicious meal at the Dapur Nusa restaurant. They serve a variety of Indonesian food, or at Royal Sidan with the international food menu.
Not only that, other facilities such as an exhibition hall, auditorium, souvenir shop, and two studios are also available. So you will have a memorable vacation. Not only presenting the beauty of nature but at the same time pampering the visitors.
5. Entrance ticket to Taman Nusa Gianyar
To enter Taman Nusa Gianyar, of course, you have to buy a ticket first. This tourist spot is open from 09.00 – 17.00 WITA. As for those who choose the package price with Barong Dance, this art performance starts at 10.30 WITA. Dense with the art of Barong Dance is also intended for groups with a minimum reservation of 30 people.
Ticket price:
• Culture Package (admission ticket)
Adults: IDR 85,000/pax
Children: IDR 70,000/child
• Culture Package + Lunch (set menu)
Adults: IDR 130,000/pax
Children: IDR 90,000/child
• Barong Packages
Adults: IDR 135,000/pax
Children: IDR 125,000/child
• Barong Package + Lunch (buffet)
Adult: IDR 190,000/pax
Children: IDR 10,000/child
With description:
• Prices for domestic tourists
• Child rates are valid from 2-12 years old
• For the barong dance package minimum of 30 people
• Does not include hotel pick-up.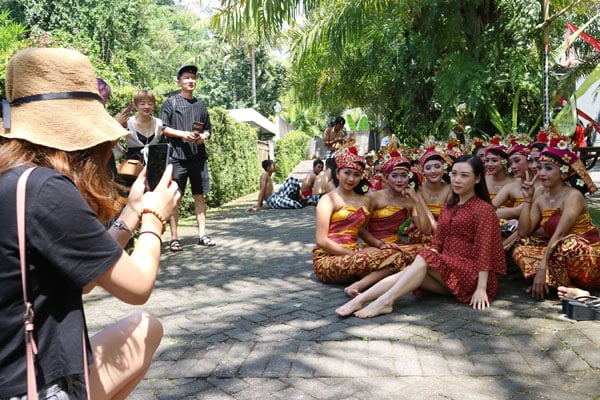 People also read: Here Are 9 Best Area to Work From Bali: Everyday Feels Like Sunday!
6. Address and location of Taman Nusa Gianyar
The location of Taman Nusa is in Gianyar district, one of the districts with many popular tourist attractions in Bali. However, if you want it easier to get to Taman Nusa, you can use a car rental service with a Balinese driver. Of course, the drivers already understand the road and know the location well.
Address: Jl. Bali Park – Banjarangkan Banjar Blahpane Kelod, Sidan, Kec. Gianyar, Gianyar Regency, Bali 80582.
7. Cultural heritage museum
After you are satisfied with exploring history to Indonesian independence, one other thing that should not be missed while in Taman Nusa Gianyar is going to a museum. There is a puppet museum that stores many types of puppets, such as Wayang Golek, Wayang Kulit to Wayang Suket. Meanwhile, at the Fabric Museum, you can see many types of textiles, ranging from ulos cloth, Batik, Ikat weaving, and others.
In addition, in the Ethnography Museum section, you can find Panji Paintings. Another interesting thing is, this painting will turn into another contemporary painting when exposed to UV light. Very interesting isn't it?
8. Souvenir shop
It feels incomplete if you go home without bringing a souvenir. You can buy Balinese souvenirs at Taman Nusa Gianyar. There is a souvenir shop that sells various authentic knick-knacks from the artists around Taman Nusa. Starting from key chains, traditional fabrics, to accessories that you can buy.
Those are 8 facts about Taman Nusa Gianyar that you already know. More interested in visiting it? Don't forget to visit the Flokq Bali website to find the best accommodation near Taman Nusa Gianyar.
People also read: Everything You Need to Know About COVID-19 PCR Test in Bali