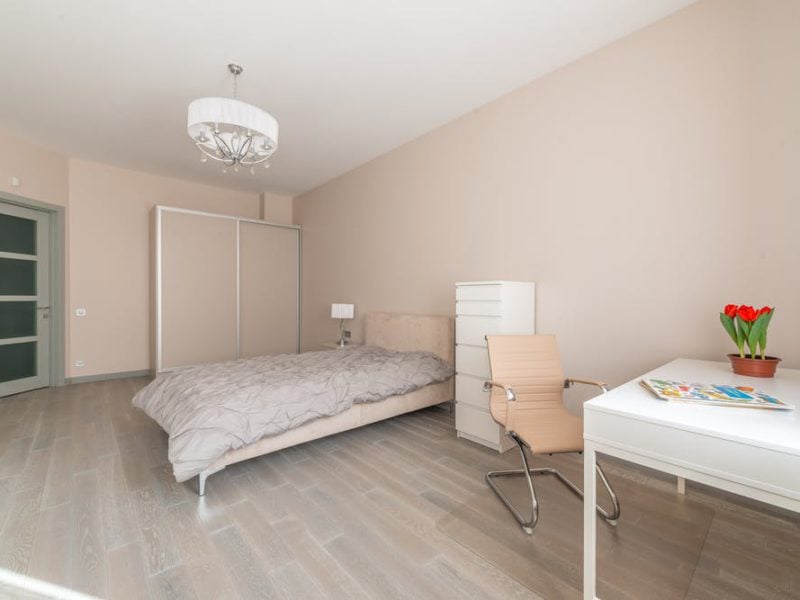 Cengkareng is Jakarta's commercial business district. Commercial and office businesses continue to grow, such as the Parents' (OT) office building. It is very easy to reach various locations such as Tangerang, BSD City, and Pantai Indah Kapuk from this area. If you choose this area as a place to live, you don't have to worry about the rent. There are various choices of apartment in Cengkareng.
But, not all of them offer pocket-friendly costs. For this reason, Flokq has provided 4 recommendations for Cengkareng apartment at affordable prices.
Come on, let's see below!
People also read: Rent a Bintaro Apartment: 4 Apartments Near Shopping Centers!
1. Puri Orchard
This vertical residence provides comfortable private facilities for residents of three towers. Three residential towers named Orange Groove, Cedar Heights, and Magnolia Springs Garden, each have a unique charm to suit a variety of apartment living needs for everyone.
Above all, the residents can enjoy many other facilities, such as Sky Garden, BBQ area, and children's playground. Plus, the five-story parking lot will ensure you never run out of parking spaces. In addition, they allows residents to shop for their daily needs at the ground floor minimarket.
Price: Starting from IDR 1.9 million / month
Address: Jl. Raya Adicipta No. Kav 8, RT.2/RW.3, Rw. Crocodile, Cengkareng District, West Jakarta City, Jakarta Special Capital Region 11740
2. Green Palm
This apartment is located in a strategic area of ​​Cengkareng, close to Puri Mansion and Green Lake City. In addition, access to reach this residence is quite easy and it is surrounded by the Jorr W1 (Kebon Jeruk – Penjaringan) toll road, Karang Tengah toll access, and airport toll access.
The existing facilities in this residence include a swimming pool, playground, laundry service, jogging track, mini market, Fresh Market, fitness center, basement parking, 24-hour security system & CCTV. Moreover, there is Sky Garden which is located on the 15th, 15th, 17th, and 18th floors.
Price: Starting from IDR 1.3 million / month
Address: Jl. Kresek Raya No.11, RT.11/RW.13, Duri Kosambi, Cengkareng District, West Jakarta City, Special Capital Region of Jakarta 11750
3. City Park
Located in Cengkareng, this apartment has a strategic location because it is close to the Mall Puri Indah and Soekarno-Hatta Airport. Health facilities in the form of hospitals can be found around this residence, such as the Cengkareng Hospital, Cengkareng Hospital, RSIA Grand Family, and PIK Hospital. Its location behind the Taman Palem Mall makes it easy for residents to buy daily necessities.
There are several facilities offered, including an ATM center, salon, internet, pharmacy, laundry, mini-mart, parking, restaurant, security, spa, and many more. This apartment provides a choice of 2 types of units, namely studio type and 2 BR.
Price: Starting from IDR 1.5 million / month
Address: Jl. Malibu Raya, RT.7/RW.14, East Cengkareng, Kapuk, Cengkareng, West Jakarta City, Special Capital Region of Jakarta
People also read: Must-Try Ramen in Jakarta
4. Sentraland
Cengkareng Apartments consist of studio, 1BR, and 2BR types. There are several types of gardens that make residents feel more at home. First, the rooftop garden which in addition to providing beautiful views, also provides a safe playground for children.
If you like to take a leisurely stroll in the afternoon or early morning, residents can visit Madagascar Park and Caribbean Park with the concept of a Caribbean island. Atlantis Park is available for various sports activities, such as skateboarding, basketball, to outdoor fitness.
Price: Starting from IDR 1.3 million / month
Address: Jl. Kapok Cengkareng No. 22 RT.06, RT.02/RW.16, Kapuk, Cengkareng District, West Jakarta City, Special Capital Region of Jakarta 11730
Those are 4 apartments in the Cengkareng area at affordable prices. Interested in renting one of the residences above? Come on, order now with Flokq!