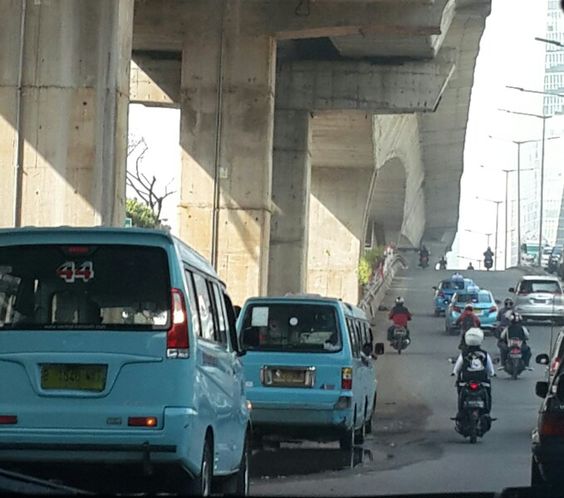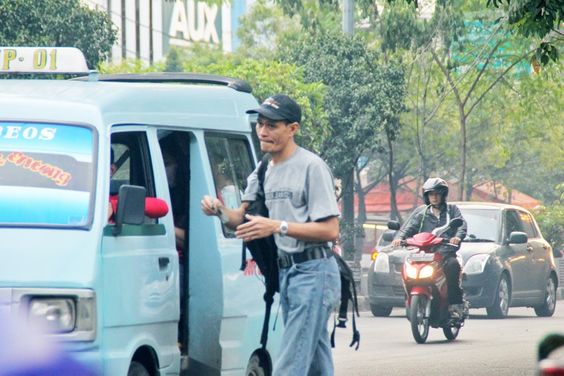 Using public transportations to get around in Jakarta is probably the most popular option for locals to travel. From transportations as big as MRT or as small as bajaj, you can find whatever you need in Jakarta. If you have been in a traffic jam in Jakarta, surely you've seen a blue mini-bus hanging around with a certain number and area written on their back. It's not Jakarta without Angkot, also known as Mikrolet, spread in Jakarta's busy streets connecting passengers from stop to stop.
Knowing that Angkot can only be found in Jakarta, you might not know exactly how they work. No worries, we always have your back! We've gathered the information on all about Angkot, from the history and tips that you should keep in mind before choosing Angkot as your regular transportation!
How It Started
Angkot, which comes from the term Angkutan Kota, is a form of public transportation. Angkot is commonly used by many students and workers to commute from home to their workplace, and are found throughout the day: from early mornings to late nights.
Angkot has many unique names, depending on the city in which they operate. The people in Medan refer to them as Sudako, while Surabaya calls them Bemo. Angkot is just the name claimed by Jakarta and Bandung, although Jakarta locals also call them mikrolet. The name 'mikrolet' started emerging in the 70's, to replace using 'oplet' or an old car that is considered public transportation as a taxi. Oplet is a small sedan manufactured by Morris Traveller. After Oplet started to get outdated, mikrolet was more commonly used. It came from the name 'micro' (meaning small) + 'oplet', still referring to that type of transportation.
The existence of Angkot started in 1943 when Indonesia was still colonized by Japan (although it was then called Zidosha Sokyoku). This type of transportation was meant as a way to travel with a motorized vehicle. In 1946, Angkot became a part of DAMRI (Djawatan Angkoetan Motor Repoeblik Indonesia) as public transportation. Angkot or mikrolet became very popular because they were able to travel with a relatively small vehicle with up to 10 passengers in it. Mikrolets are much smaller than a bus, so it's easier for them to travel on the roads of Jakarta without causing traffic jams.
How It Operates
Mikrolet or angkots are usually found in their corner or stations. Angkots generally wait in that spot until all the passenger seats are filled. If it hasn't, some drivers use the help of another conductor (called kondektur/kenek) to spread the word and call out to passengers who want to ride in the angkot. Considered Jakarta's very own mini-bus, angkot also has their predetermined route. Passengers have to know the number of certain angkots to make sure that they are going the right track. Each number has their route, so if you don't know the routes that well you might end up going to the wrong destination.
Angkots have their pit-stops before going to the end of each route, just like a bus. When you get off on pit-stops, you can ride an angkot with another number to make sure that you get to the place you need to be. The numbers of the vehicle might be confusing for some people, especially those just moving in Jakarta. However, the Angkot website was designed to make passengers find their routes, along with the bus stops for each vehicle.
However, if the driver acknowledges that people rarely get off at certain stops, they might continue their rides without stopping. With this in mind, you should always pay attention to your route. If the driver doesn't show signs of stopping, you can call out "kiri/kanan, Bang!" (left/right please!) for the driver to stop. After you get off your stop, then you pay the kenek according to how long you've been riding. That makes each customer's payment different.
The Pros And Cons
Angkot is often used by students and workers, which gives you a picture on how good of a price it is to use them. Because you only have to pay for the length of your ride, you can pay down to Rp 2.000,00/ride. It doesn't get better than that in Jakarta, especially with traffic jams that may occur. They also don't have a fixed operating time, but drivers start pretty early and end their days quite late. Because of early times for school and jobs, you can even find angkot at 5 AM in some places, and end their routes at midnight.
However, like other public transportations, they might add more passengers into the vehicle if they can. You might experience these especially on rush hours, where students usually go home or workers just got off work (but this is usually the case if you go using any form of public transportation, as Jakarta is a very crowded city). Knowing that they only stop at certain places, you won't have the convenience of getting dropped off in front of your homes. But this would be great if you were just getting to know your neighborhood, or you're traveling into new places in Jakarta. You can wander around the area and find cool places that you might not have known before. More fun opportunities for you to have in your alone time or with your friends, just don't forget to wear a hat or use SPF!
Riding angkot is a must-do on your list when you're traveling in Jakarta. If not to find regular transportations from your home-to-work routes, then to get a feel of local Jakarta vibes! You'll never find another place as interesting and vibrant as Jakarta. When you're trying to look for transportation, you'll easily find these angkots even in busy streets, with their bright blue color and kenek shouting the route of their vehicles. It's never quiet in Jakarta, anyway, so try to have fun with the process.
Read Also: Traffic in Jakarta 101