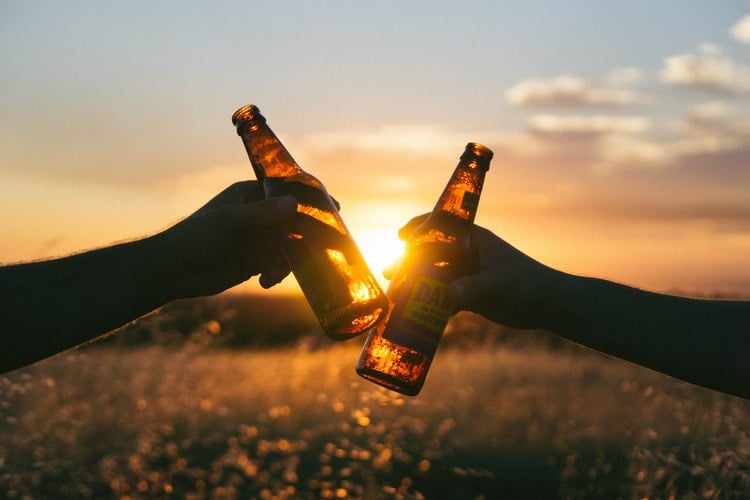 Bali
|
Local Guide
Complete Your Beer Bucket List: 6 Bali Beers and 3 Breweries to Try!
Bali is famous for its beautiful and exotic beaches. One exciting and earthy way to enjoy Bali's beaches is by drinking a cold glass of springlike beer!
In Bali, beer is indeed well known and liked by many tourists and also Balinese. Finding places that sell beer in beach areas might be easy, but you need to know which beer is best served in Bali, and which breweries are serving the best booze to enjoy with friends. Local beers are the most popular amongst other brands, such as Bintang, Bali Hai, and find out more in the article below!
Bali Local Beers
1. Bintang Beer
This beer is arguably one of the best selling beers in Bali. With an alcohol content of 4.7%, you can easily find these beers, from small stalls to five-star hotels. Many say this beer has the same taste as Heineken. The price itself is around IDR 20,000 if purchased at a supermarket. Meanwhile, if you buy it at a bar or club the price can reach about IDR 60,000.
The Bintang beer is also styled as a pale lager, gold in colour with an ideal serving temperature of 7 °C. The 4.7% ABV Pilsner has malt and hop flavour. Because it is a localized version of Heineken, its taste is similar and comparable to Heineken, and the Bintang bottle is reminiscent of a Heineken bottle; the red star on the bottle is the same as Heineken. Bintang makes a malt-based beverage called Bintang Zero 0.0%, a low alcohol Radler called Bintang Radler (in both lemon and grapefruit flavours) 2.0%, a soft drink product called Green Sands.
2. Anker Beer
If there is Bintang beer, there is usually Anker beer too. Anker is made from fermented sunflower seeds that have gone through the germination process (barley malt) with the addition of hops for taste and aroma.
Even though it is produced in Jakarta, this beer is selling well in Bali. The alcohol content is also 5% and you could say, the taste of this beer is also stronger. In terms of price, Anker beer is not much different from Bintang beer, around IDR 22.000 per bottle.
3. Bali Hai Beer
This cold beer is suitable to accompany your sunbathing time on a hot afternoon. Bali Hai is indeed famous for its cold beer which gives a refreshing sensation. The advantage of this beer is the price is relatively cheap, around IDR 18.000, and is easily available throughout Bali.
Currently, the beer and its variants are sold in more than 20 countries, including Singapore, Myanmar, South Korea, New Zealand, to Russia. The Bali Hai brands and variants include Bali Hai Premium, Draft Beer, El Diablo Original, Panther Black, El Diablo Strong Brew, Knox and Folsom.
4. Storm Beer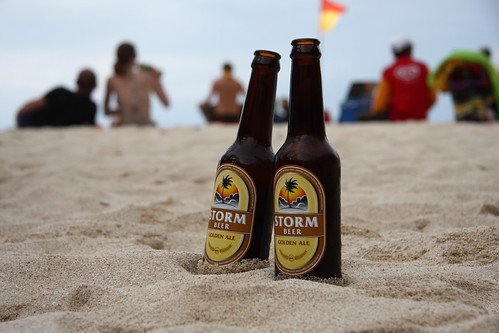 Who would have thought that this one beer was actually made in Bali and made it truly the local Balinese beer? This historic beer is said to have been made by the British at the turn of the last century. This beer has three types of beer that you can enjoy, which are: Golden Ale, Tropical, and Stout.
5. Stark Beer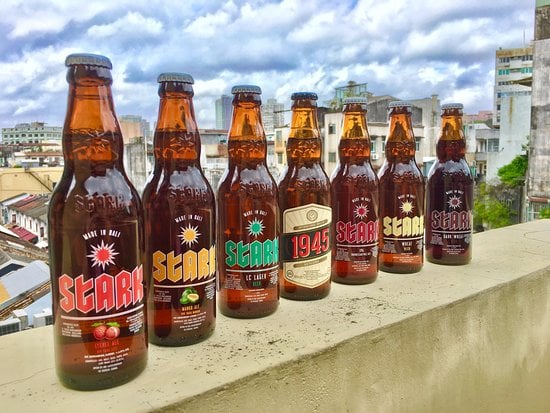 This beer is still relatively new in Bali, but it is quite popular. This dark brown beer is perfect for relaxing on the beach. For the variants themselves, there are Wheat, Dark Wheat, Indonesia Pale Ale (IPA), Low Carbohydrate Lager, Lychee Ale, and Mango Ale.
For the price, Stark is a little bit more expensive than Bintang or Anker, which is around IDR 30.000 per bottle. For a more complete experience, visit their brewery here!
6. Es Bir (Iced 'Beer')
This typical Balinese 'beer' is made from coconut combined with lime juice. This drink has a distinctive taste and is very delicious when enjoyed during the day. This drink is very popular in Bali, especially northern Bali (Singaraja, Buleleng, and surrounding areas).
This beer ice is similar to typical es kelapa muda on beaches in Indonesia. The difference is that the mixture of es kelapa muda uses granulated sugar, syrup, or even brown sugar, then the ice beer mixture must use sugar and also add lime juice.
If you are curious about what it tastes like, you can make it by yourself and it is pretty easy actually.
Ingredients:
1 young coconut (thick flesh)
thinly sliced lime
sugar
ice cubes
How to make:
First, take the coconut water.
Split the coconut, shaved/take the meat thinly
Lime sliced
Serving method:
Prepare a glass, take sugar according to taste
Add young coconut water and shavings of young coconut meat
Add ice cubes to taste
Give some lime juice, and add the lime juice.
Turns out making it so easy, right? You may have enjoyed this drink often, it's just that sometimes the name of the drink is different.
---
Click here to enjoy Bali beers with music and splendid night!
---
Bali Beers Brewery
1. Black Sand Brewery, Canggu
Beyond the black sands of Canggu and beneath the mighty Mount Agung lies the beating heart of Bali's blossoming beer scene, Black Sand Brewery. Their mission is to serve the freshest craft beers in the archipelago to you!
More than just a bar or a restaurant, Black Sand Brewery is a meeting place for like-minded souls to sit back and relax while sipping on the finest brews and sampling their menu's many gourmet delights.
Their beer garden looks over luscious green rice paddies, the volcano a striking silhouette to the north, and is the perfect place to while away the hours sharing, not just a meal and a drink, but the conversation and great times with friends.
Their vision was to establish Bali's first craft brewery, based around a shared food concept. Not only are they brewing beer but their food is definitely worth paying a visit for too! From wholegrain pizzas and quality meats to succulent seafood and tasty greens, their share plates and lite bites will keep your taste buds on their toes!
Location: Pantai Batu Bolong St, Canggu, North Kuta
Opening Hours: Wednesday – Sunday 12 PM – 8 PM, closed on Monday and Tuesday (May change due to pandemic)
Website: https://www.blacksandbrewery.com/
Phone: 0813-5353-8992
2. Beer & Co.
Beer & Co. is a beverage shop that doubles as a bar. Here you can find various types of beer, local and imported, as well as wine and spirits.
Friendly bartenders are also always ready to serve you while enjoying the various drinks and cigars that are also available here. You can also choose to drink your beers at the indoor bar or sit on the terrace looking at the passing vehicles in front of Jalan Legian.
Location: Outlet Legian – Jl. Raya Legian no 133
Outlet Canggu – Jl. Pantai Batubolong No 35A
Opening Hours: Legian – Monday 4 PM – 1 AM,
Legian – Tuesday – Sunday 1 PM – 1 AM (May change due to pandemic)
Canggu – Daily, 12 PM – 1 AM (May change due to pandemic)
Website: http://www.beernco.com/
Phone: +62-811-388-6658
3. Stark Craft Beer Garden
Formerly known as Beer Garden Kuta, Stark Craft Beer Garden is now renovated into a great bar decorated in a rustic wooden theme located right in Jalan Kartika Plaza – the main south Kuta's best tourism area. The bar has a nice and comfortable outdoor and indoor seating area offering you a great place to enjoy the music, selections of Stark Craft Beer (Premium Craft Beer made in Bali), great choices of craft cocktails, mocktails, and a plethora of delicious western and signature Asian food.
The bar also performs acoustic live music from 09:00 PM until 12:00 AM every night. Stark Craft Beer Garden is known as one of the most comfortable hang out places just to chat, relax and socialize.
Location: Stark Boutique Hotel & Spa, Jl. Kartika Plaza No.20, Kuta, Badung, Bali 80361
Opening Hours: Daily, 5 PM – 12 Midnight (May change due to pandemic)
Website: https://www.stark-hotel.com/bali/dining/stark-craft-beer-garden
Phone: (0361) 761888
---
Those are all the 6 most popular local beers and 3 breweries in Bali. If you happen to be in Bali, don't forget to try out all of those beers and also visit the brewery! Complete your beer bucket list and see you in Bali, Flokqers!
PS. Remember to always drink responsibly!