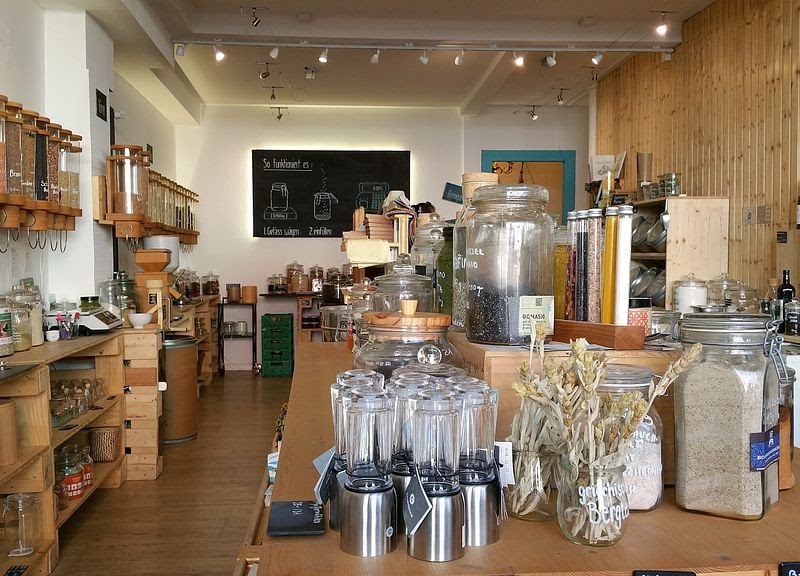 Have you ever thought about the long-term effect of food waste or plastic waste that we, humans, consistently produce in numerous numbers every day? It is the time for changes. A simple step such as not wasting our food and not using too many plastic bags will bring a good result for this earth. And one of the ways to support that is by shopping at a bulk store.
If you happen to stay in Bali, you can easily start implementing bulk buying as nowadays sets a few bulk stores in Bali. Each of them provides your daily needs in good quality, and most importantly, a lovely store! Keen enough to know more? Follow our guidelines about bulk stores in Bali and spot the perfect one for you.
Read also: Order Food Online to Make Your Stay in Bali Much Easier
What is a Bulk Store?
Similar to wholesale, a bulk store is a shop that sells out fresh and high-quality products in a large volume or size. What makes it even better is because bulk stores support an eco-style type of shopping. They eliminate the plastic packaging for every item, so if you are about to shop at a bulk store, you need to bring your own package or containers. Several bulk stores also offer options to renting the containers which need to be returned during the next transaction and require a deposit fee.
At bulk stores, the payment systems are quite different from the regular ones. Since the products are not packaged separately, so measurement systems applied at bulk stores are based on the weight or the volumes for each product, the volumes are usually in grams, kilograms, or liters. Do remember that it is important for you to know the size of your empty containers, to make they suit the measurements.
Knowing your empty containers' size will be useful during the payment process, since you only need to write down the items' code and the amount that you bought based on the measurement unit. Then, the cashier will multiply the figures in order to find out the amount that you need to pay, by first deducting the weight of your empty containers from the total weight. That way, you only pay for the actual weight of the products without being mixed up with the containers' weight.
Benefit shopping in bulk store
Apart from supporting the eco-style of shopping, purchasing your daily needs in bulk stores also has lots of other benefits for both you and the environment. Here are some of the perks of shopping in a bulk store:
1. Reduce Waste
By shopping at bulk food stores you will reduce packaging waste as well as food waste. Buying in bulk eliminates the need for fancy packaging & single-use plastic. Furthermore, this will make a dramatic impact on your weekly waste.
2. Save Money
Without the fancy branding that companies charge for, buying in bulk means you are purchasing the product in the purest and simple state. Since there is no need to pay for excess packaging, buying in bulk is cheaper and will save you money!
3. Flexibility
Bulk stores offer a various selection of natural and organic products that can be purchased in the exact quantity that suits your needs. Whether you are buying in a big amount or just a pinch of spices, bulk stores provide it all.
4. Food Stays Fresh
Since you can buy the products in the exact amount of your needs, so you don't have to worry about too much leftover. Once you are running out of stock, the bulk store is always ready to give you the fresh products to purchase.
5 Bulk Store You Can Find in Bali
Whenever you are up to some eco shopping, you can always drop into one of these the best bulk stores in Bali. Their products are fresh and guaranteed quality!
1. Zero Waste Bali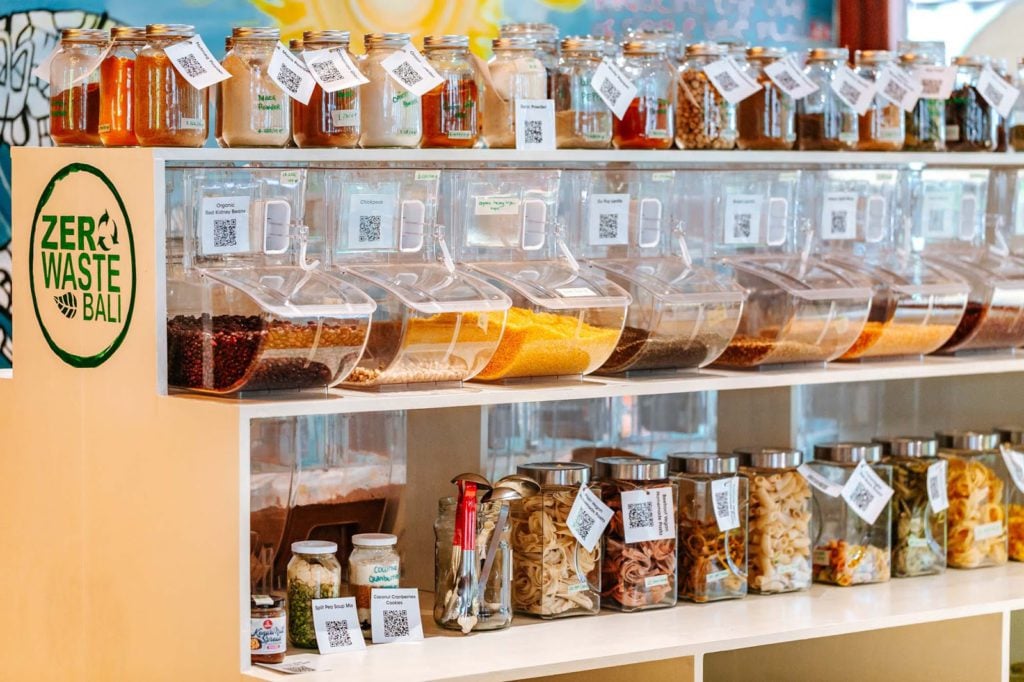 Zero Waste is the most popular bulk store in Bali. Established in Bali in 2018, they always support the eco-living of the Balinese environment as they help to reduce plastic waste in households. To shop at Zero Waste, you need to bring your own containers, and even reuse what you already have. They also provide a service to collect and sterilize your empty container.
Here, you can find almost everything of your daily needs. Ranging from the kitchen essentials such as oils, flours, rice, and pasta, to other life essentials like shampoo, washing up liquid, and more products that support a clean environment. Now, you can even pop into their store to make your own soap, shampoo, and other products using organic ingredients.
Currently located in three areas in Bali which is Kerobokan, Canggu, and Ubud, Zero Waste provides organic and non-organic food products as well as eco-friendly products that are unpackaged and plastic-free! Their products are label-free, but you can easily use your phone to scan the QR codes provided to learn about each item.
Address: Jl. Raya Anyar No.30, Kerobokan, Kec. Kuta Utara, Kabupaten Badung, Bali 80361
Open: Daily 8 am – 8 pm
Phone: 0812-3930-3404
Website: www.zerowastebali.com
2. Bali Buda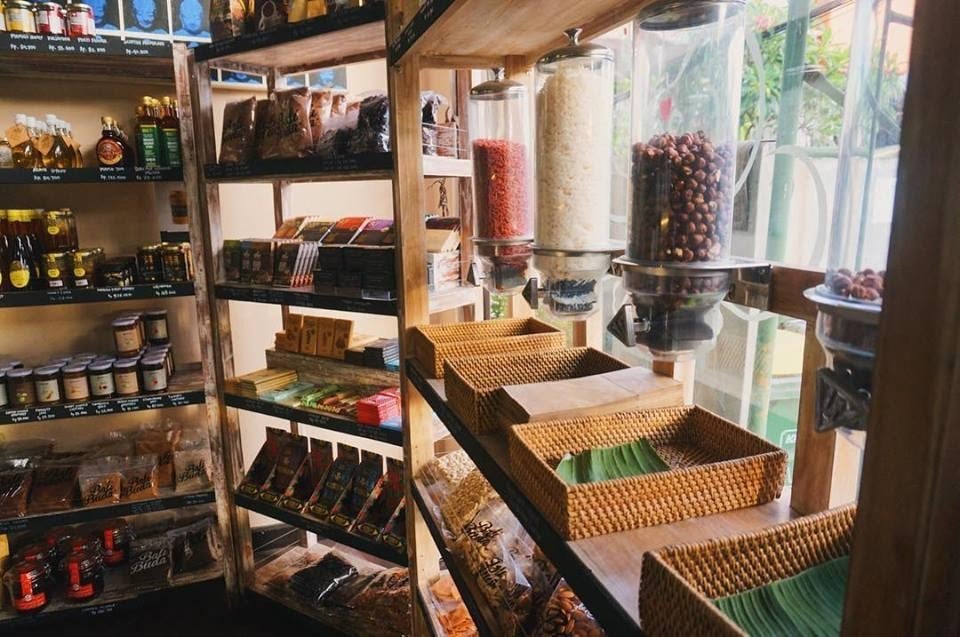 Bali Buda provides healthy homemade meals, fresh produce, and comprehensive bulk items. They are currently located in the Kerobokan, Canggu, Ungasan, Sanur, and Ubud area of Bali, and have become one of the oldest eco-friendly shops in Bali as they are open since 1994. They also compost or recycle their own waste, up to 90% as they want to create a better environment.
At the Bali Buda bulk store, you can find a wide variety of natural products such as flour, nuts, chia seeds, coconut oils, vitamins, kombucha, and even natural soap and detergent that you can't find in most shops. Other than that, they also have eco-friendly products for your healthy living such as stainless steel straws, and reusable tote bags.
Address: Bali Buda HQ, Jl. Pura Puseh no. 3, Batubulan, Gianyar
Phone: +62361 299 467
Website: www.balibuda.com
3. Earth Café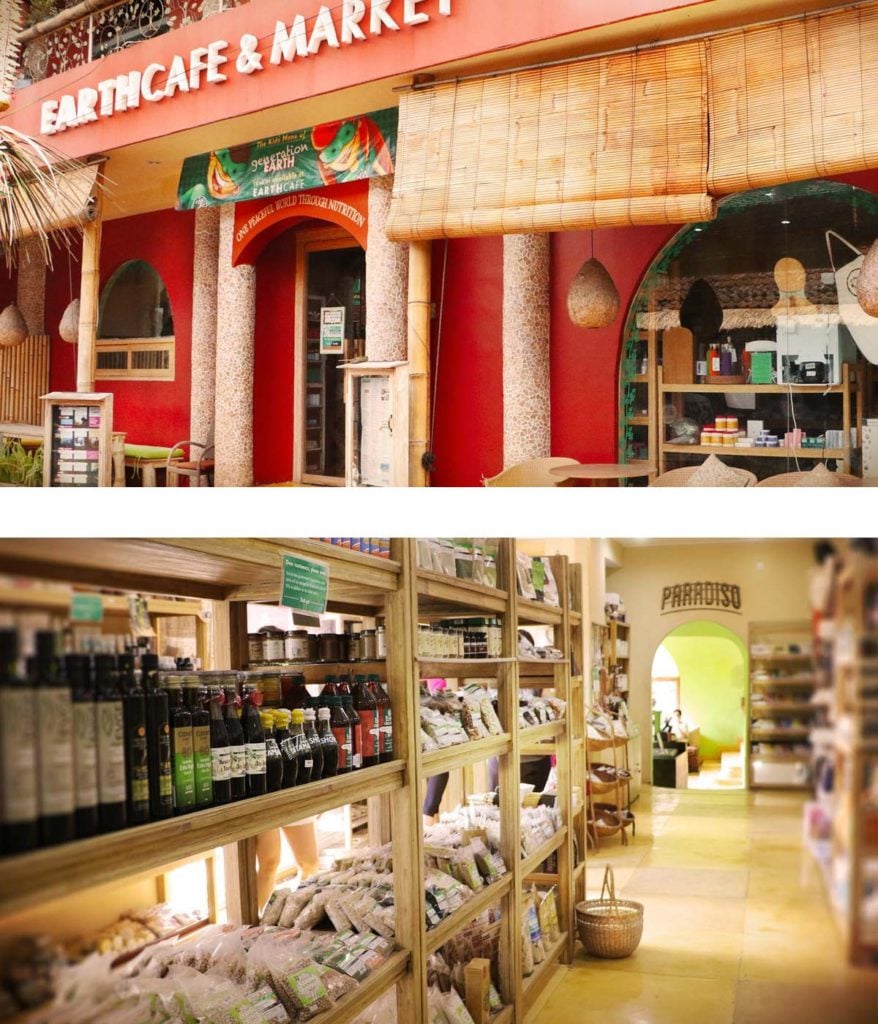 Next, you can choose Earth Café & Market as your bulk store destination, especially if you are staying in the Seminyak area. This store offers 100% organic and plant-based food. You can also find various healthy lifestyle products such as hand and body soaps, household cleaning products, clothing, cosmetics, jewelry, nutritional supplements, grains, fresh fruits, prepared spices, baked goods such as cookies, and much more.
Earth Café also runs a restaurant with a healthy and vegan-friendly menu as they aim to sharpen your inner compass and support a healthy lifestyle with fresh organic foods. Want something more? You can ask Earth Café to provide catering for your events, and you will get a dish with a high-quality product that also supports local farmers.
Address: Jl. Kayu Aya No.30, Seminyak, Kec. Kuta Utara, Kabupaten Badung, Bali 80361
Open: Daily 8 am – 9 pm
Phone: 0821-4503-7943
Website: www.earthcafebali.com
4. Eco-Living Bali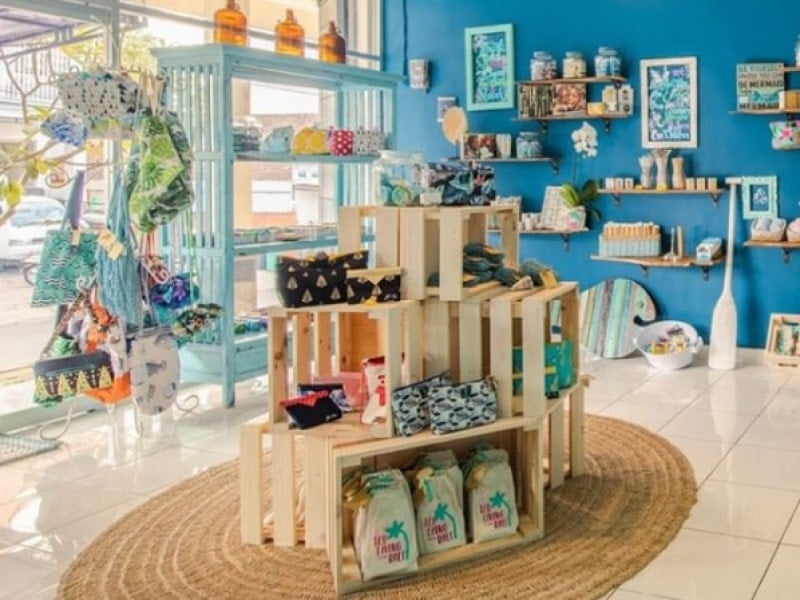 Located in the Kerobokan area, Eco-Living Bali is a plastic-free zone where you can shop for your daily necessities such as reusable facial pads, beeswax wraps, metal and bamboo straws, toothbrushes, handmade soap, and more. Their store is considered as a plastic-free zone because all products sold out here never include plastic throughout the process from manufacturing, packaging, and store placement. Eco-Living Bali also provides products that are made of natural ingredients, so it is safe to use, and even better, it is environmentally friendly!
Address: Jl. Bimasena, Kerobokan, Kec. Kuta Utara, Kabupaten Badung, Bali 80361
Phone: +62877 6508 5810
Website: www.ecolivingbali.com
5. Alive Wholefoods Store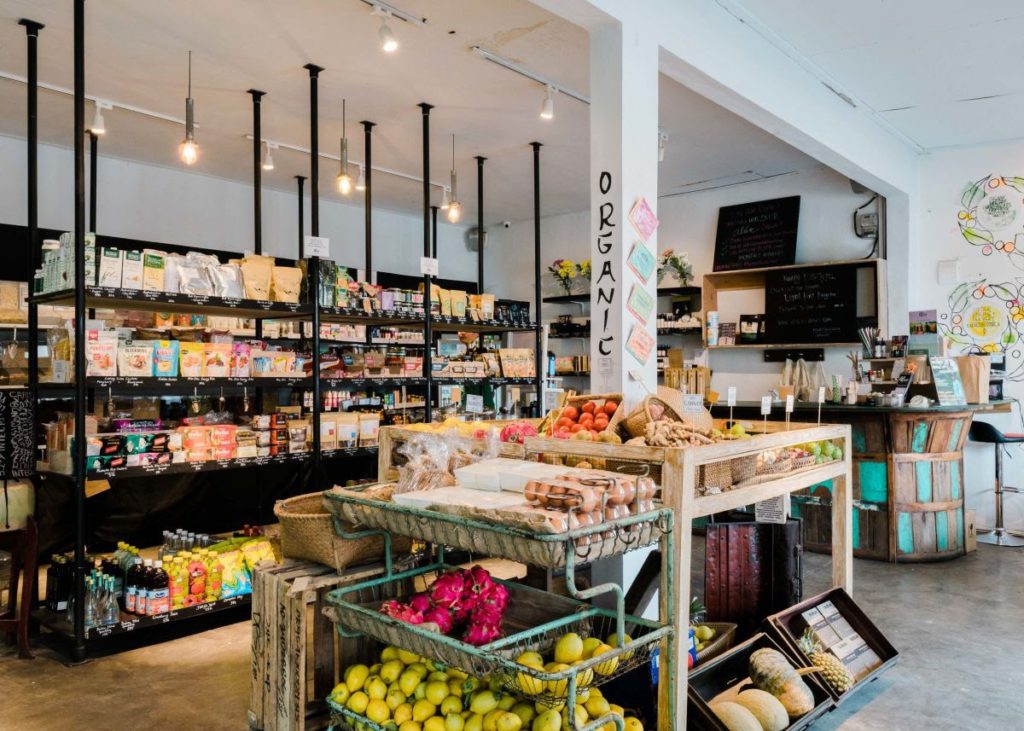 Alive Wholefoods Store provides organic grocery, where you can find clean, green, natural, organic items sourced sustainably from local eco farmers, and imported high-quality products. The items at this store are naked and unpacked, excluding non-perishable. It is because they aim to avoid mass production and waste production.
Located in the Canggu area, Alive Wholefoods Store could be your perfect choice for eco shopping. Stock up on your healthy and natural food from their bulk store of organic produce. Another good thing about Alive Wholefoods is because they offer a delivery service too! Simply order from their website, and you will find fresh products right at your doorstep.
Address: Jl. Canggu Padang Linjong No.12a, Canggu, Kec. Kuta Utara, Kabupaten Badung, Bali 80351
Open: Daily 8 am – 9 pm
Phone: 0821-4616-5452
Website: www.alivewholefoods.com
So, there you have it! Drop into one of our bulk store Bali recommendations, and get a fun shopping experience while also supporting the environment at the same time!
Read also: 10 Online Groceries Bali: Fresh Products into Your Doorstep
---
Want to find a rental option for your vacation in Bali? Flokq has several rental options in Bali at an affordable price. Head to Flokq or click the button below to find out more.
CLICK HERE TO FIND RENTAL OPTIONS IN BALI