Bali
|
Settling Down
Top 8 Bali Family Friendly Hotels & Resorts with Exciting Kids Club!
Bali has always been the right choice for vacation destinations, especially with the whole family. Besides having beautiful beaches and soothing green views, and enchanting cultural performances, Bali can also be a fun play area for kids! Your little one will surely love playing all day and then resting comfortably at night until the sun rises. Especially if you stay at a Bali hotel that is family-friendly and has exciting kids club facilities.
Check out our picks for the 8 best family-friendly hotels & resorts in Bali for a splendid family vacation!
1. The Stones Hotel
As one of the family-friendly hotels in Bali, The Stones Legian has everything to make the whole family feel at home. Both children and parents will definitely feel the same homey and comfy pleasure while staying here.
Jasper Kids Club is the perfect place for children to spend their vacation time. Operates from 08.00 to 18.00, every day children can try various games and read various fun reading books while being accompanied by friendly experienced staff.
Children will be lovingly taken care of here. After playing time, they can enjoy delicious ice cream. There are soft pillows that can be used by your little one to relax.
What's more, every child is given the opportunity to play at Jasper Kids Club for free for 3 hours every day. Now, while the children are having fun playing, it's time for the parents to enjoy their relaxing time.
If you stay here, you can't miss the swimming pool. This is one of the largest hotel pools in the Legian area. The water is not too cold, so you can invite your little one to swim in the children's pool. There are also floats for those of you who want to relax in the swimming pool without getting wet. Meanwhile, there are rows of daybeds and cabanas around it for those of you who want to sunbathe.
The hotel's location in the Legian area also makes it easy for those of you who want to take your family for a walk. Whether you want to go to the hit Legian area, to Kuta Beach and Legian Beach, or shopping to Beachwalk, everything can be done in less than 10 minutes walk. Meanwhile, if you want to go to Kuta Square or the Seminyak area, you only need to drive for about 10 minutes.
Regarding the room, you and your family can choose the Deluxe Room type which is equipped with an interconnecting door. So parents can be close to their children but still have the privacy that is maintained.
Location: Jl. Raya Pantai Kuta, Banjar Legian Kelod, Bali, Indonesia 80361
2. The Ritz-Carlton Bali
White sand beaches and Indian Ocean waves are just the beginning of a luxurious family vacation at The Ritz-Carlton Bali. All suites and villas here can fit up to 6 people. Guaranteed, every guest will feel luxury while resting.
If you stay here, you also don't need to bother thinking about your vacation agenda. You see, the Ritz-Carlton has prepared a complete set of detailed schedules for all family members. Starting from casual hangouts, fun at their resort pool, to watching movies under the starry sky! Children can also go directly to the Ritz Kids which is their kids' club. It's guaranteed that your little one will be happy to play here.
Children will also be introduced to local Balinese culture and invited to participate in preserving nature through various exciting activities. Starting from the turtle conservation program, making and playing kites, to playing the traditional Rindik musical instrument.
Especially for your little ones, they also have the Aquatic Goddess program, where the children will be invited to imagine being a mermaid complete with costumes while playing water by the pool.
When it's time to eat, you and your little one can enjoy a special dining experience. Want to enjoy a floating breakfast or dinner on the beach? You can make everything happen at this luxury resort.
After a day of activities, it's time to enjoy a quality spa that will certainly make your body and mind relax.
Location: Jalan Raya Nusa Dua Selatan Lot III, Sawangan, Nusa Dua, Bali, Indonesia 80363
---
Adults can have fun and be a mermaid too! Click here to find out how!
---
3. Holiday Inn Resort
Even though Bali is full of adult entertainment venues, Holiday Inn Resort is a place designed to meet the needs of children. Here, children can stay and eat well until they are full!
If that is all you are looking for, then you have come to the right place! This family-friendly Bali resort is close to a supermarket where you can buy and fulfill your kids' needs for snacks. This resort also has an enjoyable kids club with various activities to keep the kids entertained all day long. Once your little ones find what they are looking for here, they definitely won't want to leave.
Let's register the kids to the kids club at this hotel which has a lot of activities from 9 AM to 9 PM. You can also watch the children's fun as they slide, climb walls, costume parties, and make crafts. While playing at the kids club, children will be monitored by experienced staff, so you don't have to worry.
In fact, this resort has entertainment that is no less exciting, such as a variety of beach activities, fun water sports, several swimming pools (there is one special pool for children). There is also a game zone where your little one and their parents are suitable! This resort also has a cooking class that your little ones can join!
The experience of staying here will make you realize that a vacation can be very enjoyable without having to leave the children at home. Another plus is that the kids club at this resort is close to the swimming pool and restaurant so they can have fun playing while waiting for you to finish eating.
If you come here with family, stay in the Tanjung Kids Adventure Suite room, because this room offers privacy for parents while the children can enjoy their colorful room.
Location: Jl. Pratama No.86, Tanjung Benoa, South Kuta, Bali, Indonesia 80363
4. Prama Sanur Beach Hotel
Located in the most popular area of Sanur, Prama Sanur Beach Hotel Bali will provide the best-serviced resort for your family vacation. Their kids' club will also offer a variety of exciting activities that will be an unforgettable experience for your little ones.
Children can play at the kids club from 09.30 to 17.00. The whole room is adorable decorated, filled with toys, bikes, paper and crayons to colour and draw on. Want to play outdoors? There is a basketball activity program, tennis, cooking class, yoga, and various activities that will introduce them to traditional Balinese culture.
There is also a Splash Zone area which is equipped with a swimming pool, water slide and playground. In this area, all family members can relax and relax without worrying because there are experienced staff who are always watching the guests.
Looking for something more exciting and challenging? During your stay here, you and your little ones can join in to practice surfing with the reliable Rip Curl team! Interesting, right?
Location: Jl. Cemara, Sanur Kauh, South Denpasar, Bali, Indonesia 80228
5. Fairmont Sanur Beach Bali
Choosing Fairmont Sanur Beach Bali for holidays is one practical way to make your family happy! Kids and parents will be equally happy while staying here, especially if you choose a family package which is specifically designed to provide an unforgettable holiday experience for the whole family.
The children's pool is close to the restaurant, so parents can enjoy a delicious meal and a glass of cocktail while watching the little ones playing in the water.
If you want to enjoy quality time with your partner, immediately take the kids to Kid's Club which is specially designed for your little ones to really have fun! Here, children will not only be creative with handicrafts, but there are also lego stations, mini cinemas, and playgrounds.
Apart from that, the kids club also has activities scheduled every day, from 10:00 to 19:00. Starting from making kites to making Balinese handicrafts. Your little one will be happy to be able to try many new things.
Surrounded by gardens and beautiful and colorful tropical flowers, beach views, and beautiful sunrises, you can choose to stay in the very spacious villas or suites at Fairmont Sanur Beach Bali.
To have more fun with all family members, you can choose a cycling activity as far as 5 kilometers around Sanur. Really exciting right?
Location: Jalan Kusuma Sari No. 8, Sanur Beach, Bali, Indonesia 80227
6. Grand Mirage Resort & Thalasso Bali
If you are planning a vacation with your family to enjoy quality time, then Grand Mirage Resort is a smart choice.
A resort that focuses on fun and intimacy between family members, Grand Mirage Resort's Fun Kid's Bamboo Club provides a variety of activities to keep kids busy, while parents can enjoy quality time.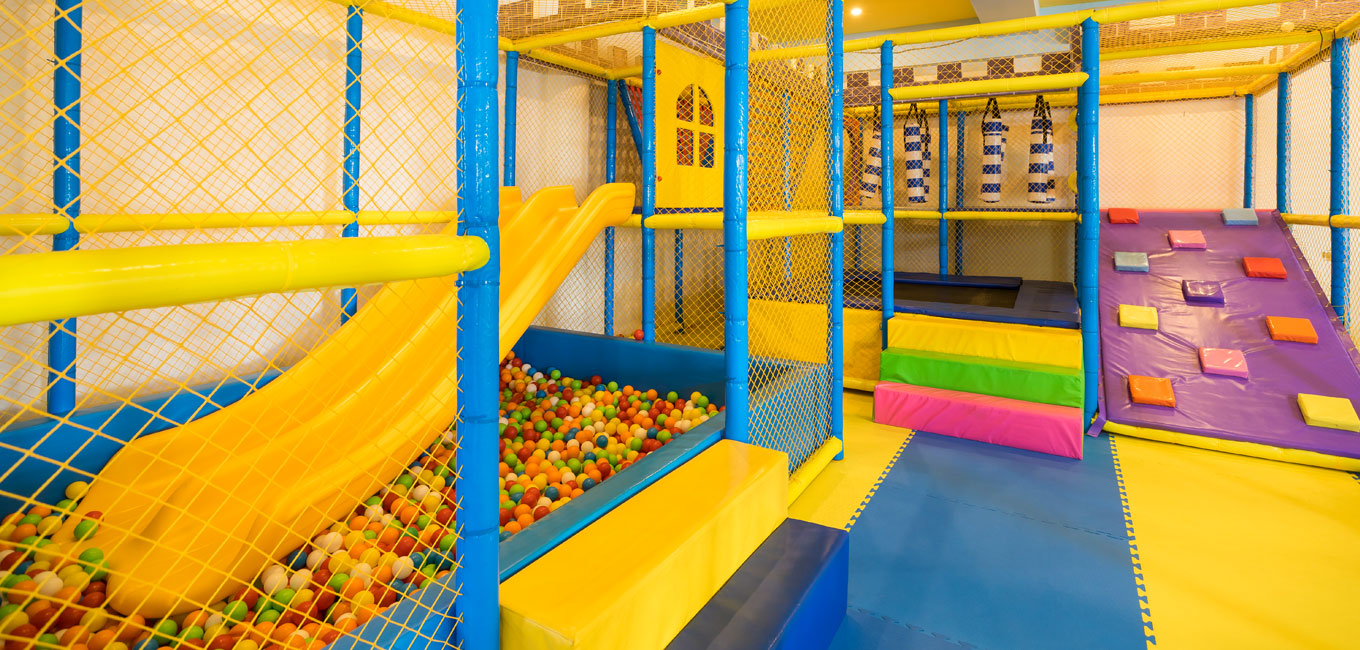 Kids aerobics, decorating masks, learning Balinese culture, mini football and drawing with coconut media are some fun and creative activities that children can participate in. These games and activities are available indoors as well as in the outdoor courtyard, all of which are equally fun.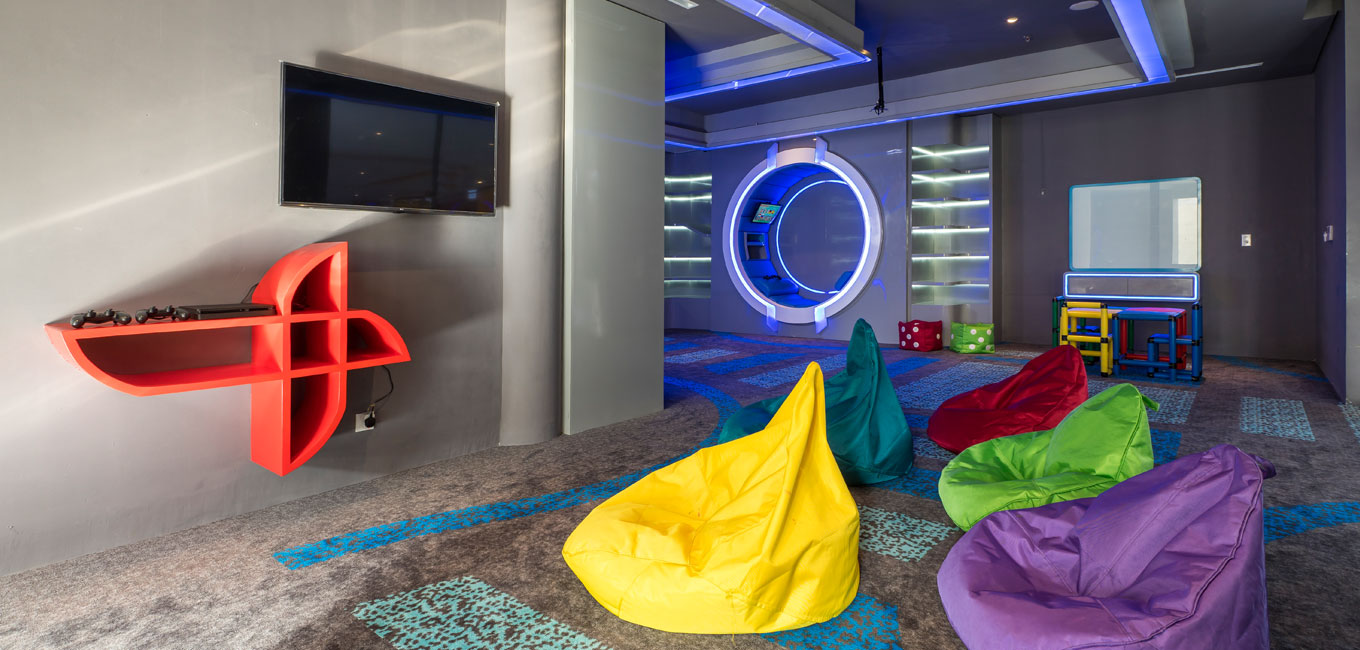 Activities such as beach sports, guided sea kayaking and other water sports are also not to be missed! Pumping up your adrenaline by playing slides in the pool is definitely fun too!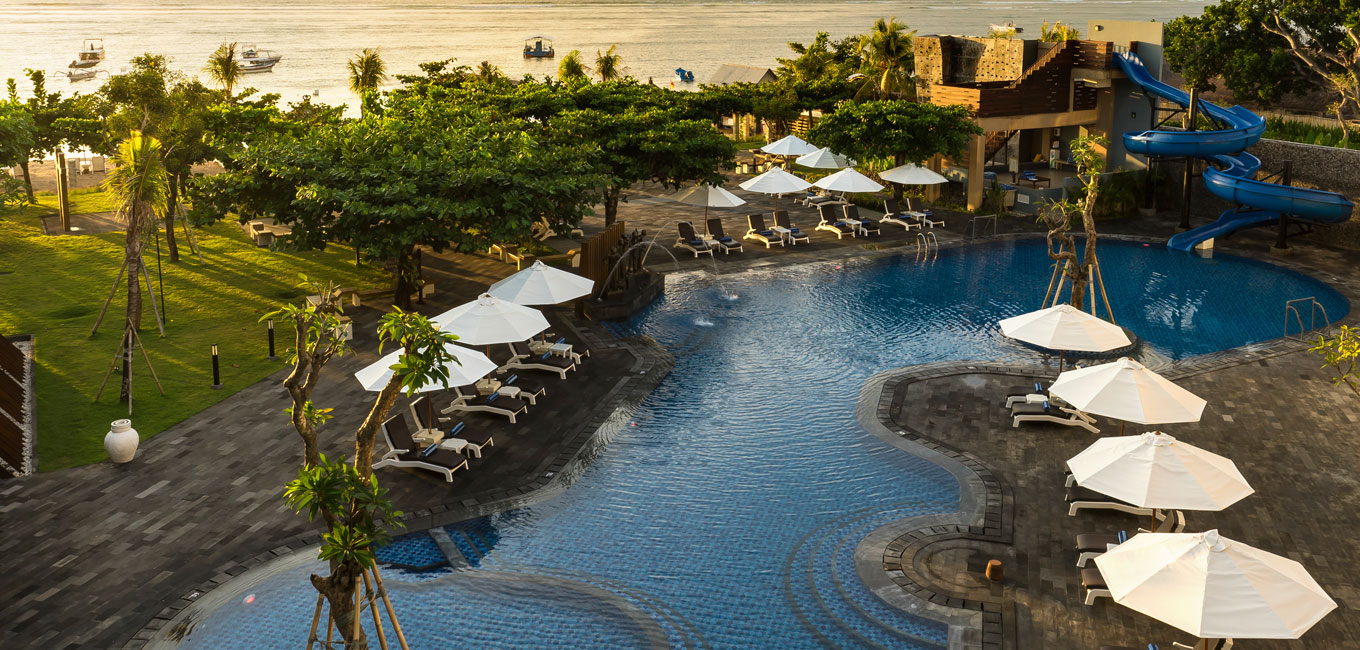 At Grand Mirage Resort, many things can be enjoyed for both children and adults, to make sure everyone is truly enjoying their time in Bali!
Location: Jl. Pratama Jl. Nusa Dua No.74, Tanjung Benoa, South Kuta, Bali, Indonesia 80363
7. Hard Rock Hotel Bali
Holidays will be fun if the kids are happy! For the place to stay, you can choose Hard Rock Hotel Bali, which is located right on the beachfront in the heart of Kuta.
Roxity Family Suite and Luxury Kids Suite types can be the perfect choice for your little one or the whole family. This apartment-style room can accommodate four family members. This type of room is also equipped with a living room, daybed and large television.
The main bedroom for parents is equipped with a bathtub. Meanwhile, in the children's room, there are adorable bunk beds. These two family suites also have PlayStation facilities, various toys and a children's toilet.
Offering a never-ending vacation experience, there are still more exciting facilities that children can enjoy. They can freely play at the Roxity Kids Club while parents relax at the Rock Spa or work out at the Body Rock Gym.
Then, what about the children who are already teenagers? They can go to TABU Teens Club to enjoy mini cinema, billiards, to consoles like PS4, Wii, or Xbox.
Hard Rock Hotel Bali also has a super large swimming pool with a sand island in the middle. If you are interested in sunbathing, playing beach volleyball, or watching a show, this is the place to be. Kids will also enjoy playing the slides. All the rides have been taken into account for their safety aspects and there are always experienced staff supervising this area.
Location: Jalan Pantai Kuta, Banjar Pande Mas, Kuta, Badung, Bali, Indonesia 80361
8. Sofitel Nusa Dua
This beachfront 5-star hotel offers a great family getaway with lots to see and do. Your little loved ones will be under the highly professional care of La Villa Des Enfants Kids Club once they join the Sofitel's Kids program. They have the concept of learning while playing, so that children will have fun, play and gain insight at the same time.
Children can spend time in indoor or outdoor areas. In the indoor area, there is a reading room with a complete collection of books, the latest games, storytelling sessions, and a lounge for children to take a break.
Every week, your little ones can play Mermaid Party complete with costumes by the pool. There is also a large outdoor playground area with a beautiful garden, so that children can play surrounded by nature but remain safe. There is also a large swimming pool and gardening sessions that will bring your little ones closer to nature.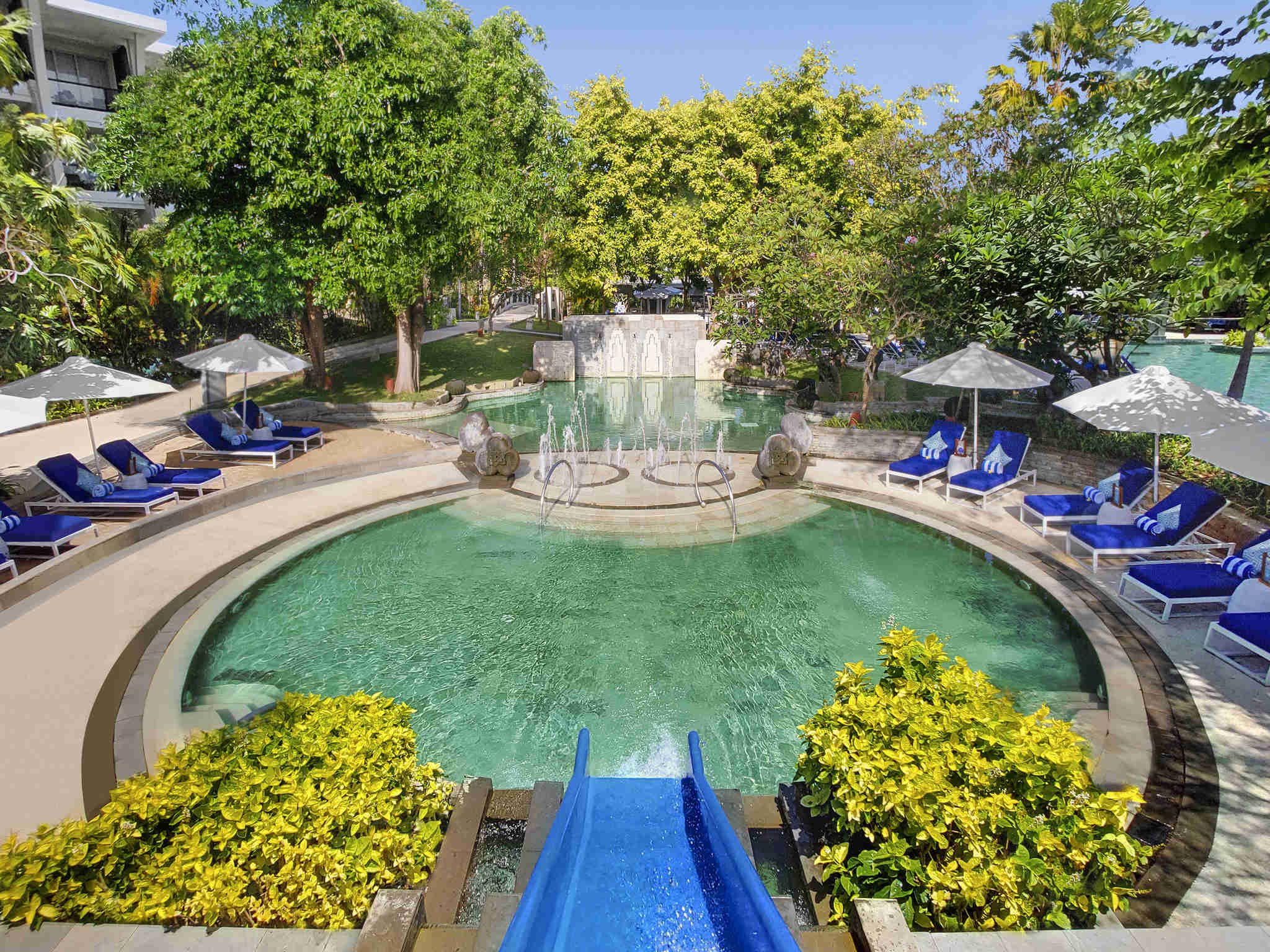 If you have children who enjoy cooking, at the Sofitel Nusa Dua there is also a cooking class program for children! Definitely, Sofitel Nusa Dua Hotel is one perfect place for your family vacation in Bali!
---
So, those are the 8 family-friendly hotels and resorts in Bali that we recommend for you! Discuss with your little one on which place to choose, or you might want to surprise them! Whichever you choose, these family-friendly Bali hotels and resorts would love to welcome you to have a splendid stay experience! See you in Bali, Flokqers!