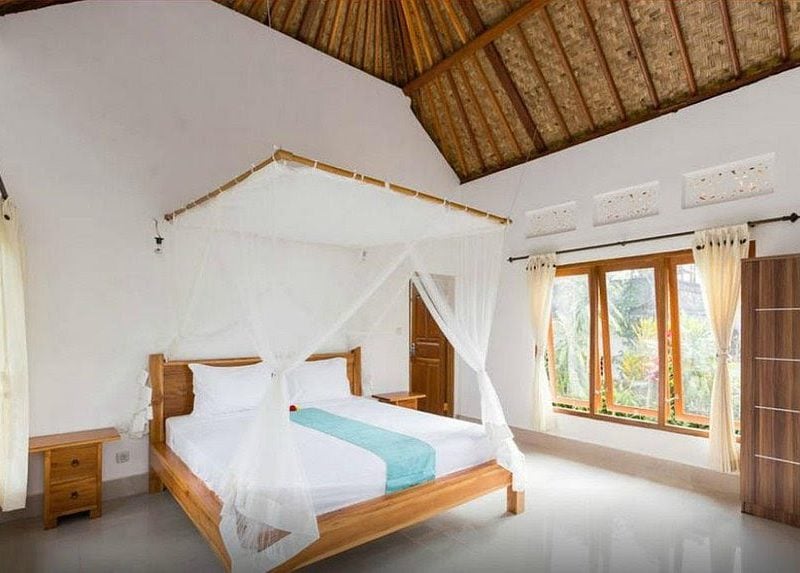 Bali
|
Local Guide
14 Guesthouse in East Bali For Your Short Journey to the East
A villa in Canggu, a villa in Seminyak, or a guesthouse in East Bali, wherever you are you love your stay there. What's not to love about living near a vacation spot well-known by many. Although, seeing this every day might get you bored, understandably. Being in Bali for a while, you might be tired of getting the same kind of business every day, with tourists, expats, and locals flocking in and out of the area that you are living in. Maybe you need a break from the sounds of bikes and cars, the crowds of tourists, or the same fast and wild nightlife every weekend. Well, how about some R&R from these famous R&R spots?
If you look a bit further than Ubud/Gianyar, you can actually find a land untouched by high levels of commercial tourism. In this article, we'll write about an area located in the east of Bali and how to find accommodation there. Out of all the accommodation, guesthouses are probably the most affordable for your trip there. So, we'll be recommending guesthouses we think are perfect for your R&R there. Grab your friends or go by yourself, here are 14 guesthouses in East Bali for your short journey to the east.
Why East Bali?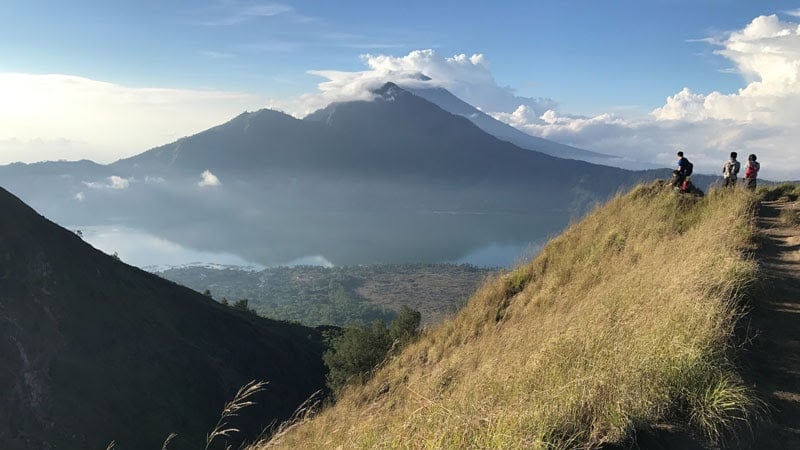 'Well, hold on', you might say, 'why East Bali' out of all places and where is East Bali anyway'? Well we're glad you asked. So to start off, let's try to geographically define where East Bali is before you go to Lombok by mistake (not a bad mistake, though, Lombok is awesome). Beyond the Regency of Gianyar where the culture centre Ubud stands, there is the regency of Karangasem. This regency administratively covers most of East Bali, so if you want to look for something related to East Bali better use Karangasem for optimal results. From Mount Batur in the North part of East Bali to the city of Semarapura in the South is where East Bali lies.
Mountains in East Bali
Okay, so now that we make sure that you won't mistake East Bali for Lombok let's get down to business and explore the hidden and untouched wonder that is East Bali. What can you do there? For starters, in East Bali there are three mountains or peaks. Those peaks are Mount Lempuyang, Mount Batur, and the famous Mount Agung. What goes well with peaks? Sunrise seeking! East Bali is perfect for those who want to hike or trek mountains. In addition to a large variety of routes and peaks to hike, these peaks are also difficulty-adjusted like a game too.
Mount Batur is perfect for first-timers as it's not as high, but its peak is still taller than that one guy you know who peaked at high school. Mount Agung is definitely not child's play, as it is the tallest mountain in Bali. If you're pretty adept at hiking or trekking and would like to challenge yourself, try this mountain for size. Around the Karangasem area, there are many who provide tours, hikes, and trek guides for your safety and leisure. So, it's time to wake up, samurai, for we have a mountain to hike!
Temples in East Bali that you can visit
Secondly, you can also do a spiritual journey to the east. Since there are lots of mountains in East Bali there are also lots of temples. For starters, head to Pura Besakih to enjoy traditional Balinese architecture with the backdrop of the tallest mountain in Bali. Other than that, there is also Pura Lempuyang located at the hillside of Mount Lempuyang. Here you can find one particularly popular photo spot called Heaven's Gate where two Pura gates are standing with the backdrop of beautiful Mount Lempuyang.
Transit trips to other islands
Lastly, East Bali is perfect for a transit trip to other (often more popular) tourist areas such as Lombok, the Gili Islands, or even Nusa Penida and Lembongan. If you are going to those places, why not stay a night or two and enjoy East Bali first? Or maybe stay at Karangasem after a trip to Lombok?
Read also: Immerse Yourself in Bali with Balinese Greetings and Phrases
Recommended guesthouses to stay in East Bali
So, with all that introduction and hype-up we hope you're enticed to book a secluded and private R&R experience in East Bali. Here are 14 guest houses we can definitely recommend for you! Notable areas in which our recommended guesthouses are situated include Amed Beach, Jasri Beach, Padang Bai Beach, Tirta Gangga, Pura Besakih/Besakih Temple and Sidemen!
1. Harmony Guesthouse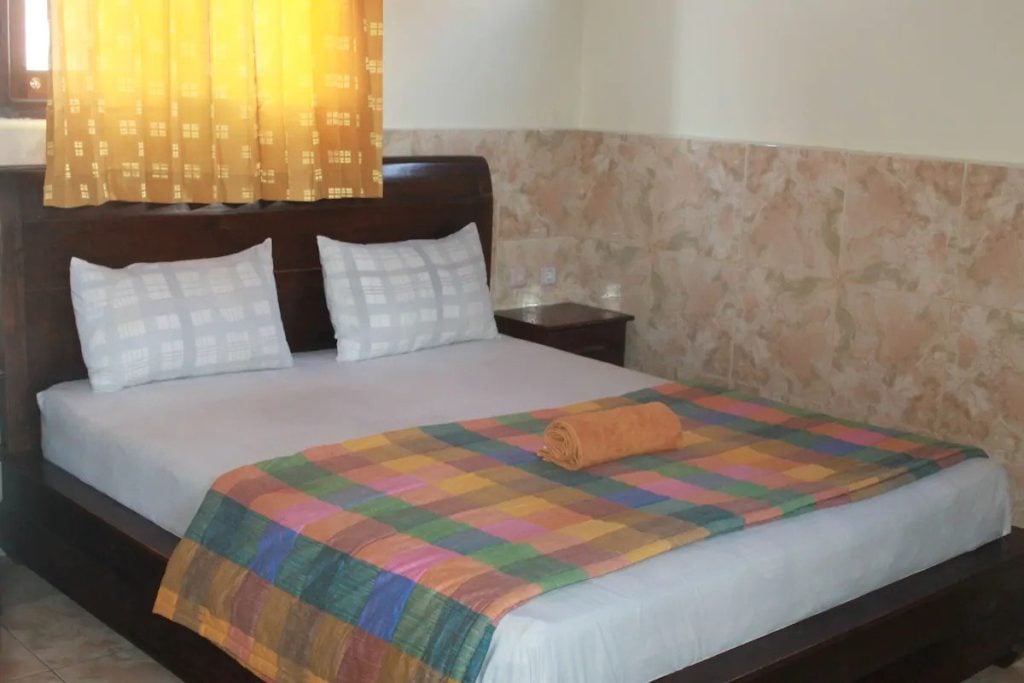 To start off our list, We'll start with this guesthouse located only a stone's throw away to Padang Bai beach. Harmony Guesthouse provides you a perfect one or two-night stay to either visit and enjoy Padang Bai Beach and other beaches in the area or to cross off to Nusa Penida and Lembongan and other destinations. They offer breakfast, laundry and cleaning service, and a 24/7 front office. Note that you might not see some necessary amenities such as shampoos readily available. Even so, you can buy them at the nearest Warung (not the food kind, the minimarket kind) scattered around the guesthouse. Plus, there is also a police station nearby in case of emergencies, so you can feel a bit safer when staying here.
Location: Jl. Silayukti Jl. Segara No.3 No.7, Padangbai, Kec. Manggis, Kabupaten Karangasem, Bali 80871
Contact number: +62 818-0533-3760
Price: starts at 200k IDR per night!
2. Besakih Homestay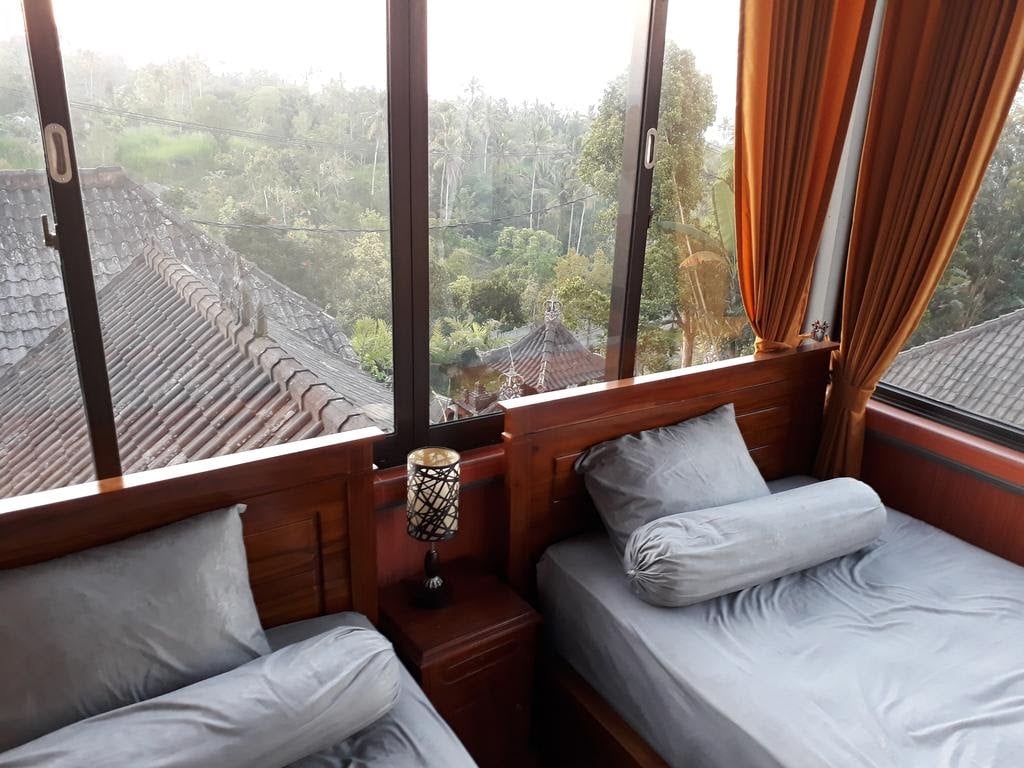 Moving on from Padang Bai, we have Besakih Homestay. From here Pura Besakih is within your reach, as it takes only 4 minutes driving and 14 minutes walking there. If you're too lazy to walk towards Pura Besakih, they also provide a taxi service to get you there! This homestay only provides a few rooms for their guests. All the better for you since that means you will be given much more attention and service compared to other places with a bigger number of rooms. Their rooms are made mostly out of wood as well, giving out 'log cabin' vibes. All in all, Convenient overnight or one day stay near Besakih where you can drop your stuff, get changed and get going to Pura Besakih.
Location: Jalan Raya Besakih, Lingkungan Poh Udang, Besakih, Rendang, Kabupaten Karangasem, Bali 80863
Contact number: +62 813-3874-7454
Price: cost around 100k-300k IDR per night.
3. Lila Stana-Sidemen Guesthouse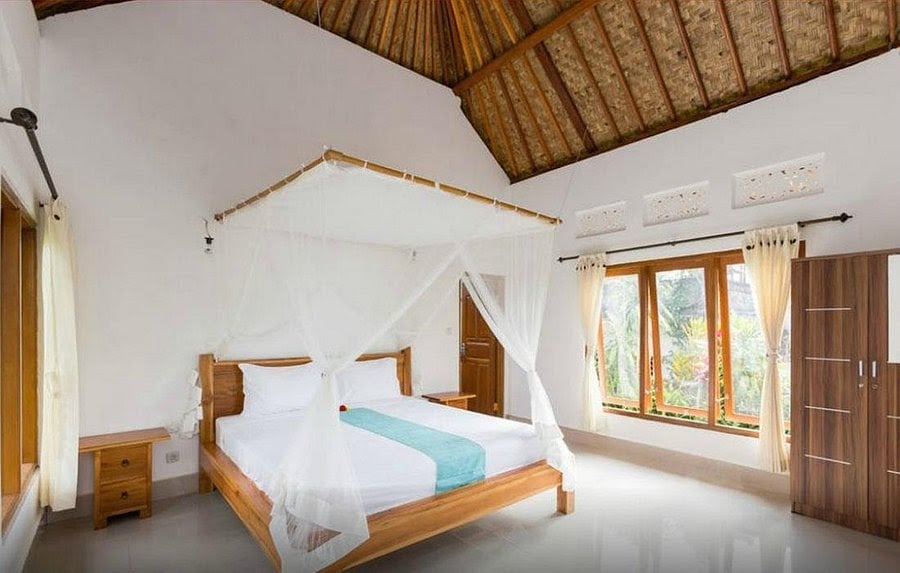 If you don't know about the area of Sidemen, just imagine Bali before it became a tourist hub. Sidemen are one of those secret spots people go to. Going here feels like visiting a completely different place compared to Bustling Denpasar or rowdy Canggu. This guesthouse offers an exclusive 2-person experience of the beautiful hills and rice field terraces for you to walk and hike in Sidemen. The room itself is well-furnished with necessary furniture alongside a rooftop terrace with a view of nearby mountains. They also offer tour packages to other parts of East Bali, such as Mount Batur. So, if you really want to get some legit R&R in East Bali this might be the location for you. Also, what better way to spend your R&R other than spending it with your partner in Lila Stana-Sidemen Guesthouse. Note: it's read See-de-men, not side-men, got it?
For information surrounding the guesthouse visit www.lilastana.net
Location: Banjar Tabola,, Telaga Tawang, Sidemen, Kabupaten Karangasem, Bali 80864
Contact number: +62 812-3967-914
4. Minory Guesthouse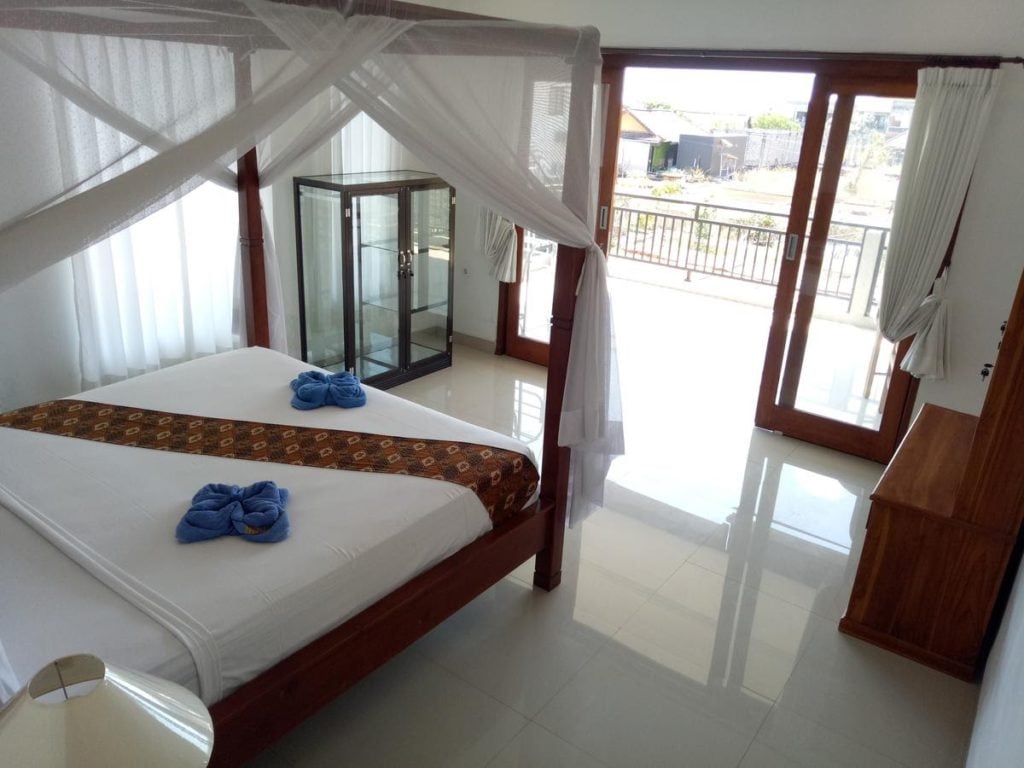 This guesthouse is located near Amed beach, which is perfect for you who's planning to cross to the Gili Islands or Lombok. They have rooms with king-sized beds, en-suite toilets and complete furniture. Some of them are also complemented with a view to the beach or the mountains. Other than that, Minory Guesthouse is a very convenient place to stay in due to its provision and ease of access to cool activities such as Biking and diving. Lastly, they also provide other convenient stuff like airport shuttle and breakfast with vegetarian options. What a real treat!
Location: Jl. I Ketut Natih, Purwakerti, Abang, Kabupaten Karangasem, Bali 80852
Contact number: +62 877-6158-8006
Price: starts at 235k IDR per night
5. Putra'Lebah Amed Guest House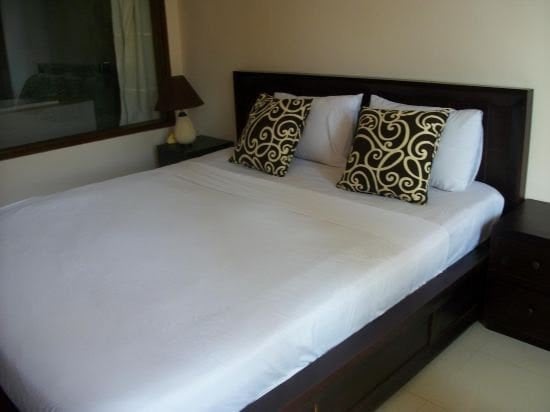 Here is a guesthouse that knows that both simplicity and quality are the key essences to a good guesthouse. They offer only the things you need, and they provide it in the best way they can. Starting off, they are a beachfront property with a private section of Amed beach dedicated for guests of this guesthouse. In addition, they also have rooms with double or double deluxe beds that are air-conditioned. Wi-Fi is also available in the rooms, so you don't need to worry about searching for a signal. If you're looking for a guesthouse in Amed, look no further than Putra'lebah.
Location: l. I Ketut Natih, Banjar Lebah, Purwakerti, Abang, Kabupaten Karangasem, Bali 80852
Contact number: +62 878-6151-0020
Price: starts from 436.5k IDR per night
6. Adore Guesthouse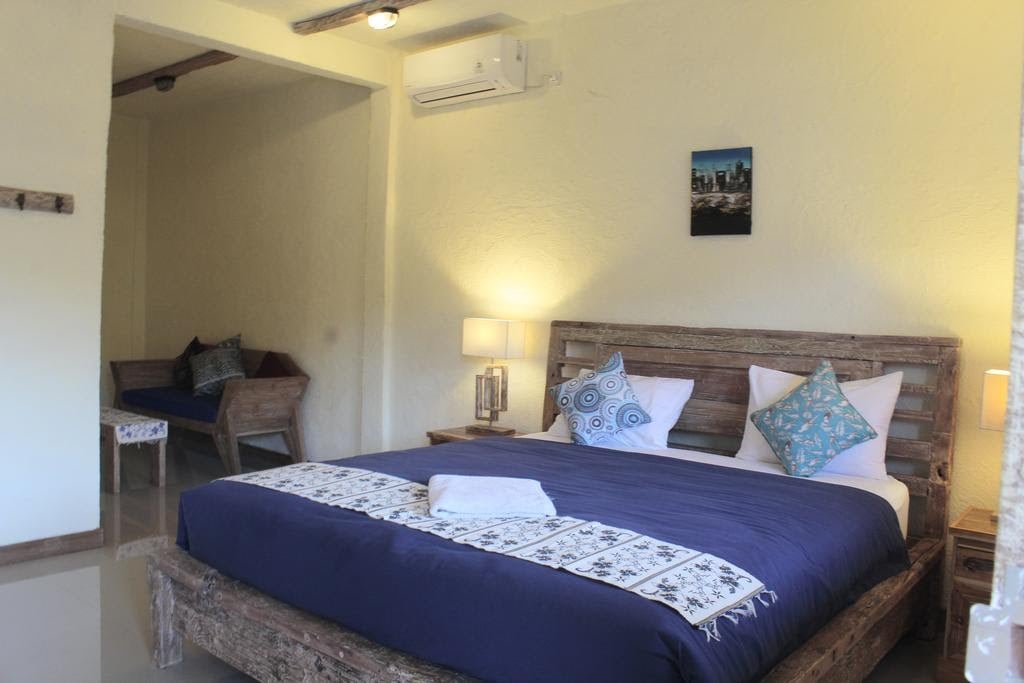 Another great guesthouse in Amed, there's lots of things to adore when it comes to this place. First off their receptionist is 24 hours, so you won't need to worry about checking in late. They also provide free parking and Wi-Fi during your stay. The rooms themselves are luxuriously furnished for a guesthouse, with cable tv, well-equipped kitchen and bathroom, and AC.
When it comes to their benefits, Adore guesthouse provides breakfast with ala carte and American as the theme. They also provide airport shuttles for your convenience. Lastly, since they are located around 500m to Amed beach diving and snorkeling can certainly be part of your daily agenda.
Location: Jl. Melasti, Purwakerti, Abang, Kabupaten Karangasem, Bali 80852
Contact number: +62 818-0533-0733
Price: starts at 16 USD per night
7. Cegeng Lestari Guesthouse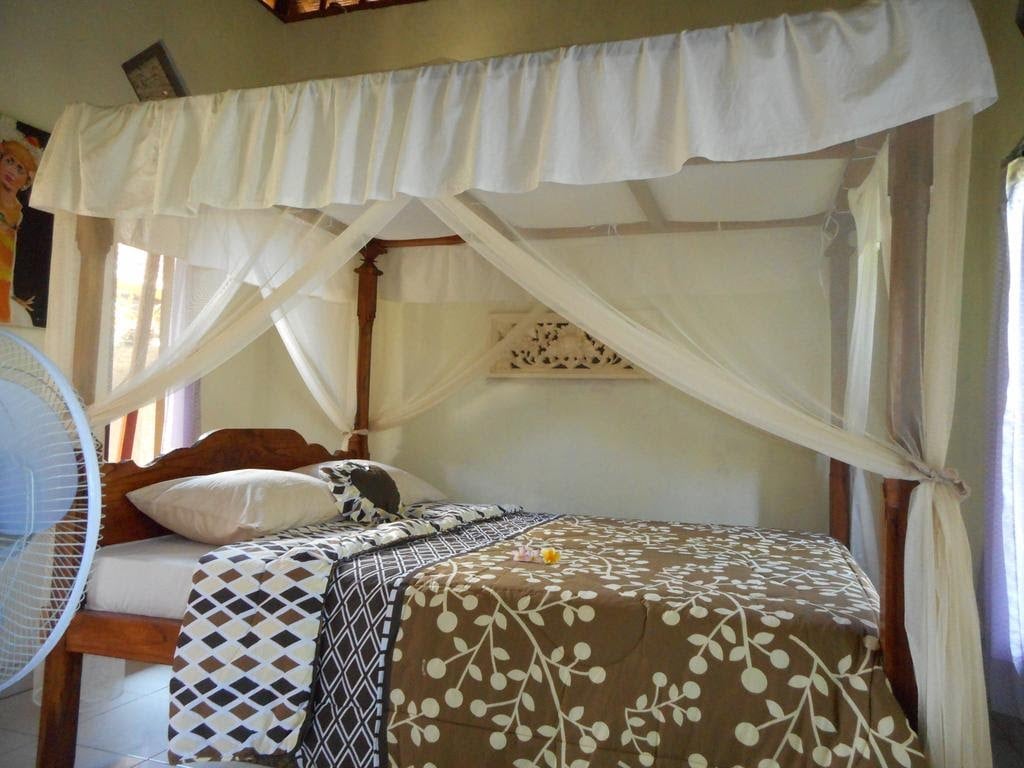 Another great accommodation in quiet Sidemen, Cegeng Lestari Gueshouse will give you a spectacular R&R experience in Sidemen. Their en-suite double bed room includes toiletries, mosquito nets, wake-up service, and a terrace with a beautiful view of the paddy rice terrace. They also serve an Asian-themed breakfast, so you can be sure to get an authentic piece of Sidemen while staying at Cegeng Lestari Guesthouse. They can also help in arranging activities for you, such as biking in the scenic hills of Sidemen.
Location: Desa Cegeng Kertabuana, Kertha Buana, Sidemen, Karangasem Regency, Bali 80864
Contact number: +62 859-3615-1761
Price: starts at a range of 300k-400k IDR per night
Read also: 13 Local Foods in Bali with Authentic Taste, Must-try!
8. Bamboo Paradise Guesthouse and Hostel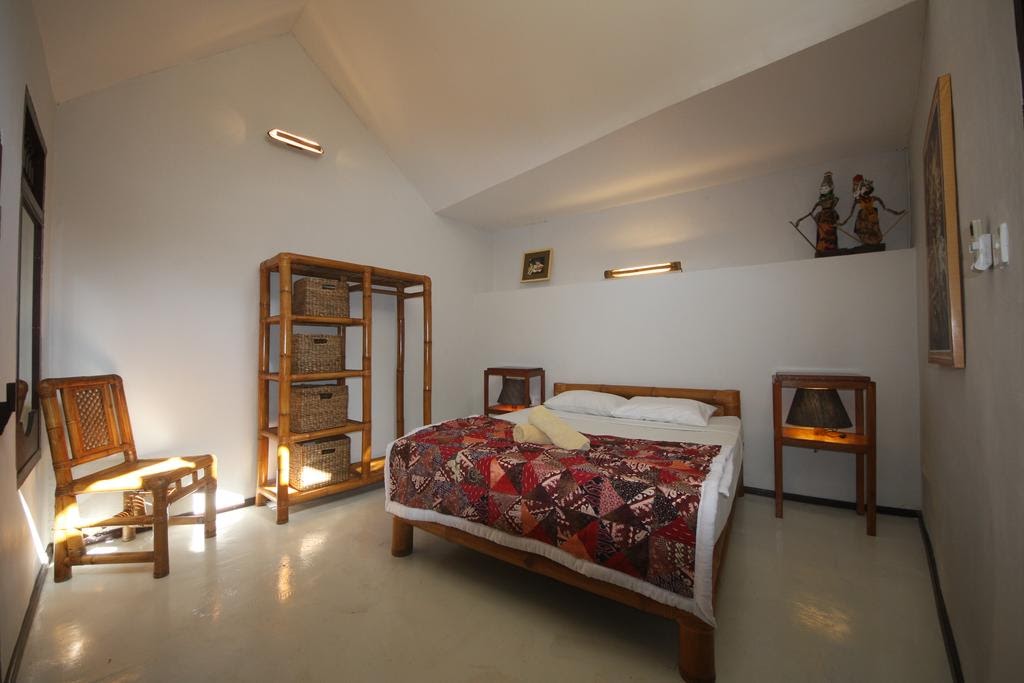 Here is a guest house near Padang Bai Beach that provides affordable stays with nice accommodations. They have a wide variety of room types for you to choose from based on your budget plan. All of the rooms are intricately designed with wooden furniture and ornate decorations. The guesthouse also provides Wi-Fi connection for guests. When it comes to facilities, they probably are one of the best around. With a bar, a garden, and a tourism center to help you with your trip planning, Bamboo Paradise will make your R&R trip to East Bali more fun and exciting. They also offer you an airport shuttle service, free parking, and breakfast to help start your day!
Location: Jl. Penataran Agung, Padangbai, Kec. Manggis, Kabupaten Karangasem, Bali 80872
Contact number: +62 822-6630-4330
Price: starts at 8 USD per night
9. Backpackers home Amed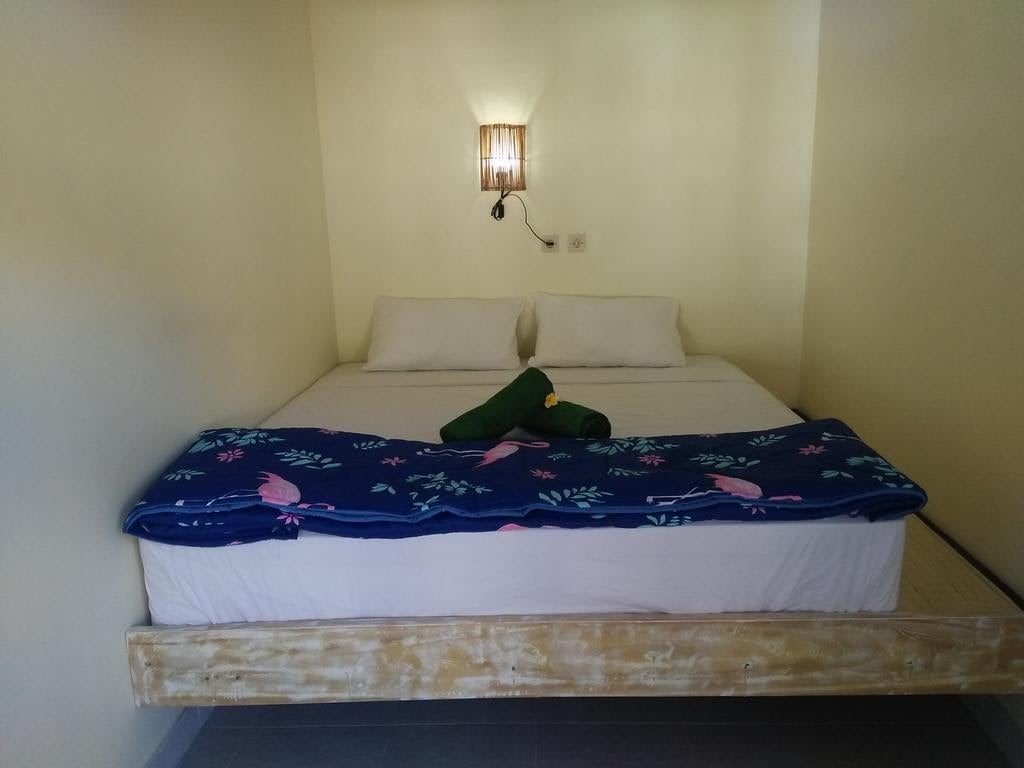 Located in a relatively quiet part of Amed Beach area, Backpackers home Amed is definitively the most affordable guesthouses on this list. But affordability is nothing without good quality, and this guesthouse has great qualities to it that makes staying here so worthwhile. They offer a double deluxe bed room that is spacious enough for you, your partner, and your luggages. It's important to note that it is an accommodation with a shared bathroom, and that bath amenities are not provided. For facilities, they provide Wi-Fi connection, a garden, a bean bag for each room, and a restaurant that cooks delicious breakfast.
Location: Jl. I Ketut Natih, Purwakerti, Abang, Kabupaten Karangasem, Bali 80852
Contact number: +62 878-6158-5264
Price: starts at a range of 80-100k IDR per night
10. Pondok Batur Indah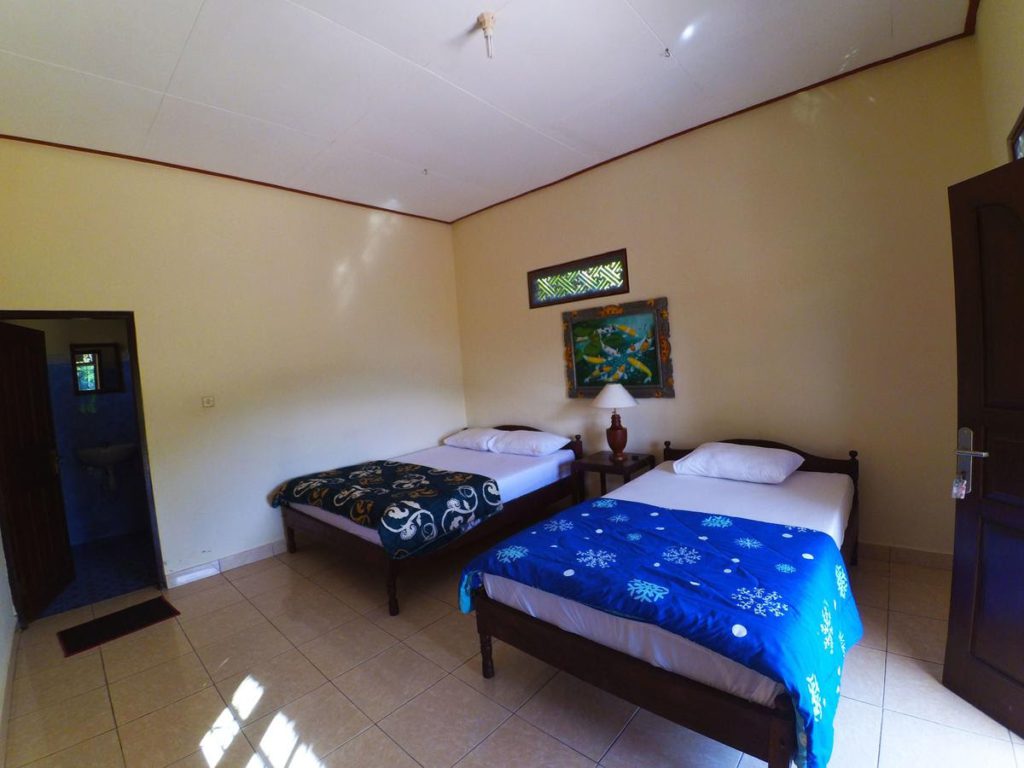 If you are looking to visit the famous Tirta Gangga and are also looking for a place to stay, you should try looking at Pondok Batu Indah. This place is very close to Tirta Gangga, with a distance of 400 m from the tourist destination. Their reception is open 24/7 for your inquiries, so don't worry about being late! This place is very nicely accommodated for a homestay, offering a variety of en-suite bedrooms for you to choose from. In addition to that, they also have a restaurant for you to enjoy local Balinese food!
Location: Jl. Raya Ababi, Ababi, Abang, Kabupaten Karangasem, Bali 80852
Contact number: +62 363 22342
Price: starts at 400k IDR per night
11. Pondok Diana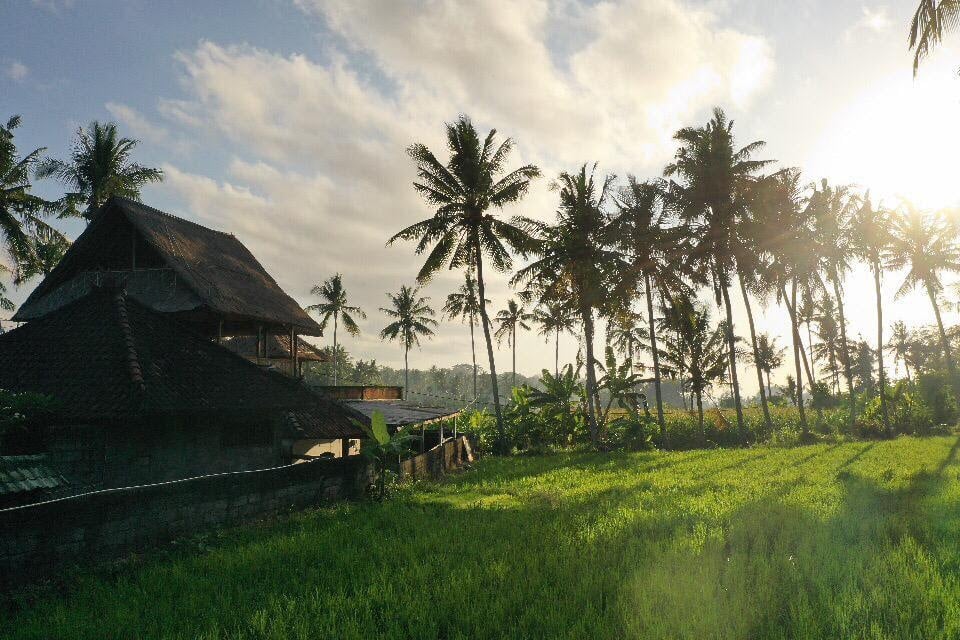 Jasri beach area offers a nice private getaway from the busy and hectic life of South Bali. Out of many accommodations there, Pondok Diana is one of the most affordable ones. To make you feel at ease and relaxed, they offer a complete kitchen set, Wi-Fi, private bathroom, a terrace, and bath amenities (with hair dryer too!). They also have a toaster, kettle, and stove on-site. When it comes to services, they offer an Asian-themed breakfast and an airport shuttle for your convenience.
Location: Jl. Pantai Perasi, Perasi, Pertima, Kec. Manggis, Kabupaten Karangasem, Bali 80811
Contact number: +62 821-4438-6780
Price: starts at 240k IDR per night
12. Celagi Inn
Another option if you are going to Padang Bai area, Celagi Inn offers a modest service and accommodation. All of its rooms are equipped with fans, private bathroom with shower, workbench, terrace, towels and bed covers, TV, and a fridge. They also give you access to Wi-Fi to plan your trip the next day. In providing services to their guests, Celagi Inn staff can help you arrange airport shuttles, laundry, sea fishing plans, snorkeling plans, and car and bicycle rental. All of the above are given with extra charge.
Location: Jl. Silayukti, Padangbai, Kec. Manggis, Kabupaten Karangasem, Bali 80872
Contact number: +62 363 4381980
Price: starts at around 200k IDR per night
13. Kubu Pilatus Inn
Kubu Pilatus Inn is certainly not one to miss when you are in Padang Bai. In fact, you can't miss the guesthouse as it has a very colorful paint job. Even when you step inside, you can see the mixture of colors such as pink, red, brown and light green among other colors. Their design and architecture are also very ornate and inspired by ornate Balinese designs. Their spacious rooms feature Wi-Fi, AC and a private bathroom. Other notable facilities include a swimming pool and a lounge where you can meet other guests. They also offer airport shuttle services.
Location: Indonésie, Padangbai, Kec. Manggis, Kabupaten Karangasem, Bali 80871
Contact number: +62 877-6262-9611
Price: starts at 261k IDR per night
14. Alola Inn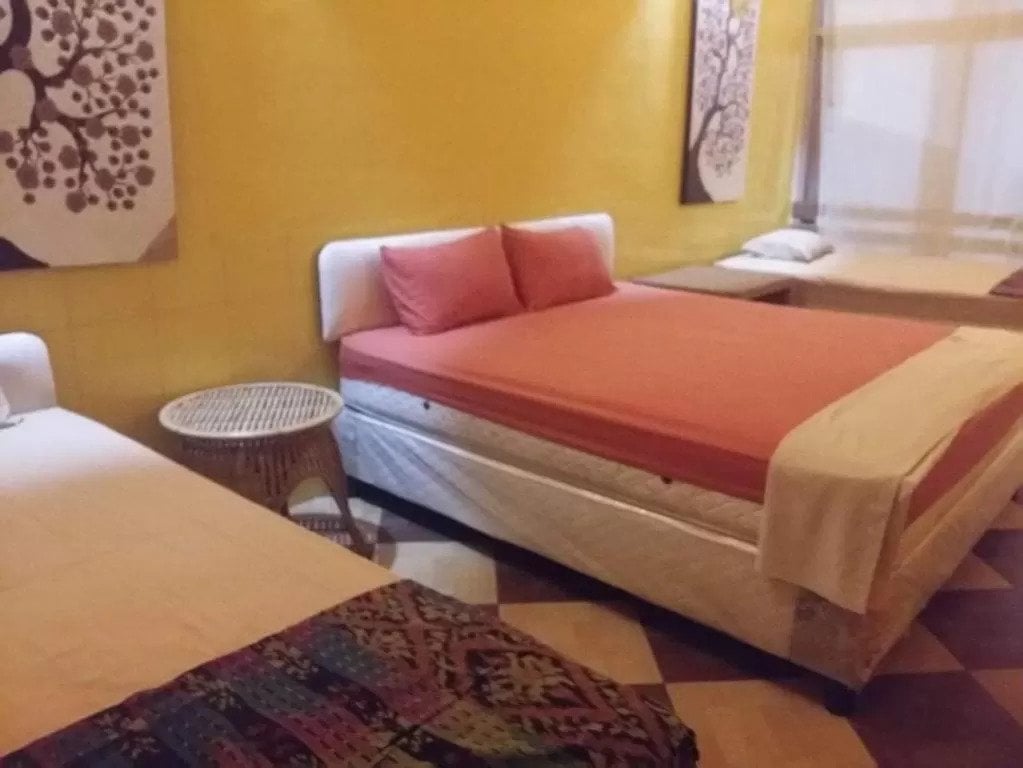 Last but not least we have another colorful addition to the list, Alola Inn! This guesthouse's architecture and design is very much vibrant with colors. Their rooms are very generous when it comes to space, and they offer fast free Wi-Fi, well equipped en-suite bathroom, and room service. For Facilities, their outdoor rainbow swimming pool takes the cake for aesthetics and their car rental takes the cake for convenience. They also have a bar for guests to meet up, making the place more lively and friendly!
Location: Jalan Penataran Agung Padangbai Manggis, Padangbai, Karangasem, Kabupaten Karangasem, Bali 80871
Contact number: +62 813-3700-4422
Price: starts at 295k-300k IDR
Read also: 10 Mountains in Bali That You Must Visit
And that is that! We hoped you liked our article about guesthouses in North Bali for your short journey to the east. These recommendations can get you well on your way to finding your dream short trip accommodation while going to, or going through, East Bali.
---
Want to find more rental options in Bali? Flokq has several rental options in Bali that you could choose. Head over to Flokq or click the button below to find out more.
CLICK HERE TO FIND RENTAL OPTIONS IN BALI