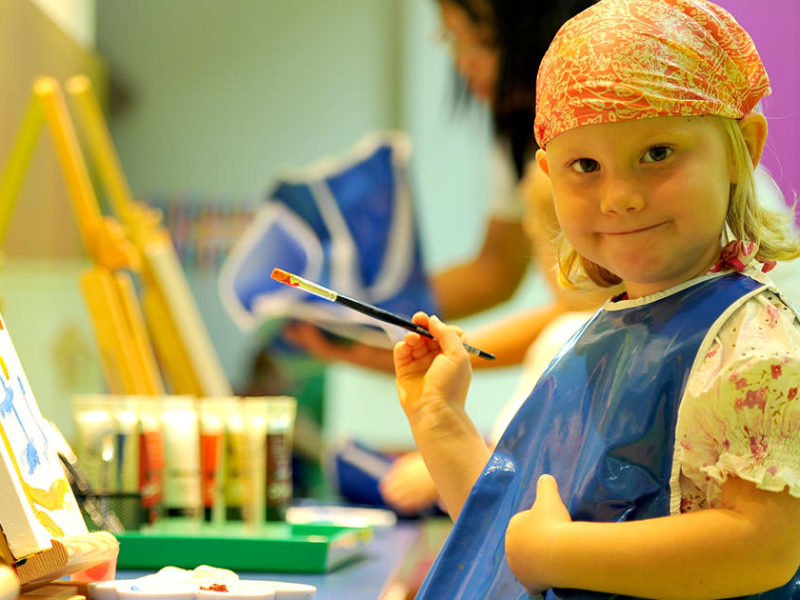 Planning to take your little one to Bali? Of course, you need recommendations for many children's tourist attractions in Bali so that your little one doesn't get bored quickly. There is no need to worry because there are many kids' amusement parks in Bali that will definitely make your little one cheerful there.
As one of the areas in Indonesia most visited by domestic and foreign tourists, Bali has many fun amusement parks that you and your kids can visit. We will provide you with a list of 10  amusement parks for you and your little one in Bali that you will definitely like.
1. Bali Treetop Adventure
This amusement park in Bali offers an outbound concept. Bali Treetop Adventure Park is an outbound place for children and adults. When you visit here, you will see children of foreign tourists mingling with children of local residents.
Parents don't need to worry when letting their children play outbound at Bali Treetop Adventure Park because the safety standards are quite good and there are a number of supervisors who will supervise your children.
Outbound games can help children to be more confident, flexible, nimble, and able to make decisions. Bali Treetop Adventure Park is at Eka Karya Bali Botanical Garden, Candikuning.
2. Circus Waterpark
Your little one will love playing in the water park, aka waterpark. Moreover, the waterpark has various fun and cool rides, such as Lazy Water, Speed ​​Slide, Trampoline, Wave Slide, and many more.
Circus Waterpark is a water park that is never empty of visitors, especially on weekends and national holidays. Moreover, the Circus Waterpark is located in Kuta, the area most visited by tourists while in Bali. The address of this water park is on Jalan Kediri, Tuban, South Kuta.
3. Peek A Boo
Peek A Boo is an amusement park that is quite famous in the Sanur area. This amusement park has a large indoor area and is air-conditioned, as well as an outdoor area with game tools, such as slides and swings, the bottom of which is covered with carpets to provide safety for your little one.
Uniquely, Peek A Boo also provides several costumes to play role plays so that children can become policemen, princesses, superheroes, or various tiger figures and other professions. Given the very large area, your little one can play freely here. Peek A Boo is located at Jalan By Pass Ngurah Rai No. 17, Sanur.
4. Waterbom Bali
Who has never heard the name Waterbom Bali? This amusement park in Bali is also visited by many adults who want to play in a large waterpark with various exciting rides. This water park occupies an area of ​​3.8 hectares, so the swimming pool is also very large.
Waterbom Bali has 9 rides, including the Super Bowl, Pipeline, Boomerang, Lazy River, Boogie Ride, and many others. If your child is old enough to play without parental supervision, you can wait for them while doing massage and spa while still inside Waterbom Bali. Visit Waterbom Bali on Jalan Kartika Plaza, Tuban.
5. Warung Rekreasi Bedugul
If you are taking your children to lunch, try choosing a place to eat that provides a special place for children to play, such as at the Warung Rekreasi Bedugul. This is an outdoor dining area that offers soothing views of the mountains and lake.
As the name implies, the Warung Rekreasi Bedugul provides a number of games for children, such as trampolines, surfboards, and other games. This place also provides outbound game facilities for visitors. Guaranteed, your little one will be happy to be here. Warung Rekreasi Bedugul are located on Jalan Raya Bedugul, Candikuning, Tabanan.
---
Also read: Top 8 Bali Family Friendly Hotels & Resorts with Exciting Kids Club!
---
6. Hide 'n Seek
One more place to eat that has an amusement park area on it, namely Sushi Tei which is on Jalan Sunset Road No. 239, Kuta. Hide 'n Seek is an amusement park on the second floor of the Sushi Tei restaurant. So, after eating the children can go up to the 2nd floor to play.
Even in a closed, air-conditioned room, Hide 'n Seek is quite spacious and has a variety of toys that kids are sure to love. However, this place is not a free facility from Sushi Tei. Parents have to pay admission tickets for their children who want to play here.
7. Taman Janggan Renon
Do you think that all amusement parks in Bali are paid? Of course not. Taman Janggan Renon is an open amusement park which is free of charge or free. Even though it's free, the playing tools here are quite varied, you know, starting from swings, sizable slides, and seesaw.
The amusement park itself is quite clean even though it is crowded with visitors. Given that the place is quite large, your little one can freely run around in this park. Taman Janggan Renon is located on Jalan Raya Puputan No. 10, East Denpasar.
8. Cubby House Kids Club
Being at the Cubby House Kids Club will definitely not bore your little one. They might not even want to go home because they feel too comfortable here. How your little one doesn't like it, this place provides a variety of interesting educational games.
Cubby House Kids Club has a library, movie watching room, handicraft area, outdoor area with interesting game tools, dollhouse, dress up for various characters, legos, and toy car tracks. This amusement park is really super complete! Cubby House Kids Club is located on Jalan Pantai Berawa, Canggu, North Kuta.
9. New Kuta Green Park Pecatu
Opened in 2010, New Kuta Green Park Pecatu is a large water park with a complete variety of game rides. Naturally, if your baby feels very at home here. The location of this water park is near Dreamland Beach.
Uniquely, there is a wave pool here that can be used for surfing although you have to be careful because many children play in the pool. Pamper your little ones by inviting them to play at New Kuta Green Park Pecatu on Jalan Raya Uluwatu, Pecatu, South Kuta.
10. Bali Fun World
Finally, there is an indoor play area that prioritizes the safety and comfort of children playing here. Bali Fun World is a large enough amusement park with a variety of interesting games.
What makes Bali Fun World even more special is that there are 3 play areas that are categorized according to age, namely the under the 6-year-old area, the 6 to the 12-year-old area, and the adult area. So, not only children can play here, but their parents can enjoy games such as Giant Boxing, Air Hockey, and Giant Climb. The location of Bali Fun World is on Jalan Lettu I Wayan Sutha II, Sukawati, Gianyar.
---
These 10 kids' amusement parks in Bali are ready to pamper your little ones while on vacation on the Island of the Gods. So, your little one will not get bored while on vacation because in Bali there are many children's tourist attractions and amusement parks that are suitable for them.
Also read: Mermaid Stuff and Activities You Can Do in Bali for All Age!