Staying in Bali either for a long-term or a short-term will open your eyes to the fact that Bali can be your all-time favorite destination. Not only because of the beautiful and lovely scenery of nature, but there is another thing that can make your holiday well spent. It is local food!
Whenever you are feeling enough with the luxury culinary trip or the fast foods that can be found literally anywhere, you can always head out to a restaurant in Bali that provides local foods. Wondering which one to start? Here are some of our recommendations of must-try local food in Bali.
Read also: 8 Restaurants that Serve Tasty Halal Food in Bali
1. Babi Guling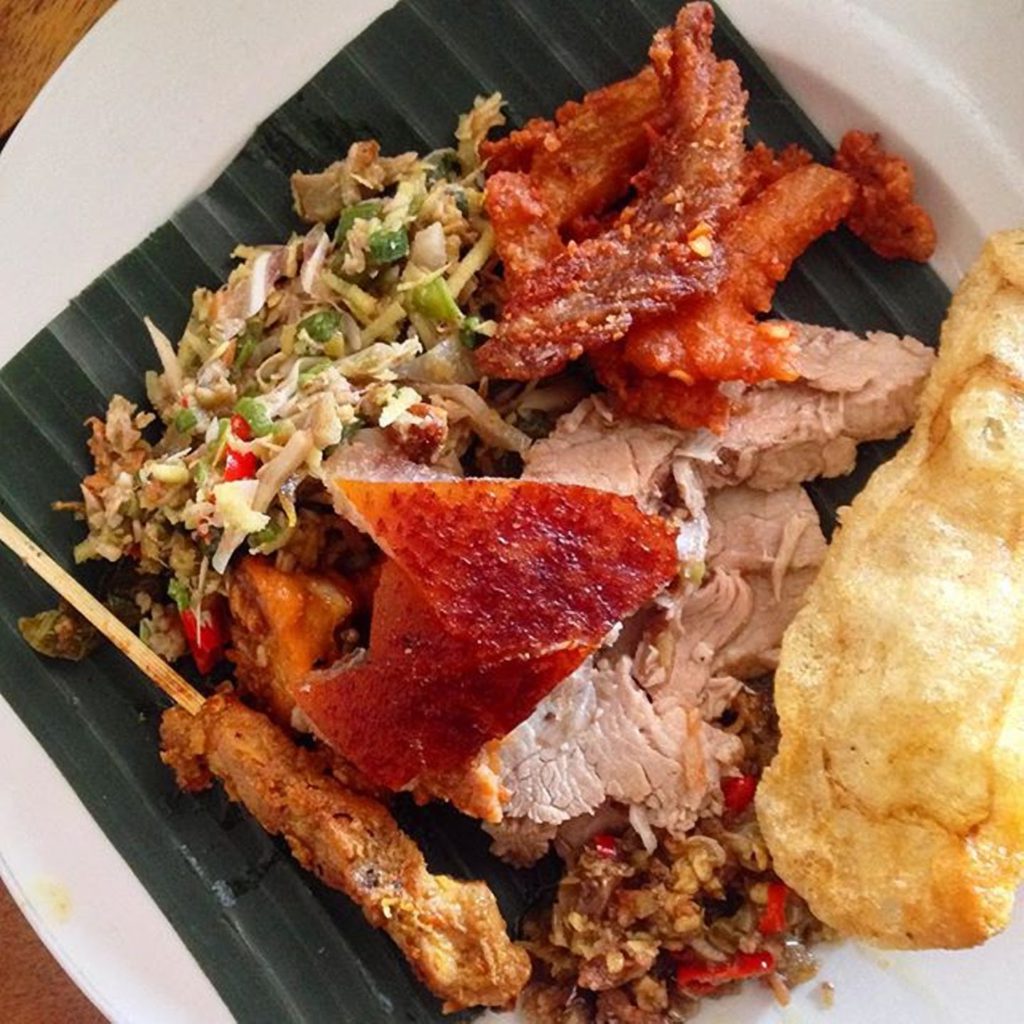 First, we have Babi Guling (also known as suckling pig). This is one of the most popular local foods in Bali and you can find it in every part of Bali. Juicy pork meat with special condiments and scrumptiously flavored skin usually served with rice, vegetables, pork sausage, and sambal, babi guling is ready to bring you a whole new sensation of pork dish.
One of the special things about babi guling is that it is usually cooked for more than 6 hours to make sure the meat will become juicy and tender. Babi guling is originally a sacred food that often served as a treat for cultural ceremonies but now has become a popular and must-try local food in Bali.
2. Betutu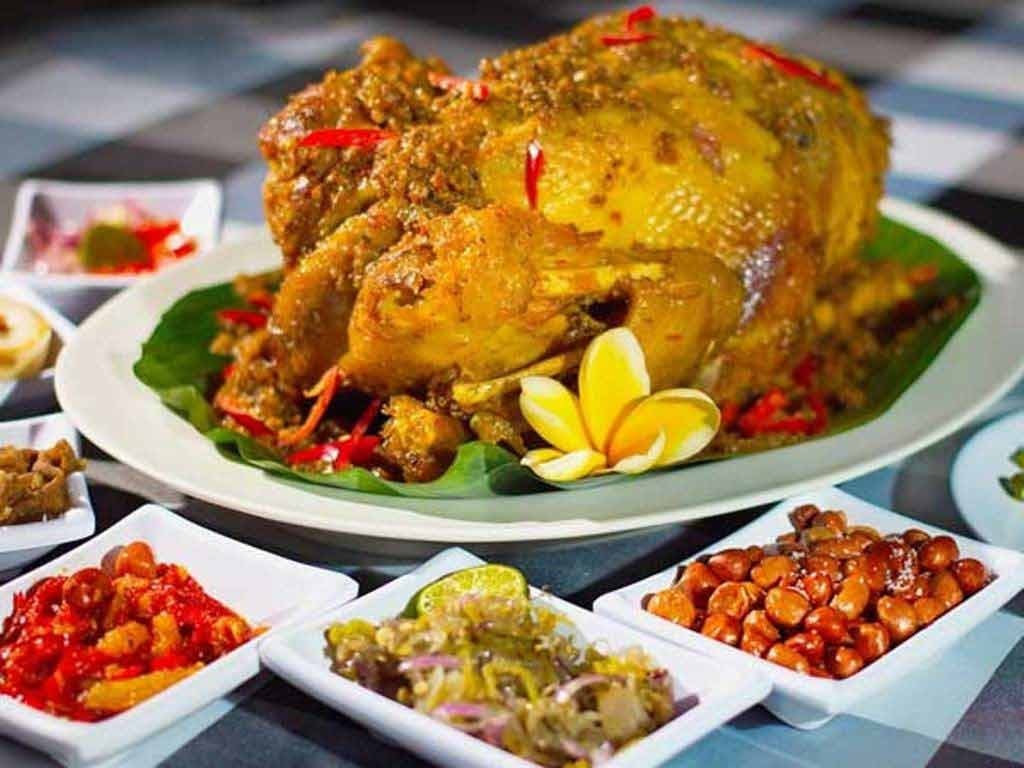 Betutu is a special and Balinese local method of cooking. Usually using chicken or duck, this dish is prepared in such a sophisticated way. A whole chicken or duck will be stuffed with various spices which will bring a rich taste to the food. Requiring a long process of cooking, chicken or duck betutu is undoubtedly delicious. Definitely, a must-try while you are in Bali!
3. Nasi Campur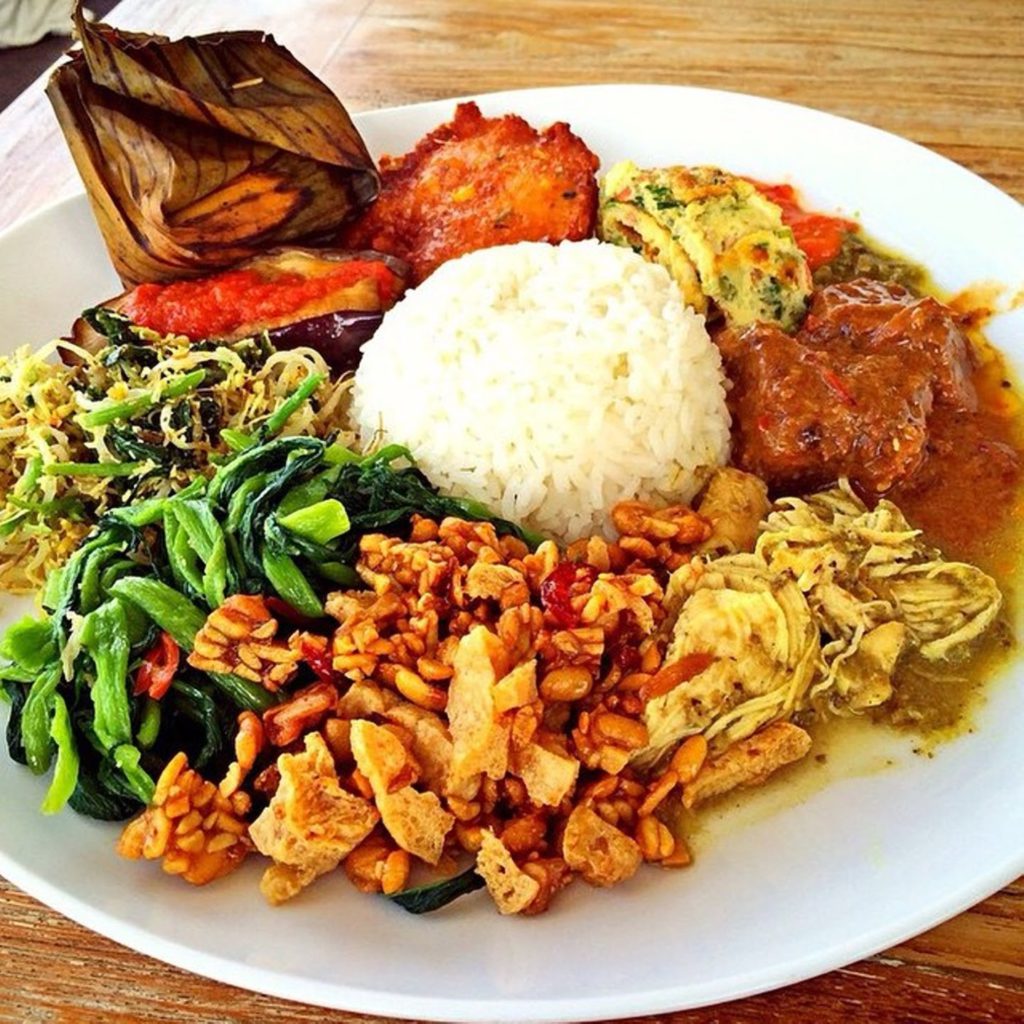 Nasi Campur is basically mixed rice in the Balinese language, and just like its name, this dish is consists of rice, chicken, tofu or tempeh, vegetables, and sambal. Nasi Campur can be enjoyed for breakfast, lunch, even dinner and will obviously make you satisfied. If you want something fun, you can go to a certain place that serves the dish in a buffet style, where you can create your own creations of nasi campur.
4. Satai Lilit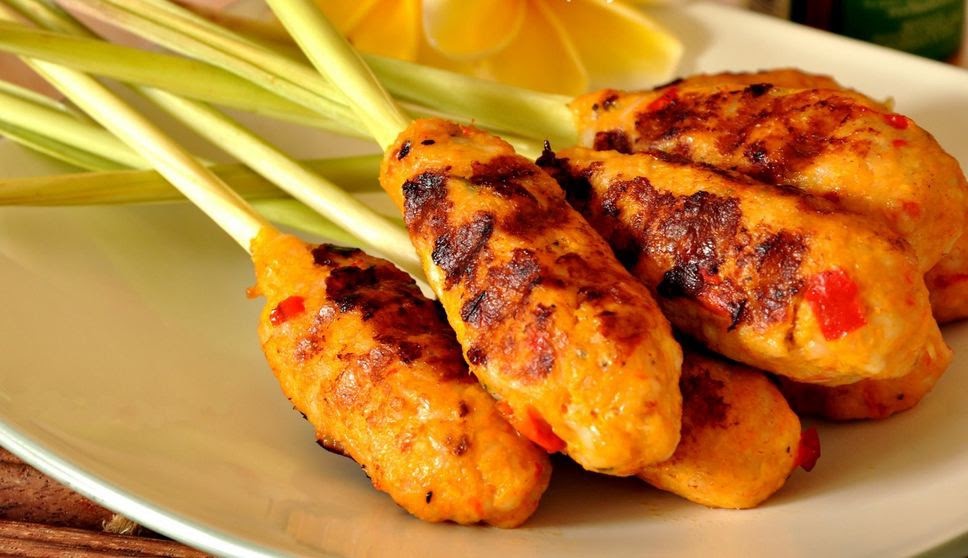 Next, we have Satai Lilit as a must-try local food in Bali. This satay is unique because it is made of fish as the main ingredients. Using lemongrass as the stick, this satay is full of sweet and spicy yet delicious taste. What makes it even better is because it is marinated with coconut milk and other spices, and then grilled over charcoal to add some smoky feels.
5. Lawar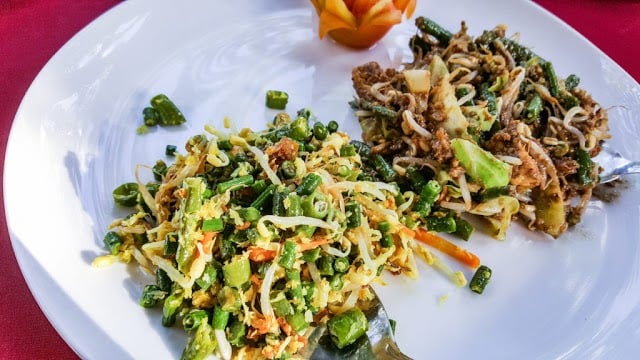 Lawar is another Balinese local cuisine that is made by mixing chopped meat with vegetables and grated coconut. There are two types of lawar you can try: red and white. The red lawar contains animal blood added to the mixture and that is why it gets red-colored. While the other one does not contain blood.
Trying lawar while in Bali can surely level up your dining experience, especially if you order the red one. Mostly served with rice, you can have lawar for breakfast, lunch, or dinner.
Read also: 8 Bali Local Street Foods and Where to Find Them
6. Nasi Jinggo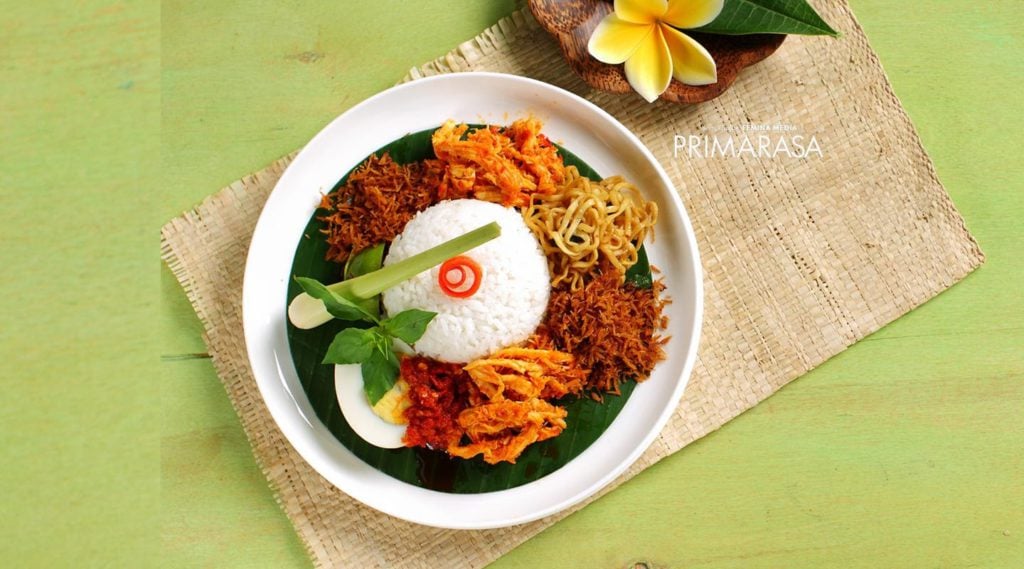 Nasi Jinggo is a famous dish and somehow has become a daily consumption among locals. It comes in a small portion, but consists of many things such as rice, shredded chicken, egg, noodles, vegetables, and sambal, all wrapped inside a banana leaf.
As a local food, you can find Nasi Jinggo anywhere and usually sold on motorcycles parked on the side of main streets in Bali. This one is an affordable cuisine with a price is about IDR5000 to IDR10.000 for each portion, but due to the small portions of it, you might want to get it for more than one.
7. Nasi Tepeng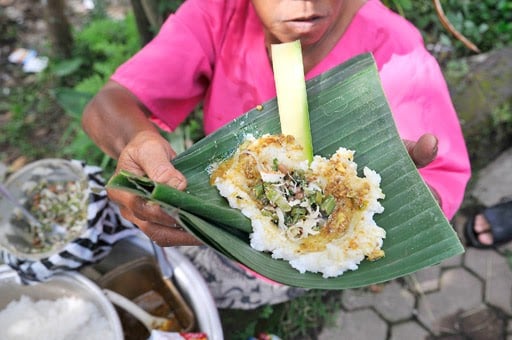 Originally coming from the Gianyar area, Nasi Tepeng is a dish with a unique texture which is somewhere between rice and porridge. If you happen to try nasi tepeng, you will taste the soft and mush grain combined in a harmony with a special mixture of spices and herbs. Completed with chicken, egg, and various kinds of veggies, this one is a common breakfast for locals.
8. Bubur Mengguh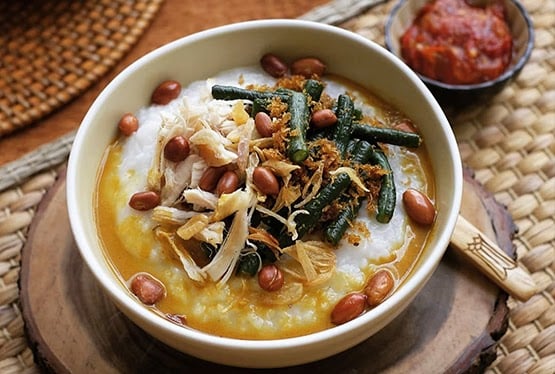 Bubur Mengguh is originally from the Buleleng area. This savory porridge is often served as a compulsory treat for traditional festivals or ceremonies in Bali. Toppings used for Bubur Mengguh is a liquid mixture of spices, completed by shredded chicken, roasted peanuts, and coconut dressing. Perfectly fits for breakfast to energize you in the morning.
9. Tum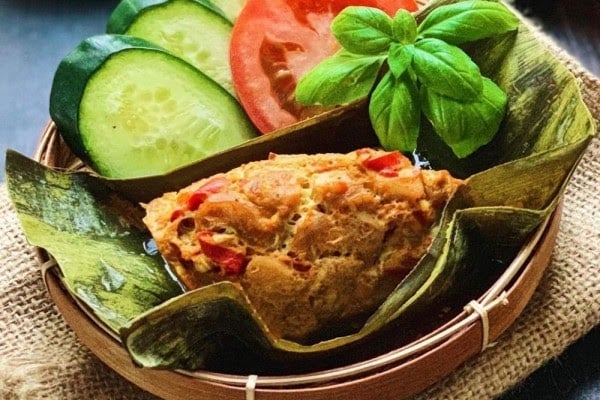 Made of minced meat such as chicken, pork, or beef, Tum is a delicious and unique dish as it is wrapped neatly using banana leaves. It has a rich and authentic taste coming from the several spices and herbs used, as well as the aroma of banana leaves during the steam process. As a must-try local food in Bali, you can enjoy Tum as a main course or snack on the go.
10. Jukut Ares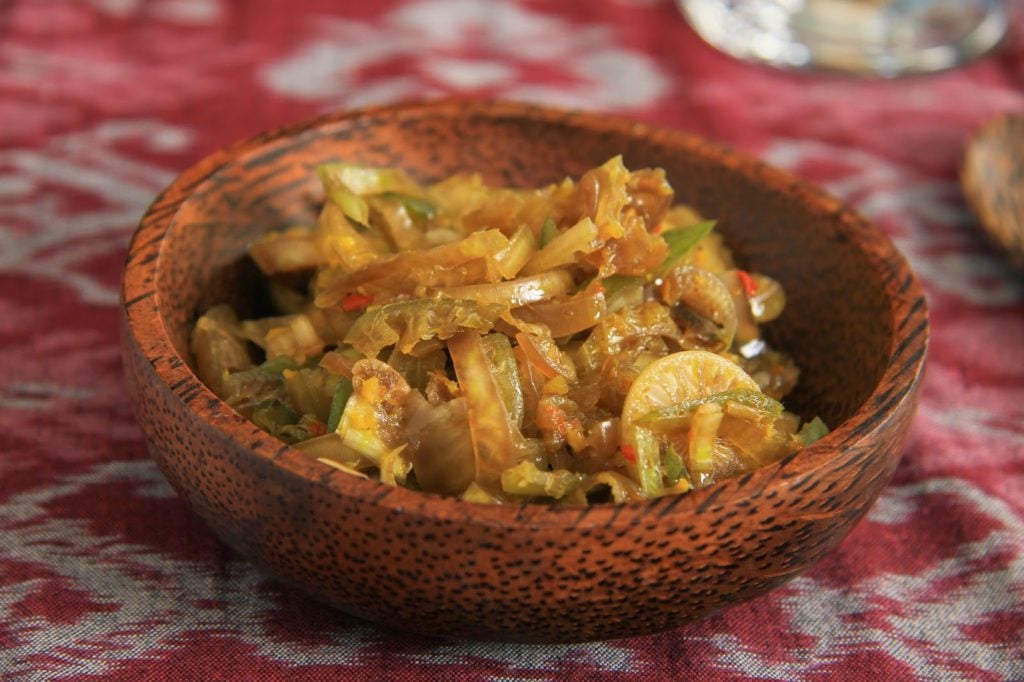 Jukut Ares is local food in Bali and uses a banana tree trunk as the main ingredient. The banana tree trunk will be thinly sliced and then cooked using special condiments from Bali. To make it more delicious, locals usually add-on chicken or pork meat. This one is a unique dish and has an authentic Balinese style.
11. Rujak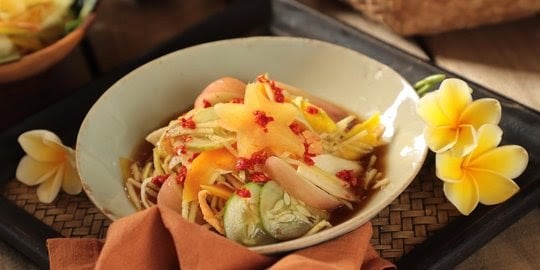 You can think of rujak as a local salad of Bali. Made of various fruits and vegetables, rujak is actually popular in Asia. But in Bali, you will meet a special kind of rujak which is rujak pindang and rujak bulung. As for rujak pindang, the sauce is using the fish broth. While rujak bulung is made of seaweed. Such a unique and interesting dish, right?
12. Sambal Matah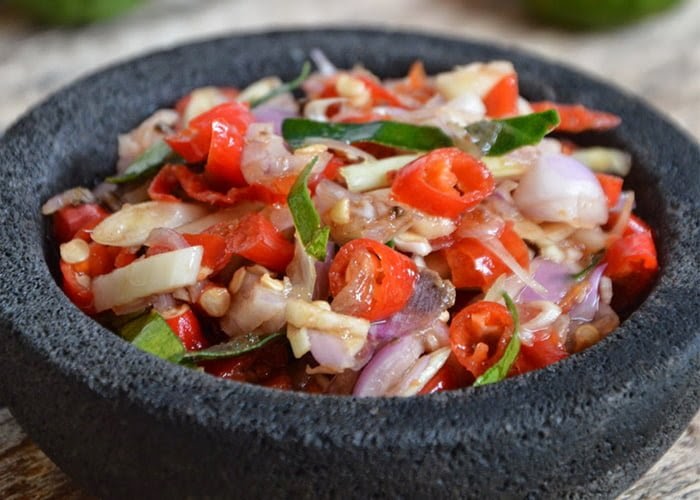 Sambal Matah is a perfect company for every dish such as chicken, pork, egg, and more. This Bali local sambal matah is popular because it has a spicy sensation but obviously tasty, and fresh sensation coming from lime leaves and lemongrass used. You can easily find sambal matah whenever you are ordering local food in Bali.
13. Laklak – Balinese Cake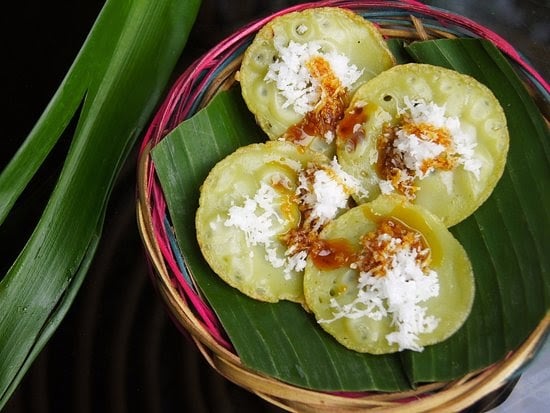 Last, we have a dessert to complete this recommendation of must-try local food in Bali. It is called Laklak. As a sweet traditional Balinese cake, Laklak is made of rice flour and mostly comes in two different colors: white—as the original one, and green—as a pandan flavor. You can have laklak for breakfast or some light snack to be enjoyed while exploring Bali.
Read also: Order Food Online to Make Your Stay in Bali Much Easier
There you have it! A list of must-try local food in Bali to help you decide which one to go to while in Bali.
---
Want to find more rental options for your trip to Bali? Flokq has several listings for a more affordable option from their offers. Head up to Flokq or click the button below to find out more!
CLICK HERE TO FIND RENTAL OPTIONS IN BALI