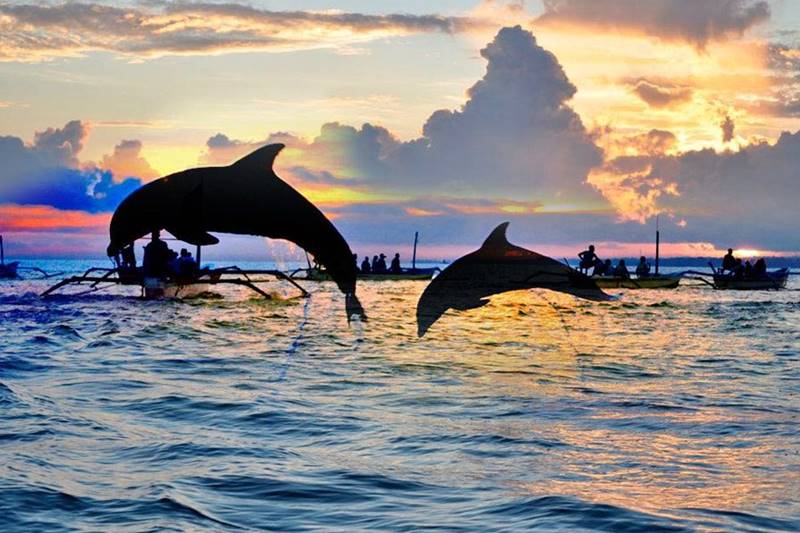 Bali
A Complete Guide on Vacation in North Bali
For those of you who want to have a vacation in Bali, North Bali is one beautiful area you should consider staying in. Bedugul, Lovina, and Banjar which are located in the northern region of Bali are options that are often overlooked. But they have a beauty that you don't necessarily get in other tourist locations in Bali.
From black sand beaches, waterfalls, infinity pools in the highlands, to beautiful rice fields you can find in North Bali. Here is a complete guide for you who want to have a vacation in North Bali!
Why You Should Visit North Bali
Well, first of all, Indonesia is a country with a tropical climate with temperatures that tend to be warm. But in Bedugul, you can enjoy much cooler weather. At night, the temperature can reach below 17° C.
Then, beaches with white sand are everywhere. What about a beach with black sand, must be so unique, right? Not only black sand, in Lovina, you can also see adorable dolphins.
Not only offers beautiful beaches, North Bali also offers you waterfalls and hot springs. Its hidden location adds to the mystical and religious impression of this tourist spot.
Last but not least, North Bali is the ideal place for those of you who want to take a vacation and relax in a calm and quiet atmosphere.
Transportation
You will rarely find taxis or public transportation in North Bali. Therefore, the best options we recommend include:
Car rental + driver
Car rental only
Rent a bicycle or scooter
The budget that must be prepared for renting a car complete with a driver ranges from IDR 400,000 to 500,000.
Click here for scooter rental guide in Bali!
Bedugul
Bedugul offers many beautiful natural sceneries. One of the famous locations that is often used in pre-wedding photoshoots is Tamblingan Lake.
The view of the mountains shrouded in fog and the cool weather adds to Bedugul's beautiful and calming natural charm.
1. Bedugul Recreation Park
The Bedugul Recreation Park was originally a hotel project owned by the son of Indonesia's 2nd President, Soeharto. Until 2002, the construction of the hotel was stopped after the Bali Bombing incident.
Over the past 14 years, this almost completed hotel building has become neglected without many knowing why. In fact, Bedugul Recreation Park is almost operational. It can be seen from the toilets and beds that have been installed to the reception area which looks elegant.
Even if there are guests who stay here, we can be sure that they are not humans, a.k.a. spirits. That's why many people dub this place as "Ghost Palace Hotel".
For those of you who claim to be brave, please come and explore this hotel area. Immediately, challenge yourself in this haunted hotel and uncover the hidden secrets that are stored in it!
2. Bali Strawberry Farm & Restaurant
Besides the beauty of marine tourism and culture, Bali also has fertile and beautiful land. In North Bali, there is a village with mountainous natural beauty that is worth a visit.
In this large strawberry farm, you can pick the strawberries yourself that you want to buy and take home. Not only is the view soothing to the eye, your stomach will also be spoiled here.
For sweet food fans, you will fall in love with the restaurant which serves various processed strawberries, such as strawberry milkshakes, strawberry ice cream, and strawberry-based cakes.
3. Tamblingan Lake and Buyan Lake
One of the beautiful natural tourist attractions in North Bali is a pair of twin lakes which were formed by volcanic eruptions. Tamblingan Lake and Buyan Lake are located side by side and are only separated by one kilometre by a stretch of forest.
The two lakes are a source of natural life for the local community. There, you can see various activities of local people, such as fishing with traditional boats. The best location where you can see the two lakes at once is at the top of a hill in Asah Gobleg Village.
For those of you who like to explore nature, exploring the forest area that surrounds the two lakes is also interesting. You can find ecosystems that are still very natural, in the form of trees where wild animals live, such as various types of birds, squirrels and monkeys.
4. Ulun Danu Beratan Temple
For the Balinese people, Ulun Danu Beratan Temple is the second main temple after Besakih Temple. This temple is dedicated to Dewi Danu, the goddess who rules lakes and rivers.
Fun fact: According to the balance theory of Rwa Bhineda (Balinese version of Yin-Yang), Ulun Danu Beratan Temple represents a feminine figure, while Besakih Temple represents a masculine figure.
Lovina
Located on the north coast of Bali, Lovina's black sand beach, calm sea, and a bunch of dolphins are ready to enchant you. But that's not all that makes Lovina special. The atmosphere is so peaceful and comfortable that it offers a vacation experience like no other!
1. Dolphin Tour
One of the main draws of Lovina is the dolphin watching trip. Hence, it would be too good to be missed!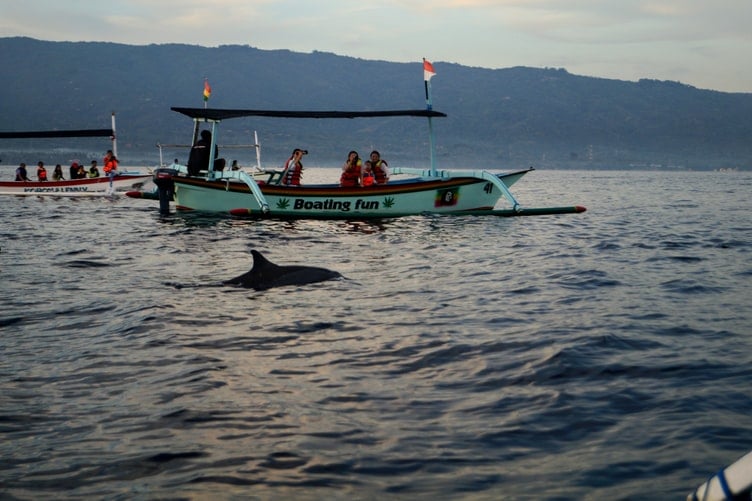 To be able to enjoy the elegance of dolphins directly in their habitat, you have to wake up early enough to be able to directly reach the dolphin location before 6 am.
The morning view will be even more amazing when the sun begins to rise and the sea reflects the golden light. You can also try feeding the fish in the sea by buying several packets of fish food.
2. Agung's Spa
Imagine how great it would be if you could experience a traditional Balinese spa in the midst of a natural atmosphere. And you can get it at Agung's Spa.
Located in the centre of Lovina, they also provide a shuttle service that you can use. The atmosphere here is so comfortable, that you will feel more relaxed. While reading the catalogue and selecting the types of spa services, you will be treated to hot tea amidst a green garden.
Here, you will be served by professional and reliable therapists using selected aromatic massage oils. Before returning home, try to browse and buy cheap traditional Balinese sarongs as souvenirs for relatives back home.
3. Scuba Diving in Puri Jati
Located about 20 minutes west of Lovina, Puri Jati is a dive site surrounded by rice fields. In the beach area, there are various facilities to pamper divers, such as showers and cafes.
Diving here, you will not be presented with the beauty of coral reefs, but something more extraordinary than that, a variety of rare sea creatures. With any luck, you may even encounter an octopus in disguise that is adept at camouflage!
If you like underwater photography, then Puri Jati offers many interesting photo objects for macro-photography! In this area, there are several diving centres, such as Arrows Dive Center and Zen Dive Resort, where you can learn about the ins and outs of diving.
Banjar
Famous for its hot springs, Banjar is a place where you can find inner peace here in the northern area of Bali.
Yes, in Banjar there are lots of activities that can not only pamper your body but also calm your mind and spirituality, such as meditation tours.
1. Find Your "Zen" in Brahmavihara-Arama
Brahmavihara-Arama is the biggest holy place for Buddhists in Banjar. Here, you can participate in meditation activities under the guidance of monks. Don't forget to wear sarong and polite clothes when you come here. You can find inner calm and enlightenment while admiring its beauty.
There are no tickets or tickets to enter the Brahmavihara-Arama area, but you can donate voluntarily. With a high level of architectural art, it never hurts to visit this place while capturing the beautiful angles through the camera lens.
2. Hot Spring Banjar
If you like or have watched Game of Thrones, you will definitely agree that we say that this natural hot spring is very suitable for Khaleesi to use. Surrounded by beautiful gardens and hills, this bath has a high historical value.
Enjoy the 37 degrees Celsius water that comes out of the dragon's mouth. It is said that bathing here can cure various ailments, stretch tense muscles, and brighten the skin.
You could say, these are the best hot springs in Bali! For those of you who want to come here calmly and comfortably, we recommend coming earlier, because the daytime visitors will be more crowded.
Waterfalls in North Bali
1. Sekumpul Waterfalls
Even though its reputation is quite well-known, its heavy access makes this waterfall rarely visited by visitors. To get here, you need to walk across the river and across slippery terrain.
You can ask local residents to take you to the waterfall, don't forget to give them some thank-you-cash. They will take you to the end of the road, and from there you still have to travel about 50 meters to be able to see the beauty of this waterfall from a height.
In total there are 7 beautiful waterfalls with varying heights, with the highest reaching 50 meters.
2. Aling-Aling Waterfall
Another waterfall in North Bali that we think is unique is the Aling-aling Waterfall which is about 11 km from the city of Singaraja or 80 km from Denpasar. It is unique because the flow of water in this waterfall is separated into two parts; at the base, or at the top, with different rainfall rates.
Don't just be amazed by the photos, come directly to witness this beauty up close. What distinguishes this waterfall from other waterfalls in Bali, here you can try a natural slide in a smaller stream. When else can you slide on a waterfall?
Tips For You Who Wants to Visit North Bali
"How long should I stay in North Bali?"
Depending on the number and location you want to visit, we suggest you can stay for 2 – 4 days.
If you only want to see dolphins, you can stay 1 night in Lovina.
If you are interested in exploring Bedugul and Banjar, you can stay 1 – 2 nights, depending on how long you want to enjoy the serenity there.
"How to watch the dolphins in Lovina?"
Dolphins on the high seas start very early in the morning.
It's best to stay the night before so you can wake up early for the dolphin tour.
We recommend using the dolphin tour service from Agung Beach Inn as it is quite affordable (only around IDR 100,000), and you will be well served.
Since the boat will depart at 5:30 a.m. (sunrise at 6:00 a.m.), make sure to wake up at 5:00 a.m. at the latest!
"I want to ride a car in North Bali!"
The journey from Lovina to Bedugul is very uphill, so you have to be vigilant and careful.
If you are not really good at driving a car, you should use a driver's service or invite a friend who is good at driving.
Make sure the vehicle and driver are in prime condition.
"How is the weather in North Bali?"
The temperature in North Bali is quite cold, don't forget to bring a jacket or warm clothes.
---
So, are you ready to explore the various beauty and uniqueness of North Bali? Which location do you most want to go to? Get ready for your adventure and see you in Bali, Flokqers!