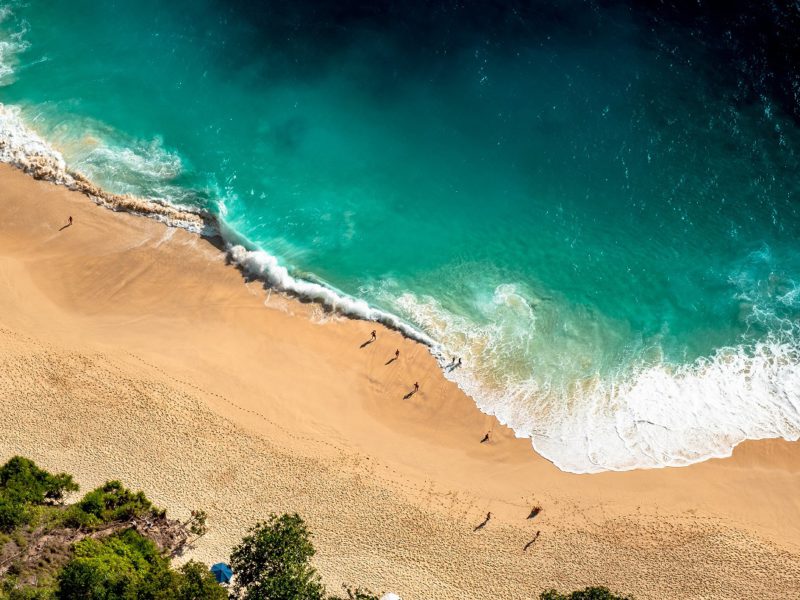 Bali
|
Bali
|
Local Guide
10 Most Popular Tourist Attractions in Buleleng Bali That You Should Know!
When we talk about Bali, what we have in mind will be an exotic vacation spot and has beautiful scenery. Well, this time, Flokq will discuss natural tourist attractions in one of the districts in Bali, namely Buleleng.
Buleleng Regency consists of several sub-districts with Singaraja as the district capital. This northernmost region of Bali was once known as the center of government before the provincial capital moved to Denpasar City.
Now, Buleleng is ogled as a favorite tourist destination because it has a distinctive charm. Here, you can explore many waterfalls, beaches, and other interesting places. Before leaving for Bali, check the following 10 natural attractions in Buleleng here.
1. Sekumpul Waterfalls
Located in Sekumpul Village, Sawan District, Buleleng, this waterfall is considered one of the most beautiful waterfalls. Here, you will be spoiled by the view of the cliffs with greenery all around.
There are several small waterfalls with a not too heavy flow. This water falls beautifully on the rocks and forming steps. Moreover, this spot is also known as a favorite place to take pictures.
2. Buyan Lake
Buleleng has three twin lakes, namely Beratan, Buyan, and Tamblingan. From those three, Lake Buyan is the largest lake as well as a fairly well-known camping spot.
This natural tourist attraction is located in the highlands. You can camp by the lake while enjoying the beautiful natural scenery. In addition, there is a pond connected to the lake. The pool is called Telaga Aya.
3. Pemuteran Beach
The beach–which is still classified as a new natural tourist spot–is located in Pemuteran, Gerokgak District, Buleleng. If you want to enjoy the sunrise from the northern beach, this place is certainly for you.
Besides not being crowded, Pemuteran Beach also has beautiful views. Not only the blue sea, but you can also see the green hills on the other side. You can also do diving and snorkeling on this beach. Plus, there are many spots that are suitable for pre-wedding photos too!
4. Wanagiri Hidden Hills Munduk
This tourist spot offers many instagrammable spots. Located not far from the Bedugul area, Wanagiri Hidden Hills provides views of the highlands with trees and the beautiful Buyan Lake.
The location is also easy to reach. If you're just hanging out from Canggu, you can drive to reach this place in about 2 hours. Wanagiri Hidden Hills has several favorite spots to take pictures here, namely a swing overlooking the lake, an artificial nest, and a bamboo garden.
To be able to enjoy this place, you have to spend Rp100-150 thousand per person on an entrance ticket. With this price, you can take photos and ride the swing as many as you like.
5. Labuhan Kebo Waterfall
This natural tourist attraction is located in Gobleg Village, near Munduk Village, Buleleng. You can access this waterfall easily because it is only 1 km from the main village road.
Labuhan Kebo is famous for its calm and serene atmosphere. Here, you can freely breathe the fresh mountain air and enjoy the view.
This waterfall has a heavy flow. Below it, there is a rocky river with some bamboo bridges. This is where tourists usually take pictures while enjoying the view of the waterfall. Surely this is a great place to relax after a long week, right?
6. Waterslide Lemukih
Want to take a nature tour on the river but don't want to go rafting? Well, in Buleleng there is a tourist attraction on the river that is different from most recreational areas. The location is in Sudaji, Sawan District, Buleleng.
Waterslide Lemukih has a slide like the adrenaline-pumping Waterboom ride. Together with friends or family, you can slide off the naturally formed slippery rock slides. You will be pushed by the strong flow river from a high place to the 'pool' below.
No need to worry about cleanliness, because the water here is fresh mountain water. Around it, there are also many shady trees so the air is clean. Sounds great, right?
7. Tirta Buana Waterfall
Located in Pegadungan, Sukasada District, Buleleng, Tirta Buana Waterfall is one of the tourist's favorites because the water comes directly from a spring.
This waterfall flow is not too heavy. You can feel the freshness in the pool which is located just below the Tirta Buana waterfall. The water flows into the river underneath the pool.
The atmosphere at this waterfall is very cool and calm. Besides swimming, you can also have a picnic with friends or family here. The location is also easy to reach, only about 300 meters from the vehicle parking area.
8. Blue Lagoon Waterfall
As the name implies, this waterfall in the Sambangan area, Sukasada District, Buleleng is like a blue lagoon. The water is fresh and clean, so it's perfect for a dip or just to sit back and relax.
Different from the previous waterfalls, Blue Lagoon has a small waterfall flow and immediately 'spills' into the pool. Surrounding it are cliffs with a not too dense forest. Plus, the place is not too crowded so it's perfect for you to relax after a long week.
To reach this waterfall, you have to go down the stairs. The Blue Lagoon is about 70 km away from Denpasar City and Canggu area. The trip to this waterfall can be reached in 2 hours.
9. Lovina Beach
This beach, which is located in the north of Bali, has been famous for a long time as a sunrise spot. From here, you can take a boat out to sea to see dolphins!
Here, there are many boats that will take you on a trip. Don't come late, because you will miss a very beautiful sunrise view. You also have to leave early to see dolphins in the ocean.
Lovina Beach does have black sand, but the water is very clear and looks like a lake. There are also several snorkeling spots to see the beautiful underwater scenery.
10. Banjar Hot Springs
Besides having waterfalls and beaches, Buleleng has several natural hot springs. One of the tourist favorites is Banjar Hot Springs. Located in Banjar District, Buleleng, this place is suitable to warm the body in cold weather.
Here, you can chill and relax while bathing. In addition to the hot spring pool, where there is also a spa and massage for visitors. If you are hungry, there is a restaurant with a variety of dishes.
The place is also very beautiful and shady. Hot water gushed from the dragon-shaped fountain. There are several pool options that are quite spacious. Such very suitable to spend the weekend with family.
---
We've come to the end of the article! Traveling to Bali is fun, isn't it? There are always interesting natural attractions that we have not visited. Well, if you plan to stay monthly while on vacation in Bali, check out the following Flokq page to rent your dream villa!