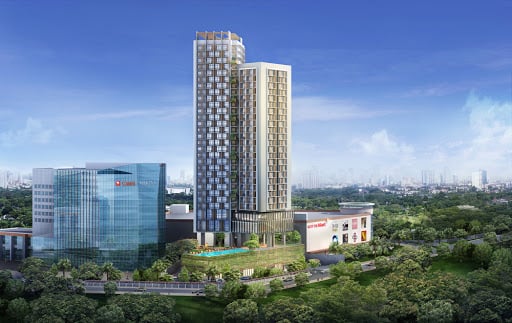 Bintaro is one of Tangerang's neighborhoods. It's popular among people who commute to Jakarta since it borders Southern Jakarta closely. It also has its central business district, known as Bintaro Jaya CBD, or commonly just Bintaro CBD. Despite drawing some attention from expatriates around South Jakarta and international corporations in Bintaro, the area has very few luxury apartments. However, we've found apartments in Bintaro and the surrounding areas that probably will suit you.
1. The Accent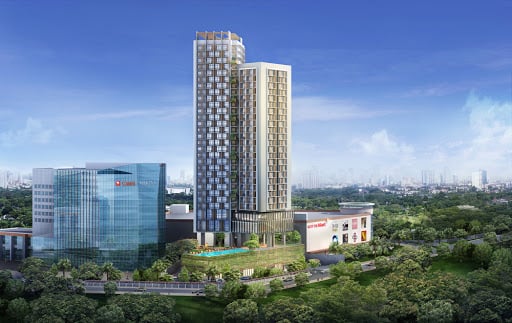 The first one is The Accent, a premium-class condominium in Bintaro Jaya. It offers comfort and convenience, especially to those who work in the nearby business center. It's less than 20 minutes away from toll gates Ciledug 3 and Ciputat 1, providing tenants a quick way to Jakarta. There's also the Jurang Mangu commuter line station that can take you to Serpong and Tanah Abang.
This apartment aims for workers and executives in the nearby office towers, such as Permata Bank, Griya CIMB Niaga, Titan Center, and HERO. Moreover, it is also only five minutes away from Bintaro Jaya Central Business District.
Its strategic location is ideal for shopping since it has multiple malls in reach under ten minutes. The biggest one is Bintaro Jaya Xchange Mall, a shopping center with diverse tenants, restaurants, and cinemas. Other noteworthy malls include the Lotte Mart Bintaro and Transpark Mall Bintaro. Giant Supermarket is also available for you to go whenever you need quick grocery shopping.
In-site facilities at the apartment include an ATM, grocery store, internet, swimming pool, a fitness center, a jogging track, and a children's playground. There are also laundry services and minimarkets available.
Address: Jl. Wahid Hasyim Blok FG 12 No. 43, Pd. Jaya, Pd. Aren, Kota Tangerang Selatan, Banten 15222
Monthly Rental Price: 1BR starting from Rp 6.700.000,00
2. Tamansari Bintaro Mansion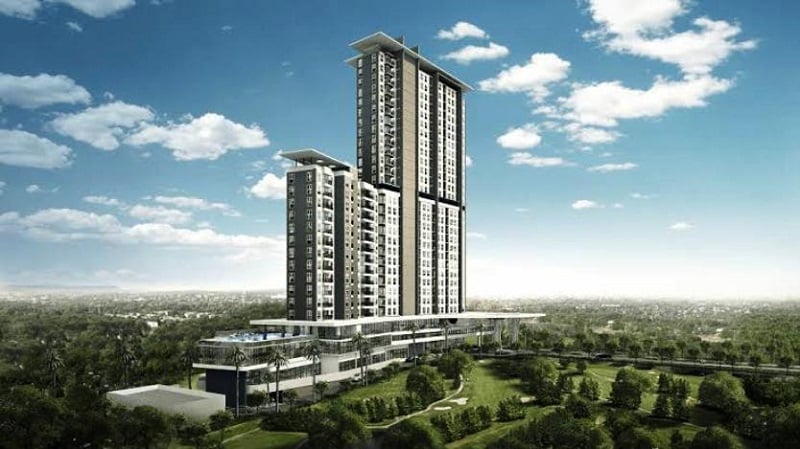 The second one is the Tamansari Bintaro Mansion. This apartment is an upcoming luxury apartment ready for handover at the end of 2020. It consists of a single exclusive tower with mixed-use development in mind.
The location is strategic because it's near to JORR 2 Tollgate. There's also the Jurang Mangu commuter line station that can take you to Tanah Abang or the Serpong area. You can also catch a Transjakarta bus at the CBD Ciledug station.
The Tamansari Bintaro Mansion is a little far away from business centers and office towers. However, it's suitable for families who are looking to settle down, since it has high-class schools around, the nearest being British School Jakarta, Global Jaya School, and BINUS School Serpong.
There are nearby shopping centers, such as Bintaro Jaya Xchange and Living Plaza Bintaro. There's also the Lotte Mart Bintaro, where you can buy Korean street foods. You also can drive a little further away and enter the BSD City area, which has other shopping centers and entertainment venues such as AEON Mall BSD, The Breeze, and the Pasar Modern BSD, which are favorites for their culinary selections.
It is said that Tamansari Bintaro Mansion will have a large shopping arcade with a Food Hall supermarket. Others that will join it will be a French restaurant, a fitness center, function rooms, and a sky pool. There will also be ATM centers and laundry at the ready.
Address: Jl. Jombang Raya No.Kav 88, Pd. Kacang Tim., Kec. Pd. Aren, Kota Tangerang Selatan, Banten
Monthly Rental Price: 1BR starting from Rp 4.500.000,00
Read also : Best Luxury Apartments in North Jakarta
3. The Breeze Bintaro
Third, we have The Breeze Bintaro. This part of the Bintaro Plaza Residences is a luxury apartment by the veteran developer, Jaya Property. The Breeze and the Bintaro Plaza Residences area has a mixed-use concept. While it's still under ongoing development, Bintaro Plaza Residences will have a dedicated retail center, business hotels, and SOHO (small office/home office).
For now, it's still a good option for settling down for those with daily activities in the nearby CBD Bintaro or commuting to Jakarta, since it's only minutes away from the Jakarta-Serpong tollway and the Jakarta Outer Ring tollway. There's also the Sudimara commuter line station, which has routes to other Jabodetabek areas.
Shopping centers are close, including the Bintaro Modern Market that sells fresh produce. For supermarkets, you can choose from Giant Bintaro Sektor, Lotte Mart Bintaro, and the Hero Plaza Bintaro.
The biggest mall in the Bintaro area, Bintaro Jaya Xchange, is also not too far from this apartment. You can visit its bookshop, cinema, or its diverse culinary selections.
The Breeze's facilities include a gym, infinity pool, a children's playground, mini markets, and even a game room. You will also be using access cards for increased safety.
Address: Jalan Bintaro Utama III Sektor 3A, Pd. Karya, Kec. Pd. Aren, Kota Tangerang Selatan, Banten 15225
Monthly Rental Price: Studio starting from Rp 5.000.000,00
4. Pondok Indah Residences
We're moving a little away from Tangerang and back into Jakarta. Bintaro, despite its rapid development and growing interest from international investors, has only a few luxury apartments ready for immediate settlement.
This 3-tower apartment stands in the Pondok Indah neighborhood, which is famous among expatriates due to the surrounding prestigious office towers (like the Pondok Indah Office Tower and Gandaria 8 Office Tower) and international schools.
Pondok Indah Residences is very close to three toll gates: Ciputat 1, Ciledug 3, and Veteran 1 (Bintaro). Best of all, it's only 12 minutes away from the Lebak Bulus Grab station, where the MRT can take you up to Bendungan Hilir through the Golden Triangle.
This apartment is only minutes away from all three Pondok Indah Malls, as well as the Gandaria City Mall. It's also not too far away from Cilandak Town Square, which is known for being culinary heaven.
The Pondok Indah Residences has facilities such as a tennis court, a gym, and even an open and a covered swimming pool. Children, too, can choose to play in an outdoor or an indoor playroom.
Address: Jl. Kartika Utama No.47, RW.3, Pd. Pinang, Kec. Kby. Lama, Kota Jakarta Selatan, Daerah Khusus Ibukota Jakarta 12310
Monthly Rental Price: 1BR starting from Rp 14.100.000,00
So far, these are the renowned luxury apartments in Bintaro at the moment. However, we're also expecting promising new projects to finish this year (and the next). Stay tuned for the next updates.