Known as the Land of the Gods, Bali has its own natural beauty, from beautiful sceneries to fantastic culture. Bali is a top destination and a popular getaway for people and travelers all around the world. Bali offers peace and serenity, and it is indeed a paradise! With its enchanting aura, Bali can feast your eyes and soul, while also being able to give you a relaxing atmosphere. So if you are considering a long stay in Bali, staying in a coliving space might be a great idea!
Here are the 10 best coliving spaces in Bali with a collaborative and active community:
Hails from Jakarta, Flokq is now present in Bali for you to experience a full-service and modern coliving experience! With a choice of more than 1000 rooms spread across Bali, Flokq has a large selection of comfy beds and well-equipped coliving facilities in 90+ locations and counting all across Bali – from Jimbaran, Canggu, Mengwi, and all the way up to Ubud!
Flokq offers tech-enabled living with every house needs that can be managed through their mobile app, so everything is only one click away. The best part is, the app also connects you to like-minded Flokq members across the island with interest-based communities. Having fun while staying in is never too good to be true with Flokq!
For your comfort and needs, their homes are equipped with a communal area of a modern kitchen, dining area, lounge, and swimming pools. Worry less about the price, Flokq Bali starts from Rp3.000.000 or around $200 per month. Contact them for more details or click the button below to find your Bali home!
Instagram: @helloflokq
Website: www.flokq.com/bali
Phone: +62 812-1194-1154
Click Here to Find Your Home in Bali
2. Outpost
Located in Ubud and Canggu, Outpost offers a comfortable coliving and coworking space with active communities for global citizens. It is designed to feel like home so you can stay for a week, a month, or longer — and you'll be able to concentrate on your projects, explore new ideas, cultures, and environments.
If you stay in Outpost Ubud you can enjoy lush rice fields scenery, Balinese temples, and the famous Monkey Forest, along with yoga and mindfulness experience. If you like beaches, you can stay in Canggu, home to some of Bali's best beaches alongside a buzzing social and entrepreneurial scene.
Outpost provides reliable internet, regular cleaning services, and staff onsite to support 24/7. While having a private bathroom and a king-sized bed in each room, members share a pool, communal kitchen, and work lounge. Outpost also partnered with local organizations and businesses which provide members genuine experiences and discounts.
Address: Jalan Raya Nyuh Kuning, 80571 Mas, Ubud, Gianyar, Bali
Price: USD 63 (per night), USD 315 (per week), USD 945 (per month)
Instagram: @destination.outpost
Website: www.destinationoutpost.co
Phone: +62 361 9080 584
3. Biliq
As one of the best-reviewed coworking and coliving space in Bali, Biliq provides casual but focused working and living experience. They have free wi-fi, fully furnished rooms with traditional minimalist design, a private bathroom, private kitchen, and they also offer a cleaning service. When staying there, you'll also be able to enjoy free access to their award-winning coworking space.
Be ready to wake up with the view of rice fields! If you want to keep exercising during your stay, a jogging track is just right from the doorstep. Looking for posh restaurants, bars, cafes, or nightlife? Biliq is just 5 minutes away from Petitenget Street and Kayu Aya Street. In need of "vitamin sea"? Biliq is also only 7 minutes away from the beach. Plus, it's just 15 minutes to/from the airport!
Address: Jl. Amanlane No. 10, Seminyak, Kuta
Price: IDR 300.000 / USD 20 (per day), IDR 2.000.000 / USD 85 (per week), IDR 7.000.000 / USD 285 (per month)
Instagram: @biliqbali
Website: www.biliqbali.com
Phone: +62 881 884 0443
4. Bali Bustle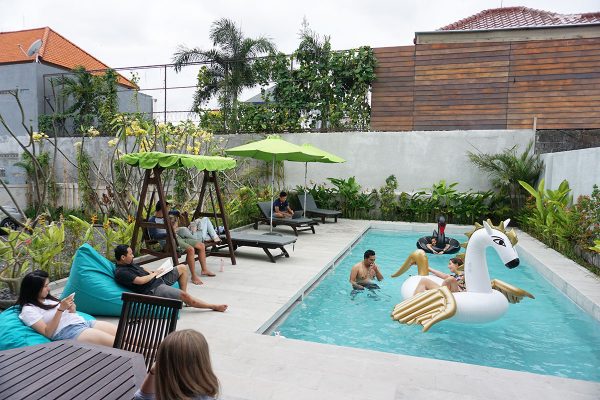 Bali Bustle created a home for the needs of any nomad and simplified housing for travelers from around the world by bringing private serviced apartment-style houses in 3 different rooms: studio, family, and loft. They provide free wi-fi, gym, swimming pool, kitchen set, laundry, and weekly cleaning. If you want to have a drink or meal, you can go to Bali Bustle Café. Residents at Bali Bustle also have access to common living areas such as a rooftop lounge and 24 hours coworking space.
Address: Jalan Dewi Sri II, Kuta, and at Sunset Road Mertanadi
Price:
Studio room — IDR 450.000 (per night), IDR 2.500.000 (per week), IDR 7.200.000 (per month)
Family room — IDR 600.000 (per night), IDR 3.500.000 (per week), IDR 9.200.000 (per month)
Loft — IDR 550.000 (per night), IDR 3.200.000 (per week), IDR 8.200.000 (per month)
Instagram: @balibustle
Website: www.balibustle.com
Phone: +62 878 6182 9035
---
Read also: How Coliving Can Make Your Life Awesome
---
5. Dojo Bali
"Dojo" is a Japanese word meaning "place of the way", so Dojo Bali aims to create an environment to work and grow in. Located at Echo Beach, Canggu, Dojo Bali is a coworking and coliving space that offers a collaborative and relaxing environment. They designed their coliving space as your home away from home, where you can still be productive. You can choose between 4 different accommodation options, from large bungalows with their own balcony to smaller bedrooms.
All rooms feature a private bathroom, private work desk, and daily cleaning services, with access to a shared kitchen, chill-out areas, a tropical garden, a lush lawn area for sunbathing, and an amazing pool. Besides private room and shared areas, their coliving package includes airport pickup, 4G LTE SIM with 10GB data package, 300mbps wi-fi, private surf lesson, group yoga session, and a surprise welcome box!
Address: Jalan Batu Mejan No. 88, Canggu, Kuta Utara
Price:
Queen room — USD 406 (per week), USD 1140 (per month)
Queen wooden bungalow — USD 441 (per week), USD 1350 (per month)
King room — USD 497 (per week), USD 1440 (per month)
King wooden bungalow — USD 497 (per week), USD 1440 (per month)
Instagram: @dojobali
Website: www.dojobali.org
6. Hub Bali
Hub Bali is a coliving – coworking space and a community. Located on Sara Residence Building in Legian, Hub Bali offers a coliving package that includes 2 bedrooms apartment (perfect for 4 people), an ensuite bathroom, a separate living room, a fully equipped kitchen, and an outdoor swimming pool. They also provide 24 hours room services and security, wi-fi, laundry, and satellite television. If you want to go to the beach, the famous Double Six beach is only 10 minutes walk away!
Address: Jalan Nakula No. 9, Legian, Badung, Bali
Price:
IDR 12.000.000 / around USD 760 (per month)
IDR 15.000.000 / USD 1.200 for coliving + coworking space (per month)
Instagram: @hub_bali
Website: www.hubbali.co
Phone: +62 813 3778 6794
7. Camp 308
The inspiring Camp 308 is a coliving and coworking space located in the heart of Pererenan Village, Bali, only a few steps away from the beach. It is a perfect place for remote workers, digital nomads, as well as travelers. You'll meet a warm and like-minded community all year round, as Bali doesn't have an offseason for creativity and networking.
They combined coastal living with a down-to-earth environment to increase your productivity and creativity, along with personalized hospitality to create a memorable experience for you. Each room has a wi-fi connection and is equipped with a desk, seating area, wardrobe, mini bar, and safe box.
Address: Jalan Pantai Pererenan No. 135, Badung
Price: Standard suite IDR 450.000 (per night)
Instagram: @canggucamp308
Website: www.canggucamp308.com
Phone: +62 811 395 3555
8. Matra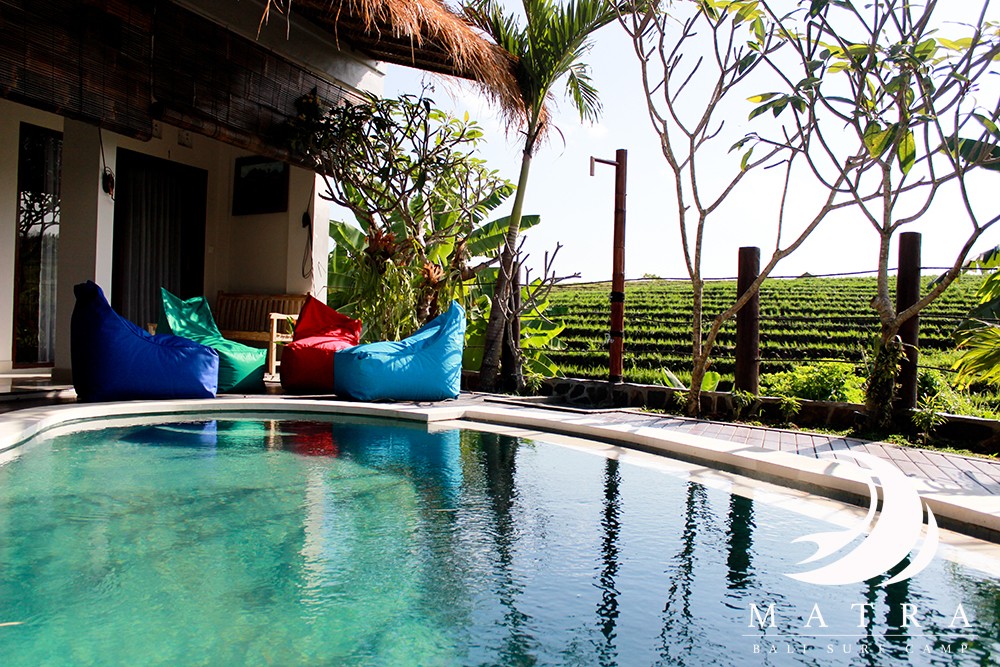 Matra is a coliving & coworking space in Bali that offers 3-star accommodation with a terrace. Located around 3,1 km from Echo Beach, this coliving place is also a 17 minutes walk away from Vue Beach Club and offers free high-speed internet access. Each room is equipped with a balcony with a pool view, a private bathroom, a desk, air conditioning, and certain rooms come with a seating area.
Address: Gang Rambutan No. 1, Br Pelambingan, Canggu
Price:
Deluxe room & Twins room — IDR 350.000 (per night), IDR 300.000 (per night for weekly), IDR 7.000.000 (per month)
Mix dorm room — IDR 100.000 (per night), IDR 2.500.000 (per month)
Instagram: @matra_bali
Website: www.matrabali.com
Phone: +62 8199 9095 888
9. Roam
Roam is a coliving and coworking space in Ubud, Bali, with a contemporary style building. They have 24 rooms encircle a pool, a coworking space and eatery on the rooftop, and open space for events like nightly talks, yoga, and capoeira. Each bedroom has spacious private bathrooms (bathtub included), a sitting area, and a private patio. Roam provides sheets, towels, and all the other little things you need to feel at home.
To maximize your comfort, Roam has a large communal and fully-equipped modern kitchen. Sometimes cooking classes are held and you are welcome to join! Besides the kitchen, Roam also has laundry facilities for you to use daily. Do you have works to do? Worry no more because their battle-tested, high-speed internet is accessible to every corner of your private space.
Address: Jalan Raya Penestanan Kelod, Ubud
Price:
Starts at USD $500 (IDR 7.000.000) per week – $1,800 (IDR 25.000.000) per month.
Up to $1,200 (IDR 16.000.000) per week – $4,200 (IDR 58.000.000) per month.
Instagram: @roamcoliving
Website: https://www.roam.co/places/ubud
Phone: +62 361 4792884
10. Outsite
If you're looking for a place to stay that has Javanese traditional villas yet it's definitely in the Bali area, then Outsite is for you! Outsite is a serviced coliving space for digital nomads, and business travelers looking to live, work and connect – with nature and with other nomads. Their incredible staff and local community manager are ready to help you 24/7.
There are 5 traditional Javanese bungalows in Outsite Bali, with 9 individual en-suite bedrooms with AC. There's a pool, day beds, and deck area for everyone to enjoy, as well as a large covered coworking area. Beach towels, coffee and tea are provided in-house. Outsite also has a well-equipped kitchen for you to use daily.
Fast Wifi is available in all the rooms and communal spaces. Do you need to print some papers? They have a printer for you to use anytime! To maximize your comfort, Outsite also has laundry on-site. They provide sheets, towels, and all the other toiletries you need to feel at home. And the best part is, scooters are available for you to rent from the front desk!
Address: Jalan Pantai Batubolong, Canggu, Bali 80361
Instagram: @outsiteco
Website: https://www.outsite.co/locations/bali-canggu
---
Well, these are our recommendations for some coliving spaces in Bali. If you're interested, go check their Instagram or website for more information. See you in Bali, Flokqers!