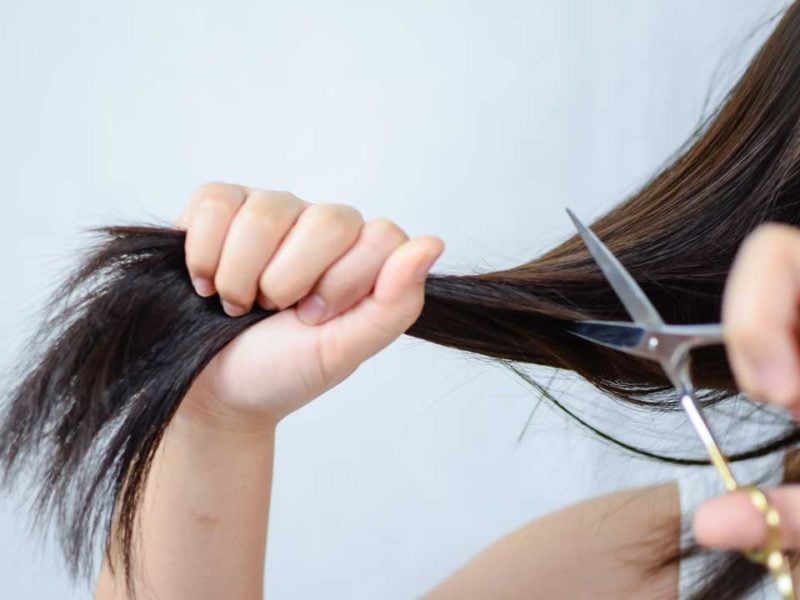 Staying In
4 Tips and 5 Ways to Cut Your Own Hair at Home
During this pandemic in 2020, of course many of you rarely or even don't go from home at all, be it for hangouts, school, work, shopping, especially to cut hair to a hair salon or barber.
Well, for those of you who still don't have the courage to leave the house to get a haircut, don't worry! As long as you have the tools and know the correct hair cutting techniques for yourself, the results won't be as bad as you think, Flokqers. Especially if your hair is really messy, you have to cut it, right? Here we provide tips and how to cut your own hair at home.
4 Tips Before Cutting Hair at Home
Before you decide to cut your own hair at home, make sure you have prepared everything carefully, from equipment, hairstyles, and others. However, you don't expect to be able to cut with various styles, such as in a salon or barber. Just prioritize it so that your hair doesn't get messy anymore until you can go to the hair salon or barber.
1. Ensure You Have a Good Hair Cutting Tools
Buy good quality hair clippers. You can look for it at a drug store or beauty supply store near your house, or you can also buy it from an online shop. The price for good quality scissors ranges from Rp50.000 to Rp220.000. Try to choose small scissors with blades about 5 to 7.5 cm long. The shorter the blade of the scissors, the easier it is for you to control what you want to cut.
2. Choose The Desired Haircut
Knowing the type of hairstyle you want before starting preparations will make you more focused when shaving and reduce the chance of mistakes.
To find references to hairstyles, look at photos of hairstyles on the internet. After you find the model you want on the internet, don't forget to imagine first if you use that hairstyle, whether you will look better or even look tackier. You can try to imagine it while in the mirror.
You should also not rush into making decisions. If you decide to cut your long hair really short, take at least some time to think about it before making a decision. Don't impulsively decide to cut your hair, I'm afraid you'll regret it at the end, Flokqers.
3. Dry Cut or Wet Cut?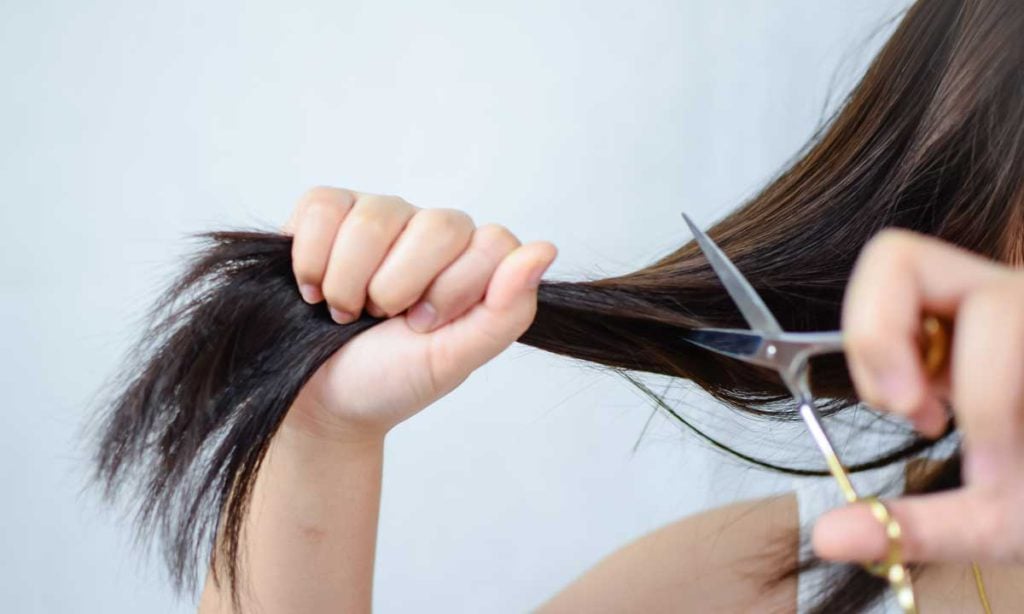 Many professionals recommend cutting wet hair because it is easier to handle and control. Some professionals also recommend cutting dry hair as it allows you to see the result immediately and avoids cow-clicks or curls.
If you cut your hair wet, cut it at least a few inches longer than your target as it will shrink and appear shorter when it dries.
Meanwhile, cutting dry hair may result in an uneven cut.
4. Prepare The Hair Before The Cutting Process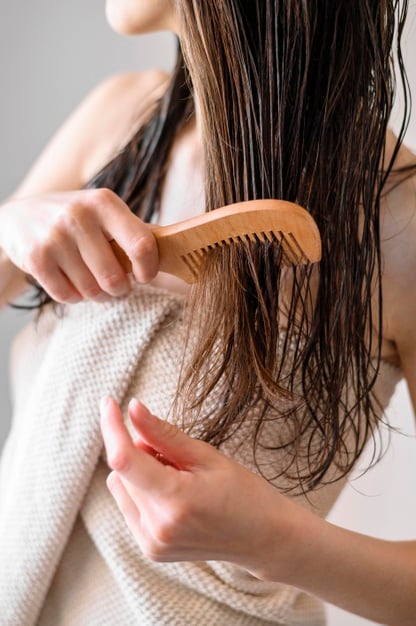 If you decide to cut your hair when it's wet, first wash your hair with shampoo and apply conditioner to your hair, then dry your hair by wrapping your hair in a towel and squeezing it, then comb your hair, which is still slightly wet, until everything is straight.
Meanwhile, if you decide you want to cut your hair dry, wash and dry your hair, then style it as closely as possible to your usual hairstyle before cutting. Do not apply any product to dry hair before cutting it as it will make it difficult for you to judge the actual haircut.
Read also 5 Hair Clinics in Jakarta
How to Cut Your Own Hair, 5 Hair Types
1. How to Cut Damaged Hair
If you often dye your hair using a hair heater, you will definitely find a lot of dry and damaged hair.
Well, for those of you who have damaged hair, here is a video tutorial for cutting your own hair. Make sure to watch it until it's finished so there are no mistakes and you won't regret it later!
2. How to Cut Bangs
Bangs are actually one part that is quite difficult to cut, especially if you cut them yourself because the cut result might not match your face. Bangs also take a long time to grow, Flokqers. So don't cut it carelessly, OK!
If you want to just tidy up your bangs, it's okay to do it yourself, but you have to be careful! You can see the video tutorial for cutting bangs so that the cut results are the way you want.
3. How to Cut Curly Hair
For those of you who have curly hair, it is certainly quite difficult to maintain the condition of your hair without going to a hair salon or barber.
Well, here is a video on how to cut curly hair. Listen carefully to all the explanations in the video above, so that you won't regret it at the end!
4. How to Cut Short Hair on The Sides and Back
For those of you who have a side men's haircut, it's a good idea to ask someone at home or anyone who lives close to you to cut it. It's very difficult if you want to cut it alone, because you can't see the entire area of the hair you want to cut.
So, if you've found someone to help cut your hair, here's a video tutorial. Listen carefully so that the cut results can be fine too!
5. How to Cut Straight and Long Hair
For those of you with straight and long hair, the video above will show you how to trim layers and how to cut them by bringing the hair to the shoulders. Then cut with scissors face up at the ends of the hair to give it texture.
Meanwhile, this video shows how you can trim for even, straight hair. This video also shows how to layer with the help of others. You can choose whichever method is easy for you.
---
So, those are some tips and ways to cut your own hair at home. Make sure you pay close attention before you decide to cut your own hair.
If you haven't dared to cut your hair yourself, still make sure you take care of your hair, okay? So you can stay comfortable even though you stay still at home, Flokqers!
---
Of course, it can be fun to try new things during a pandemic, like getting your own haircut in your room. You can also, you know, get comfortable rooms with the latest designs with Flokq. Flokq provides monthly rental of rooms and apartments in various areas in Jakarta.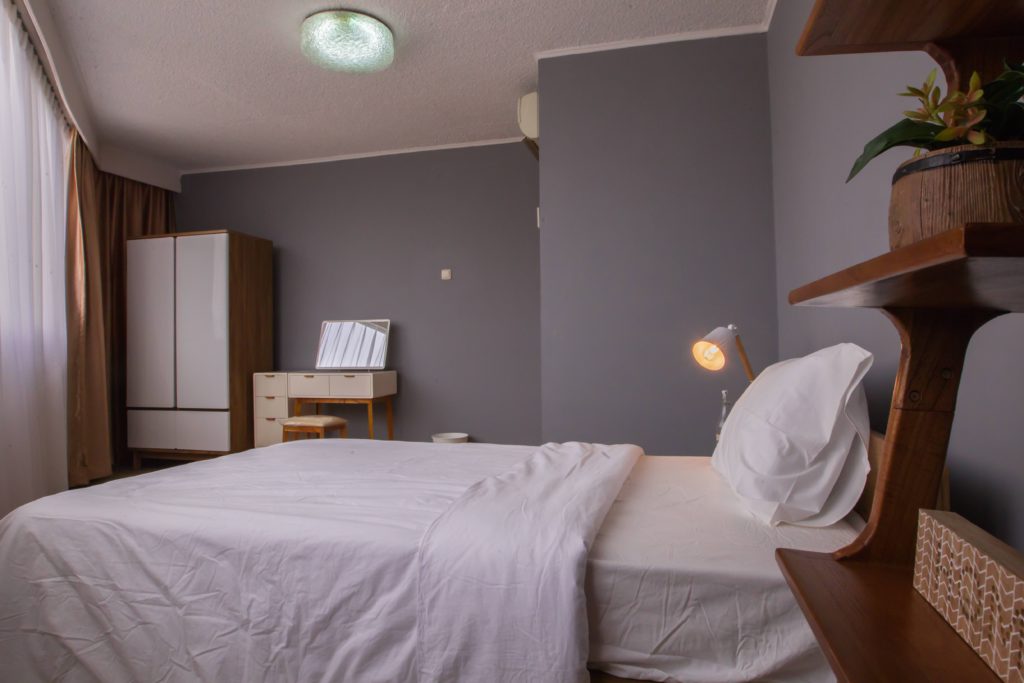 Want to know more? Call the Flokq team at +62 813-1490-5690 or click the button below!