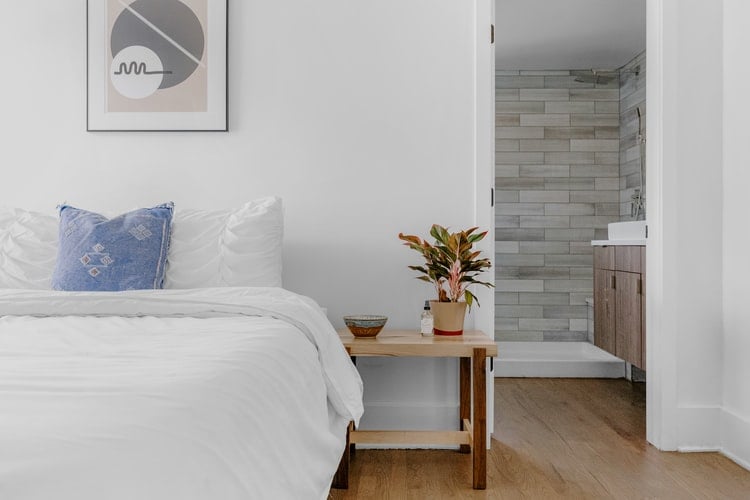 Jenderal Sudirman Road is one of the main roads of Jakarta and is a business center or financial district. Sudirman Road is one part of the golden triangle consisting of the Sudirman – Thamrin – Kuningan axis. This road is located on the border of Central Jakarta and South Jakarta. On this road, there are several skyscrapers such as Wisma 46 (the highest building in Indonesia). There is also the Semanggi bridge, Gelora Bung Karno Sports Complex, and the upper-class office center, the Sudirman Central Business District (SCBD) area.
SCBD itself is a business area consisting of condominiums, office buildings, hotels, shopping centers, and entertainment venues. SCBD is also served by public transportation such as busways, city buses, and the MRT which can be accessed from Sudirman Road. Sudirman Road is also famous for the spacious pedestrian paths that make it comfortable for people to walk around.
If you are one of those who work in SCBD and have plans to stay for a certain period, you can choose kost around SCBD. Certainly, since it is in an upscale environment, all aspects of the kost are guaranteed. From the well-maintained 24 hours of security, environmental cleanliness, environmental comfort, until the comfort inside the boarding house which may be dominated by executives residents who work at SCBD. Even so, these premium boarding houses are far from the noise and bustle of the city. So, we have collected 3 of the best exclusive kost recommendations that are suitable for those of you who work in the SCBD. Let's see!
SCBD Homestay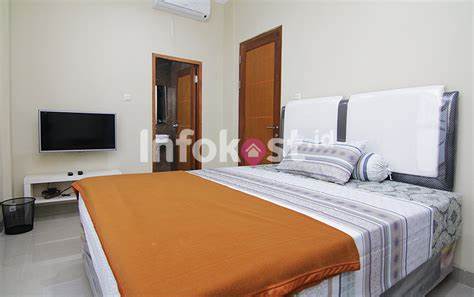 This exclusive kost is located exactly 1 km away from SCBD, precisely at Tulodong Street, near Senopati Street. There are many advantages that you can get if you stay at this kost that flanked by both office centers and entertainment centers. You can reach iconic places like Anomali Coffee, Beer Garden, and Sushi Hiro in just a few meters. There is also a huge supermarket, Grand Lucky Superstore, which is only 2 kilometers away to meet your daily needs. As for public transportation such as MRT, there are 2 choices of stations, Senayan and Istora Mandiri close to SCBD Homestay.
Overall, this kost carries a classic luxury concept with a choice of clean white paint all over the building. The parking lot is also sufficient to accommodate a few numbers of cars. SCBD Homestay offers several rooms with a choice of 2 types with the same size of 3 x 4 meters, Standard and Deluxe. But the difference is that the Standard type can only accommodate 1 person and does not have a balcony. The Deluxe type can accommodate 2 people and has a balcony. All available rooms are already equipped with complete furniture. As for the shared facilities, there is a kitchen with a refrigerator and its essentials, and also a comfortable living room. And, for your information, no smoking in this kost area.
Address: Jl. Tulodong Bawah 9 No.62, Senayan, Jakarta Selatan
Phone Number: +62815 – 8818 – 181
Social Media: –
Price: starting from Rp4.000.000,00 – Rp5.500.000,00 per month
Facilities:
Fully furnished room
Inner bathroom
Water heater
AC
TV
WiFi
Shared kitchen
Living room
Laundry
Parking lot
Security
Free housemaid
Check other recommendation about exclusive kost in Bendungan Hilir
Tirtayu Residence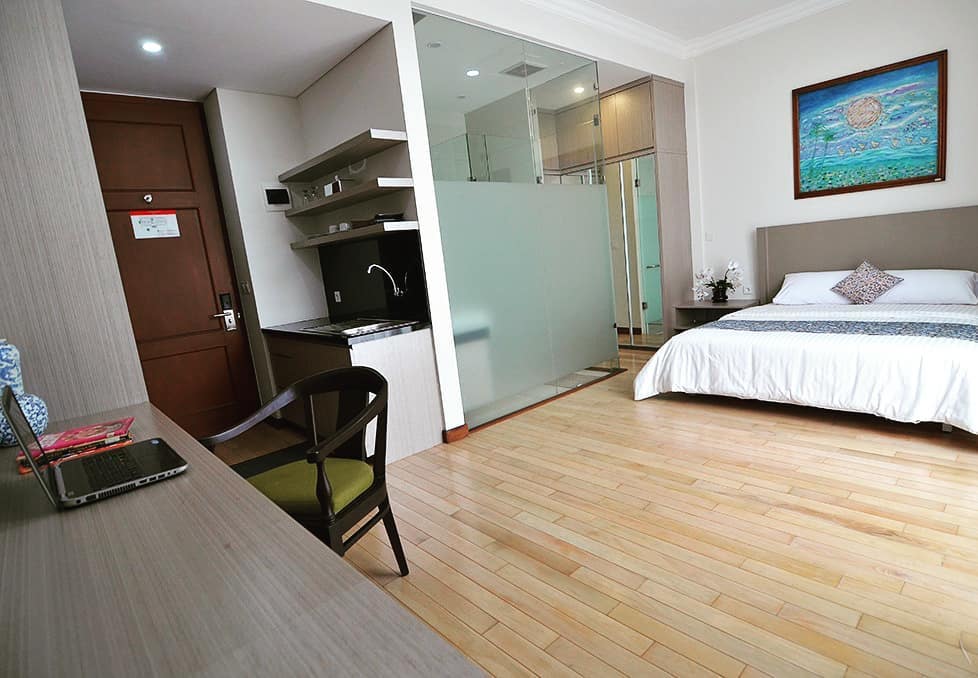 Located in the leafy residential neighborhood of Tulodong Street, Tirtayu Residence offers elegance and first-class facilities. This exclusive kost consists of 26 spacious rooms with a choice of 28 and 36 square meters for each room. Each room is equipped with a pantry, built-in wardrobe, en suite bathroom, portable refrigerator, and a set of beds. Some rooms have small balconies with additional attics. This classic-eclectic building has a very spacious parking lot for its residents as well as elevators and generators for power outages. CCTV and security guards ensure the safety of residents for 24 hours a day.
The interior is filled with beautiful works of art, highlighting Indonesia's rich culture from paintings and antique furniture. On the top floor, there is a shared kitchen and a dining room, as well as a gym with the sports equipment for those who want to exercise. There is also a spacious rooftop that offers breathtaking views of the city skyline (this is one of Tirtayu best features). Targeted for upper-class executive residents, this exclusive kost is located within walking distance to the SCBD and the bustling Senopati area.
Address: Jl. Tulodong Bawah II No.2, Kebayoran Baru, Jakarta Selatan
Phone Number: +62821 – 1188 – 8001
Social Media: @tirtayuresidence on Instagram
Price: starting from Rp8.000.000,00 – Rp10.500.000,00 per month
Facilities:
Fully furnished room
Inner bathroom
Water heater
AC
TV
WiFi
Shared kitchen
Dining room
Living room
Gym
Rooftop
Terrace
Balcony / patio
Garden
Parking lot
CCTV
Free laundry
Free housemaid
Read also: Exclusive Kost in Senayan
3Tranches Home
3Tranches is an exclusive kost located near to SCBD area, percisely in Tulodong Street. It is such an ideal kost for those of you who want a simple place to stay but still able to facilitate all your needs with guaranteed quality. With a strategic location, if you stay on 3Tranches, you only need around 2 – 5 minutes by walking to SCBD! Accessible to and from SCBD, Sudirman, Gatot-Subroto, Senopati, Senayan Mampang Prapatan, and Tendean. Very facilitate your commuting needs.
3Tranches carries an industrial concept both for exterior and interior that can be seen from the minimal use of decoration and its clear white walls with a brick accent. This 3-storey boarding house has an average size of a parking lot. For shared facilities, 3Tranches provides a pantry along with a dining room and a rooftop with a patio. 3Tranches offers 27 rooms with a size of 15 square meters for each room equipped with a double-sized bed, a wardrobe, a work desk, and an inner bathroom with water heater. Laundry service is an additional option here.
Address: Jl. Tulodong Bawah VIII No.12, Senayan, Jakarta Selatan
Phone Number: +62811 – 9858 – 878
Social Media: @3tranches on Instagram
Price: Rp3.500.000,00 per month
Facilities:
Fully furnished room
Inner bathroom
Water heater
AC
TV
WiFi
Shared pantry
Dining room
Rooftop
Patio
Parking Lot
Security
Thus the list of exclusive kost recommendations around SCBD that have the best quality and most comfortable. Based on this review, it can be concluded that finding an exclusive kost around SCBD is not difficult and certainly can facilitate you who work there. we hope this article helps you.
Read More about SCBD Articles, click here!
Or you might be interested to know about exclusive kost in Palmerah