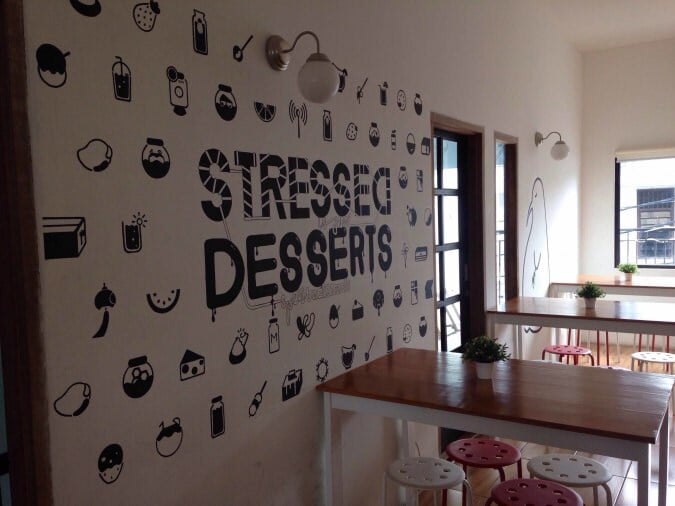 Palmerah is located in West Jakarta and is roughly bounded by Jakarta-Merak tollway to the North. Palmerah is known for its traditional markets that sell fruits, meats, etc. Even it is not an elite area, expect to find some hidden gems that are worth to try especially their street foods and restaurants that come with affordable prices. If you happen to work around the Slipi area, you can use our guides for your food hunt session with friends, family, or colleagues. Culinary food in Palmerah is also very budget-friendly that makes lots of students visit cafes and food corners in this area. Now, we gather some must-try foods from breakfast, lunch, dinner, coffee o'clock, and even desserts that serve good food and very affordable prices.
Breakfast
1. Collita Café
Who can resist good bakes and good coffee in the morning? Collita Café serves pieces of bread and patisserie with great coffee at affordable prices. This café is located in Palmerah, next to Jakarta Post, which is very strategic and near to the business area. The place is very suitable for meetings, coffee o'clock, or for breakfast. Inside the café, the atmosphere is pretty chill and the ambiance is good. The favorite menus are ciabatta cake, honey toast, smoked beef & cheese, and ice coffee latte. The price is pretty affordable range from IDR 8000 – IDR 15000.

Open Hour: Mon – Fri ( 8 AM – 9.30 PM) , Sat ( 9 AM – 8 PM) closed on Sunday
Address: Jl. Palmerah Barat No. 41, Palmerah, Jakarta, Gelora, Tanah Abang, Kota Jakarta Pusat, Daerah Khusus Ibukota Jakarta 10270
Phone Number: +622153665875
2. Sophomore Dessert House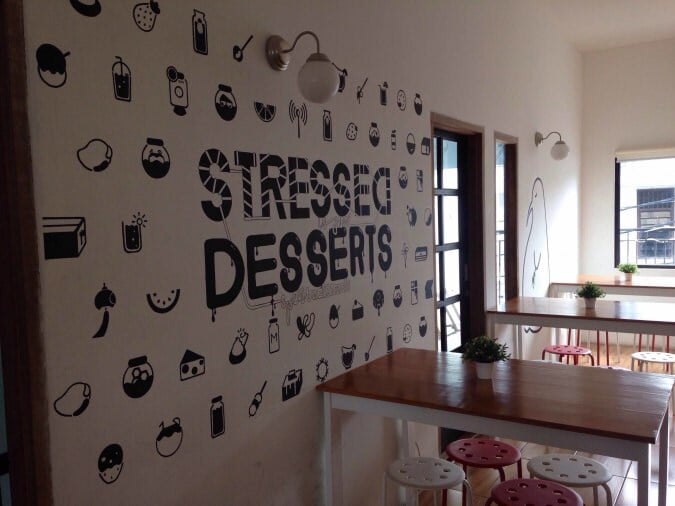 The place is very comfortable and offers a range of boardgame. It serves Bingsoo, a Korean dessert served with ice, toppings, and sauces. The kinds of rice again are very affordable for students so lots of youngsters and uni students come here with friends. The must-try menus are chocolate bingsoo and mango bingsoo that tastes very refreshing. It is located near Binus Syahdan and lots of Binus students come there. The portion in each menu is quite small, so it is not suitable for sharing. For the matcha, bingo serves with mochi and red beans so it's not too sweet. It's a very recommended place for snacking!
Address: Jl. H. Senin, Blok H No. 60A, Palmerah, Jakarta
Phone Number: +6281584156789
Read also : One-Day Binge Eating in Mampang: A Guide
Lunch
3. Soto Goreng Bang Ateng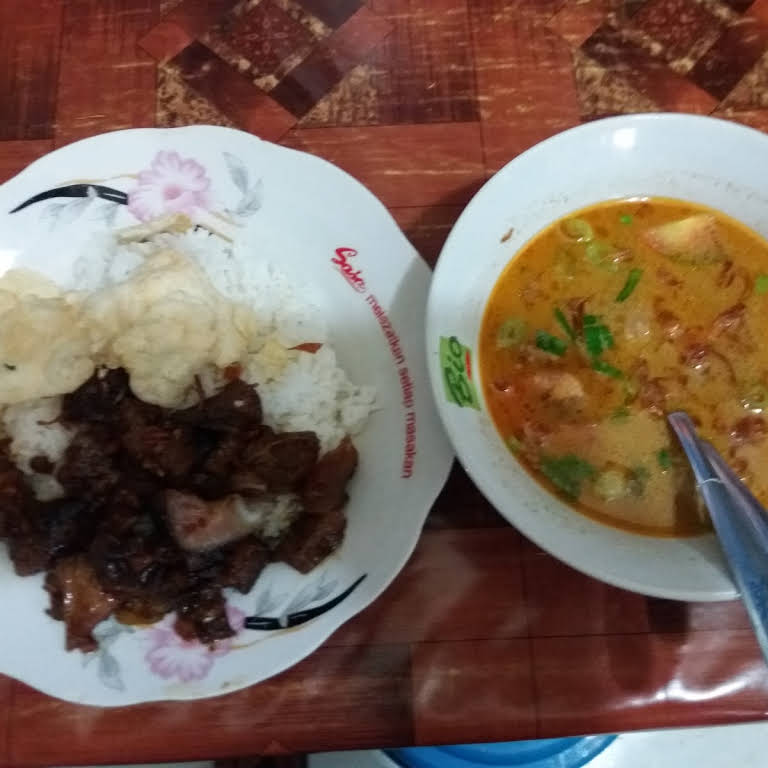 Located on the second floor of Pasar Palmerah, it serves some choices of Soto from Soto Mie, Soto Ayam, or Soto Goreng. If you are looking for something special, Soto Goreng consists of sautéed beef, lungs, and tetemelan that are caramelized with soy sauce and spices. The meats will be served with rice soup, potatoes, and emping.
Address: Pasar palmerah lantai 1 blk bks 08, RT.4/RW.2, Gelora, Kota Jakarta Pusat, Daerah Khusus Ibukota Jakarta 10114
Open Hour: Mon-Sat 8 AM – 4 PM, Sunday 10 AM – 4 PM
Phone: 0812-8489-3854
4. Waroenk Republic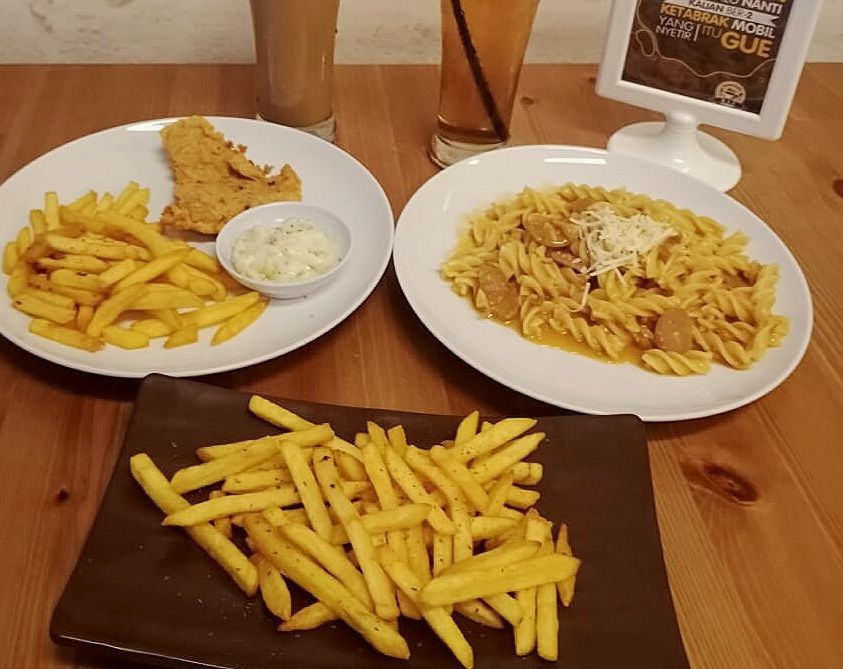 The concept of this restaurant is as Ropank and Waroenk that serves foods with affordable prices and youngsters–friendly. The place is very funky and fully decorated with funny and humorous quotes, even some of the menus are also creatively and provocatively named. It is located in the Kemanggisan, Palmerah, West Jakarta. The prices are very affordable and very suitable for hangouts with friends. Even though the prices are not expensive, you can expect a great presentation of the foods with great taste. The place also provides Wi-Fi so you can also bring your laptop and work or do your assignments. Lots of youngsters come here along with friends. The recommendation for foods is Kitkat Green-tea toast, Nasi Ayam Geprek, Fusilli Pacar Simpanan, and fish and chips.
Address: Jl. Kemanggisan Raya No.3, RT.3/RW.13, Palmerah, Kec. Palmerah, Kota Jakarta Barat, Daerah Khusus Ibukota Jakarta 11530
Phone: 0815-1905-3536
5. Mlinjo Café & Resto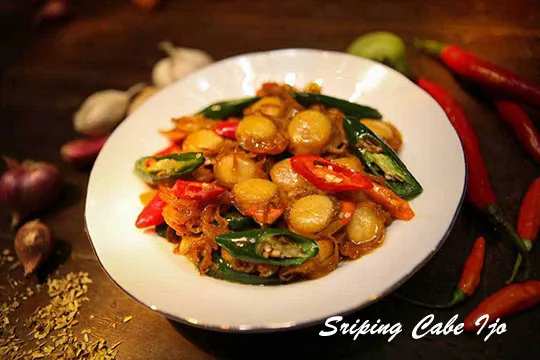 It is described as Charming hideaway with a colorful interior turning out familiar Javanese (Pekalongan) comfort foods. It is located in the housing complex and designated as a house. It's quite crowded at lunchtime so you can try to book for reservation. They serve Authentique Javanese foods with great taste. You can try their Nasi Megono (rice topped with jackfruits'slices, chicken shredded, Tempe, egg & potatoes sambals, & cucumber), or Nasi Megono with black squid rice topped with cooked jackfruit as well as papaya leaves accompanied with sambal, sour meat (asam daging that tastes sour, sweetmeats with plenty portion of meats and juicy), oseng daging, otak otak Singapura (Singaporean fish steak), and Tahu Tegal.
Open Hour: Mon – Sun 10 AM – 9 PM
Address: Jl. Kemuning No.50, RT.10/RW.1, Jatipulo, Kec. Palmerah, Kota Jakarta Barat, Daerah Khusus Ibukota Jakarta 11430
Phone Number: +62215684701
Dinner
6. Barapi Meat & Grill
One of the favorite steak restaurants that serves high-quality premium steaks, burgers, hotdogs, and many other grills menu that prioritize service from hearts in the comfortable restaurant atmosphere. The concept of the Barapi Meat & Grill is natural. The ambiance inside this restaurant is very suitable for family gatherings, meetings, events, or meet-ups with friends. The selling point of this restaurant is the affordable prices with high-quality meats. Other values are imported meats from New Zealand that apply HACCP (Hazzard Analysis & Critical Control Point), grilled with vulcanic rocks, imported premium grade beef meat, Islamic meat cutting process. The must-try(s) menus are their deluxe-rib eye that serves with mashed potatoes and well-cooked meats and also their prime-rib eye. Barapi Wagyu Steak is a customer's favorite for celebrating certain events. It uses sirloin meats from West Australia and consistently using HACCP. It doesn't use any additional hormones, no preservatives so it is safe. The steak is completed with French fries, sauteed mix vegetables, spaghetti Bolognese sauce, choice of condiments (Black pepper, BBQ, and mushroom, 200 grams HIGH Quality + High-density Marbling steak, striploin cut)
Address: Jl. Rw. Belong No.3, RT.2/RW.3, Sukabumi Utara, Kec. Kb. Jeruk, Kota Jakarta Barat, Daerah Khusus Ibukota Jakarta 11540
Phone: (021) 53668449
Website : https://barapigrill.com/review-barapi/
And there you have it! A full one-day guide for places to eat in Palmerah. If you happen to live near Palmerah or work there, this list might be helpful for you. Don't forget to bring out your friends, colleagues, or co-workers as it's better to eat with some companions! You can also eat alone if you prefer it. And last but not least, don't forget to leave some reviews after visiting them!