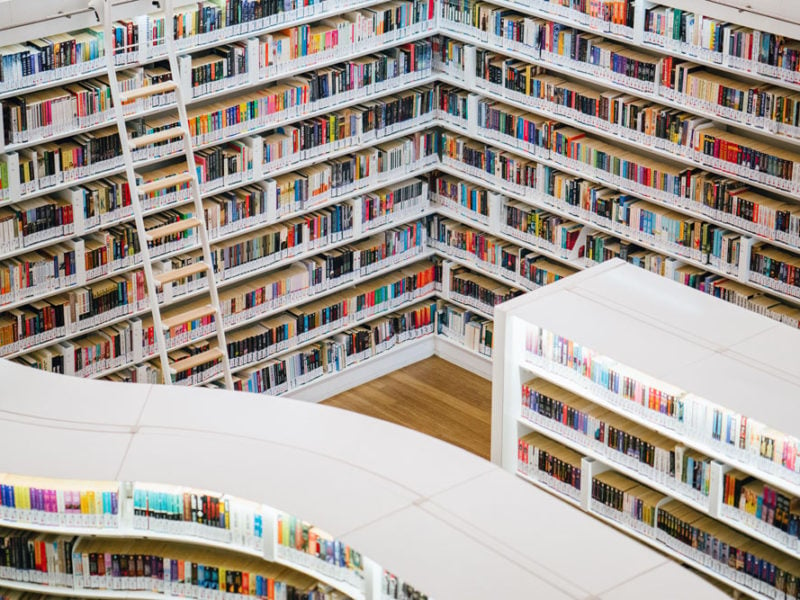 Local Guide
Lose Yourself in These 5 Must-Visit Libraries around Jakarta
Libraries, in general, don't necessarily have a stunning reputation among Indonesian locals, which is probably why you don't really hear about them that often. But this doesn't mean Indonesian people don't like books or enjoy reading. In fact, a lot of the local people you'll meet are most likely bookworms themselves. Little did you know, Jakarta is actually home to a lot of really cool and unique libraries where you can lose yourself in really great books and escape the bustling city life of Jakarta. You can also go to libraries to work or study if you need a calm ambiance.
So, here we provide a list of libraries in Jakarta that you should go check-out: 
1. Perpustakaan Nasional RI (The National Library of Indonesia)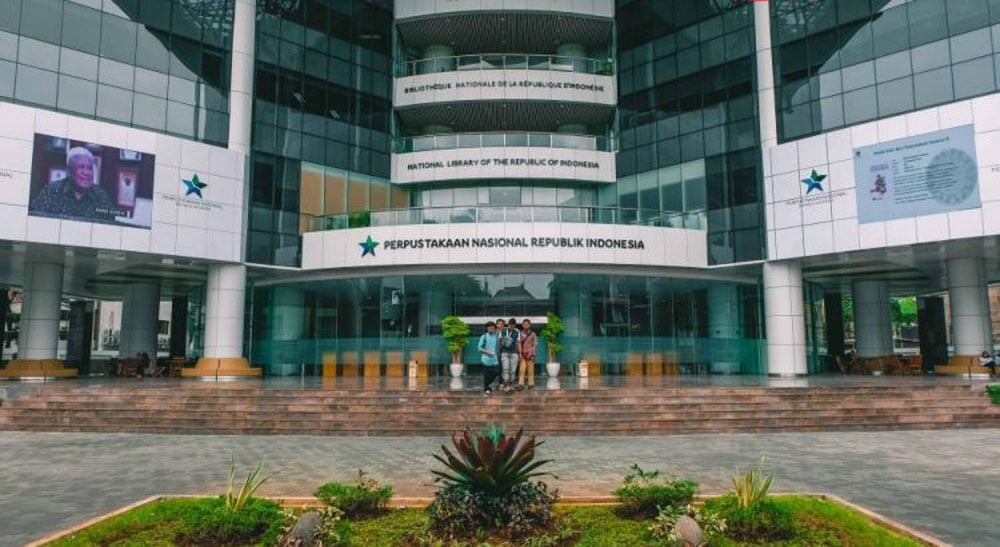 Housing the most complete collection of books in the whole city, The National Library of Indonesia is surely the heart of knowledge in Jakarta. So, you will find tons of books with various genres ranging from fiction romantic novels to geopolitical guides. 
The building itself is comprised of 27 floors – all filled with books. Each floor also has its own sections for different genres and subjects. For example, you'll be able to find children's books, which consist of a great collection of national classics and has a colorful interior. You can also find books for the elderly there along with books in braille. If you don't know what book you're looking for and have some time on your hands, immediately head to the 21st or 22nd floor. Here you will find many books ranging from non-fiction to literature. Another great thing that might interest you is the various old newspapers, films, and ancient texts that you can go check out here. So, at this rate, you might even be able to learn about Jakarta's vast history in one day. 
For non-members of the library, you may not borrow and take home books from the library. That is why PNRI wants to ensure every visitor with great hospitality and comfort, therefore they also provide cozy sofas, sturdy tables, and plenty of power plugs, and free wifi. But, if you are interested in making a membership, you can head on down to the Membership Room and fill out an application (make sure to bring your ID).
Address: Jl. Medan Merdeka Sel. No.11, RW.2, Gambir, Kec. Senen, Central Jakarta, Special Region of Jakarta 10110
Telp: (021) 1500914
Opening Hours: 
Monday to Thursday 8.30-18.00
Friday to Sunday 9.00-16.00
2. Rimba Baca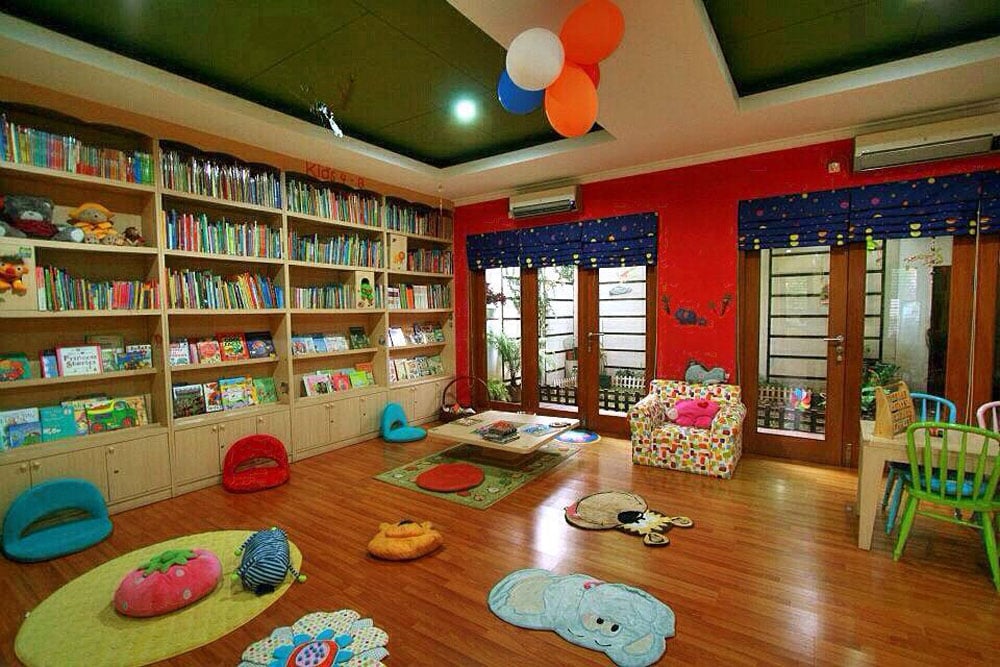 Having one of the coziest interiors ever, Rimba Baca is a family library in South Jakarta made up of two floors that consist of both children and adult books. You will find that the first floor houses mostly children's books, ranging from encyclopedias to fiction novels and activity books. Most of the books are in English but there also ones in Bahasa Indonesia, Chinese, Indian, and even Korean! There's also a really cool art room for kids to have fun drawing and coloring. 
The second floor comprises of adult books with genres such as fantasy, fiction, design, cooking, politics, biographies, comics, and religion. Again, the majority of the books are in English but there also some great Indonesian selections as well. There are sofas, chairs, and carpets provided for you to cozy up with your book.
This library also has a membership program to enter, but they don't allow anyone to borrow the books to take home. For instance, if you're a non-member adult who wants to head to the 2nd floor, it cost Rp.30.000,00 (~$2). If you bring a child, it costs Rp.30.000,00 for them and Rp.10.000,00 for the accompanying adult. Although the membership program allows you to borrow books, it is more suitable/beneficial for a family because it cost Rp.375.000,00 per year (~$25).
Address: Jl. Intan RSPP No.21B, RW.2, Cilandak Bar., Kec. Cilandak, Kota Jakarta Selatan, Daerah Khusus Ibukota Jakarta 12430
Telp: (021) 7664517
Opening Hours: Monday to Sunday 10.00 – 19.00
3. OMAH Library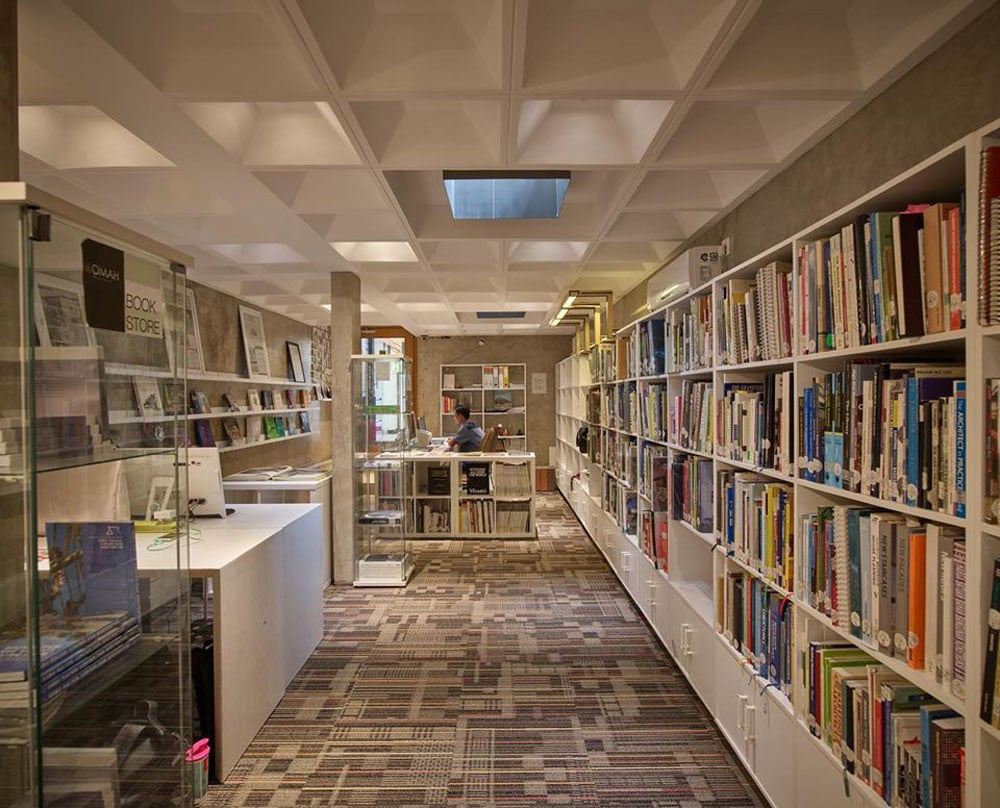 For those of you looking for books about architecture and design, the On Meeting Architecture Hub (OMAH) library is certainly the place for you. An as architect himself, OMAH's founder Realrich Sjarief aims to use this library to help rising architects have access to architectural books in Indonesia. Hence, you'll be able to find around 1,500 theoretical books, case studies, and monographs. 
Other than that, this library in Tangerang also contains fiction novels and book son philosophy in both English and Bahasa. The library is open to the public for free but you're not allowed to take home any of the books. Before you can visit the library, make sure to contact them in advance because the library itself is located in Realrich Sjaief's private studio.
Address: Kompleks Taman Villa Meruya, Taman Amarilis II Blok F2 No. 15, Tangerang
Email: omahlibrary.reservation@gmail.com
Opening Hours: Weekends 10.00-18.00
4. Kwitang14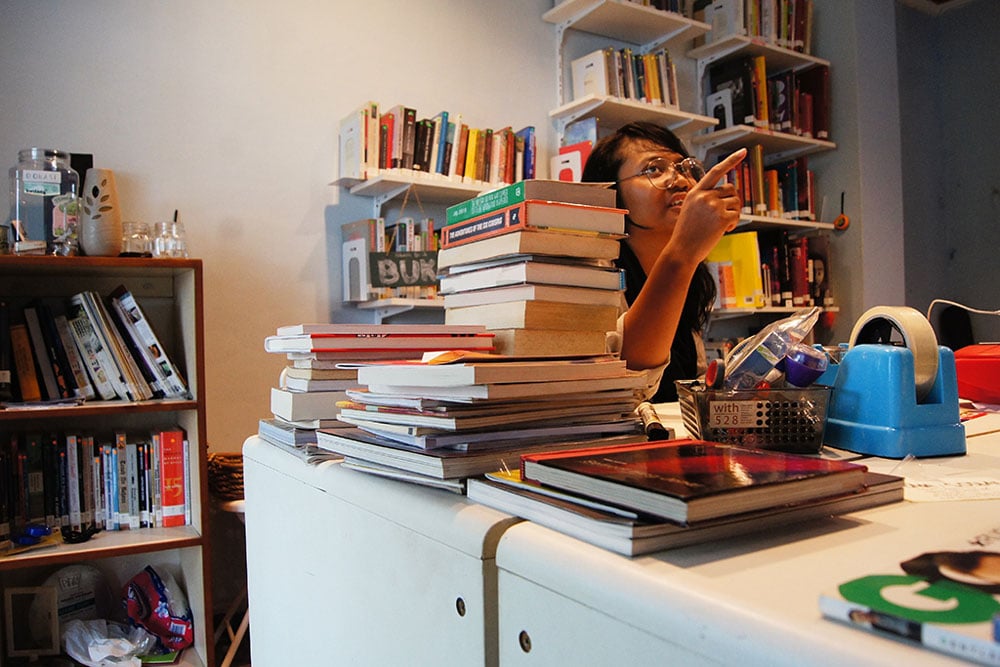 Established in 2014 by members of Cinema Poetica, Kwitang14 is a small quiet library in Central Jakarta that houses books on culture, design, and sociopolitical issues. Cinema Poetica is a group of film journalists, activists, critics, and researchers all sharing the love for films. Therefore, the majority of these books are donated by the members themselves. You can find over English 200 books and also check their catalog online. There are 4 tables and 8 chairs provided, along with a cozy carpeted corner with lots of soft pillows, so you can lie down.  
In order to read these books, you need to bring your ID with you. You are not allowed to borrow the books but are welcome to spend as long as you like. The great thing about this library is that you can come and read their books outside of their opening hours by contacting them a day in advance. Kwitang14 also hosts an event called Nonton Dikwit, where you are invited to watch and participate in film discussions. In addition, there are no entrance or administrative fees!
Address: Jl. Kwitang Raya No. 14, Senen, Central Jakarta
Email: kwitang14@gmail.com
Opening Hours: Friday to Sunday 12.00-18.00 (contact in advance if you want to come outside of opening hours) 
5. Freedom Institute Jakarta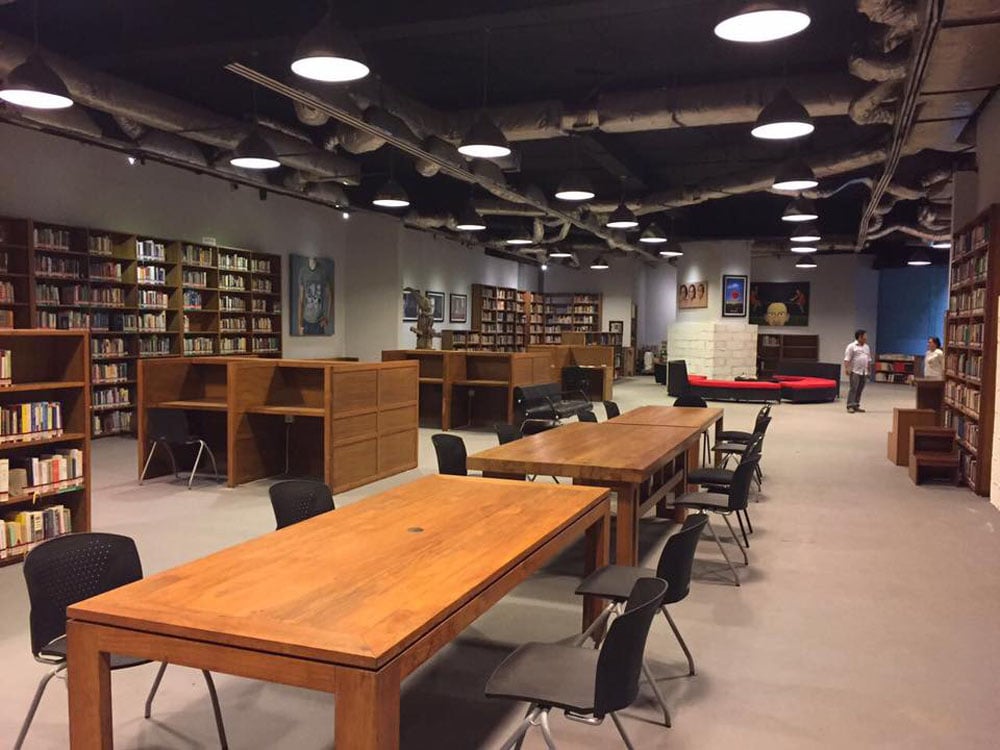 For local bookworms, Freedom Institute is a familiar name. It quickly gained popularity due to its modern wide interior and cool Indonesian paintings. This library in South Jakarta houses thousands of unique books with various genres and topics. There are also books published by the Freedom Institute themselves. 
To enter the library, you need to become a member. But don't worry, you just need to fill out a form and show them your ID. Moreover, there is no membership fee and you are immediately given your membership card. 
This library provides free wifi, couches, desks, and even meeting rooms that are open to the public for no cost at all. A lot of university students tend to come here to study so it may be a little bit crowded during the weekdays. Furthermore, you are not allowed to borrow any books but you may photocopy the pages that you need.
Address: Wisma Bakrie, Jl. H. R. Rasuna Said No.Kav, B-1, Kuningan, Menteng, South Jakarta City
Telp: 021 3100349
Opening Hours: 
Monday 9.00-18.00
Tuesday to Friday 10.00-18.00
6. Erasmus Huis
This instagrammable library offers a cozy ambiance, cool room temperature, and free wifi. This library belongs to The Netherland Embassy in Jakarta, therefore most of the books are in Dutch. However, don't worry because there are books in English and Indonesian, too. Moreover, if you want to visit this library, there is no entrance fee. But, if you want to borrow a book, you have to register as a member first. To be a member, you will be charged Rp30.000,00 for public and Rp15.000,00 for students.
Address: Dutch Embassy Indonesia, Jalan Haji R. Rasuna Said Blok C No.3, Kuningan Timur, South Jakarta
Opening Hours:
Monday – Thursday 9.00 – 16.00
Friday 9.00 – 14.00
Saturday 10.00 – 13.00
7. Goethe-Institut Jakarta
Goethe Institut, an organization that actively promotes German culture and offers cultural cooperation, has an open-for-public library in Jakarta. Therefore, everyone can read or use the media in this library for free. In addition, you will be informed with information about Germany, including books, music, films, and game collections. However, if you want to borrow something from the library, you have to own a membership card and domiciled in Jabodetabek only. To register for membership, you will have to fill a form in the library. Also, don't forget to bring your ID with Jabodetabek address!
Address: Jl. Dr. GSSJ Ratulangi No. 9, Gondangdia, Menteng, Central Jakarta
Phone: (021) 3914042
Opening Hours:
Monday 09.00 – 17.00
Tuesday – Friday 09.00 – 17.00
Saturday 10.000 – 16.00
8. Indonesian Ministry of Education and Culture (Kemdikbud) Library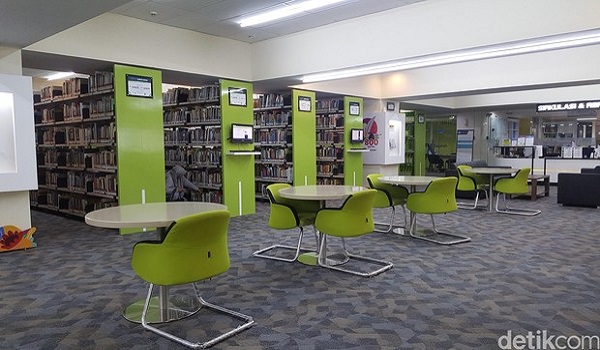 Located beside the f(x) Sudirman Mall, precisely in Building A of Kemdikbud Indonesia, this library in Central Jakarta has many collections of Indonesian books. However, their foreign film and audio collections are also quite broad, from history films to cartoons. If you want to watch the film, they have a theatre room there, equipped with a small TV and headset for each person. Moreover, the entrance fee is free and you don't have to be a member. But, if you want to borrow a book, make sure you bring your ID and an Rp6.000,00 stamp.
Address: Indonesian Ministry of Education and Culture, Building A, 1st Floor, Jl. Jenderal Sudirman, Senayan, Central Jakarta
Website: https://perpustakaan.kemdikbud.go.id/
Opening Hours:
Monday – Friday 08.00 – 16.00
Saturday 09.00 – 14.00