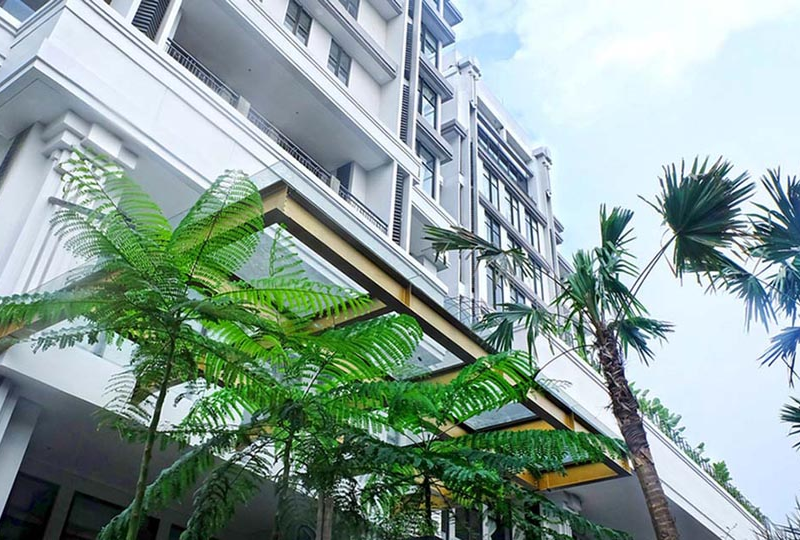 For people trying to find a decent place to live in Cipete, especially when you have deep pockets, daily life will come easy. This is because you'll have a variety of options when picking the right home in Jakarta. To help you out in your search, we have four of the best luxury apartments in Cipete. So, here you go, and choose wisely!
You can also check out other different type of apartments in South Jakarta, even the reguler one!
The first luxury apartment in Cipete is for those wanting to more glamour when it comes to their residence. Because that it's part of The Dharmawangsa, many of the high-quality luxurious benefits spill-over to Dharmawangsa Residence. Dharmawangsa Residence combines the peace and quiet for a home and the closeness to important areas of Jakarta. Among the areas that are significantly close to Dharmawangsa Residence are Blok M and Senayan. Kebayoran Baru is also easily accessible from the residence.
Residents who are frequent shoppers can put their minds at ease since Dharmawangsa Residence is conveniently close to several notable malls. Malls such as Dharmawangsa Square, Senayan City, Plaza Senayan, and Blok M Square are just the tip of your shopping solutions' iceberg. As for transportation, public transportations and ride-hailing apps will almost always be ready at any time for residents of the area. Quite the catch-all option for most people, especially considering the location.
Address: Jl. Dharmawangsa VIII No.26, RT.1/RW.2, Pulo, Kec. Kby. Baru, Kota Jakarta Selatan, Daerah Khusus Ibukota Jakarta 12160
Price: Starting from 3BR Rp 17,000,000.00/month
Facilities:
Jogging track
Fitness center
Squash track
Indoor swimming pool
Outdoor swimming pool
Cognac lounge
Cigar store
Board room
Meeting room
Restaurant
Bar
Another luxury apartment in Cipete is Essence Darmawangsa. This residence is one of the more famous residential areas in Jakarta, with many things to offer to its residents, similar to its sister neighborhood, Kemang. Conveniences such as cafes, beauty clinics, and restaurants are only the start of the benefits of living in Essence Darmawangsa. This particular selection on our list is also very valuable due to its closeness to international schools, perfect for families. And to get to one of these international schools, Mentari International School Jakarta, it just takes 5 minutes on foot!
Especially for places in South Jakarta, such as SCBD, Essence Darmawangsa Residence can get there quite easily than others. For getting some food, be it breakfast, lunch, or dinner, the location has you covered for eating out. Cuisines ranging from, Indonesian, Chinese, Japanese, Korean, and Western menus are all available in Darmawangsa. And don't worry, there are also vegan options for residents who want to go meat-free. Should you get bored with them, you can always go to Blok M or Kemang to try new things for your taste buds!
Address: Jl. Darmawangsa-X No.86, RW.8, Cipete Utara, Kec. Kby. Baru, Kota Jakarta Selatan, Daerah Khusus Ibukota Jakarta 12150
Price: Starting from 3BR Rp 21,650,000.00/month
Facilities:
Fitness center
Reflecting pool
Sauna
Cafe
Playground
Business center
Meeting room
24-hour security
It is one of the best luxury apartments in Cipete. As a serviced apartment, residents can be well-relaxed knowing that the location alone provides balance for business and leisure. Due to it being located in South Jakarta, going to work or having some fun as a resident will have a very achievable equilibrium. With its complete decor and high-quality facilities, Goodrich suites can assure you of the best memories possible hustling through Jakarta's concrete jungle. The atmosphere will give you the overall quality of luxury, modernity, and business, a character for the area.
This apartment is an easily accessible venue, with routes even going with ease to major business districts of South Jakarta. This makes commuting less troublesome for those who frequently do inner-city travels. The nearby neighborhoods of Kemang and Pondok Indah are also easily accessible by residents there.
Shoppers of the area usually stroll around Kemang Lippo Mall and Pondok Indah Mall when wanting to satisfy their inner shopaholic. For foodies, the malls around the area should have many options to offer, from eastern cuisine to western, and even fusion. To spice up the night, head to the various bars available such as Beer Garden to crack open a cold one. Maybe if you want something a little more classy, head to McGettigan for some creative cocktails.
Address: Jl. Pangeran Antasari No.60, Cipete Utara, Kec. Kby. Baru, Kota Jakarta Selatan, Daerah Khusus Ibukota Jakarta 12150
Website: https://artotelgroup.com/hotels/artotel-portfolio/goodrich-suites-jakarta
Price: Starting from Rp 13,500,000.00/month (starting price)
Facilities:
Swimming pool
Restaurant
Bar
Meeting room
24-hour security
Last but not least, a midrange luxury choice in Kemang, Prapanca Apartment is one of the best luxury apartments in Cipete. It serves residents with the utmost quality owing to the developer's years of experience. PT. Pudjiadi Prestige will manage your stay here with the utmost excellence and architectural expertise. The apartment is near many public places and it is even only 10 minutes away from the Jakarta Inner Ring Road Toll.
Because the Apartment is located in Pangeran Antasari, it is very close to another main route which is Kemang Raya. The area is thriving with hotels, bars, and restaurants to keep the spirits of Jakartans there alive. This area makes it a favorite place to stay for people who live in Jakarta, ex-pats, and Indonesians alike!
Shoppers who plan to live in Prapanca Apartment should know that it is near three malls which are Lippo Kemang Mall, Dharmawangsa Square, and Cilandak Town Square. The only hardship here is to only pick and choose between these choices.
Address: Jalan Pangeran Antasari No. 14, Kebayoran Baru, Kemang, South Jakarta 12150
Website: https://prapancaapartment.co.id/
Price: Starting from 3BR Rp 22,400,000.00/month
Facilities:
Gym
Swimming pool
Jacuzzi
Tennis court
Basketball court
Garden
Salon
Karaoke room
Restaurant
That's it, that's all of 'em! We hope we've picked the right luxury apartments in Cipete that at least can cater to one of two of your preference. Do note that it's always better to ask the management team directly and to check the place for yourself! So, put this article on the bookmark, to help you out in the future.
Find out more about our co-living recommendations here on our main website!