Are you currently in charge of accommodation division in an event or family gatherings? Finding a way to bring all of the guests to the venue can be quite tricky and challenging. Moreover, you are limited by the budget. If you happen to be a business owner or work for an institution, commonly, you need certain services from bus operators in Jakarta. The idea of bus operators is to facilitate either individual or business owners to fulfill the needs of transportation in their events. For instance, weddings, parties, gatherings, family events, vacation, birthday parties, business, governmental events, or anything. Unlike any other public bus, the user can freely decide the routes on their own just like you rent a taxi or private car.  
Read also: 5 Public Transportation Apps You Should Have in Jakarta
Guide to Train Travel in Indonesia
In Jakarta, there are many private bus operators you can use to help you on your D-day. Some of the well-known private bus operators are Agra, Mayasari Bakti, White horse, and many more. Some of them also offer the facility of intercity with affordable prices rather than renting private cars or using airlines. For a private event, some also offer luxurious facilities to help you with your big days or either to serve your clients. The facilities including comforts, toilets, entertainment such as video games, karaoke, meals, and cozy seats.
You don't have to worry anymore about a lack of transportations or when somebody can't come to your events due to the transportation issue. Below we listed several bus operators, their routes, and the prices to help you on your big day or your events. For further details about the price, the routes they provide, & the facilities you can try to contact them on their website or by phone numbers.
1. Mayasari Bakti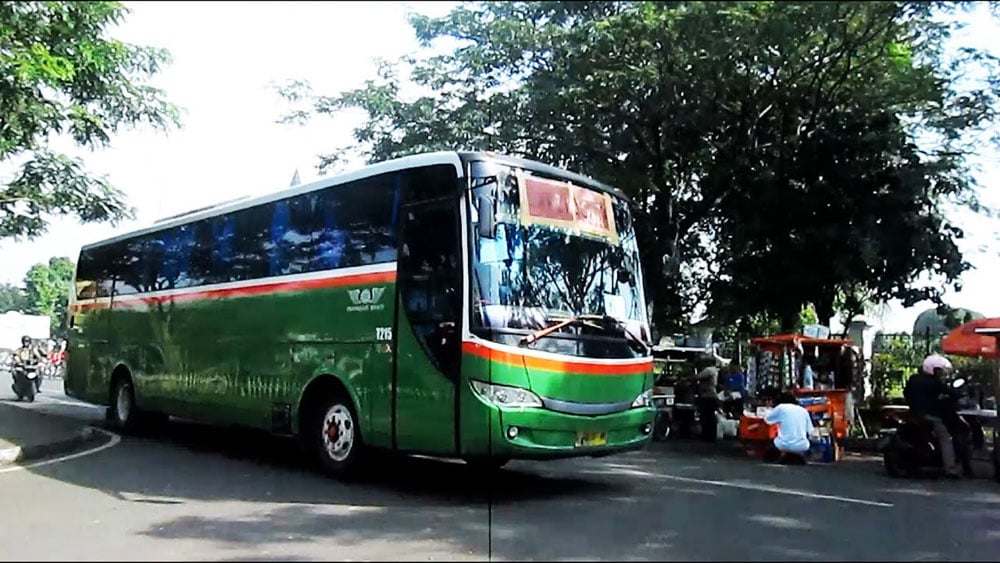 Mayasari Bakti is one of the private bus operators in Jakarta. This company also became one of the most company that produced the most city bus around Jakarta. In 2016, Mayasari offered a proposal to unite with PT Transjakarta to our former governor at that time which was Basuki Tjahaja Purnama. Ever since that time, Transjakarta and Mayasari Bakti cooperated and Mayasari Bakti is paid per kilometers.
If you want to rent this private bus for your events, the tariff will be added according to the distance. For public transport, the routes of this bus are varied and have 28 routes of the bus with 457 bus stops. The bus has been operated from 1964 until now.
The longest line of this bus is bus number AC121 which covers the area from Blok M to Cikarang station with 52 km and has 41 stops. The shortest line goes to bus number P14 from Tanjung Priok to Halte Tanah Abang with 17kms and has 45 stops.
The bus itself has several types including Mercedes Benz OH and O 306. They offer with or without air-conditioner (patas AC) type of bus and the price is much cheaper without an air conditioner.
Address: Jl. Teuku Umar, Raya Cibitung-Bekasi, Telaga Asih, Kec. Cikarang Bar., Bekasi, West Java 17530
Website: http://mayasari-bakti.big.web.id/ind/1269-1155/Mayasari-Bakti_28909_stie-thamrin_mayasari-bakti-big.html
2. White Horse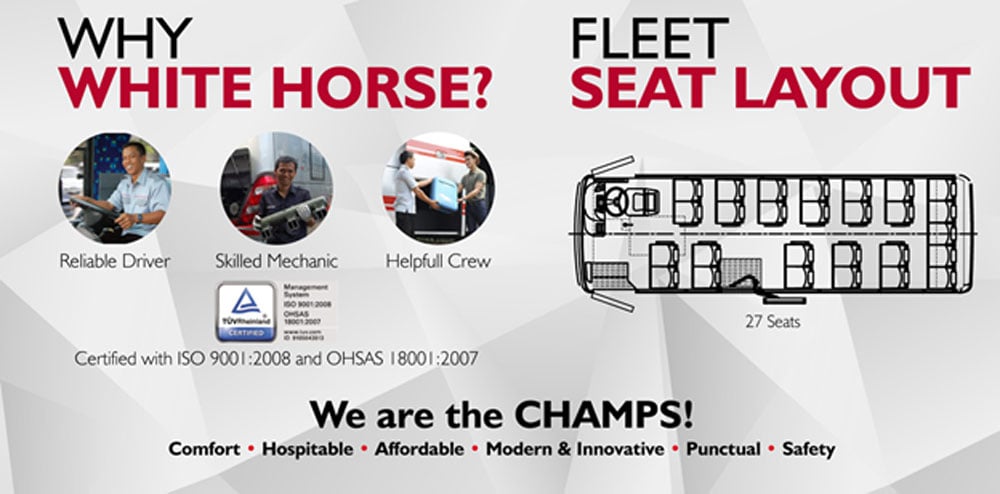 White Horse or widely known as PT WEHA Transportasi Indonesia has been providing service in transportation for more than 37 years. It offers services from airport pickup services, weddings, company events, school buses, and transportation MICE. Its clients coming from different backgrounds from big companies, governmental institutions, banking, telecommunication, tourism, and many more.
The bus provided by Whitehorse ensures the comforts from the facilities inside the bus, friendly and easy-going crews, affordable, modern & innovative, on time, and also ensures safety for the passengers. The facilities inside the WhiteHorse bus including luxurious interior, reclining seat, personal AC & headlight, big baggage, entertainment such as TV, Playstation 3, GPS, and even WIFI. For business, trip Whitehorse offers another bus specified for the business purpose called WEHA ONE.
WEHA one is designed with luxurious style and complete facilities and very suitable for roadshows, product launching, meeting with clients, marketing events, vacation for office and family, and many more. For further info and reservations including price & details, you may visit their official website or contact them through their phone number.
Official Website: https://whitehorse.co.id/how-to-order
Address: Jl. Husein Sastranegara No.111 RT.5/RW.8, Rawa Bokor, Benda – Tangerang, Banten – Indonesia 15125
Phone Number: +62 21 2967 5555
Reservation: +62 851 0055 1445
Operational: + 62 811 1626 648 / +62 813 1855 5578 (Chat only)
3. Agra Mas (Anugerah Mas Group)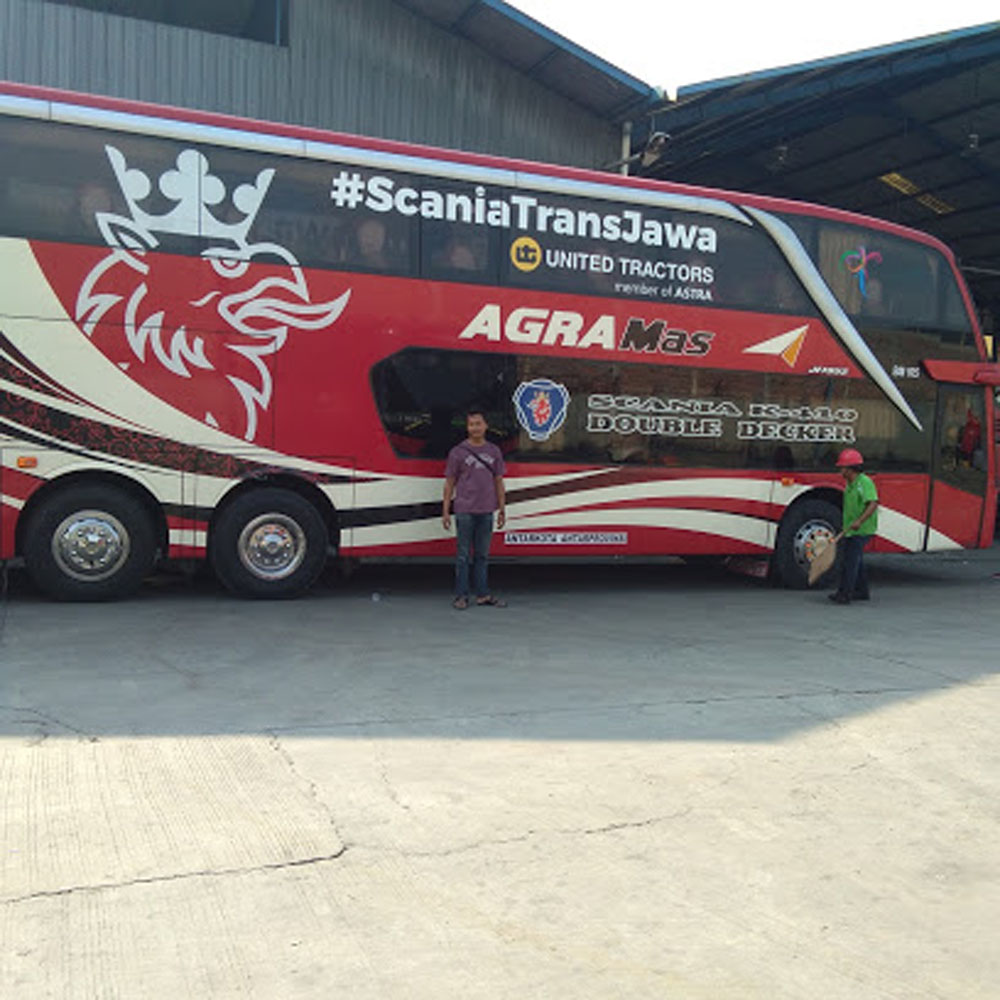 It is an otobus company based in Cipayung, East Jakarta. It provides buses with routes between provinces, inter-city, and even to the airport ( Soekarno Hatta International Airport). For the inter-city route, it provides service from Poris Plawad Tangerang station with destinations such as Pasar Rebo, Cilandak, Fatmawati, Cikarang, Cibinong. Agra Mas also provides night bus from Jakarta, Tangerang, Bogor, Bekasi to Solo, Giribelah Wonogiri, Pacitan, Madiun, Purwantoro, Matesih, and Ponorogo.
If you want to rent this bus for your event, they also have a special double-decker bus, where it consists of 2 levels of buses with great facilities. Agra Mas has 3 different types of class, which are VIP, Economy AC, and Executive. For economic AC class, it uses 2-2 seat configuration, while VIP and executive use reclining seat configuration with facilities such as LCD, AC, TV, toilet, pillow, and free 1x meal. For the executive, you will also get additional free snacks. In VIP class you will get in a total of 36 seats, for executive 32 seats and a double-decker bus, you will get 50 seats. The price for the intercity route starting from 5 thousand rupiahs up to 50 thousand rupiahs. For private service, you can contact them for further details and information.
Address: Jl. Bambu Kuning Utara No.2, Bambu Apus, Kec. Cipayung, East Jakarta, Daerah Khusus Ibukota Jakarta 13890
Phone Number: (021) 29389971
Those 3 above, are the top-notch private bus operators that can help you in terms of transportation. After all, the facilities, the quality, and the trade records of those companies are pretty great to facilitate you on your important day.