Jakarta is a metropolitan city in Indonesia. Many places you can visit. This is the best city to do business here. It will be complete if you know some of the best apartments in Jakarta. In this article, there is an apartment that serves well and comfortably as a place to live. Moreover, it can be used for investment too. So, here is our list of serviced apartments or also known as an aparthotel in Jakarta. Don't miss it!
Read also: Best Studio Apartments in Jakarta
1. The Mansion Kemayoran Jasmine
With its position right next to Kemayoran Golf Course, some residents can enjoy beautiful views of the golf course. With its strategic location, this apartment is very close to the Sunter and Kelapa Gading areas. So, The Mansion Kemayoran Jasmine is not far from several places in the area. Such as Ancol, Mall Artha Gading, Mall Kelapa Gading, Mall of Indonesia, Food Centrum, and JIEXPO. Several international schools are also located around this apartment, namely Gandhi International Shool, Jubilee School, and Universal School.
This apartment is also equipped with gym facilities, multipurpose room, jogging track, laundry, cable TV, internet, security, swimming pool, playground, restaurant, convenience store, and ATM.
Address: Jl. Trembesi, Pademangan Tim., Pademangan, Kota Jkt Utara, DKI Jakarta 14410
Read more: Serviced Apartments in North Jakarta
2. Puri Orchard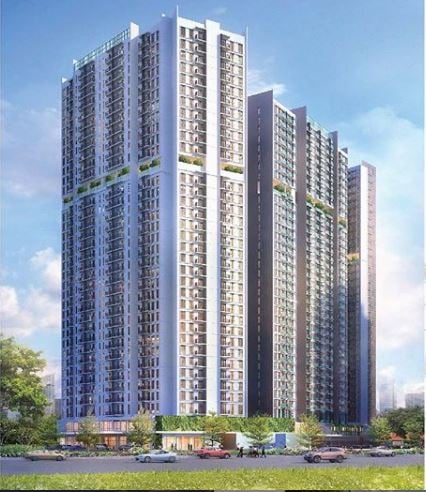 This serviced apartment or aparthotel located in Jakarta is popular amongst employees. Many employees who work in Puri CBD choose to stay here because its close distance. Besides, Puri Orchard is also near various public facilities such as well-known schools (IPEKA Puri and Notre Dame) and Pondok Indah Puri Indah Hospital. For access to transportation, there is the Rawa Buaya Station in the Semanan Indah Park area, located opposite Puri Orchard. 
Want to find entertainment on weekends? Several shopping centers can be visited such as Mall Puri Indah and Lippo Mall Puri. This apartment also has facilities such as a gym, multipurpose room, jogging track, laundry, cable TV, internet, security, swimming pool, playground, restaurant, convenience store, and ATM.
Address: Jl. Raya Adicipta Kav. 8 Lingkar Luar Barat, Rawa Buaya, Cengkareng, Kota Jakarta Barat, DKI Jakarta
Check our recommendation about serviced apartment in West Jakarta here.
3. Ciputra World 2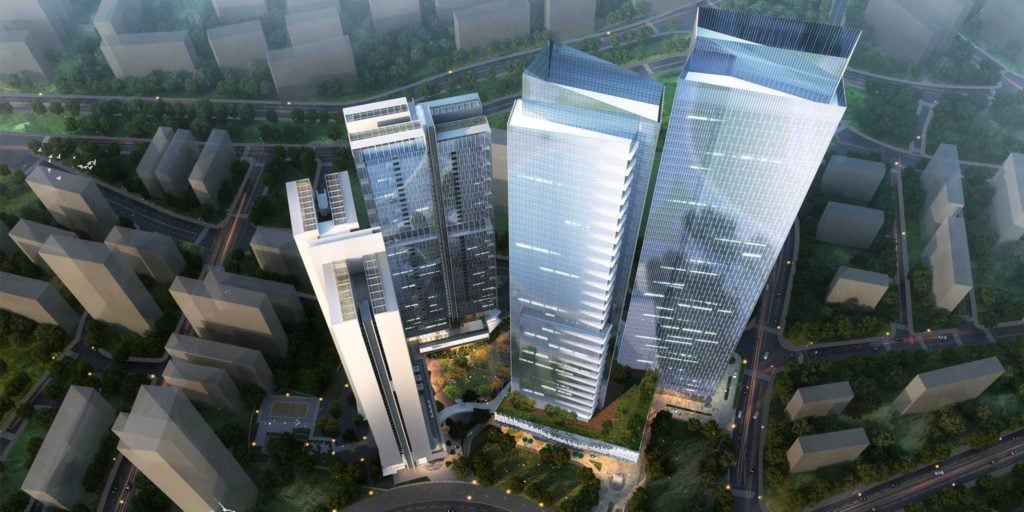 Located in the Prof. Dr. Satrio area, Ciputra World 2 serviced apartment is in a very strategic location in Jakarta. Besides having direct access to the Semanggi Tollgate, also both Soekarno-Hatta and Halim Perdanakusuma Airport, Ciputra World 2 is also close to many large shopping centers. There are Plaza Semanggi, Ambassador Mall, Lotte Avenue Ciputra World, Kuningan City, and Kasablanka City. So, you can shop for daily necessities easily.
From Ciputra World 2 Apartment, residents can walk to South Jakarta offices such as Tokopedia Tower, DBS Tower, Sampoerna Strategic, and Standard Chartered. This apartment is also equipped with the existing facilities in the previous serviced apartment.
Address: Jl. Prof. DR. Satrio No.7, RT.3/RW.3, Karet Kuningan, Setia Budi, Kota Jakarta Selatan,
You might be interested to check best serviced apartment in South Jakarta
4. Taman Anggrek Residence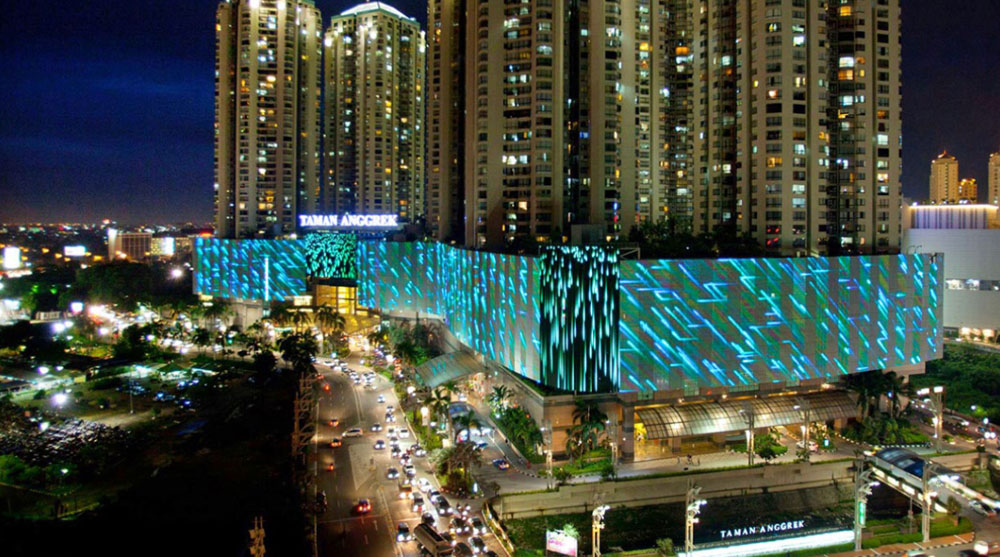 Last but not least, we have Taman Anggrek Residence. This apartment is an exclusive serviced apartment or aparthotel located in Grogol Petamburan, Jakarta Barat. The public facilities are easy to reach from this apartment, especially shopping centers. The nearest one is Taman Anggrek Mall, which is connected to the apartment. You can also choose the more affordable ones like Ciputra Mall and Seasons City that are 9-10 minutes away from Taman Anggrek.
You can find many facilities in this residence such as BBQ place, piano room, karaoke, library, and mini theatre. It also has many sport centers like a swimming pool, boxing room, courts, sauna, jogging track, and so on. There are also some extra facilities like supermarkets, coffee shops, restaurants, etc. 
Address: Jl. Tj. Duren Timur 2, RT.12/RW.1, Tj. Duren Sel., Grogol petamburan, Kota Jakarta Barat, DKI Jakarta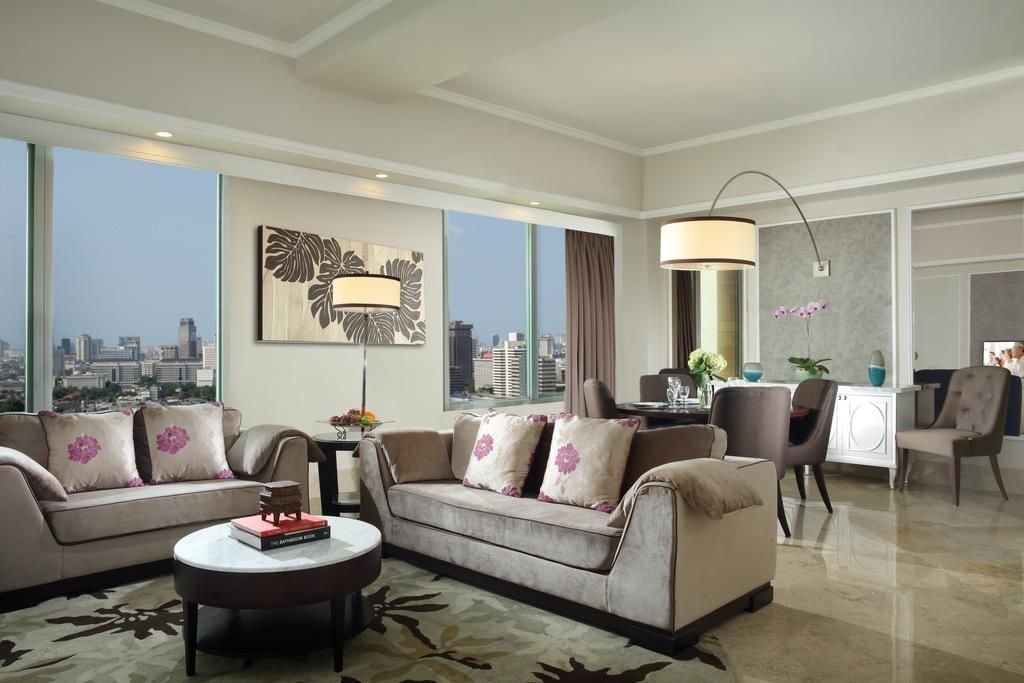 This serviced apartment is well known by residents of Jakarta. Ascott offers elegant apartments with Dutch colonial-style interiors. Each unit is fully equipped with complete furniture, entertainment system, and phone line. Ascott Jakarta is located in Tanah Abang and not far from several shopping centers and tourist attractions such as Grand Indonesia, Plaza Indonesia, National Monument, and the National Museum.
This apartment is equipped with a 24-hour front desk, 24-hour security, CCTV, aerobics room, on-call doctor, gym, laundry service, restaurant, sauna, swimming pool, tennis court, and wifi.
Address: Jl. Kebon Kacang Raya No.2, Kb. Melati, Tanahabang, Kota Jakarta Pusat, 10230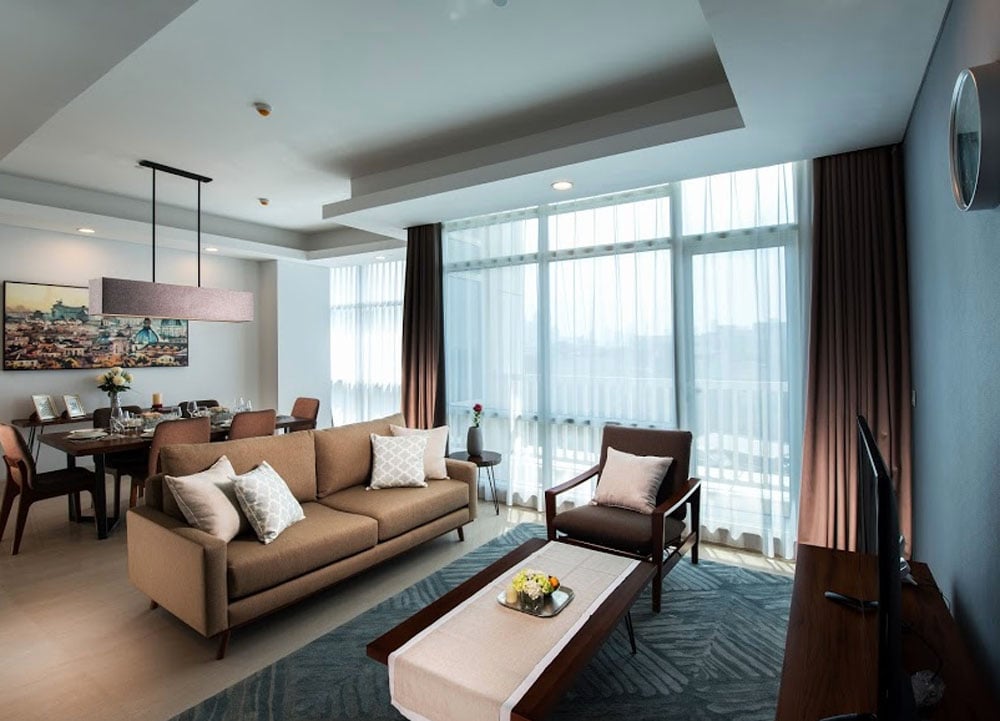 This apartment is located in the Kebayoran Baru area and has become one of the favorite serviced apartments among expats. The location is also close to shopping centers and several schools such as Pondok Indah Mall, Gandaria City, Blok M Plaza, Jakarta International School, and French International school.
This apartment has a luxurious and modern design and services so that residents are more comfortable living in this apartment. They also offer great facilities such as 24 hour security, children's playground, fitness center, swimming pool, ranch market, bistro, restaurant and salon.
Address: Jl. Barito II No.56, RT.4/RW.4, Kramat Pela, Kec. Kby. Baru, Kota Jakarta Selatan 12130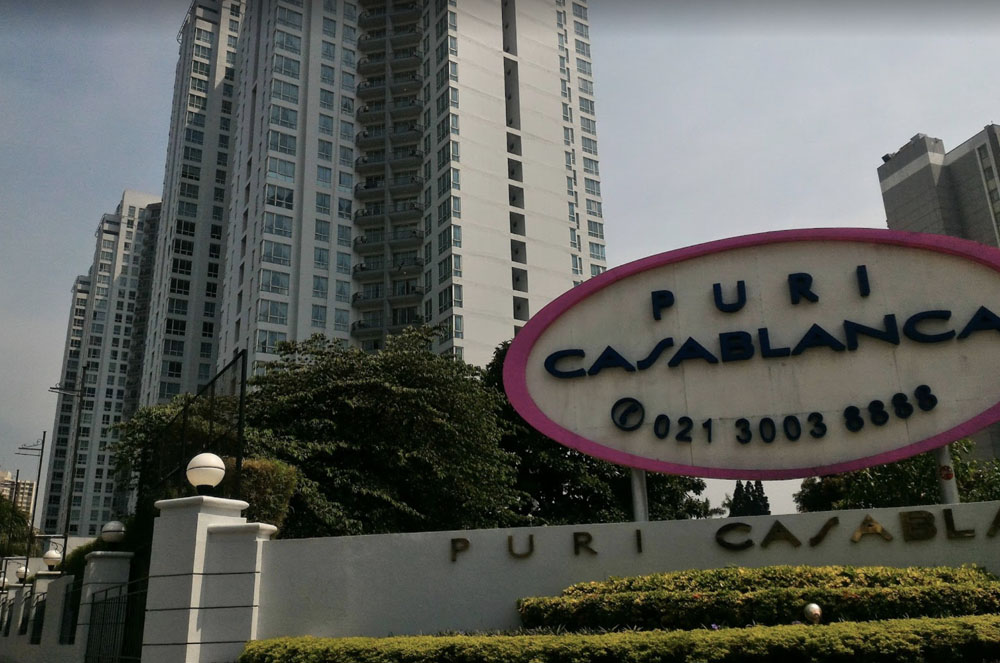 The Puri Casablanca apartment units are fully furnished and designed with an elegant design. The location is strategic, close to the CBD area so it is very convenient for work and fun. A wide variety of shopping centers are only minutes away by car. If you are sick, you can go directly to the Metropolitan Medical Center (MMC). In addition, Puri Casablanca is also close to Monas, Kota Tua, Dufan, and Taman Mini.
This serviced apartment has complete facilities such as a swimming pool, tennis court, golf course, jogging track, children's playground, 24/7 CCTV, 24 hour security, supermarket, and a 24-hour receptionist.
Address: Jl. Puri Casablanca No.1, RT.4/RW.12, Menteng Dalam, Kec. Tebet, Kota Jakarta Selatan 12870
CLICK HERE TO RENT FLOKQ @ PURI CASABLANCA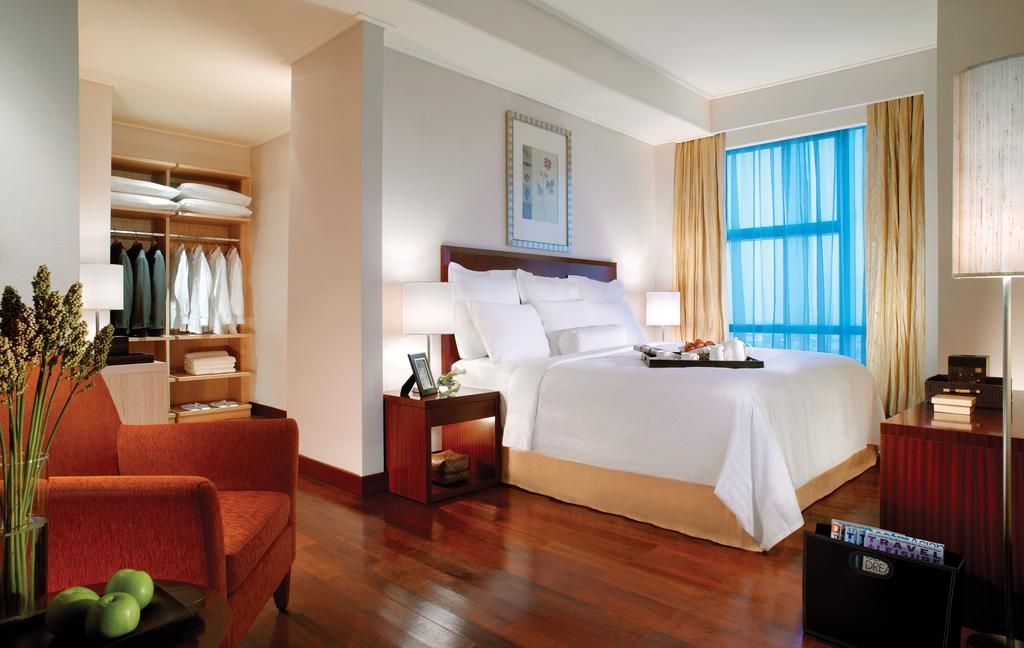 Located in Setiabudi, South Jakarta, this high-rise apartment is strategic because it is close to business and shopping centers, stations, and restaurants. From this apartment, you can visit Mencos Market, Semanggi Plaza, Food Hall, Citywalk Sudirman, Mare Nostrum, Paulaner Brauhaus, Blowfish, and Sudirman Station, as well as Setiabudi MRT Station.
In this luxurious apartment, they provide facilities such as a sauna, fitness room, jogging track, table tennis, swimming pool, multipurpose room, wi-fi, laundry, cleaning service, security, periodic maintenance, and 24-hour assistance.
Address: Indofood Tower, Sudirman Plaza, Jl. Jend. Sudirman No.Kav 76-78, 12910
The apartment complex is strategically located and strategic enough to travel anywhere by car, because it is located on the TB Simatupang arterial road and very close to the Jakarta Outer Ring Road. Only 15-20 minutes by car to reach Senopati, Kemang, and Senayan, where many landmarks and business centers are located. Such as Citos, KOI Restaurant, Jenja, Savoi, Beer Bro, and The Replay.
Ra Residence is also equipped with facilities such as 24-hour security, laundry, and housekeeping. Besides that, they also have a fitness center, swimming pool, BBQ area, children's playground, and meeting rooms.
Address: Intan No.25 1 2, RT.1/RW.2, Cilandak Bar., Kec. Cilandak, Kota Jakarta Selatan 12430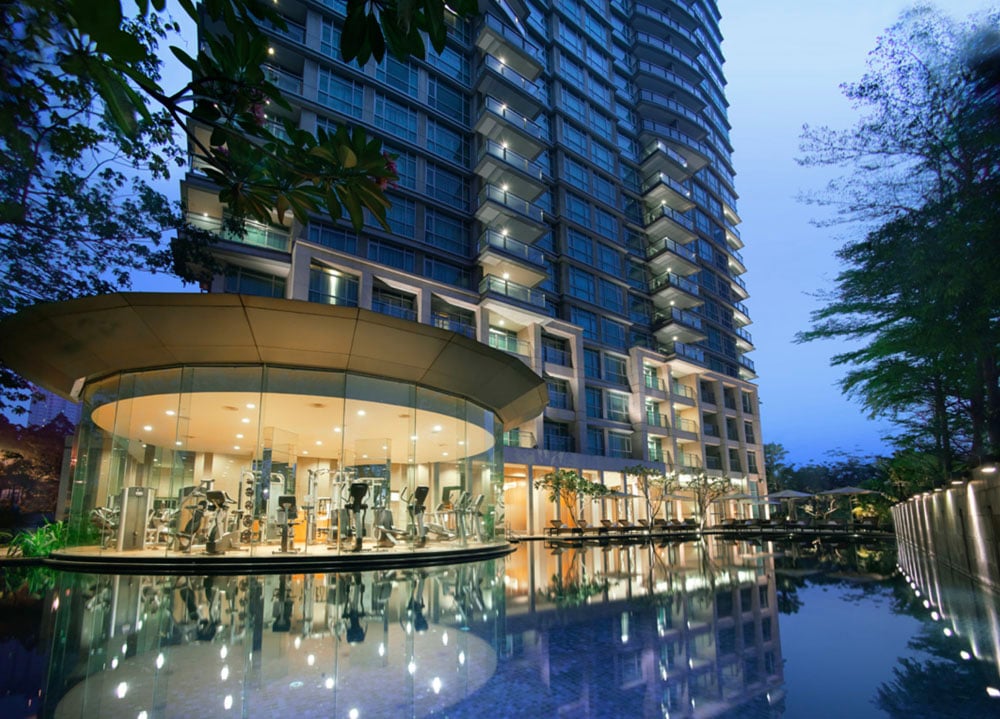 Comfortably blending modern comfort with historic architecture, Shangri-La Residence is a luxury apartment located in Tanah Abang. This serviced apartment offers panoramic views of Jakarta. Due to its strategic location, it is very close to Grand Indonesia and Citywalk Sudirman. Other than that, this apartment has easy access to Karet train station, Dukuh Atas MRT station, and Sudirman CBD.
To ensure the safety and privacy of Shangri-La residents, a 24-hour centralized surveillance system, private entrance to each residential unit, and exclusive lift access with fingerprint identification system are provided. The high-class facilities provided by Shangri-La range from a swimming pool, barbecue area, playground, function room, dining facilities at the Verandah Lounge, fitness center, sauna and jacuzzi, tennis court, and parking area. Shangri-La also organizes weekly activities such as pilates, yoga, Zumba, TRX, Muay Thai, cooking and even grocery shopping.
Address: Jl. Jendral Sudirman Kav.1, RT.10/RW.11, RT.6/RW.8, Karet Tengsin, Kota Jakarta Pusat 12910
The apartment and its complex are located near to the center of renowned Jakarta's business areas, such as Sudirman, Senayan, Kemang, and also business centers in Central Jakarta. If you plan to go to SCBD offices and buildings, you can take a short walk as it is located between SCBD and Jalan Senopati.
Places near Senopati Apartment include, Pacific Place, Plaza Senayan, Gioi, Flip Burger, Paopao, Monty's, and MRT stations. They also have complete facilities such as 24 hour security, CCTV, housekeeping, jacuzzi, lounge, swimming pool, wi-fi, and maintenance.
Address: Jl. Senopati No.Kav. 41, RT.8/RW.2, Senayan, Kec. Kby. Baru, Kota Jakarta Selatan 12190
CLICK HERE TO RENT A ROOM @ SENOPATI APARTMENT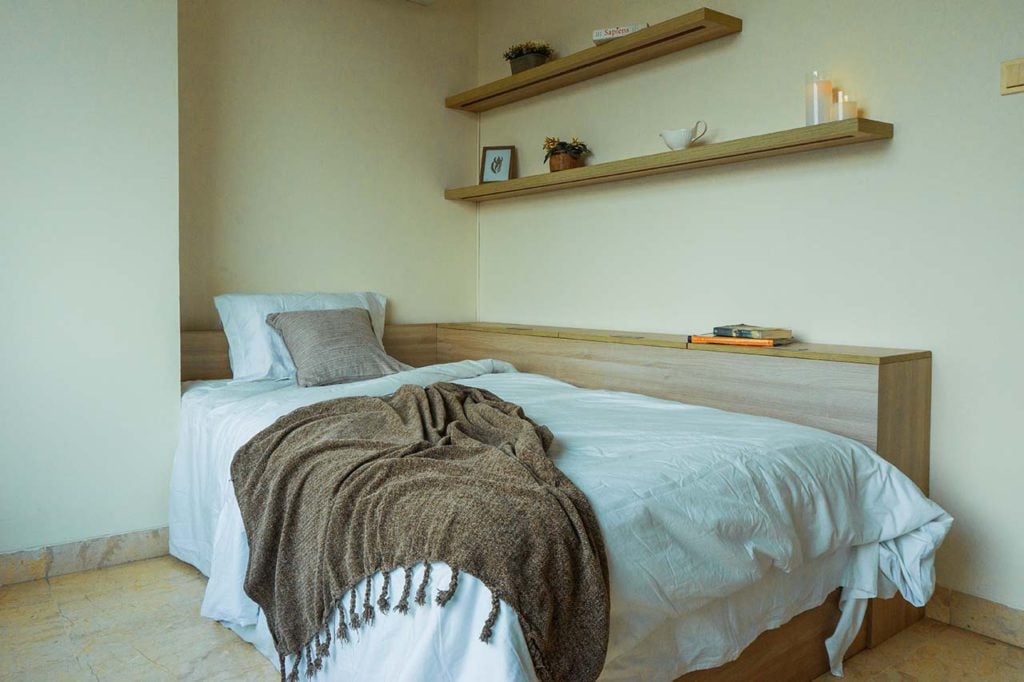 With a charming landscape and modern infrastructure, Parama Apartments offer a residence that is strategically located for you. Transportation is hassle free as the nearest MRT station is only 3 minutes away and for those traveling by car or using an online taxi, the Pondok Pinang toll gate is only 1 minute away. This location is also convenient for Prasetiya Mulya students because the Cilandak campus is only a 2-minute walk away.
Parama Apartments are equipped with full AC rooms, high-speed wifi access, 24-hour security, various recreation areas such as tennis courts and swimming pools, and many more. Don't worry about getting bored because Parama Apartment is surrounded by malls, museums, and even a golf park which is less than 20 minutes away. Not feeling well or need a quick medical check-up? Siloam TB Simatupang Hospital is only 5 minutes away.
Address: Jl. R.A.Kartini No.6, RT.16/RW.6, Cilandak Bar., Kec. Cilandak, Kota Jakarta Selatan 12430
CLICK HERE TO RENT A ROOM @ PARAMA APARTMENT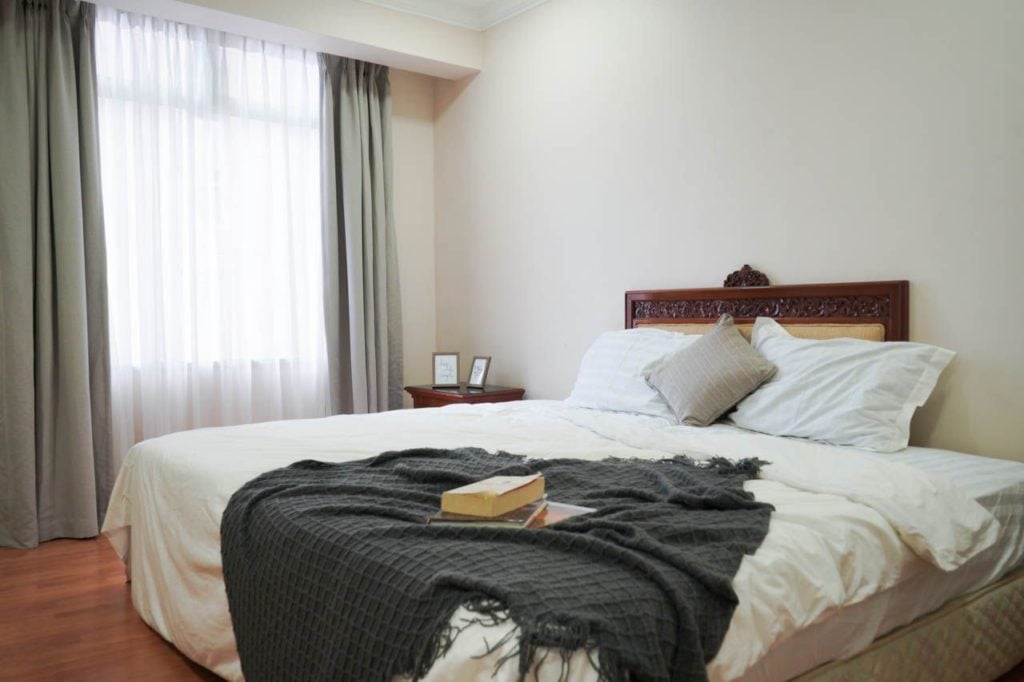 Precisely located in Sudirman, one of the most popular areas in Jakarta, this apartment is surrounded by several well-known shopping centers such as Plaza Semanggi, Plaza Indonesia, fX Sudirman, and Grand Indonesia. Residents of Istana Sahid Apartment also have easy access to other business centers in Jakarta, such as Sudirman, Kuningan, Senayan, Thamrin, and Kemang without having to be stuck in Jakarta traffic jams.
Istana Sahid Apartment offers various luxurious facilities to its residents, including a large pool, indoor gym, children's playground, restaurant, ATM, pharmacy, clinic, and beautiful garden. The apartment provides a convenience store and dry cleaning services.
Address: Jl. Jend. Sudirman No.Kav 86, RT.10/RW.11, Karet Tengsin, Kecamatan Tanah Abang, Kota Jakarta Pusat 10220
CLICK HERE TO RENT A ROOM @ ISTANA SAHID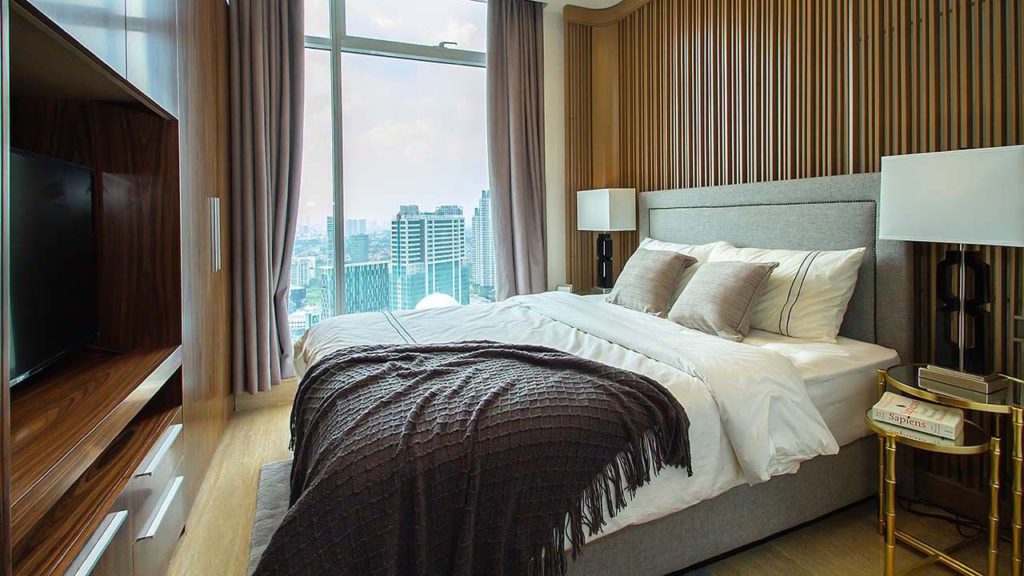 The location is a big plus for South Hill Apartments. Located on Jalan Denpasar, making South Hill residents only minutes away from the heart of Jakarta. Within a few tower blocks, you can find various buildings and malls such as Mall Ambassador, Setiabudi One, Mall Kota Kasablanka, and Rasuna Epicentrium which offer a variety of food and retail options.
Apart from that, you can find high quality amenities and amenities that are provided by the apartment. Some of the facilities that you can enjoy are a swimming pool, outdoor gym, ATM, minimarket, movie room, and even a billiard room.
Address: Jl. Denpasar Raya, RT.16/RW.4, Kuningan, Karet Kuningan, Kecamatan Setiabudi, Kota Jakarta Selatan 12950
CLICK HERE TO RENT A ROOM @ SOUTH HILLS
Located on Jalan Menteng Raya, this residence is quite strategic. If you work in Thamrin, Rasuna Said, and South Sudirman, you don't have to worry about being late for work. Your shopping can also be done at the most luxurious shopping centers in Jakarta, Grand Indonesia, and Plaza Indonesia.
Moreover, you can enjoy the high quality facilities and amenities provided by this residence. Some of the facilities you can enjoy are a swimming pool, a fully equipped 24/7 fitness center, spa, and sauna. You can also enjoy the games room and relaxation room provided.
Address: Jl. Menteng Raya No.60, RT.3/RW.9, Kb. Sirih, Kec. Menteng, Kota Jakarta Pusat 10340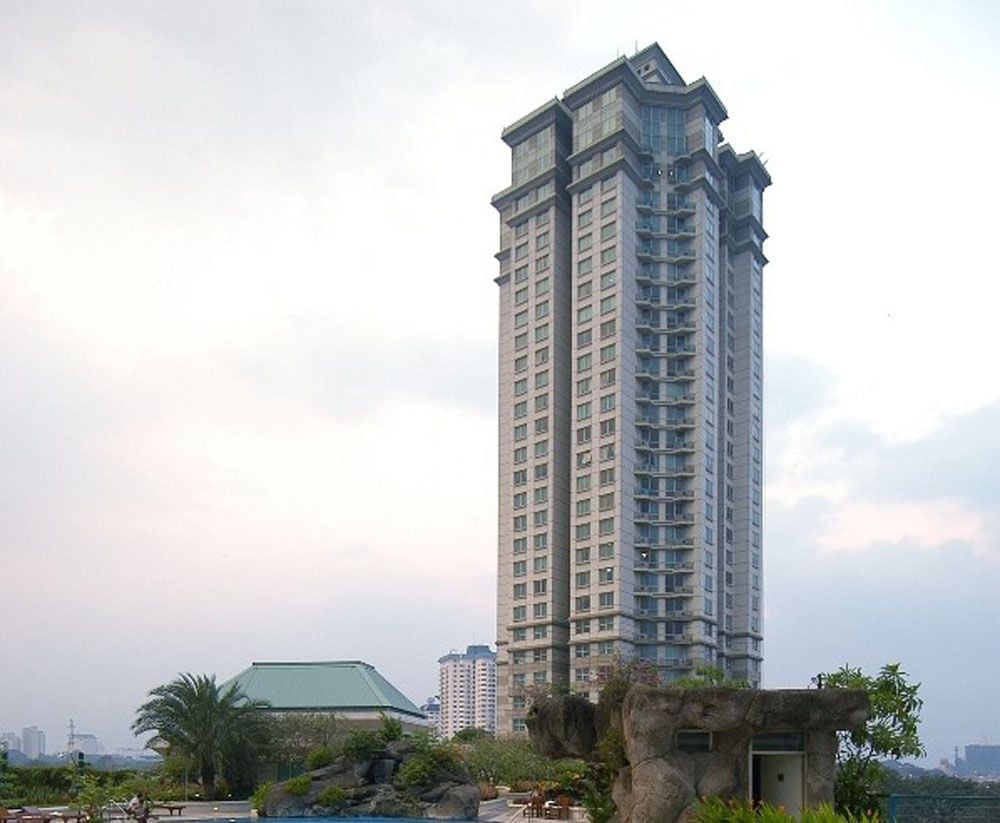 The location is in sub-district Tanah Abang, Central Jakarta. It is quite close to Jalan Sudirman which is about 400m away. The nearest landmarks are Grand Indonesia and Citywalk Sudirman which can be reached only 5-6 minutes by driving. Both definitely provides some good shops and outlets for your daily needs. This apartment is also close to some public places like hotels such as Shangri La, office buildings like the World Trade Center, hospitals such as Siloam, and schools such as the London School of Public Relations.
Furthermore, this apartment provides several facilities and amenities for the residents. Sports centers such as a small yet relaxing swimming pool, jacuzzi, gym with good service and trainers, tennis court, and sauna are provided around this building. You could also ask your children to play outside at the kid's playground. Mini-market for daily convenience is also easily reachable by the residents. Holding a business meeting? You can use the meeting rooms in the building as well.
Address:  Benhil, Jl. Bendungan Hilir Karet Tengsin, Bendungan Hilir, Kota Jakarta Pusat 10220
17. Morissey Serviced Apartment
Morrissey Serviced Apartment is located in the center of the hustle and bustle of Jakarta. In this apartment you can enjoy easy access to the city center and culinary delights. Such as Grand Indonesia, National Museum, Gambir Station, Gondangdia Station, and Palada Restaurant.
Morrissey offers units with industrial designs and complete facilities, such as comfortable beds, modern toiletries, lounge, TV, air conditioning, and others. In addition, there is also a swimming pool, coffee shop, restaurant, gym, and many more.
Address:  Jalan KH. Wahid Hasyim, Kb. Sirih, Kec. Menteng, Kota Jakarta Pusat 10340
18. Fairmont Hotel and Service Apartment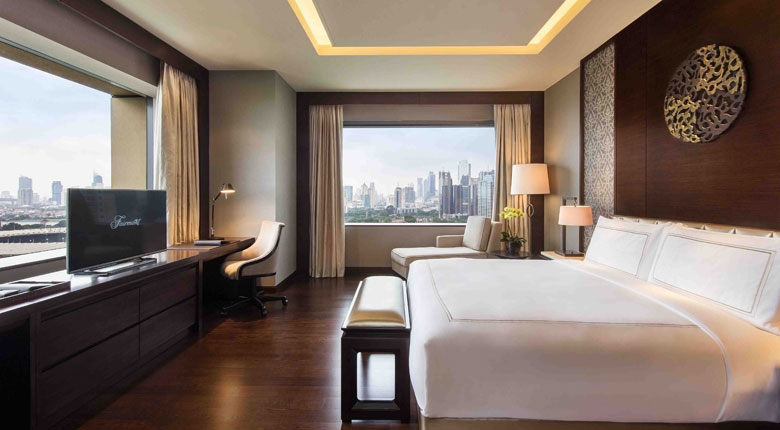 Fairmont is located in Senayan and very close to the Indonesia Stock Exchange, the Jakarta Convention Center, and is directly connected to the Plaza Senayan shopping mall and the Sentral Senayan office tower.
Fairmont Hotel and Service Apartment offers residential facilities in the form of a kitchen and dining area for long-staying guests. Sky Suites at Fairmont allow guests to enjoy the facilities available
Address: BUNG KARNO Jl. Asia Afrika No.8, Gelora, Tanahabang, Jakarta 10270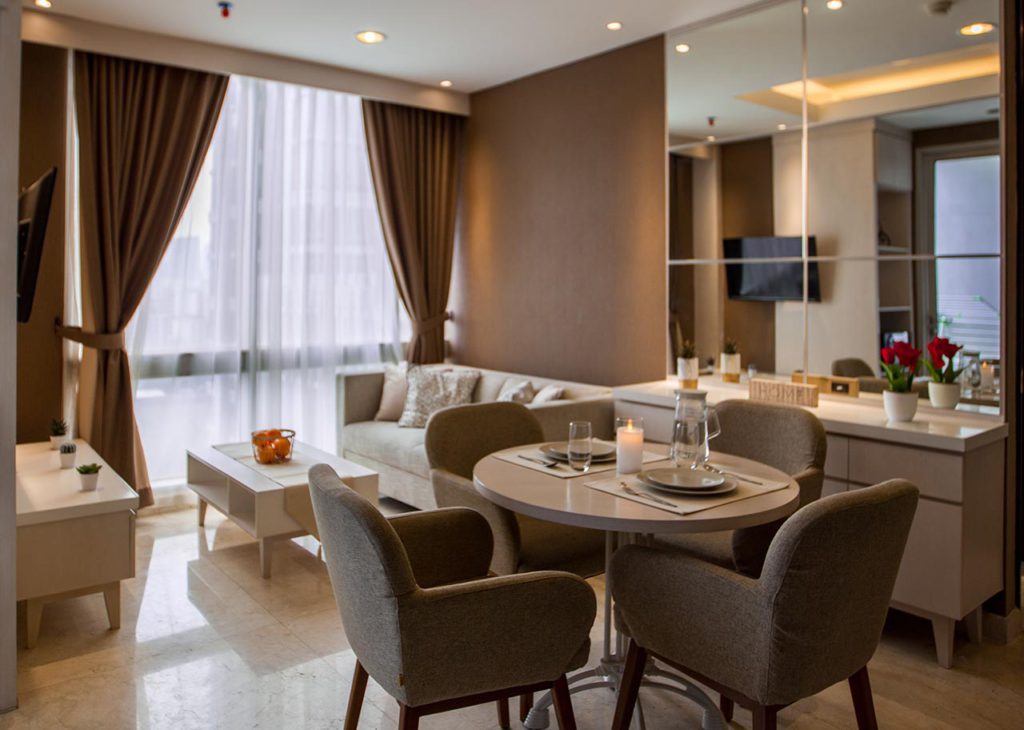 The Grove Apartment, with its Masterpiece-Empyreal tower, is a luxurious residence located within the Rasuna Epicentrum superblock – a center for business, lifestyle and residency. All within reach to make your urban life easier. Located in the heart of Kuningan (South Jakarta), The Grove Apartment is not far from offices, lifestyle, and shopping centers. A place to live will never be short of activities and social life.
Your comfort is guaranteed with top class facilities which include basement parking, fitness center, lounge, rooftop garden, jogging track, swimming pool, children's playground and many more! Most importantly, you will always feel comfortable with the best security.
Address: Kawasan Rasuna Epicentrum, Jl. H. R. Rasuna Said, RT.2/RW.5, Kuningan, Karet Kuningan, Kota Jakarta Selatan 12960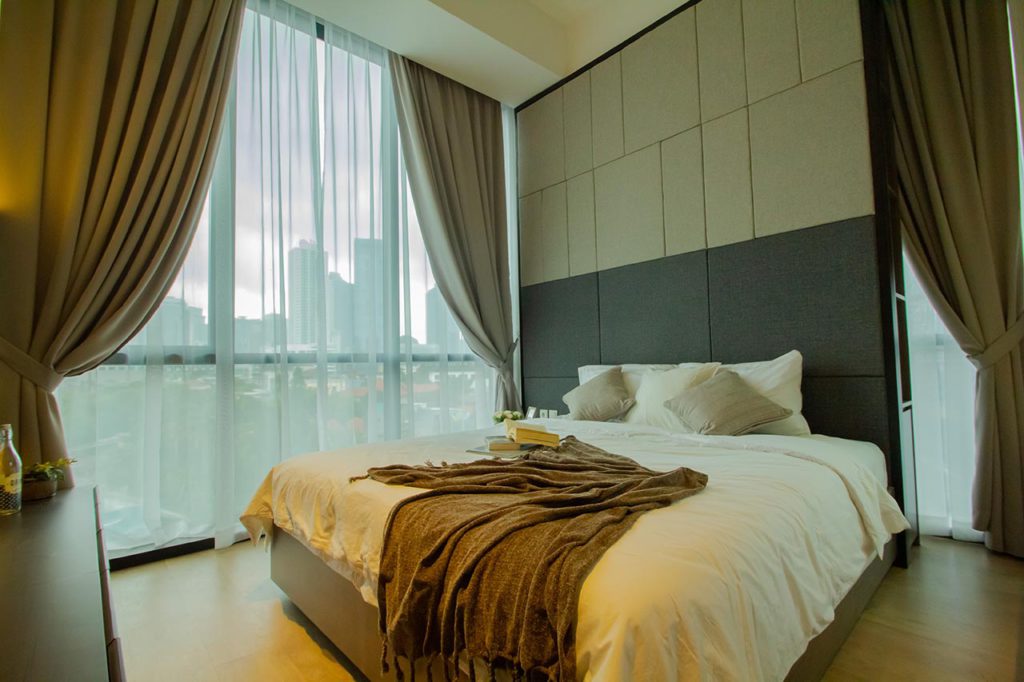 If there is one word that describes La Vie, it is sophistication. Designed by an internationally renowned architect, this residence gives off a luxurious and elegant feel that gives a sense of high-quality life. The facilities and amenities provided by La Vie Apartment maintain its reputation for luxury. Imagine you are exercising in the sky gym or swimming in the sky pool on the roof on the 37th floor while taking in the stunning views of the city landscape. To be honest, there aren't many apartments like this in Jakarta.
Moreover, the strategic location of the residence is also a charming point. Who doesn't want to have quick and easy access to the main roads of Jakarta's central business district? Visit Thamrin, Sudirman, and Kuningan without facing traffic jams? Or surrounded by malls and other entertainment venues in South Jakarta? If you are working or need to visit an embassy there are a variety of them scattered around the area.
Alamat: Jl. Denpasar Raya No.18, RT.6/RW.7, Kuningan, Karet Kuningan, Kecamatan Setiabudi, Kota Jakarta Selatan, Daerah Khusus Ibukota Jakarta 12940
So, there you have it 20 serviced apartments or aparthotel in Jakarta according to Flokq. Don't forget to consider and plan everything before moving into a city. We hope this article helps you and also don't forget to read other recommendations in our blog!
Read also: Serviced Apartments in East Jakarta