Shooting is a hobby that not many other people get involved in, both in Jakarta and Indonesia as a whole. However, the Indonesian shooting community is growing, and the sense of belonging between the members is solid. 
Read also: Top Golf Courses in Jakarta and Surrounding Area
That will be good news for shooters from out of town or even abroad, who probably wonder if they're ever going to have a chance to shoot a bullet during their time in Jakarta.
People with a budding interest in shooting, too, can begin their training either seriously or casually. Indonesia's shooting clubs have dedicated instructors that will patiently guide you through the ins-and-outs of handguns and airsoft guns.
Here is our list of shooting ranges and clubs in Jakarta that you need to know!
1. Senayan Shooting Range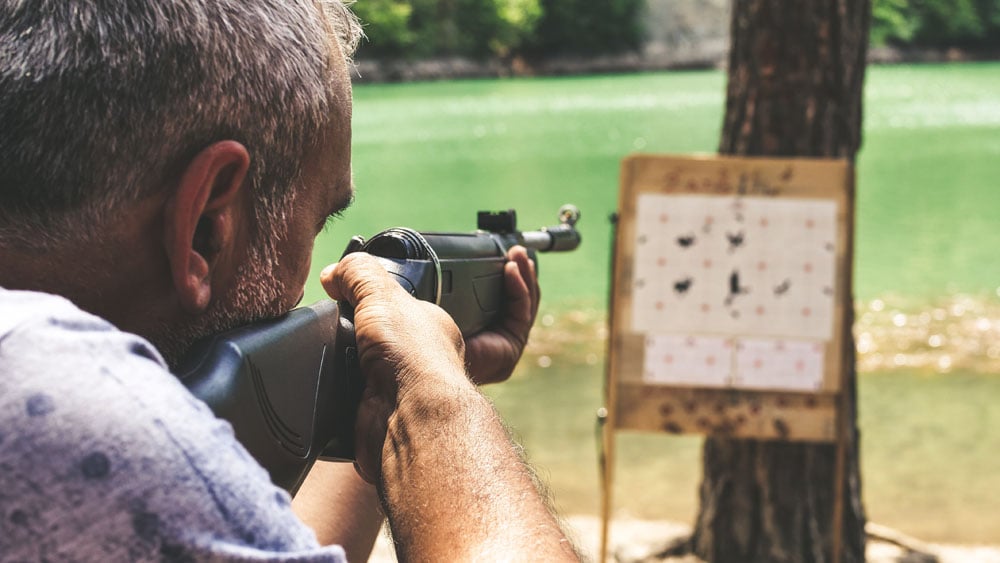 Senayan Shooting Field, also known as Lapangan Tembak Senayan, is Jakarta's most famous and legendary shooting range.
It is home to Persatuan Menembak dan Berburu Seluruh Indonesia a.k.a Perbakin (Indonesian Shooting and Hunting Association), and they also set up a school there, with instructors that will help you if you're a beginner.
Read also: One-Day Food Hunt Guide in Senayan
The Senayan shooting range offers you an outdoor shooting experience at an affordable price of Rp600,000.00/100 bullets for air rifles and Rp700,000.00/100 bullets for handguns.
Recently, however, the Senayan Shooting Range has offered a smaller package for just 30 bullets. With its good deals and pleasant outdoor experience, we especially recommend the Senayan Shooting Range to you.
Address: Jalan Gelora No. 1, Senayan, Tanahabang, RT.1/RW.3, Gelora, Kota Jakarta Pusat, Daerah Khusus Ibukota Jakarta 10270
2. M7 Tactical
This club, making its home at Kuningan City Mall, aims to be Jakarta's Premium Airsoft Arena, offering many programs for both beginners and experienced shooters.
It has a stationary indoor range where you can learn the correct shooting stance with the help of an instructor. But there is also a dynamic chamber where M7 Tactical trainers will guide you to evade bullets, run for cover, and return enemy fire against an opponent (while still considering the player's safety).
M7 Tactical has many divisions within the club. Women can join the Srikandi Ladies' division, where they can share their love for shooting with other female shooters. Meanwhile, pre-teen members can train with other Junior shooters in the Se7en Prodigies division.
This club especially encourages collaboration between members, non-members, and even other shooting clubs and communities. You can also expect to see wargames and competitions frequently.
While non-members can get affordable packages starting from Rp50,000.00/50 bullets with rented GBB, we recommend taking the membership plan for better deals and events. Please check their Instagram and Facebook pages for more details.
Address: Kuningan City Mall, Jl. Prof. Dr. Satrio Kav. 18 – Setiabudi, Kuningan / South of Jakarta, RT.14/RW.4, Kuningan, Karet Kuningan, Kota Jakarta Selatan, Daerah Khusus Ibukota Jakarta 12940
Social Media: @m7.tactical on Instagram and m7jakarta on Facebook.
3. Velox Et Exactus Shooting Klub (VEESK)
Velox Et Exactus Shooting Club is a professional training club that aims to foster a community of top-class shooters. So far, they only cater to shooters with legal qualifications.
Velox Et Exactus Shooting Club, or VEESK, offers indoor and outdoor shooting ranges for various purposes. They offer coachings for hardtail, full suspension, and rigid. If you're interested, you can also join shooting competitions in their name!
VEESK is one of the few shooting clubs with premium facilities for its members. There's a lounge, locker room to store your guns, a minibar for drinks after a full day in the sun, and even a nearby karaoke parlor!
We recommend this club for those who look for tight bonds among shooter community members and a network for trading shooting goods and info.
Address: Kali Bata Baru, RT.2/RW.4, Pejaten Tim., Kec. Ps. Minggu, Kota Jakarta Selatan, Daerah Khusus Ibukota Jakarta 12510
Social Media: velox.shootingklub on Facebook, @veloxshootingklub on Instagram, and @VEEshootingklub on Twitter
4. Batik Shooting Club
BATIK Shooting Club is a newly formed club (established 2016) and gained recognition from PERBAKIN. It is a club that specializes in training for both shooting and rifle hunting.
For four years, BATIK Shooting Club has trained and fostered professional shooting athletes. However, they also encourage beginners to join their training.
To further their mission, BATIK Shooting Club frequently hosts events and competitions. You can expect to see several different categories every year. The 2017 championship, for example, has Precision 25M, Tactical Pistol, and 2 Guns Competition.
This club has strict membership rules, so make sure you get all the information you need by contacting their email at sekretariat@batikshootingclub.com before joining.
If you decide to join, however, you'll get the chance to practice at their very own outdoor shooting range!
Address: Wisma Cakra, Jalan Utama, Srengseng, Jakarta Selatan, RT.8/RW.16, Srengseng Sawah, Kec. Jagakarsa, Jakarta, Daerah Khusus Ibukota Jakarta 12630
Website: http://www.batikshootingclub.com/
5. Perbakin Shooting School, Universitas Negeri Jakarta Shooting Range
These days, Perbakin, Indonesia's shooting association, is reaching out to beginners young and old to train them into professionals. They open shooting schools at the Senayan Shooting range as well as a secondary one in Universitas Negeri Jakarta's shooting range.
At first, they will teach students to study and raise their interest in the art of shooting. Then, the Perbakin instructors will introduce them to shooting techniques using a scientific teaching method that pays attention to shooting technology.
Most importantly, Perbakin also fosters mental development and identity among the students.
If you're here for a casual, quick shooting session, the UNJ shooting range also offers packages together with airsoft gun rentals. For example, you can get three hours with thirty 4.5 mm caliber bullets or more. You can also ask for an instructor to assist you.
Address: Jl. Pemuda No.18, Rawamangun, Kec. Pulo Gadung, Kota Jakarta Timur, Daerah Khusus Ibukota Jakarta 13220
Listing Page: https://myfave.com/jakarta/partners/sekolah-menembak-perbakin
Ready to get a taste of the outdoors by learning something new? Or revisit shooting after years or months not delving in it? No fear! Jakarta's shooting ranges and clubs will always have your back!