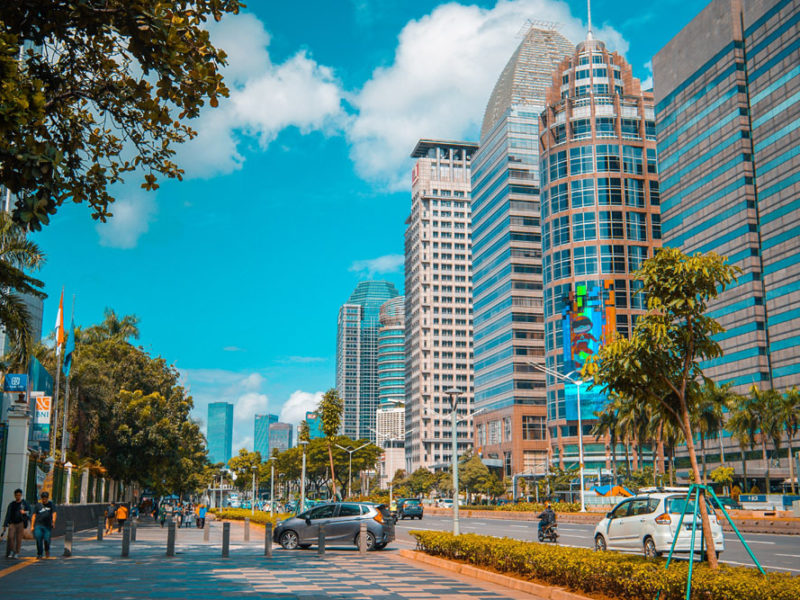 If you are passing through the center of the city and have a quite spare time to spend, there are various attractions to enjoy. Since the city Landmark, the National Monument (Monas), is located in Central Jakarta, you certainly don't want to miss traveling around Central Jakarta, right? Central Jakarta never runs out of places to give us a memorable experience. Ranging from hangout places, culinary spots, city parks, skyscraper views, and much more.
Read also: Zone Guide: Central Jakarta
Besides being famous for its business centers and bustling areas, Central Jakarta can also be your choice for refreshing or sightseeing. Many tourists also spend time strolling around Central Jakarta to get to know better this city. Central Jakarta is also a great place to know more about the complete history of Indonesia, and you can visit various historic spots. Due to the myriad interesting places, sometimes it's confusing you: you don't know what to do and where to go in Central Jakarta. So, we have listed some recommended fun things that you have to do in Central Jakarta. Let's see!
1. National Monument (Monas)
The first destination is the icon of Jakarta. It feels incomplete if you go to Jakarta without visiting the National Monument. It stands proud in the city as a symbol of independence in Indonesia which was declared in 1945 after years of Dutch colonial rule. Up to the top level of the National Monument, you can see the magnificent view of the entire Jakarta. Not only that but at National Monument, there is also a museum that tells the history of Indonesian independence. If you go traveling around Jakarta, don't forget to visit the National Monument, okay?
Read also: A Guide to Monas Area
Address: Gambir, Jakarta Pusat
2. Merdeka Palace (Istana Merdeka)
This is where the president of the Republic of Indonesia lives. The building dates from 1879 and it is here that the historic flag changing ceremony happened when the Dutch Colonial period ended and Indonesia declared independence. When you walk around it, you can see first hand the splendor of the Indonesian State palace. There is also an exciting palace tour. Make sure when you visiting, you wear modest clothes. This is because there are special regulations on how to dress in the palace area.
Address: Jl. Medan Merdeka Utara No.3, Gambir, Jakarta Pusat
3. Istiqlal Mosque
Do you know? The Istiqlal Mosque is the largest mosque in Southeast Asia. This mosque has an area of 14 hectares and is able to accommodate up to 200 thousand people. In addition to places of worship, many tourists also come to observe the magnificent building through its exterior and interior. By visiting the Istiqlal Mosque, you can enjoy Jakarta views and the atmosphere of a modern mosque.
Address: Jl. Taman Wijaya Kusuma, Pasar Baru, Jakarta Pusat
4. Proclamation Monument (Tugu Proklamasi)
Let's commemorate Indonesia's national heroes by visiting the Proclamation Monument. This park which is also a historical place is very beautiful and shady. There is a statue of Ir. Soekarno and Mohammad Hatta who were the first president and vice president of the Indonesian Republic. The two statues stood side by side, like when the text of the proclamation was first to read. For those of you who love to observe history, it's a must to stop by here!
Address: Jl. Proklamasi No.10, Pegangsaan, Menteng, Jakarta Pusat
5. National Museum (Museum Nasional)
Indonesia's history is so rich in information. Starting from the megalithic era until modern times this day. Well, in the National Museum you can freely explore and learn about the history of Indonesia from time to time. There are many historical objects, paintings, and interesting dioramas that tell you a complete history of Indonesia. Very cool!
Read more about interesting museums in Jakarta, Immerse Yourself in Jakarta's History Through These Top 7 Museums.
Address: Jl. Medan Merdeka Barat No.12, Gambir, Jakarta Pusat
6. National Gallery (Galeri Nasional)
Shout out to all art lovers here! Central Jakarta serves the perfect destination for you. Outside the hustle and bustle of Jakarta, this city also presents cool works of art. For those of you who are art lovers, you are really obliged to stop by the National Gallery. Here, there are 2 main exhibition venues, namely the permanent exhibition hall and also the temporary exhibition hall. In each room, you will be spoiled with works of art that are so interesting and eye-catching.
Address: Jl. Medan Merdeka Timur No.14, Gambir, Jakarta Pusat
7. National Library (Perpustakaan Nasional)
For those of you who like reading books, the National Library is your heaven! At the National Library, you can be satisfied reading a book for free. The place is also very comfortable. The facilities in this library are complete with seating, reading room, and tables that make you even more comfortable to linger here. The collection of books in this library is also very complete. In addition, the National Library also provides a cafeteria that you can make a place for lunch in the middle of your reading time. 
Discover the best libraries in Jakarta through our post 5 Must-Visit Libraries around Jakarta.
Address: Jl. Medan Merdeka Selatan No.11, Gambir, Jakarta Pusat
8. Menteng Park (Taman Menteng)
If we have discussed historical places before, now we will introduce you to one of the famous city parks in Central Jakarta. Menteng Park is one of the coolest and most inexpensive tourist attractions! Really suitable for relaxing in the park and eliminate fatigue because of its hectic Jakarta. Menteng Park also has complete facilities. There is a parking building, exhibition area, playground, and comfortable benches. Not only that, but this park is also often used as a gathering place by the sports and photography community.
Address: Jl. HOS. Cokroaminoto, Menteng, Jakarta Pusat
9. Grand Indonesia Shopping Town
Traveling to an area feels incomplete if you don't visit one of its shopping centers. By shopping, you can also refresh yourself. If you like to spend your vacation in a luxurious and indoor ambiance, a walk in the mall can be one of the exciting holiday activities. Grand Indonesia Shopping Town is one of the biggest and most complete shopping centers in Jakarta. Grand Indonesia is composed of three parts: East Mall, West Mall, and a Skybridge that connecting those two sections, All your vacation and entertainment needs can be found here.
Address: Jl. M.H. Thamrin No.1, Menteng, Jakarta Pusat
10. Sabang Culinary Centers (Pusat Kuliner Sabang)
Besides visiting shopping centers, you should also try culinary spots in Central Jakarta! Culinary delights on Sabang Street can be the right choice for you with your family or friends. Surely, you will find a variety of tempting foods. All of the dishes here are mostly Indonesian specialties so it's very suitable for you who want to try some Indonesian cuisine.
Read more: Best Street Food Centers in Jakarta
Address: Jl. H. Agus Salim, Sabang, Jakarta Pusat
Those are 10 recommendations for places and fun attractions that you can visit in Central Jakarta and will certainly give you an unforgettable traveling experience. Have fun!