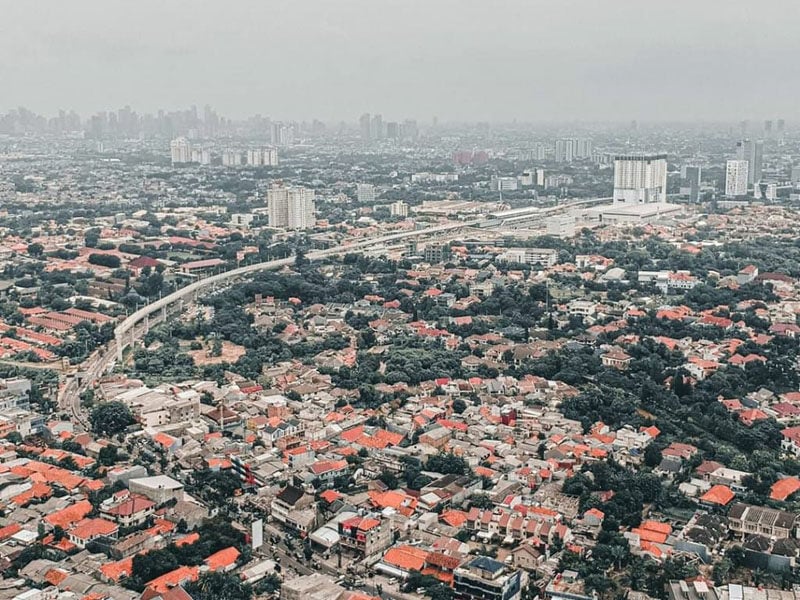 Located 30 kilometers from South Jakarta, an area with a second population density in Banten province after Tangerang, is an urban lifestyle area with a cheaper cost than Jakarta. South Tangerang offers several well-known areas such as Bintaro Jaya and Bumi Serpong Damai (BSD) City that present you with an urban atmosphere with a green environment. Though it is not as crowded as Jakarta, South Tangerang has many interesting places and attractions to offer. From shopping centers, culinary spots, city parks, to places that offer new things you've done before. So, if you plan to have a short getaway outside Jakarta, South Tangerang can be your option. Here it is, an ultimate guide for you to have an exciting experience visiting South Tangerang. 
1. Bintaro Jaya Xchange Mall
The first place you should visit in South Tangerang is the iconic Bintaro Jaya Xchange Mall. This is a modern shopping and lifestyle center built by PT. Jaya Real Property, Tbk, the developer of Bintaro Jaya. This shopping center, commonly called BXc Mall, stands in Bintaro Jaya. The location is very strategic, which is on the edge of the Bintaro – Pondok Indah toll road, across the Jurang Mangu commuter line station. BXc Mall is part of a 25-hectare superblock. In addition to the mall, office buildings, condominiums, and star-rated hotels are also being built. An area that was deliberately built to realize an e-community (ecology community). 
Read also: 8 Recommended Restaurants in Bintaro
Neighbourhood Guide: Bintaro
BXc Mall comes with a lifestyle center concept. Do you want to shop for all your needs? Everything is available in this family shopping mall. Do you want to enjoy various entertainment? There are entertainment centers that can refresh and entertain you. Do you want to fulfill your culinary desires? In this mall, there is a very complete food court. Interestingly, the biggest ice skating arena in Indonesia is inside this mall. It's Bx Rink, which is also provided some quality trainers who will teach you ice skating. Wow!
Address: Boulevard Bintaro Jaya, Jl. Sektor VII No.2, Pondok Aren, Tangerang Selatan
2. The Breeze BSD City
The Breeze BSD City is a place that has a smart mix of supermarkets, restaurants, and lifestyles. The Breeze BSD City is located within 25 Ha BSD Green Office Park in BSD and will be known as a spectacular dining destination, dynamic nightlife, and relaxing activities. Having a very strategic and pleasant location, The Breeze BSD City makes full use of the source and experience in every aspect. The concept of a mall without walls is in line with supporting environmental preservation efforts. When you feel bored to have a culinary trip in Jakarta, you can stop by at restaurants and coffee shops at The Breeza BSD City. Various restaurants and coffee shops with a cool atmosphere are here. 
Read also: Best Restaurants in BSD
10 Places You Can Visit on the Weekend in BSD
In addition, don't forget to have fun while playing bowling in Spincity Bowling Alley there. Spincity Bowling Alley has 20 lane bowling and provides a new experience in bowling. The specialty of this bowling place is that it allows bowling lovers to play in the dark with the illumination of UV light which will make the balls and clothes you wear have a cool visual color!
Address: BSD Green Office Park, Jl. BSD Grand Boulevard, Tangerang Selatan
3. Ocean Park
We have discussed entertainment, shopping, and culinary venues before, it's time to spend an outdoor vacation! Ocean Park is a water park themed tourist attraction located in BSD City. It occupies a fairly wide land, which is about 8.6 hectares. With such a large area, Ocean Park is said to hold up to 12,000 people. With its ticket prices that are quite affordable, it can be used as an alternative to your vacation. As the most popular water park in South Tangerang, Ocean Park often becomes the main destination for weekends. This place is very suitable to be visited with family and friends who want to have fun in a water park. 
Read also: Best Water Parks and Amusement Parks in Jakarta
The choice of a variety of rides makes not only children but also adults also like to come here. These rides include unique pools that have waves and water currents. No need to be afraid, because the manager always provides the best security system for their visitor.
Address: CBD Area, Jl. Pahlawan Seriby, Lengkong Gudang, BSD, Tangerang Selatan
4. Upside Down World
Ever come to a place that is designed in such a way as to cause a 3D illusion? Upside Down World doesn't just juggle two-dimensional fields. They juggle a room perfectly as it seems real. However, all the furniture in it located upside down, causing a unique effect. If you want to try a new experience of spending your free time, just come to Upside Down World Alam Sutera, which previously opened in several major cities in Indonesia. 
The entire estate is divided into several thematic rooms spread over three floors. The available themes include kitchen, living room, bathroom, and bedroom. There is also a room with a theme park, cafe, and studio band. Except for food, almost all property, such as tables, chairs, televisions, to food wrappers, in each room is a real item. Everything is stuck on the ceiling, displaying the illusion as if visitors seemed to walk against gravity. Interesting, right?
Like the other Upside Down World studios in various regions in Indonesia, we can enjoy the excitement of doing a photography session. Free all expression in the camera so that the results obtained will be perfect. Just follow the direction of the officer, so that the photo effects look perfect.
Address: Jl. Alam Sutera Boulevard No.5-6, Pakulonan, Kec. Serpong Utara, Kota Tangerang Selatan, Banten 15325
5. Menteng Bintaro Park
Even though it famous for the industrial city concept, it seems that South Tangerang also continues to develop its city to become more comfortable for residents to live in. If in Centra Jakarta we have Menteng Park, in Bintaro there is also Menteng Park too which is no less cool then the Jakarta's one. Menteng Bintaro Park is more comfortable to visit in the morning or evening Fresh air with many trees and green leafy grass is very suitable to be used as a relaxing area.
In addition, this park also has many exciting facilities. For the visitor who likes jogging, the jogging track here is very well maintained so it is very comfortable. For those of you who to try foot therapy, you can directly have a barefoot walk in the rock area then you can feel the sensation of foo therapy. When you are tired, you can rest on the colorful garden benches which are also complimentary facilities at Menteng Bintaro Park. Well, what are you waiting for? Let's relax in Menteng Bintaro Park. You are not charged an entrance fee, but just prepare parking cost if you bring your own vehicle.
Address: Sektor 7 Bintaro Jaya, Jl. Cut Mutia I Jl. Wahid Hasyim, Pondok Aren, Tangerang Selatan
We hope this article helps you to get references to having such an exciting experience in South Tangerang. Happy exploring and have fun!