Staying In
12 Romantic Anime Recommendations: From Comedy to Tragedy, Get Your Snacks and Tissues Ready!
In this PPKM era, loneliness is not new for many people. However, there are also those who still need this alone time to take a break from the busyness of social life, whether you are taking a break from a relationship or you have just broken up and want to be alone first. Even so, humans as social beings still need taste, or anything that can stimulate that feeling. If you have the same problem, these 12 romantic anime can stir your laughter and bring tears to your eyes.
1. Tsuki ga Kirei
As one of the school youth romance series, the Tsuki ga Kirei series has a fairly simple storyline and is quite relatable for many people. This anime focuses on the school setting and the students who make up the majority of the story's characters.
The main character of this series is Kotarou Azumi who loves to read books and often quotes author Osamu Daza to enhance the feel of the beauty of this anime. In the last episode, many scenes that are quite intense are shown. This series also doesn't ignore the supporting characters in the storyline, so you can also find out what's going on outside of the main character's own way of life.
2. Fruit Basket
Including comedy, romance, and supernatural genres, Fruit Basket is a romantic anime that is quite popular today. The anime focuses on Tooru Honda with Yuki Souma, the school prince, and his cousin, Shigure Souma, a famous writer. They are related because Tooru accidentally knows the secret of the Souma family who can turn into animals according to their zodiac if someone hugs them.
As cute as it sounds, this magical thing actually stems from the curse of the Souma family's dark history. This is also an additional conflict in the plot of this anime. Armed with his determination and kindness, Tooru meets Souma's members one by one and gets deeper and deeper into their family's secrets.
3. Beastars
In this anime, the characters are anthropomorphic animals (behave and look like humans). This anthropomorphic society also has a major problem, namely the difference between the class carnivores and herbivores, which is also the main conflict of the anime's plot. The main character is Legoshi, a gray wolf who is insecure and often suspicious due to his status as a carnivore.
Legoshi is a high school student who then falls in love with Haru, a white rabbit who is often bullied by other schoolmates. This is where the anime plot develops and tends to involve dark elements such as murder, bullying, and so on.
4. Kamisama Hajimemashita
Momozono Nanami is running from debt due to his father's gambling when she meets Mikage, a god of the land, who is being harassed by stray dogs. After saving Mikage, Nanami was then offered to live in Mikage's house which is actually a temple, but Nanami only found out after agreeing to Mikage's offer to guard the temple, aka Mikage's substitute goddess.
Nanami begins a new life as a shrine goddess, which requires her to learn to take care of Mikage's responsibilities, socialize with other gods and goddesses, as well as demons like Tomoe, Mikagi's servant fox who is now Nanami's guide to become a good land goddess. This anime has elements of romance and comedy as its main genre, but supernatural and horror elements are also not lacking in this anime.
5. Akatsuki no Yona
Princess Yona, who initially lived peacefully in the luxury of her palace, had to run away with Son Hak, Yona's protector and childhood friend, after Yona's cousin, Su-won, killed the king and Yona's father. From here, Yona learns that long ago, Yona's ancestors came from the Red Dragon who transformed into a human. The Red Dragon was supposed to be guarded by the Yellow Dragon, the White Dragon, the Blue Dragon, and the Green Dragon who also transformed into humans. However, after a few generations, each Dragon was scattered among each other.
To restore her kingdom, now Yona is on an adventure with Son Hak to collect the Dragons. Along this journey, Yona also begins to learn the secrets behind the history of the royal family and the reason for Su-won's rebellion against her own family. This romantic anime contains historical, supernatural, comedy, and romance genres.
6. Akagami no Shirayuki-hime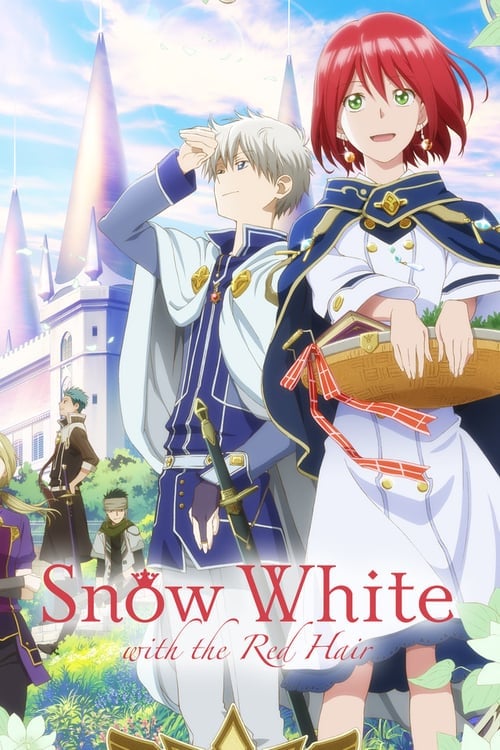 Shirayuki, the girl with bright red hair, was a skilled pharmacist at her herbal shop. Her life begins to be disrupted when Prince Raji tries to force Shirayuki to become his concubine. To avoid the proposal, Shirayuki cut her hair and ran into the forest. It was here that Shirayuki met the Zen Prince Wistalia of the land of Clarines. Shirayuki then is determined to become a royal herbalist to repay Zen's favor.
The adventures in this romantic anime center on Shirayuki's life in the royal palace of Clarines as well as Zen's journey to become a worthy heir to his kingdom. The two characters go hand in hand in achieving their goals and defeating the enemies that stand in their way.
7. My Next Life As A Villainess: All Routes Lead To Doom!
This romantic anime has the isekai genre, which is a genre where the main character is a human from an ordinary world who is reborn in another world. Katarina Claes is a human who was born into a game world where she is supposed to be the antagonist. In this world, Katarina Claes is destined to face a terrible fate as the antagonist. Armed with her experience and knowledge of the game's storyline, Katarina begins to recreate her own storyline to avoid this terrible fate.
The main conflict that becomes Katarina's biggest challenge is that Katarina only remembers her past as a human in the ordinary world at the age of 18, where she has been known as one of the cruelest noble daughters in her social circle. Now, Katarina's task is twofold—to avoid her own tragic fate, and save all the characters who have been victims of Katarina's cruelty over the years before.
8. Ore Monogatari!!
From this poster you can guess that this romantic anime has a comedy genre. The main character Takeo Gouda, the male character on the left on the poster, is a tall and burly high school student. To his friends, Takeo is a kind and gentle figure. However, his appearance always scares the girl he wants to approach before Takeo can introduce himself. Not to mention Takeo's close friend who is handsome and quiet, Makoto Sunakawa. Not only he's quite popular, but also always accidentally steals the heart of every girl Takeo likes.
One day, Takeo saves Rinko Yamato. Takeo immediately fell in love with Rinko, but immediately gave up because he suspected that Rinko would prefer Makoto. With himself still in love with Rinko, Takeo tries to bring Rinko closer to Makoto.
9. Sakurasou no Pet na Kanojo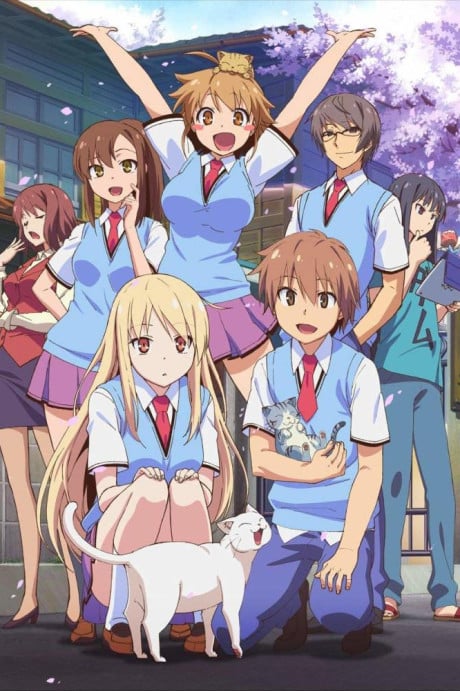 Sorata Kanda, a cat-loving student, falls in love with Hikari. Hikari, however, is not a girl. She's a street cat he picks up to secretly keep in the school's dormitory. However, because he was caught, Sorata was transferred to the Sakura Hall which accommodates troubled students. The students includes Jin, a flirtatious playboy, Ryuunosuke, an acute loner, and Mashiro, an artist who is always immersed in his own world so that the dorm keeper, Mrs. Sengoku, assigns Sorata to take care of Mashiro and her street cats.
10. Mahoutsukai no Yome
15-year-old Chise Hatori finds herself being auctioned off for 5 million pounds. With her past of bullying and isolation from the environment, Chise doesn't care anymore about the continuation of the auction.
Eventually Chise was bought by Elias Ainsworth. Ainsworth an ancient sorcerer with a human form except for his head which was an animal skull. Elias states that Chise was bought as a disciple and bride-to-be for Elias. From here begins the adventurer Chise who is surrounded by fairies, magic, genies, and other supernatural creatures.
11. Plastic Memory
As an early warning, this anime is a romantic-tragic. The main character in this anime falls in the love that is not meant to grow. SAIC is a corporation that specializes in their product, Gifts. Gifts are advanded androids that are very similar to humans. The Gifts' lifespan is 9 years and 4 months old. Tsukasa Mizugaki is assigned to care for one of the Gifts until its expiration date.
12. I Want to Eat Your Pancreas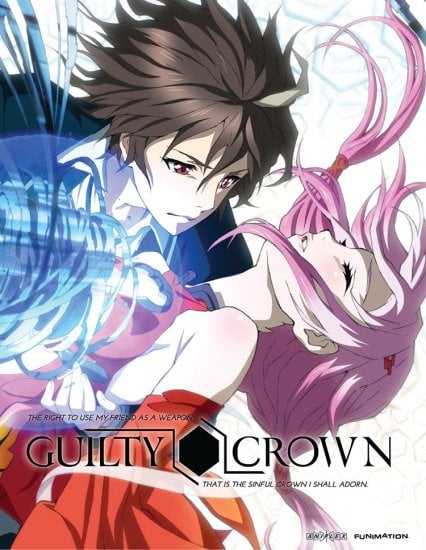 Taking the theme of Apocalypse, this anime tells the story of Japan which is being hit by the Apocalypses Virus. Power now lies with a global military organization called GHQ. GHQ is the group that checks the spread of the virus and provides vaccines.
Shuu Ouma, the apathetic main character, spends his daily life in his room and avoids interacting with many people. But when Inori, a pop idol on the run from the GHQ army, Shuu decides to save her.
While trying to save Inori, Shuu gains the power of the Void Gene. This power allows him to draw items or weapons from anyone under the age of seventeen. Now, Shuu must decide whether to join the 'Funeral Parlor' and fight GHQ, or abandon his newfound powers and continue his normal life.
Assuming that the GHQ or the charismatic leader of the Funeral Parlor, Gai, would let Shuu live after obtaining the Void Gene.
---
Snack? Box of tissue? Because not only does each anime have a very interesting plot, but it also consists of a number of episodes and several seasons to spend. Enjoy your animes!
Not sad enough? These animes will drain your tearduct dry!