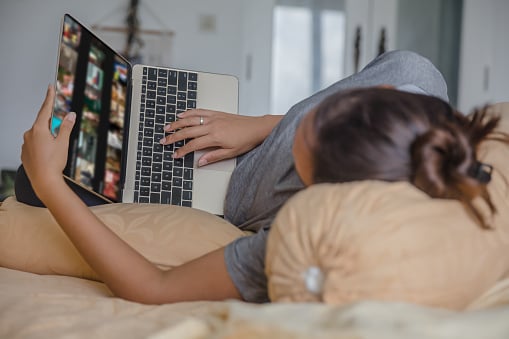 Staying In
Sad Anime Movies For You: 15 Must Watch Movies!
For movie lovers out there, we know some of you truly enjoy watching sad movies. If you look for something new to be added to your watch list, maybe you can try watching several sad anime movies. But of course, you can always choose any other genres from series, drama, or even Japanese animation or what is commonly referred to as anime to entertain yourself.
Anime movies offer various storylines, such as romance, mystery, and sadness. One genre of anime film that is in great demand by many people is a sad story that triggers tears to shed. Sad anime movies can be one of the recommendations for you to watch. Anime in this genre can help you to release emotions. Prepare a tissue, because we will give you recommendations for the saddest anime movies that you can watch.
1. Hotarubi no Mori e (To the Forest of Firefly Lights) – 2011
One of the sad anime movies on our list is quite famous, so anime fans must be familiar with this film. This short anime with a duration of approximately 45 minutes successfully makes your chest tight. "To the Forest of Firefly Lights" tells the story of a city girl named Takegawa Hotaru and her first love story with a genie-spirit who looks like a human and uses a mask. But there is a problem, which is that humans cannot touch the jinn, or it will be lost forever. This tragic romantic film shows how two human beings love each other so much, but will never be together because of things that are beyond their control. Their relationship will make you cry bitterly.
2. Koe no Katachi (A Silent Voice) – 2016
Out of all the sad anime movies here, this anime discusses a slightly different theme, namely bullying. The anime entitled "A Silent Voice" tells the story of Shouko Nishimiya, who is a deaf girl who transfers to elementary school. At his new school, he was often bullied by Shouya Ishida, which made Shouko move schools. As a result of Shouya's actions, his friends bully him and it made him a quiet figure. Shoya tried so hard to get forgiveness from him. Seeing this effort, you will feel emotional turmoil which is played with a sad storyline.
People also read Best Thai Rom-Com Movies
3. Kimi no Na wa (Your Name) – 2016
The anime film "Your Name" is one of the most popular films recently, because people are amazed by its stunning visual execution. Therefore, this film managed to get the title of the best anime in Japan in 2016. This film tells the story of someone who is in another person's body, and they try to adapt and find each other to understand this strange incident. This film can make you feel like you are riding a rollercoaster. Sweet, funny, and also sad to the point of making you cry.
4. Ano Hi Mita Hana no Namae wo Bokutachi wa Mada Shiranai (Anohana: They Flower We Say That Day) – 2011
Apart from the long title, this film is the best sad anime that will leave an imprint on your heart because of its story. Anohana tells about friendship and tragedy, which is about the friendship of 6 sweet elementary school children. However, things completely change, when one of their friends, Menma, died. The five remaining friends blamed themselves on each other, overwhelming them with their own thoughts. They all try to spend day after day to get rid of their guilt until one of them is approached by the spirit of Menma who haunts them.
5. Ookami kodomo no Ame to Yuki (Wolf Children) – 2012
Wolf Children is a film that tells the story of the struggle of a mother named Hana who raises her two children who are half-human and half wolf. Considered a danger to her neighbors, Hana decided to move in with her two children who couldn't control their changes. It was in her new residence that Hannah's patience in caring for her two wolf children was really tested.
People also read 7 Best Romantic Movies of All Time
6. Hotaru no Haka (Grave of the Fireflies) – 1988
Anime fans must have heard of this anime. "Grave of the Fireflies" is one of Hayao Miyazaki's works which first aired in 1988. This anime takes a true story from World War II which is currently taking place. The brothers fell victim to the atomic bombs dropped by the Americans on Hiroshima and Nagasaki. The life struggle of these brothers during this war will really bring tears to your eyes. At the end of the story, you will understand the meaning of the fireflies which are the title of this anime.
7. Shigatsu wa Kimi no Uso (Your Lie in April) – 2016
Your Lie in April is one of the popular sad anime movies that illustrates the importance of love and friendship through music. This film begins with a pianist named Arima Kousei who is traumatized by playing the piano due to the death of her mother. Then he met Miyazono Kaori, a violinist girl, who apparently want to get Kousei back to play music. How close and beautiful the relationship between the two characters actually brings us into the abyss of deep sadness.
8. Clannad: After Story – 2009
Next, we have "Clannad: After Story". It is a sequel to the animated Clannad that was previously broadcast. This film tells the story of a delinquent teenager Tomoya who lives together with his father. One time he met Nagisa and later became lovers. Tomoya and Nagisa have to go through many obstacles in life, especially in the part that tells the story of Tomoya's life with his son, Ushio. A romantic drama that tells the story of love and family can be felt here.
9. Boku dake ga Inai Machi (Erased) – 2016
This anime tells a mysterious story. If you are a fan of detective stories, you will definitely love this anime. Erased tells about the life of a 29-year-old comic artist, Satoru Fujinuma, who finds the fact that he was able to move backward in time even though he had not yet mastered this power. He uses this ability to do good things.
People also read 10 Must Watch Indonesian Movies for Expats
10. Sen to Chihiro no Kamikakushi (Spirited Away) – 2001
Finally, we have the famous Sen to Chihiro no Kamikakushi, better known as Spirited Away. It is an anime movie that tells of a 10-year-old girl named Chihiro Ogino who has just moved house with her parents. Chihiro's parents are greedy so they turn into pigs. Chihiro must do something to be able to return to his parents. In order for his parents to return to being human, Chihiro needs to work for spirits. Many sad things will happen while Chihiro tries to fulfill his duties.
11. When Marnie was There – 2014
This animation from Ghibli is based on the novel of the same name by Joan G. Robinson. "When Marnie was There" tells the story of Anna, an elementary school boy who suffers from depression which causes frequent relapses of his asthma. Based on the doctor's advice, Anna finally went on vacation to her uncle and aunt's house in the village. In that village, Anna's life began to change. While walking Anna saw an old abandoned house. Out of curiosity, he explored the empty house. Who would have thought that he would even meet the figure of Marnie, a very beautiful blonde-haired girl. Over time, their friendship reveals the relationship between Marnie and Anna.
12. Mirai no Mirai – 2018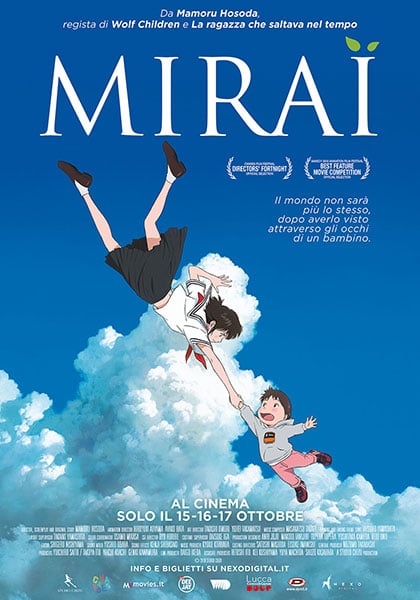 For those of you who like the best fantasy anime, Mirai no Mirai can be your next watch recommendation. This best sad anime also has fun elements of adventure and drama.
Tells the story of Kun Oota, a 4-year-old boy who is loved by everyone. His life changed when he had a younger sister named Mirai. Suddenly, Kun was no longer the person most loved by everyone.
Feeling angry, one day Kun went to the park and he met some guests from the past and future. One of them is a teenage girl who claims to be Mirai from the future. Together they go on an adventure in outer space and learn more about family.
13. Kono Sekai no Katasumi ni – 2016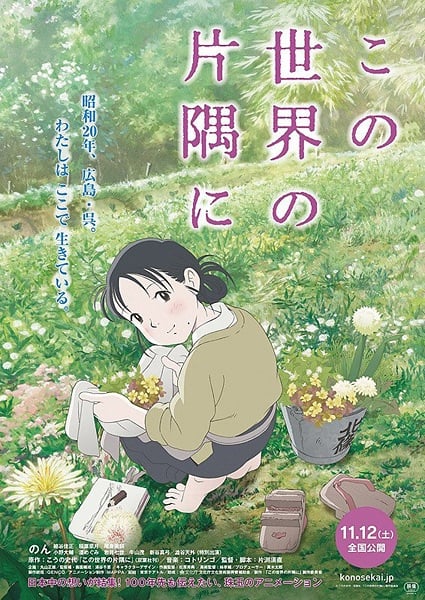 One of the best anime, such as Grave of the Fireflies is not the only saddest anime set in World War II. However, there is also an anime with the title Kono Sekai no Katasumi ni.
This anime not only tells about suffering and loss but also how to live as happily as possible even when life is in difficult times.
Suzu Urano is a beautiful and hardworking woman. He moved to Kure in Hiroshima after getting married when he was only 18 years old. During the war, Suzu had to struggle to support her family with food shortages due to the bombing of Hiroshima.
14. Toki wo Kakeru Shoujo (The Girl Who Leapt Through Time) – 2006
Another sad anime movie that will make you cry is Toki wo Kakeru Shoujo. Based on a juvenile novel written by Tsutsui Yasutaka, this anime adaptation was released back in 2006. The story is about a bright and easygoing high school girl named Konno Makoto. Her life was drastically changed after she accidentally discovered that she is capable of literally leaping through time. When she decided to use her new power to satisfy her own desires, she soon realized that all her choices have consequences and could be affecting the lives of others just as much as her own. This movie has won so many awards in Japan and if you look for something to watch that can drain your tears, you wouldn't want to miss out on this!
15. Kimi no Suizou wo Tabetai (I Want to Eat Your Pancreas) – 2018
Last but not least is I Want to Eat Your Pancreas. This is one of the popular sad anime movies that was released in 2018. It tells the story of a high school student who found a diary of his bright classmate, Sakura Yamauchi. Starting from that point out, he then discovers that Sakura has a terminal illness and she only got numbered days in this world. This anime movie is a heartbreaking movie that truly depicts a beautiful friendship and blooming love. But more than that, it also gives us a perfect storyline about how somebody embraces the true meaning of living.
So, those are 15 sad anime recommendations with great sad stories that we have chosen for you. All these sad anime movies are ready to drain your tears. Before watching it, don't forget to prepare a tissue. Happy watching!