Having an apartment that's located in or near Jakarta's golden triangle area is a dream for many. There are many areas where you can pick them, but here we want to highlight Semanggi. While having the right resources is, of course, its own challenge, here we want to help you should you already have them. So, here are some of the best apartments near Semanggi, just for you!
People also read Jakarta's CBD: The Golden Triangle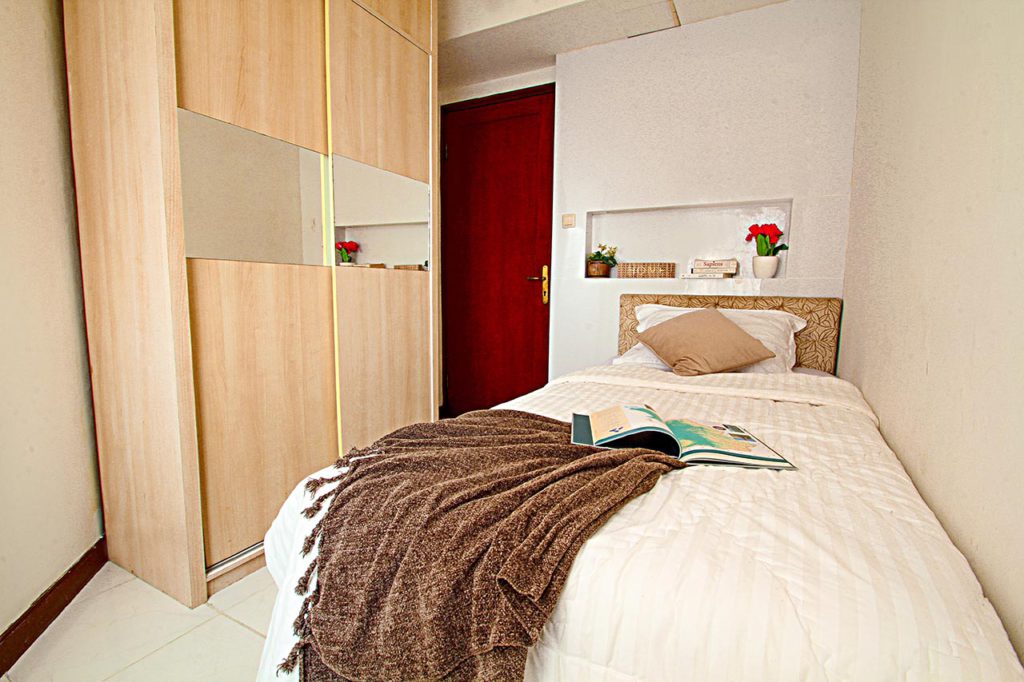 Introducing Aryaduta Semanggi, a premium apartment located near South Jakarta Central Business District. This Lippo Group Building is offering you apartment units with a size range from 80 up to 100 square meters. Not to mention, the amenities that come with it. For instance, experience the soothing swimming pool, the finest gym, or spend quality time with your kids at the playground. 
Moreover, you can have one of the most scenic views of urban Jakarta. Complete with the lush garden surrounding it. Hence, Aryaduta is the prime choice for people who wants a pleasurable home yet in the heart of South Jakarta, it is also a perfect choice to consider coliving in.
With its main building in the middle of the Kuningan, SCBD, and Central Jakarta area, it makes tenants travel easier. Within 10 minutes, you have arrived in those prime areas by car. Or simply feel the comfort of easy access to Soekarno – Hatta Airport or Halim Perdana Kusuma via highway straight away. 
It is an easy and practical way of life to stay in Aryaduta Semanggi. Only takes 2 minutes to walk to Plaza Semanggi. Also, it's only 7 minutes to Lotte Shopping Avenue, Oakwood, Mega Kuningan, Ambassador Mall, and Kuningan City. Not only that, have no worries about your health since the apartment is close to Hospitals (Siloam and Jakarta Hospital). Beside that, there are Atmajaya University and Pelita Harapan University for a Master's Degree.
Address: Jl. Garnisun No.8, RT.5/RW.4, Karet Semanggi, Kecamatan Setiabudi, Kota Jakarta Selatan, Daerah Khusus Ibukota Jakarta 12930
Price: Starting from 1BR Rp 5,000,000.00/month
Website: https://www.aryaduta.com/aryaduta-semanggi-in-jakarta/
Facilities:
Swimming pool
Playground
Sauna
Spa
Function room
Grocery store
Fitness center
Basketball court
Tennis court
Squash Court
24-hour security
Read also: Apartments near Benhil (Bendungan Hilir)
Pearl Garden Apartment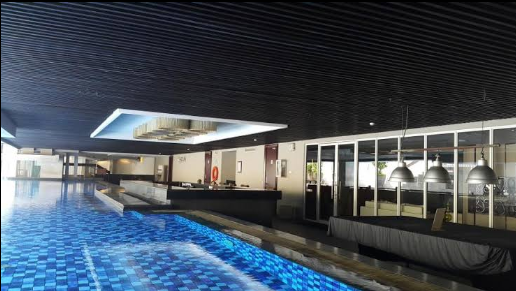 This apartment near Semanggi, allows you to get to SCBD in just 5 minutes and to the Thamrin area in 10 minutes. Besides its location, the beautiful design of the apartment makes the atmosphere around the apartment calm. You'll feel more away from the crowd the noise of hustling Jakarta. It could even be said that this apartment looks more like a resort hotel than a dwelling. Perfect for those of you who like tranquility but remain right in the access center of the city, you might also want to consider sharing this great apartment by coliving in it!
Comfort is the key point of the Pearl Garden Apartment. The environment makes anyone who lives here will feel relaxed and calm. In addition to that, the apartment is right near Simpang Semanggi.  A variety of entertainment and daily necessities are also available around the apartment area.
If you want to shop, then the nearest shopping center from this apartment is Plaza Semanggi. It can be reached in only 7 minutes on foot. There you will find many clothing stores, grocery stores, restaurants, and cinemas. You can find a wide variety of foods available at Plaza Semanggi, which is only a 7-minute walk from Pearl Garden Apartment.
Address: Jl. Gatot Subroto No.7, RT.2/RW.4, Karet Semanggi, Kecamatan Setiabudi, Kota Jakarta Selatan, Daerah Khusus Ibukota Jakarta 12930
Price: Starting from 3BR Rp 33,000,000.00/month
Facilities:
Swimming pool
Playground
Jogging track
ATM center
Function room
Grocery store
Fitness center
Tennis court
Basketball court
Sauna
Jacuzzi
Spa
24-hours security
Want to know more about apartments near Sarinah? Click here.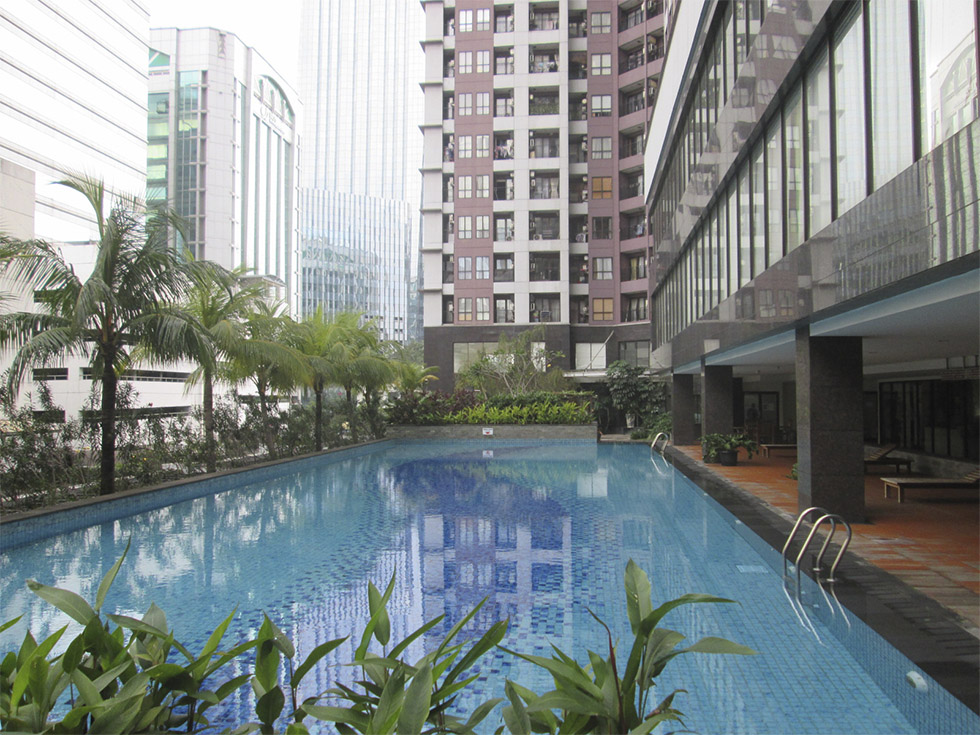 Lastly, we have Taman Sari Semanggi that catered to young professionals, especially ex-pats. Built-in 2011, this apartment is at a short distance from high rise offices, embassies, and other shopping centers. The apartment offers much more than what meets the eye in order to ensure the utmost satisfaction from its residents. It provides a 24/7 security system, parking lot, swimming pool, fitness centers, round the clock help desk, 24-hour minimart, restaurants, pharmacy, and much more! 
Due to the strategic location, this area is a hub for ex-pats who are seeking to find like-minded people and lead an active social life. You can easily explore International cuisines, attend social activities that South Jakarta has to offer. Hopefully make some friends along the way, or make friends by coliving in this apartment!
Taman Sari is close to various shopping centers. Mid-level shopping centers include Plaza Semanggi, Kuningan City, Lotte Avenue, and Bellagio Ambassador. Also, there are popular coffee shops such as Starbucks. In addition, there are an endless amount of cuisines that are easily available. 
Address: Jl. Akri No.136, RW.2, Karet Semanggi, Kecamatan Setiabudi, Kota Jakarta Selatan, Daerah Khusus Ibukota Jakarta 12930
Price: Starting from Rp 11,000,000.00/month
Facilities:
Swimming pool
Jogging track
Gym
Multipurpose room
Pharmacy
24-hour minimarket
24-hour security
Laundry
Those are the top three apartments near Semanggi for you to choose from. Always prioritize direct viewing, rather than just pictures and indirect information. So what are you waiting for? Get in touch with the management and make having an apartment in the golden triangle one step closer.