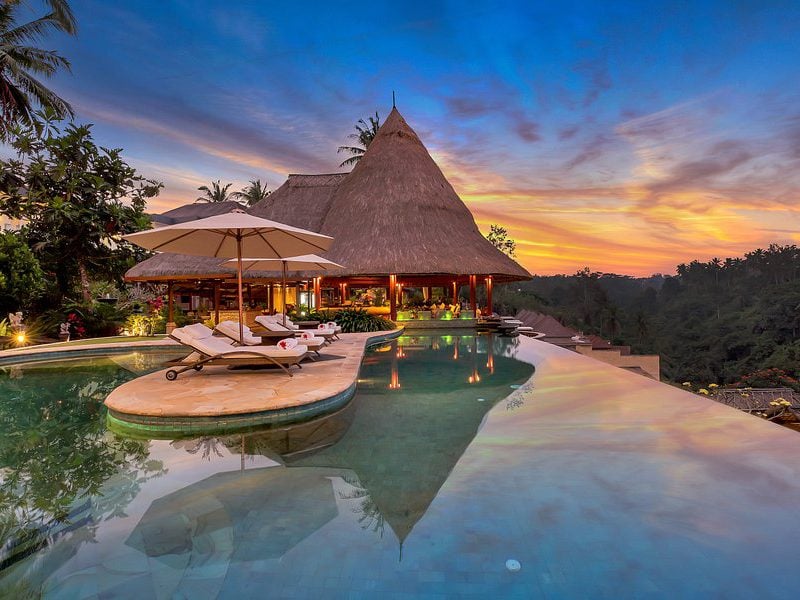 Apart from its nature which is often referred to as the paradise of the world, many hotels in Bali have infinity pool facilities. Not only as a place to swim, but environmental views make tourists seem to have a private beach. Moreover, you can simultaneously enjoy the beauty of the enchanting sunset in Bali.
These hotels with infinity pool are scattered all over the island of Bali, not only in one area. So here they are, the 11 hotels with an infinity pool.
1. Potato Head Beach Club, Seminyak
After landing from I Gusti Ngurah Rai International Airport, you can travel 10-15 minutes to Seminyak. In addition to many hotels and resorts, there is one place that has an infinity pool spot. There is a cabana or small hut in the middle of the pool.
The recommended time to visit this place is in the morning around 10 o'clock to order a hut, enjoy the morning sun, and of course various kinds of refreshing drinks. It costs around IDR 500,000 per night to stay here.
2. Wawa Wewe I Bungalows, Karanganyar
Located in the western part of the Island of the Gods, precisely in the Karangasem area, there is a family villa with an extraordinarily beautiful view. The infinity pool here is directly connected to the ocean. Thus, it is as if swimming in the sea.
This place also provides snorkeling equipment if you want to enjoy the underwater scenery. The price to pay at this villa is also quite cheap, with a range of around Rp.350,000 per night.
3. Swiss-Belinn, Legian
Going to Bali is incomplete if you haven't been to Kuta. If you are looking for accommodation close to Kuta beach, then hotels on Jalan Legian are the right choice. There are several hotels in Legian that offer infinity pool facilities, one of which is Swiss-Belinn.
The view that can be seen from the swimming pool is the vibrant Legian street, as well as the sparkling open sea. To stay here, you need to spend around IDR 450,000 per night. Anyway, it's worth it, especially since there is an infinity pool.
4. Kila Infinity8 Bali, Jimbaran
For those of you who often travel to Bali, you must have enjoyed the sunset view on Jimbaran beach accompanied by seafood dishes. Every now and then, try to enjoy the sunset view from the swimming pool at Kila Infinity8 Bali.
For around Rp.650,000 per night, the sunset can be enjoyed from the infinity pool. It really fits as a place for a honeymoon.
5. Viceroy Bali, Ubud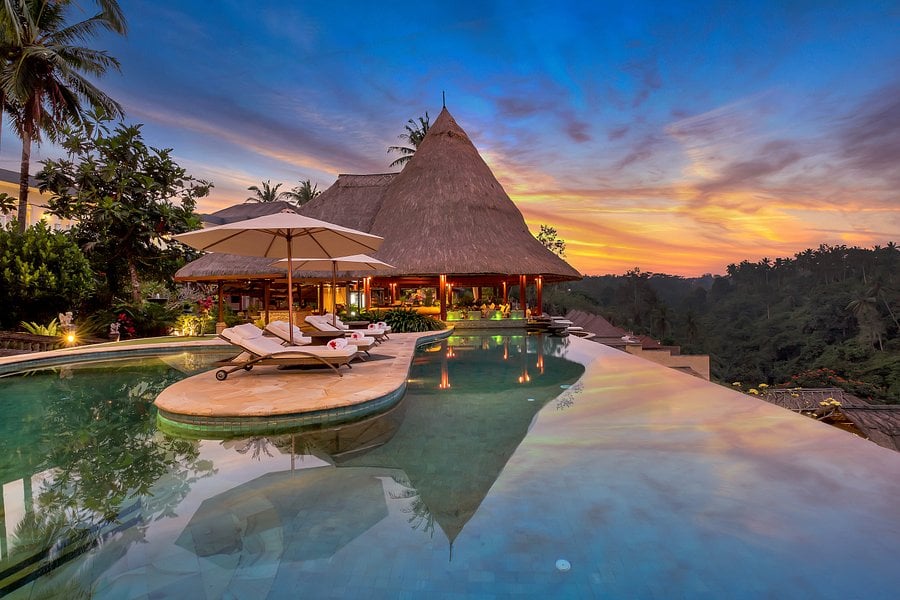 This 5-star hotel offers a gazebo that connects to the swimming pool. The infinity pool here immediately presents the panoramic beauty of Ubud and a cool place to pamper yourself in the sunshine of Bali.
---
Swim in one of these beautiful infinity pools with your mermaid tail! Yes, you read it right! Click here to find out more!
---
6. Artotel, Sanur
The uniqueness of the infinity pool in this hotel is that the pool walls are made of glass, so it is as if we are swimming outdoors in the Sanur area. Apart from its location which is only a few steps away from Sanur beach, this hotel also offers relationship spa packages. This inn can be enjoyed at a price of around IDR 725,000 per night.
7. Bed & Breakfast & Bistro Aquaterrace, Karangasem
From this place, you can enjoy the beauty of the sea directly from the pool on the terrace of the hotel room. This place also provides snorkeling equipment rental to see the beauty of coral reefs. The sea level seems to blend with the pool.
8. Sejuk Beach Villa, Seseh Beach
Next on the list is Sejuk Beach Villa, a private villa for families, the infinity pool here is set among coconut trees. From there, you can immediately see the panoramic view of Seseh beach in Bali. What makes it exciting is that all of this beauty can be enjoyed directly from the doorstep of our hotel room.
9. KOA D'Surfer, Berawa
All public facilities, from seating to relaxation, sun loungers to the infinity pool at this hotel are on the rooftop. He cried again, there is original beach sand that makes the beach atmosphere even more real. All the facilities that are here can be enjoyed with IDR 495,000 to stay per night.
10. Sanglung Villa, Buleleng
Tired of the beach, the Island of the Gods also offers the coolness of the highlands in Buleleng Regency. This place is suitable for a short escape from the hustle and bustle of the city and hanging out with loved ones.
One of the lodging options for a large family is the Sanglung villa. The infinity pool here is directly adjacent to trees, views of green forests, and the high seas. This villa is also famous for its BBQ dishes. For the one-night rental, it costs around IDR 3,500,000.
11. Bali Rahayu, Buleleng
What if you spend the night in a traditional wooden hut and wake up to a view of green rice fields, lush hills, and a sturdy mountain? You can breathe in the fresh mountain air, soak in the union of the soul with nature, and you will be able to continue your vacation in a healthier way.
Swimming in the morning in an infinity pool surrounded by a beautiful Bali natural atmosphere will certainly feel more refreshing.
Plus, each cottage at Bali Rahayu has a private balcony where you can wake up with a cup of Balinese coffee in the morning while enjoying the serene natural panorama that stretches as far as the eye can see. With a price of around Rp.450,000 per night, you can enjoy staying at Bali Rahayu.
---
Those are all the 11 hotels with infinity pool in Bali. Don't forget to use your sunscreen since Indonesia is a tropical country. You surely want to keep your skin protected! So, which infinity pool do you want to relax in? See you in Bali, Flokqers!
Need more bikinis or swimwear? No worry, click here to find the best places to buy them!
---
Want to find a coliving option for your stay in Bali? Flokq has several well-facilitated homes in Bali at an affordable price! Click the button below to find out more.
Check Out Other Flokq's Units in Bali