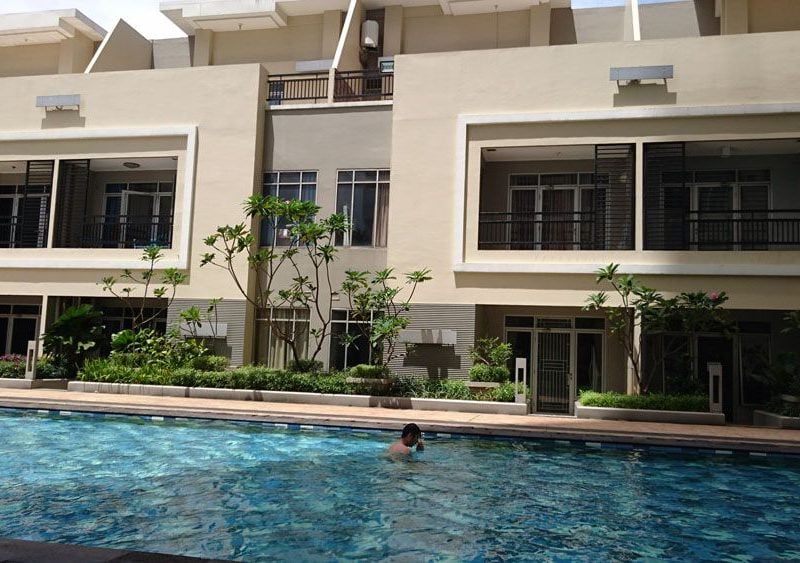 North Jakarta is rich in its historical values as this administrative city is where many historic sites and artefacts can be found. Tanjung Priok port and the historic Sunda Kelapa port are also located in this city. North Jakarta also owns Jakarta's natural mangrove forests and a reforestation was done with the aim to minimize the abrasion particularly in Pantai Indah Kapuk Area. With such charm, it's not impossible for you to find an ideal coliving space where you can live with like-minded people in North Jakarta. Here, we're going to recommend to you some of the best coliving spaces that you can find in North Jakarta. So, check this out!
People also read Why Co-Living is Affordable
1. Flokq Coliving Jakarta @ Green Bay Pluit Apartment
This is an ideal coliving space if you fancy doing some work out as a routine. Not only providing fully furnished rooms, Green Bay Pluit Apartment also offers various facilities such as swimming pool, gym, basketball court, and tennis court for you to exercise. That way, you don't have to go too far just to work out because everything is within walking distance from your room. Although this apartment isn't quite strategic, you can still go to Baywalk Mall by foot and go to Pantai Indah Kapuk as another alternative by transportation for 10 to 15 minutes.
For your grocery needs, there's a Farmer's Market nearby. For restaurants, you can find many affordable canteens that you can visit to fill your belly and many popular restaurants inside the Baywalk Mall. You can enjoy a bar inside the apartment, the Happy Drink or go to Pantai Indah Kapuk area. No need to worry about transportation here, this apartment is quite close to the Transjakarta halt, train station, and Pluit Toll Gate.
Address: Jalan Pluit Karang Ayu Blok B1 Utara, Pluit, Penjaringan, Pluit, Penjaringan, Jakarta Utara
Facilities:
ATM center
Grocery stores
Function room
Mini markets
Gym centers
Tennis field
Basketball field
Swimming pool
Jogging track
Website: https://www.flokq.com/jakarta-homes/pluit/green-bay-pluit-apartment-Zmxva3FzYWx0IzE3Mg
2. Flokq Coliving Jakarta @ Maple Park
This coliving space can be considered strategic since it's located near the gate toll of the airport. So, if you happen to go here and there pretty often, Maple Park is the one for you. For shopping, you can go to Pasar Sunter nearby. Or if you prefer something more modern, you can choose Artha Gading Mall, Baywalk Pluit, and Pluit Village since it only takes a couple of minutes to reach those malls.
In general, you can try a great variety of food in North Jakarta. That being said, you can go to Sunter Lake to experience it all from your coliving space. Kelapa Gading Boulevard which is famous for its Chinese food and Pantai Indah Kapuk area for the nearest bars are not quite far from your place either. So, you're showered by many options here which is great! For transportation, you can use nearest bus stations such as Ancol, Penjaringan, Bandengan, and Mangga Dua bus stop or MRT and train station.
Address: M Apartment, Jl. HBR Motik No.2, RT.18/RW.5, Sunter Agung, Tj. Priok, Kota Jkt Utara, Daerah Khusus Ibukota Jakarta 14350
Facilities:
ATM center
Swimming pool
Gym
Function room
Laundry
Security
Baseball court
Grocery store
Restaurant
Website: https://www.flokq.com/jakarta-homes/sunter/maple-park-Zmxva3FzYWx0IzU0Mw
People also read How Coliving Can Make Your Life Awesome
3. Flokq Coliving Jakarta @ Gading Green Hill
Located in a residential-commercial environment of Kelapa Gading, you can reach many important public facilities. This coliving space offers both comfort and convenience for you. You can use the most basic services and a variety of fitness facilities which is essential for your health. Not only that, your safety is also guaranteed since CCTVs are installed and security guards are ready to keep you secured as a precaution from any danger. If you have any further inquiries, you can always ask for help at the reception.
You can simply go to the nearest Mall Kelapa Gading which is only 6 minutes away. From there, you can find a wide range of entertainment places and famous restaurants to keep you full. Other alternatives are Mall of Indonesia (MOI) and Mall Artha Gading if you're looking for something more budget-friendly. That being said, you can also fill your grocery needs there. For restaurants, bars and nightlife, you only need to go to the Boulevard Raya Street where you can taste a variety of food as you can visit many restaurants, cafes, and karaoke places. For transportation, it's best recommended that you use your own car while waiting for the LRT station to be done from reconstruction. Don't worry, you can always order a taxi around!
Address: Jl. Pegangsaan Dua No.97, RT.10/RW.3, Pegangsaan Dua, Kec. Klp. Gading, Kota Jkt Utara, Daerah Khusus Ibukota Jakarta 14250
Facilities:
Swimming pool
Parking lot
Jogging track
Children playground
Cafe
Minimarket
Laundry
24 hours of security access
Roof garden
Tropical lush garden
Canteen
Website: https://www.flokq.com/jakarta-homes/pegangsaan-dua/gading-greenhill-Zmxva3FzYWx0IzIwOA
So, that's all, some of the best coliving spaces that you can possibly find in North Jakarta! Consider your preference, needs, and your own budget in choosing the ideal coliving space for yourself. Don't forget to check other recommendations of coliving spaces in other parts of Jakarta as well as other informative tips, life hacks, and interesting info that you can find, made by Flokq. If you have people in mind that you think deserve to know this information, don't hesitate to share it around!